Online cards
Spread gratitude and celebrate with online cards
Celebrate birthdays, anniversaries, milestones — together. Easily create digital group cards for any celebration, any group size, anytime.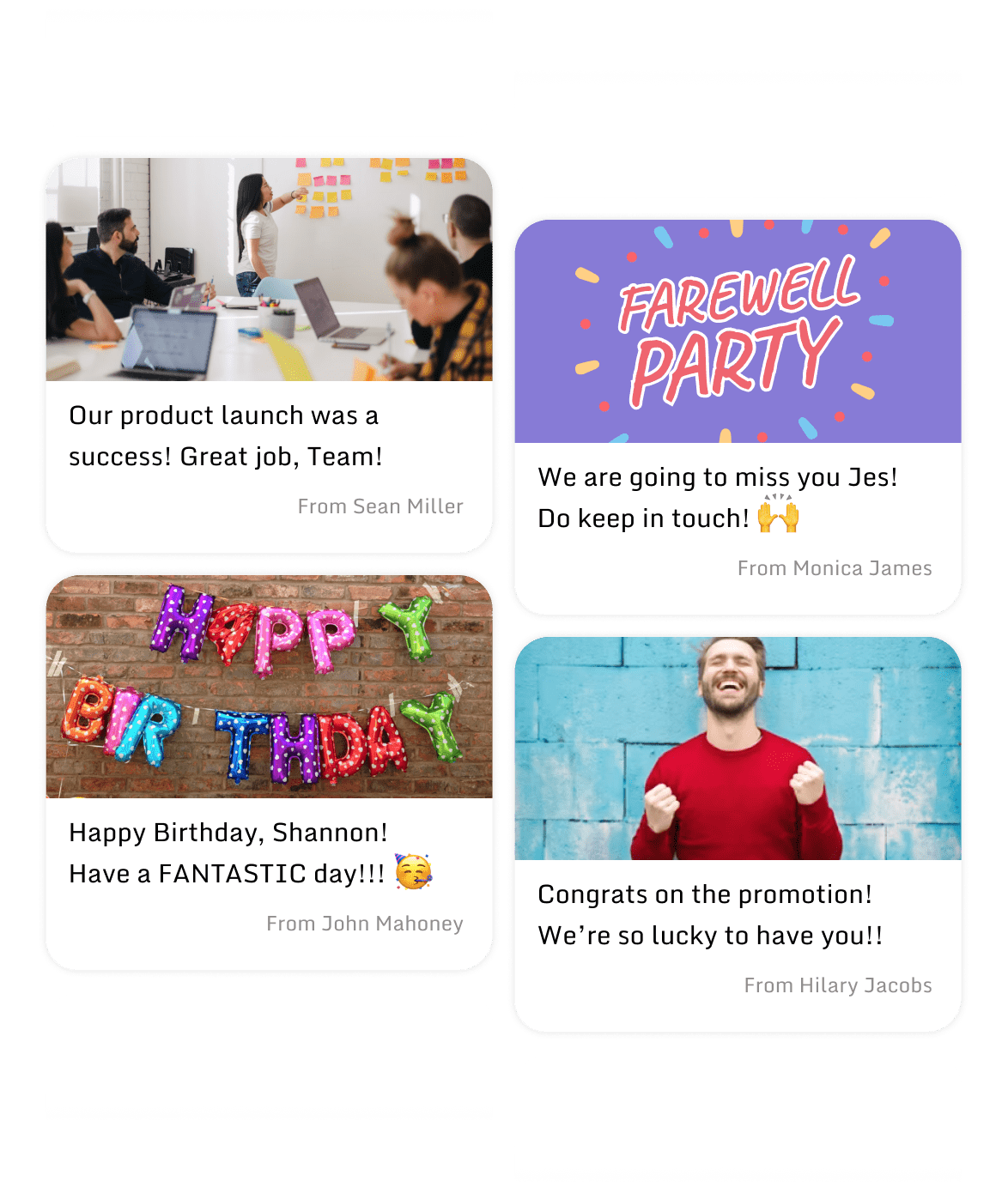 How online cards work
Kudoboard's online cards allow you to gather appreciation from a group, delivered directly to the recipient virtually.
What do you want to make an online card for?
Kudoboard online group cards drive employee happiness for birthdays, milestones, events & more.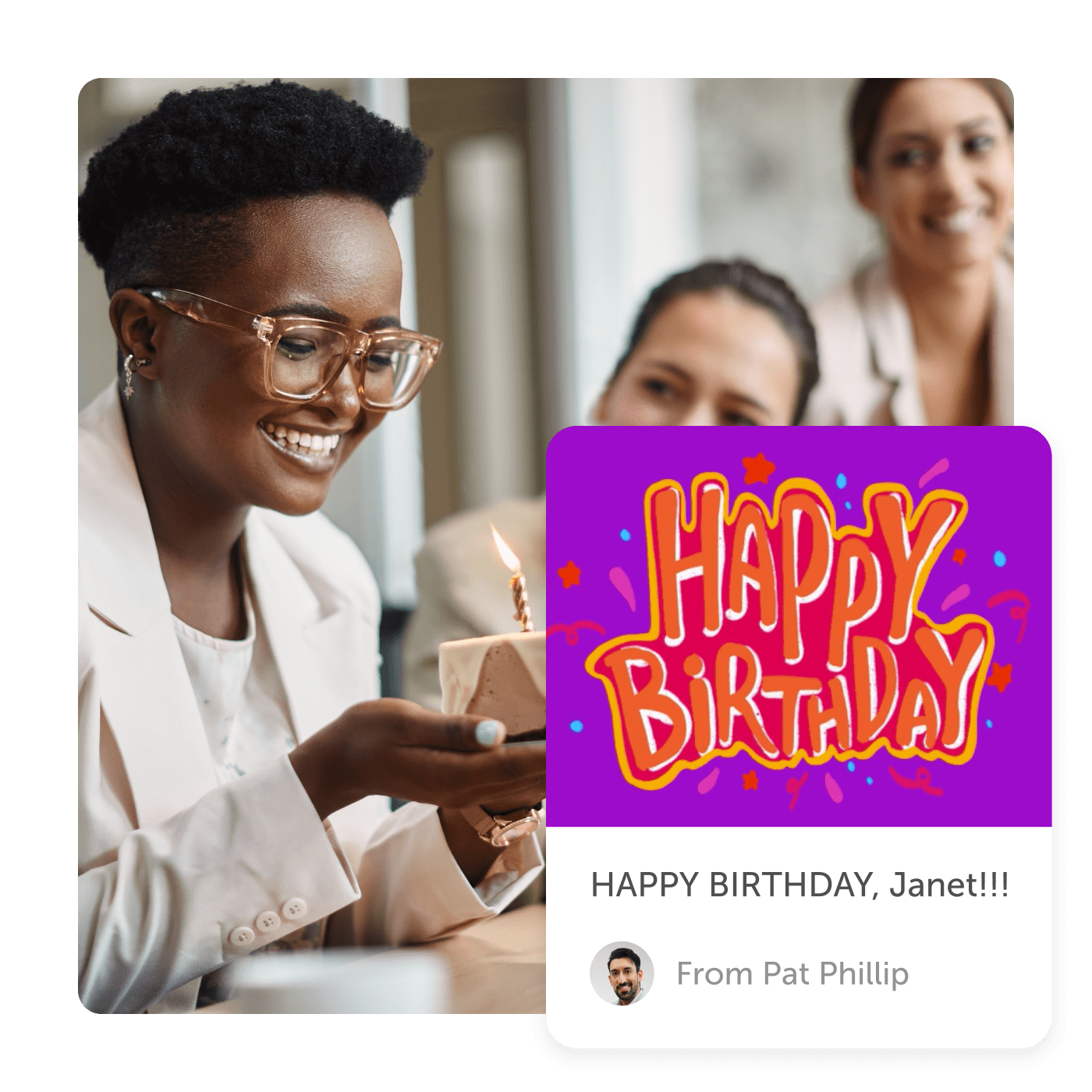 Online cards
Replace the birthday card with Kudoboard
Celebrate birthdays — together. Easily create group ecards for any birthday, from any group size, from anywhere around the world.
What others say about Kudoboard online cards
Explore Kudoboard for birthdays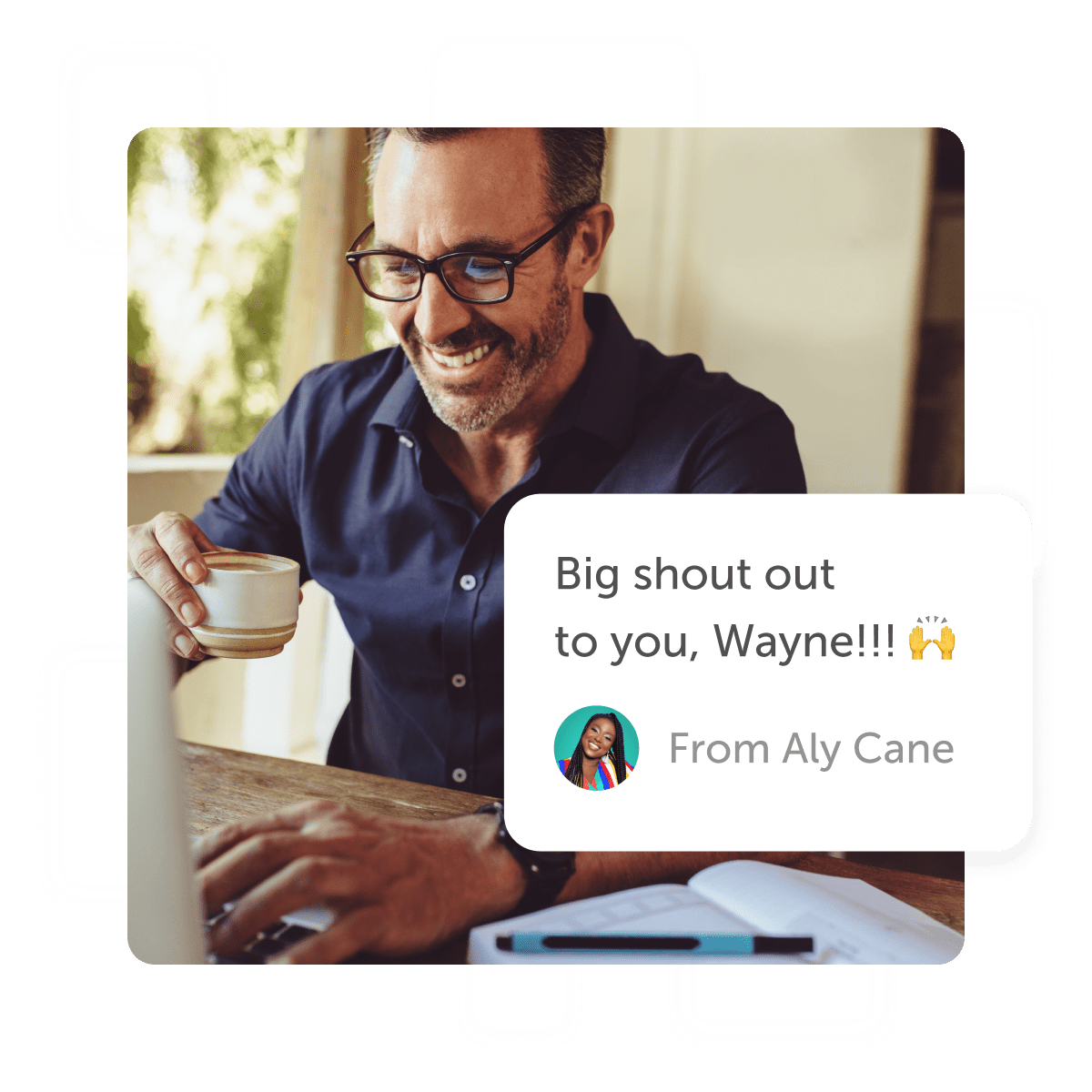 Online cards
Bring everyone together with online cards—no matter where they are
Collaborate to recognize farewells, graduations, work anniversaries and more.
Online cards for special occasions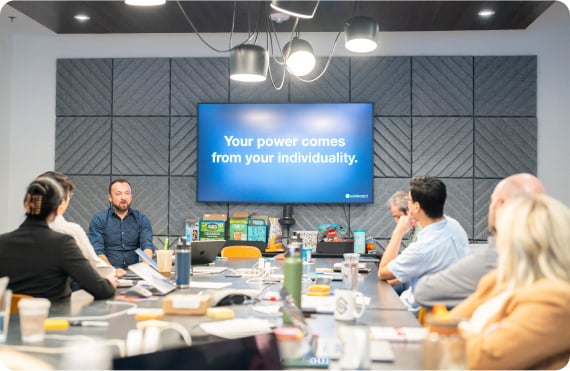 Online cards
Feeling festive? Kudoboard is perfect for holidays
Use Kudoboard as a digital Christmas card, a romantic Valentine's ecard, or even for Halloween costume contests. Every holiday is better with Kudoboard.
Frequently asked questions about online cards
To invite contributors, typically the creator of the ecard will share via email. With Kudoboard, board creators can share the board four different ways: QR code, direct link, email, and social media. Anyone can contribute to the board without signing up for Kudoboard.
Making an esard feel special and priceless is easy. Paper cards are tradition, but ecards can be personalized to the recipient's interests. Here are a few tips to make an ecard feel priceless. 
Post meaningful/funny quotes 
With ecards, you can add any type of text you want. These can include funny, sentimental, and meaningful quotes that remind you of the recipient. 
Make sure it gets to the recipient on time 
Schedule delivery of the ecard so that it gets to the recipient in a timely fashion. To ensure that the recipient will get the ecard by the desired date, ensure that all contributors are aware of when they have to finish adding to the ecard. 
Change the background/personalize the font
To really make an ecard stand out and feel special, personalize the background and font in a way that reminds you of the recipient. Choose colors that the recipient enjoys to make them feel loved. 
Expressing appreciation doesn't have to just be for thank you cards, it can be used for any occasion. To make an ecard feel priceless, express appreciation for all that the recipient has done. 
Sharing memories of the recipient is a wonderful way to make the ecard feel priceless. These memories can be funny or sentimental memories. 
Finally, a wonderful way to make an ecard feel extra special is by adding personal media like videos, photos, and text. 
What else can I do with an ecard?  
Not only can ecards be shared digitally via email, direct link, social media, or QR code, but they can also be shared in other ways. For personal and company use, Kudoboards can be shared as slideshows to be viewed at parties or get-togethers. ecards can also be printed as posters, or as a book, making an excellent gift for many occasions such as retirements, birthdays, anniversaries, and more.
ecards range in price from free to $19.99 for group ecards for personal use.
ecards are electronic cards used in lieu of paper cards. ecards can be used for any occasion, and are easy to send to recipients. ecards can be signed virtually and are easily shared with contributors to make group cards.
ecards are continuously gaining popularity because they are affordable, especially compared to paper card alternatives. ecards are customizable, making each one unique and original for any occasion. ecards can be signed by multiple people. ecards are also fun because you can add all sorts of media to the card, making each one special for the recipients.