Office competition
Office competitions—for remote or hybrid teams
Bring your entire department together—virtually or in person—with a shared Kudoboard.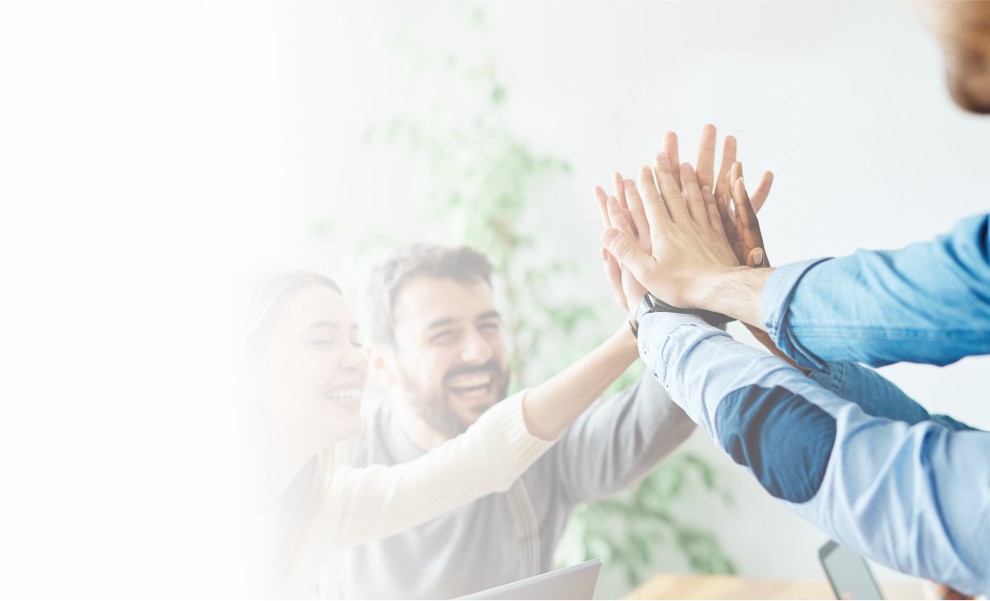 How to create an office competition board
Did you know you can use a Kudoboard for awesome office competitions? Use photos, videos, messages, GIFs, and reactions for voting!
Customize your office competition cards – here's a taste:
Take it to the next Level with a Subscription
Team morale boost, delivered.
Empower colleagues to celebrate each other and have a stronger sense of belonging at work with Elevate by Kudoboard.
Unlimited boards and multiple board creators to celebrate all your milestones, company events, & peer-to-peer recognition.

Custom branding lets you personalize your Kudoboard's with your organization look & feel.

Automate board creation for employee birthdays and work anniversaries.

Integrate with your key systems like SSO, Slack or MS Teams, and more.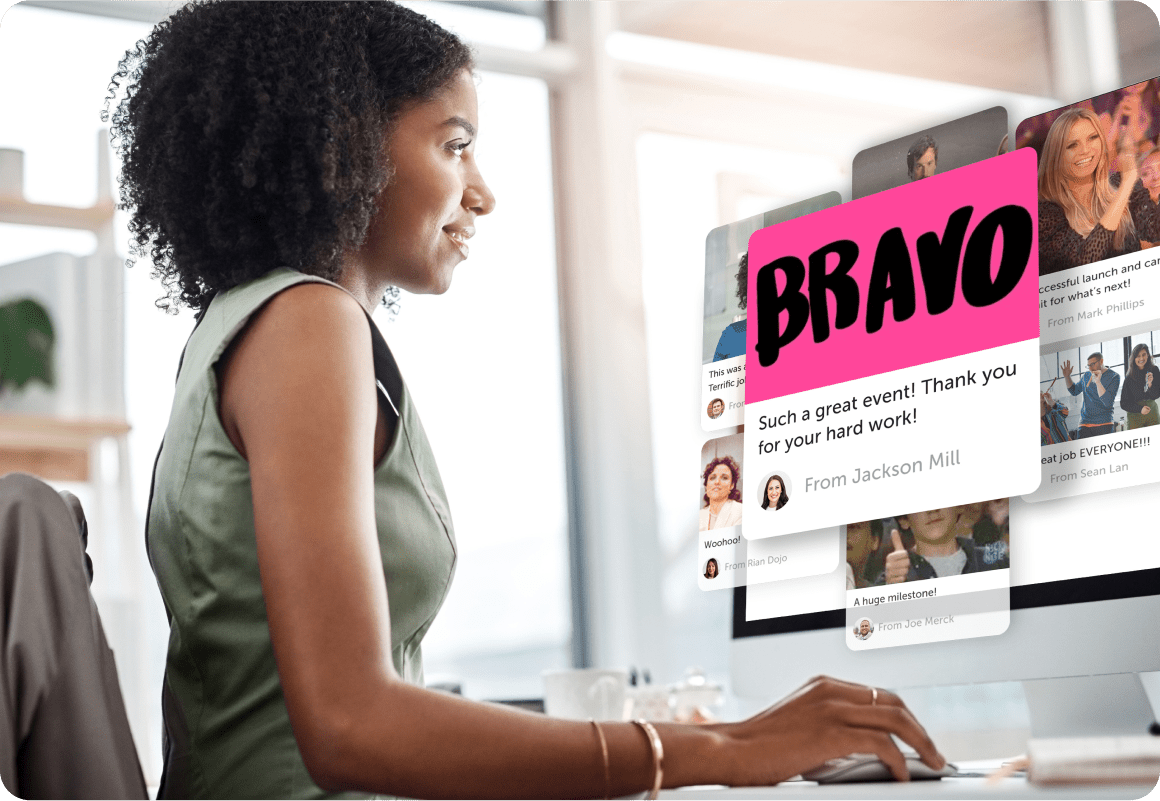 Planning an office competition?
Whether you're planning a company-wide 5k or best dressed dog challenge, Kudoboard is the perfect companion for your office competition event. Build an office competition card with your custom branding—let everyone flash their creativity and personality with fonts, photos, GIFs and more features.
We've got you covered. Contact us to get setup.
Your logo at the top
Custom pricing
Custom URL
Proactive moderation
Multiple administrators
Embeddable content
Board export
Tagging, likes, and comments
Custom disclaimer
Custom input fields
Board metrics
Dedicated account manager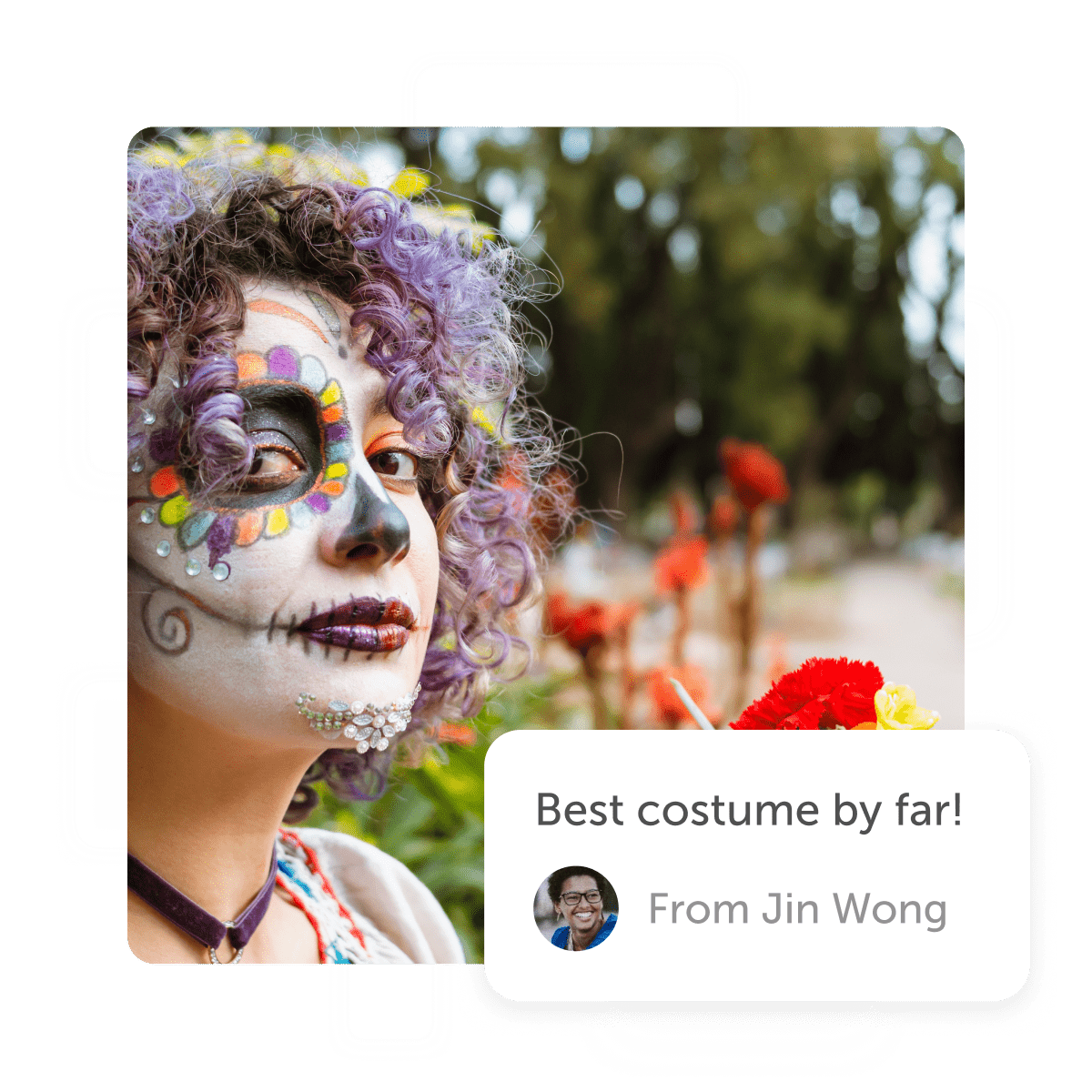 Easy to use. Easy to share. A great experience and perfect for the situation.

Pip L.

It's a more time saving way of being able to express celebratory thoughts, memories, or gratitude with those that we work with. I love too that we can add pictures and gifs for the more fun and creative ways of expressing these thoughts!

Peter O. Program Manager Higher Education

I would use Kudoboard if I weren't working remotely – it's so much easier to manage than sneaking a card around the office to collect messages. 

Jennifer T. Sr. Manager, Client Training

Kudoboard allows me to invite the entire organization to celebrate important employee milestones well before an event. With choices for backgrounds and many other personalization options, each card can be geared toward an individual recipient and occasion.

Elena H. Talent Acquisition Lead and Business Development Consultant

You can provide a global digital experience with ease. There is no need to manually coordinate with your colleagues, stakeholders or friends as this experience is so simple to manage all online.

Joe Q. Director, High Touch Demand Mechanical or Industrial Engineering
Kudoboard's best features for office competitions
Totally Custom

Easily customize the look and feel for your competition or contest, including background artwork, fonts, personalization, display experience and add-ons.

Invite Contributors—Anywhere

Executives, coworkers, clients, vendors… anyone can add to your online competition, no matter where they are. Just drop them the link or display the QR code.

Authentic Posts

A Kudoboard post is much more than a signature or quick "Way to go!" Posts can include shout outs, memories, photos, videos, and any other tribute.

Schedule Delivery

Schedule reminders to participate and delivery the board at the finish date.

Thank Contributors

Recipients can quickly thank contributors once they win the competition.

Save Forever

Boards last forever, so your team can save the competition board for future inspiration.

Display Slideshow

Display your competition board during a party or on a team meeting—our slideshows are perfect!

Great for Hybrid Teams

Remote and hybrid teams can still be connected through virtual company events. Kudoboard's features are designed for virtual connection.

Emojis & Comments

Upgrade to a business plan to add comments and emoji reactions to posts for even more connection.

Sustainability

Kudoboards are more sustainable for your wallet AND the earth.
A little competition can build a lot of culture.
Including everyone in your organization – remote or in-office – builds culture and strengthens bonds. Create a shared Kudoboard for your next friendly office competition.
#1
reason people leave their job is because of a lack of recognition.
98%
of people would be happier if they were celebrated at work.
92%
of people feel happier at work when they receive a Kudoboard.
85%
prefer a Kudoboard over a paper card. It's more authentic.
83%
of customers experience a positive impact on morale with Kudoboard.
80%
prefer contributing to a Kudoboard over a paper card. It's more fun.
>75%
improvement in team morale is gained by Kudoboard deployment.
90%
say companies undervalue the effects of recognizing people.
Frequently asked questions about office competition boards
Office competitions are a fun and friendly way for a business to engage its employees and build a positive work environment. Team members will compete in various activities or challenges to earn rewards, prizes, or recognition. Office competitions can be team-based or done individually, and are held both as one-time events or regular, ongoing initiatives in a company.
While too much competition in the workplace is a sign of toxic work culture, healthy amounts can push employees to excel and reach higher levels of performance. Before deciding whether or not competition is right for your organization, here is a list of the pros and cons of office competition:
PROS:
It creates a feeling of urgency to push employees to move past their comfort zones and reach their goals.

It allows employees to develop new skills and invest extra effort in seeking out information and resources.

Certain types of office competitions center around teamwork and collaborating to reach a common goal. This helps teams to build relationships and create more team camaraderie. 

Office contents or competitions often have rewards and incentives for the winners. Recognition and prizes are proven ways to keep employees more satisfied and engaged in their jobs. 
CONS:
Too much competition can create rivalries in the office and put a strain on team relationships, which can then tear down established company culture.

Certain types of workplace competition can increase already high levels of stress among employees, making it hard to avoid pushing too hard and reaching burnout. 

Earning individual achievements is important in a work setting, but too much individual competition breaks down teamwork and a cooperative environment.
The best office competitions to host are the ones that align best with your company culture and create a positive environment for your employees. They need to be tailored to your diverse staff according to their personalities and interests. Asking for feedback from your employees can help to design contests and competitions that they are interested in and excited about. Some popular ideas for office competitions are:
Employee of the Month/MVP

Team voting or polls

Trivia or quiz competitions

Sales contests

Wellness challenges

Innovation competitions

Costume contests

Team challenges to solve problems or complete projects
This entirely depends on where the company is located. Office competition pools like sports betting can vary according to your jurisdiction. Even in areas that allow gambling, it's important to consult legal professionals because there may be restrictions you are unaware of. Ask your human resources department or legal teams to make sure you are in the clear before moving forward with any office competition pools.
Office competitions can boost team morale and create more job satisfaction among employees if they are done right. Here are some ideas for competitions or contests and how they can boost morale:
Employee or team awards/recognition:

Having awards or contest programs to highlight top-performing employees or teams like "Employee/Team of the Month" helps employees feel seen and valued for their contributions. 
Wellness Challenges:

Promoting healthy lifestyles through wellness changes is a great way to help employees feel better overall, which will help them feel happier at work. Ensure your wellness challenge encourages a holistic form of wellness (instead of being steeped in toxic diet culture) by providing support for physical

and

mental well-being and encouraging proactive rest. 
Volunteer/Service Contests:

competitions that center around building community can boost morale in the office and all around it. They help employees feel connected to something bigger than themselves and can inspire them to make a difference.
Talent Show:

Put a unique spin on the standard talent show to include talents that can't be performed in front of a crowd. Allow employees to share their skills and interests in a less-pressure way and give time and space for co-workers to interact with each other's displays. 
Costume Contest:

during holidays or special occasions host a department-wide costume contest for all employees. Involve things like team voting to decide a winner or a winning team to earn prize money or other rewards. 
Holidays are a fun way to encourage participation and engagement in the workplace through holiday-specific office contests and competitions. Christmas time is a great opportunity to host contests that help to end the year on a good note. Here are some ideas to include during your office Christmas celebrations:
Baking Contest:

Host an office bake-off or cookie decorating contest with a Christmas or Holiday theme. Get friends and families involved by letting them be the judges who decide the winners, or sell the treats and see which teams can earn the most money to go towards providing Christmas for a family in need.

Extreme Cubicle Makeover:

Give employees a theme and let them each decorate their desk space. Set a limit to what they can spend or require they only use supplies they can find around the office. Up the excitement by making this an office chair competition where the winner of the decorating contest gets their prize in the form of a new comfortable office chair for the next year.

Ugly Sweater Contest:

During your holiday party host an ugly sweater contest and let the employees vote on the most creative or funniest contributions.

Christmas Trivia Night:

include questions about all different kinds of cultural celebrations around Christmas time to ensure representation and inclusion. Group together employees ahead of time and let them design a team name, logo, or uniform to wear.
If you are looking for a way to access everything needed for workplace appreciation and team engagement all in one spot, you have come to the right place! Elevate by Kudoboard is an ongoing business plan that provides all of the bells and whistles your employees deserve to feel recognized and valued by their company. Our plan provides unlimited customized boards, making it perfect for any size team to come together and participate in team events anytime you need it. Our business plan makes it easy to quickly organize an office competition that will be remembered by all!
Start your free trial today and experience workplace appreciation and engagement reimagined.
Kudoboard's online platform allows employers and employees to create and share messages on digital boards for appreciation, recognition, and celebration. You can customize each board to your specific needs, making it a great option for fostering connection in the workplace. Here are a few ways you can use Kudoboard for your next office competition:
Recognize winners of awards like "Employee of the Month" by creating a board designed specifically for them. Colleagues or co-workers can contribute messages of congratulation in the form of words, pictures, videos, or memes to make the winning employees feel loved and appreciated. 

Use a Kudoboard in a contest that requires employees to vote for a winner by giving each competitor a section where everyone can leave comments or votes for who they think should win

After the competition is over, create a board where everyone can share highlights from the event. Share pictures, videos, or favorite moments, and display them as a slide show at your next work meeting.
Still looking for more information? Come check out our blog! You'll find new content posted regularly to help you find what you need. Feel free to poke around and see if anything else piques your interest. 
As always, we love hearing from you – so please contact us with any unanswered questions!