retirement cards
Custom online retirement cards
Retirement is something to celebrate! Create a customized retirement card that includes coworkers, family, and friends. Get started now!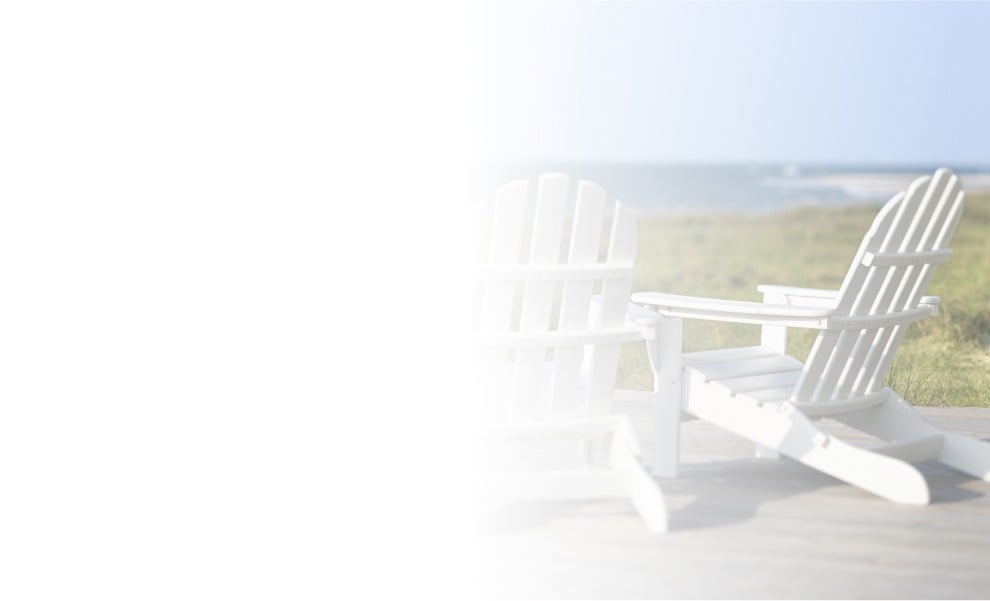 How online retirement cards work
Kudoboard's online retirement cards are shared virtually with anyone, anywhere.
Check out these sample retirement cards from a group
Having a company retirement event?
Send everyone off in style with a Kudoboard at company retirement events. Let your organization show their appreciation through fonts, GIFs, photos and even more features in a online retirement card – one the recipient can hold on to forever.
To get set up, contact us
Your logo at the top
Custom pricing
Custom URL
Proactive moderation
Multiple admins and contributors
Embeddable slideshow
Board export
Tagging, likes & comments
Custom disclaimer
Custom input fields
Board metrics
Dedicated account manager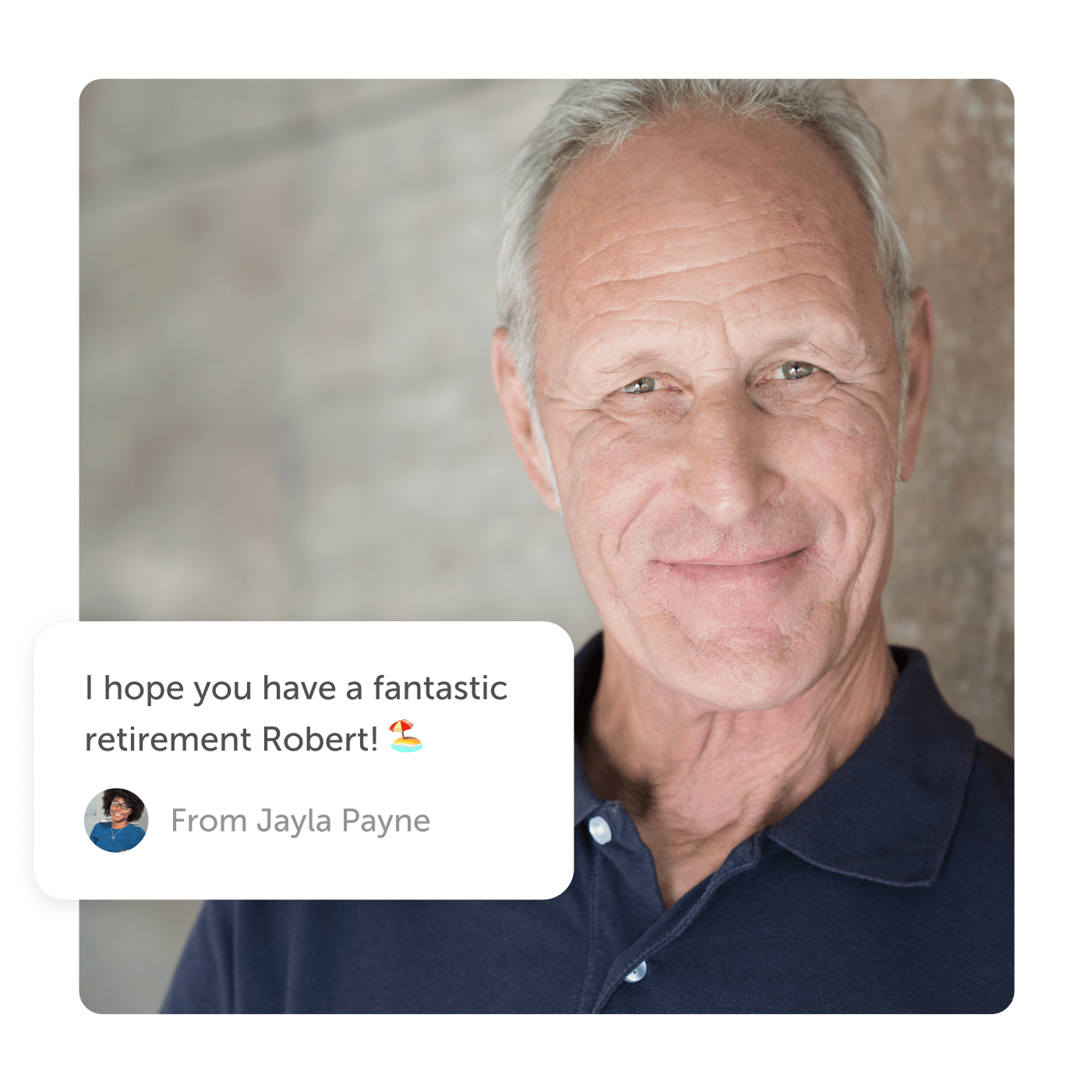 Wow, what an exciting service Kudoboard offers! I was gifted the Kudoboard and I am so honored. Having recently retired it is incredible to hear from former students from decades ago. Thank you for creating a service full of heart!

Sandy K.

It was wonderful to be able to read all the comments from employees that I have had the opportunity to work with. It was a surprise and something I will always cherish and remember.

Paul P.

It was quite an honour to receive this on line greeting to acknowledge my retirement.

Jan J.

My employer initiates a Kudoboard upon an employee's retirement and invites colleagues to contribute. It was humbling and meaningful to see all the messages. To have these messages available indefinitely to commemorate 39 years of service was important to me. I'm beyond appreciative.

Shannon C.
Online retirement cards that work for YOU
Totally Custom

Kudoboards are completely customized for your retiree, including artwork, fonts, photos, GIFs, and videos

Invite Contributors—Anywhere

Friends, family, and teammates can all add to your online retirement card, no matter where they are. Just drop them the link!

Authentic Posts

A Kudoboard post is much more than a signature or quick "Best of Luck!" Posts can include memories, photos, videos, inside joke GIFs, and anything else you think up.

Schedule Delivery

No need to worry about walking their card around or getting their address. Simply schedule the board to be delivered via email on a day of your choosing.

Thank Contributors

Recipients can quickly thank contributors once they receive their card. Thank you FOR thank you!

Save Forever

Boards last forever, so the recipient can bookmark this board of positive words for a rainy day boost.

Print It

On special occasions, a printed book or poster of your Kudoboard makes a beautiful retirement present.

Display Slideshow

Celebrating at a retirement event? Display the Kudoboard messages on a screen.

Add a Gift Card

Attach a gift card to your Kudoboard for a sweet token of appreciation. You can even crowdsource donations!

Emojis & Comments

Get a business plan to add comments and emoji reactions to posts for even more fun!
Marking retirement makes a difference
Acknowledging the moments that matter is important. Showing you care is proven to change the way we think—and perform.
#1
reason people leave their job is because of a lack of recognition.
98%
of people would be happier if they were celebrated at work.
92%
of people feel happier at work when they receive a Kudoboard.
85%
prefer a Kudoboard over a paper card. It's more authentic.
83%
of customers experience a positive impact on morale with Kudoboard.
80%
prefer contributing to a Kudoboard over a paper card. It's more fun.
>75%
improvement in team morale is gained by Kudoboard deployment.
90%
say companies undervalue the effects of recognizing people.
Happy employees are productive employees
Workplace appreciation and honoring people is the key to effective company culture and employee morale. Showing gratitude for years of service sends the right message to retirees and their coworkers—what you did mattered, and we're better because of it.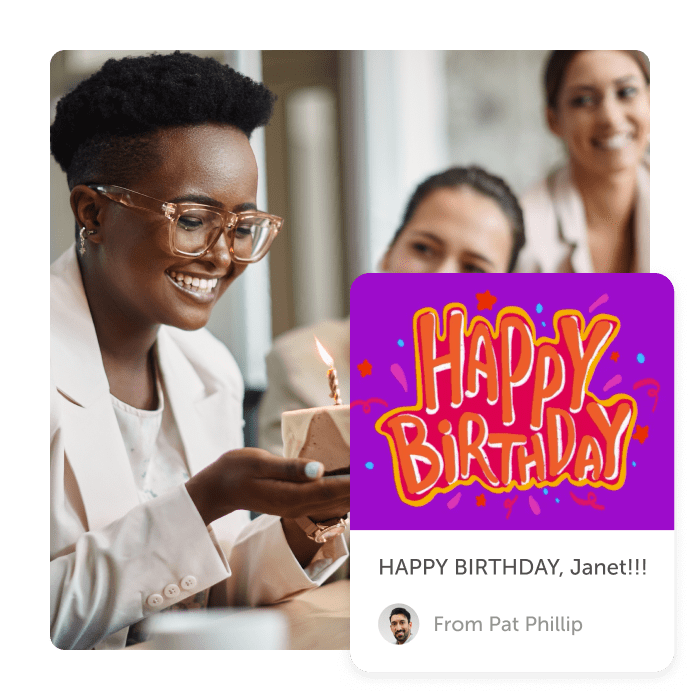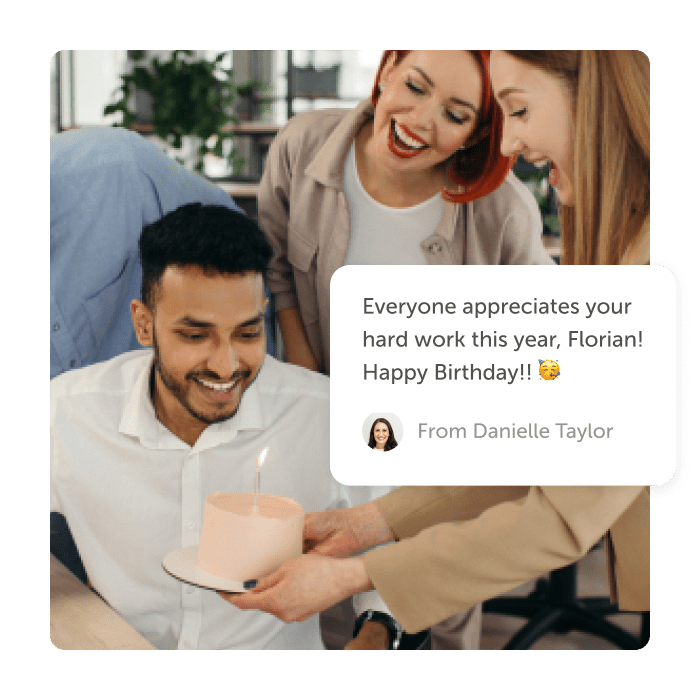 So much more than a paper retirement card
In the past, someone would need to leave the office to buy a small, paper retirement card. Then it needs to be walked around the office, missing everyone who isn't there or who works remotely. Not anymore. Retirement Kudoboards solve all of your problems. Our online retirement cards are fast, efficient, and cost-effective. Plus, they're perfect for hybrid and remote teams.
Frequently asked questions about retirement cards
Retirement ECards are a great way to say farewell to a fellow employee or boss. You can also use them to give to family members to celebrate their years of hard work supporting their family. Retirement Ecards or virtual retirement cards are simply an online version of a paper card, but way cooler. With e-cards, you can send the card virtually and add different media to make it ultra-personalized.
There are many free options for retirement e-cards that still offer all the fantastic choices of a paid card. The price varies depending on your needs. If you have more than ten contributors, you may need to pay to add extra contributors. Some e-cards may charge for other features. With Kudoboard, there are different pricing tiers depending on your needs. If you have a business, Kudoboard has many business plans that will allow you to create retirement, birthday, wedding, and anniversary cards for your employees!
Writing in a virtual retirement card is easier than you think! With e-cards, you can add more than a simple text message like "we are sad to see you go! Good luck with your next stage in life. " With e-cards, you can add things like:
Gifs expressing your feelings about retirement.
Photos and videos you have of the person retiring.
Stories with fun memories of the person
Well wishes to them.
Add evidence of any accomplishments they've made during their career.
Making a virtual retirement card is simple! Choose your e-card site and follow these steps:
Find the "create card" button
Add your information and theirs (usually their email).
Start creating your e-card by changing the font and background.
Add Media (photos, gifs, videos, and text).
Choose when you send the card (if that is an option).
Click deliver, and you're done!
Ecards take out the hassle of going to the store, picking out a boring paper card that may or may not match the person, writing in it, and delivering it. Now you can do it all from the comfort of your home or office, and e-cards are often more personalized.
Yes! That is the best part about e-cards, you don't have to pass out a boring paper card that doesn't have enough room for everyone to sign more than their name. With virtual cards, everyone can add whatever message or media they want. If you're going to invite others to share well wishes for the retiree, simply follow these steps:
After creating the initial card, add the contributors' emails (with Kudoboard, they don't have to sign up. They can simply add to the card).
Send the virtual card to them and let them know they can add messages to the card.
That's it!
The most significant difference between virtual and paper cards is the option for personalization. You can't add media with paper cards as easily (you definitely can't add videos or gifs). Virtual cards offer the convenience of adding contributors quickly and easily. You can't go wrong with a virtual retirement card.
Many e-card companies offer more options than simply sharing the card. With Kudoboard you can print a book of the e-card as a gift for the retiree. If you are throwing a party, you can also make a slideshow of the e-card to show at their party!