AUTOMATION
Never forget a workplace celebration again
Easily automate boards for your team's birthdays and work anniversaries, so all you need to remember is the cake.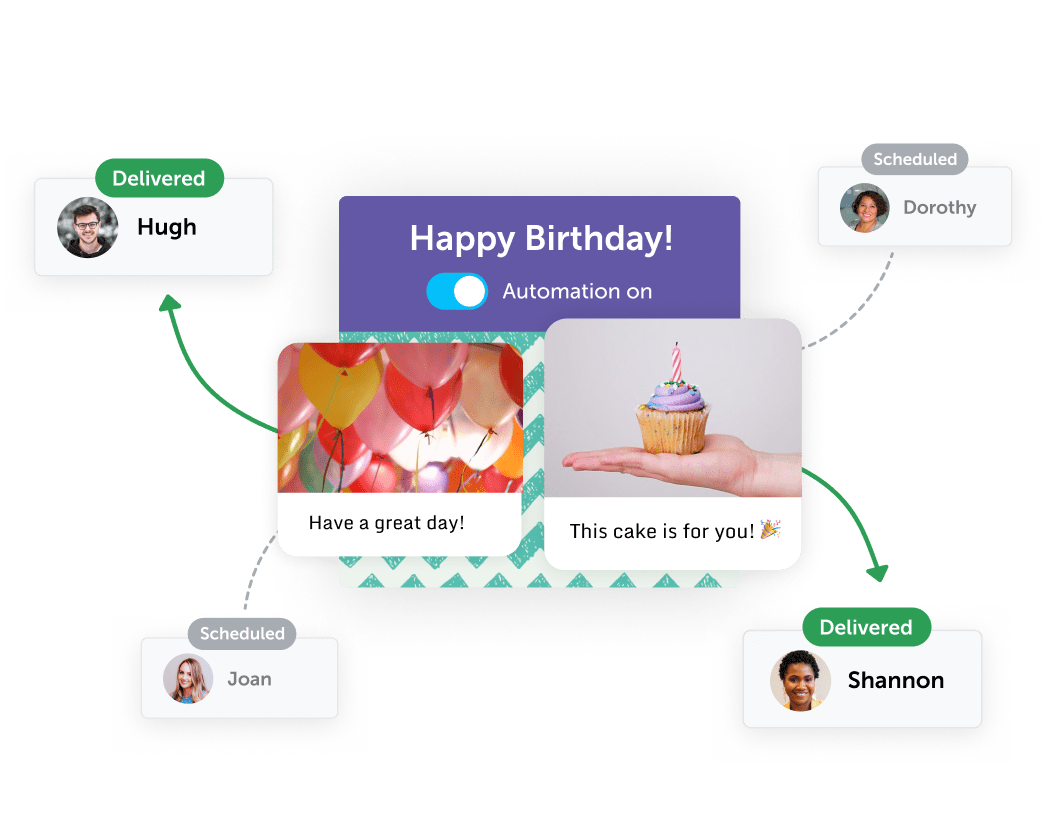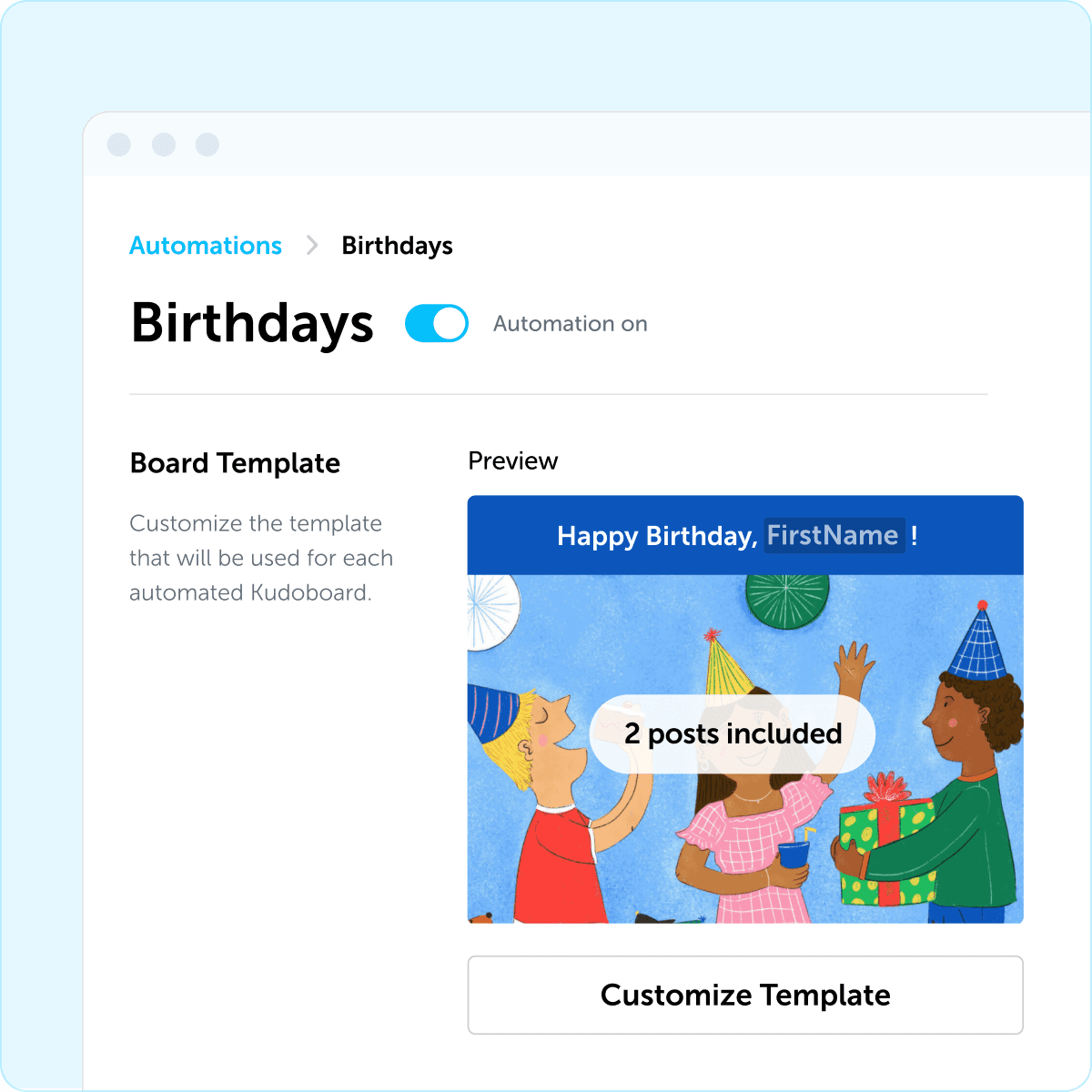 AUTOMATIONS
Template customization
Create a template with customized messaging and graphics, then use that template to automatically generate unlimited Kudoboards.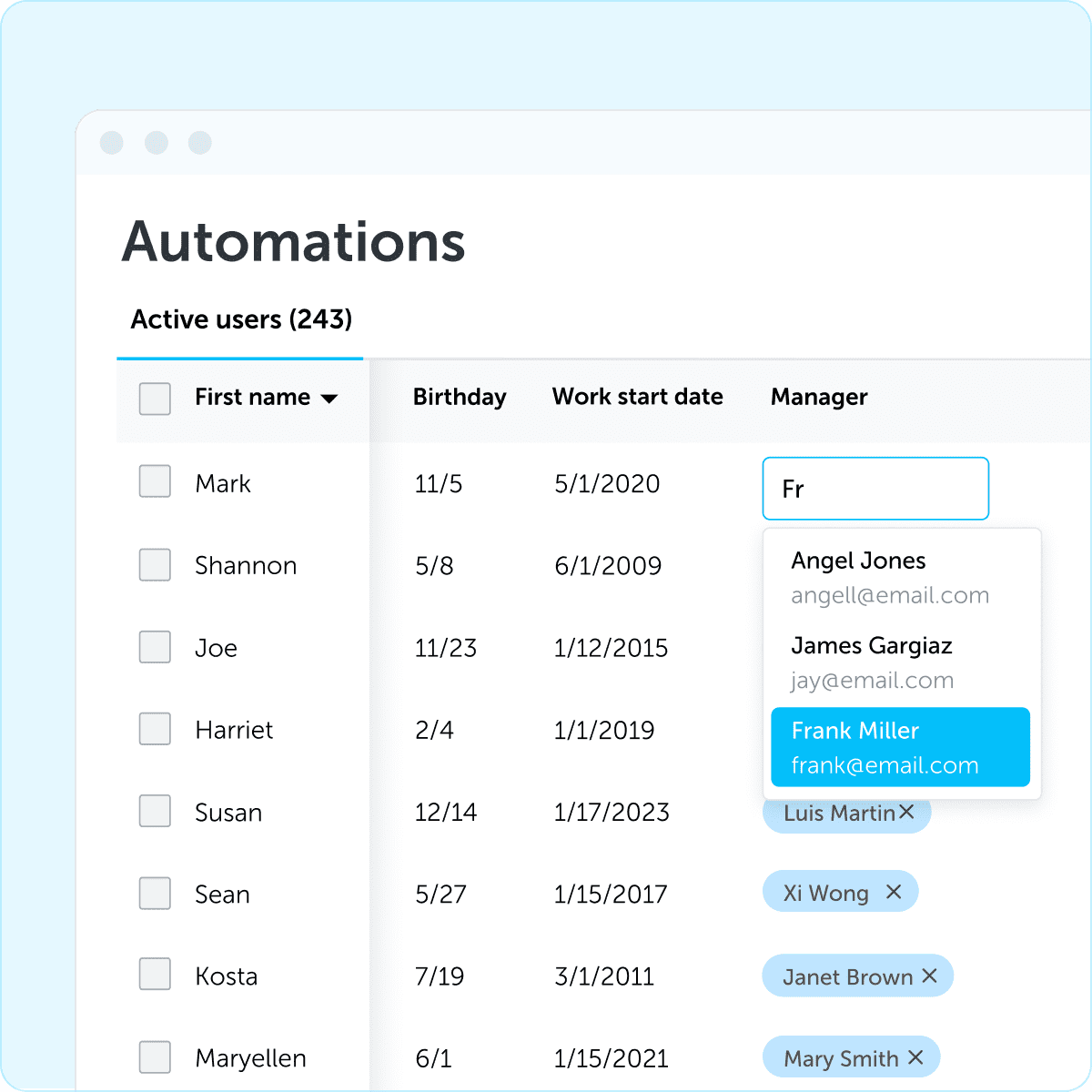 AUTOMATIONS
Board owner assignment
Easily assign board owners to ensure the Kudoboards are sent to contributors and delivered to recipients on-time.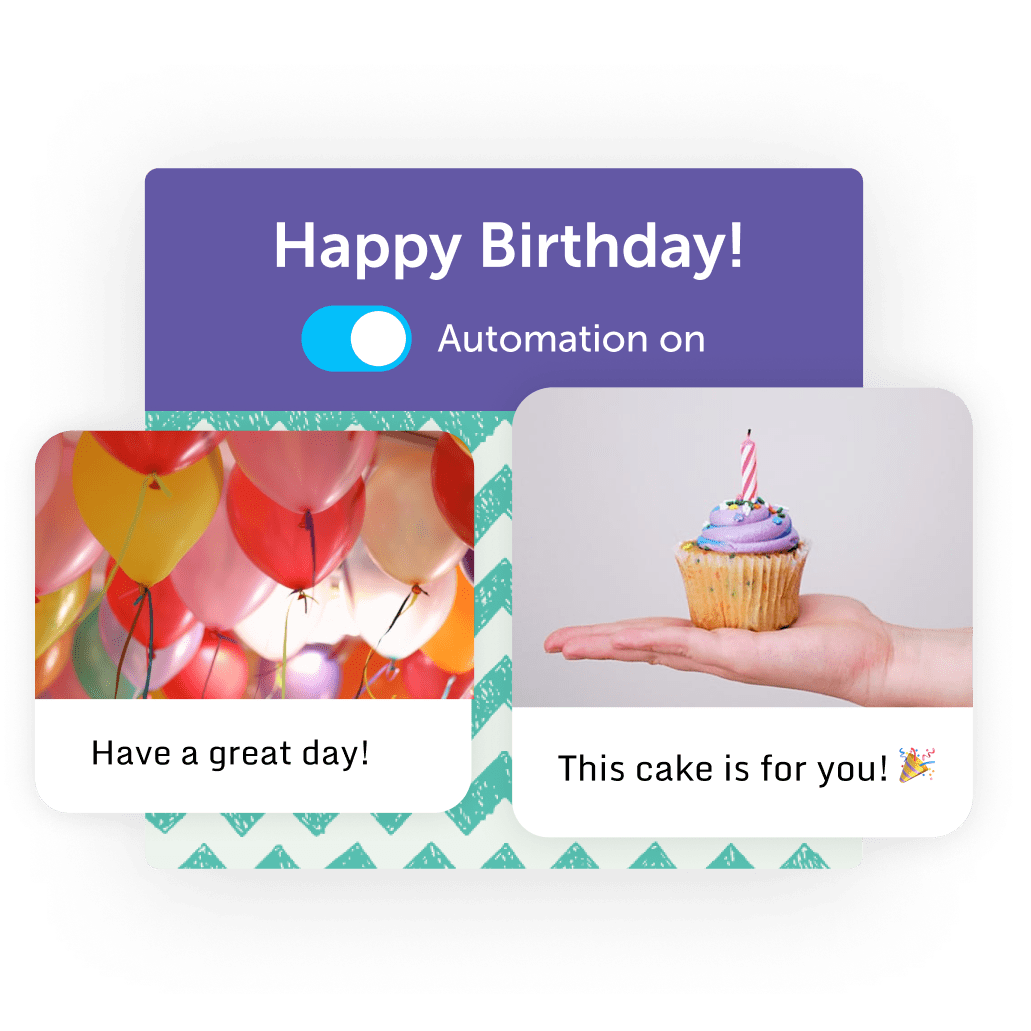 AUTOMATIONS
Automate birthdays & work anniversaries
Use automations to create Kudoboards for popular events such as Birthdays and Work Anniversaries, removing the headache of having to keep track of countless events.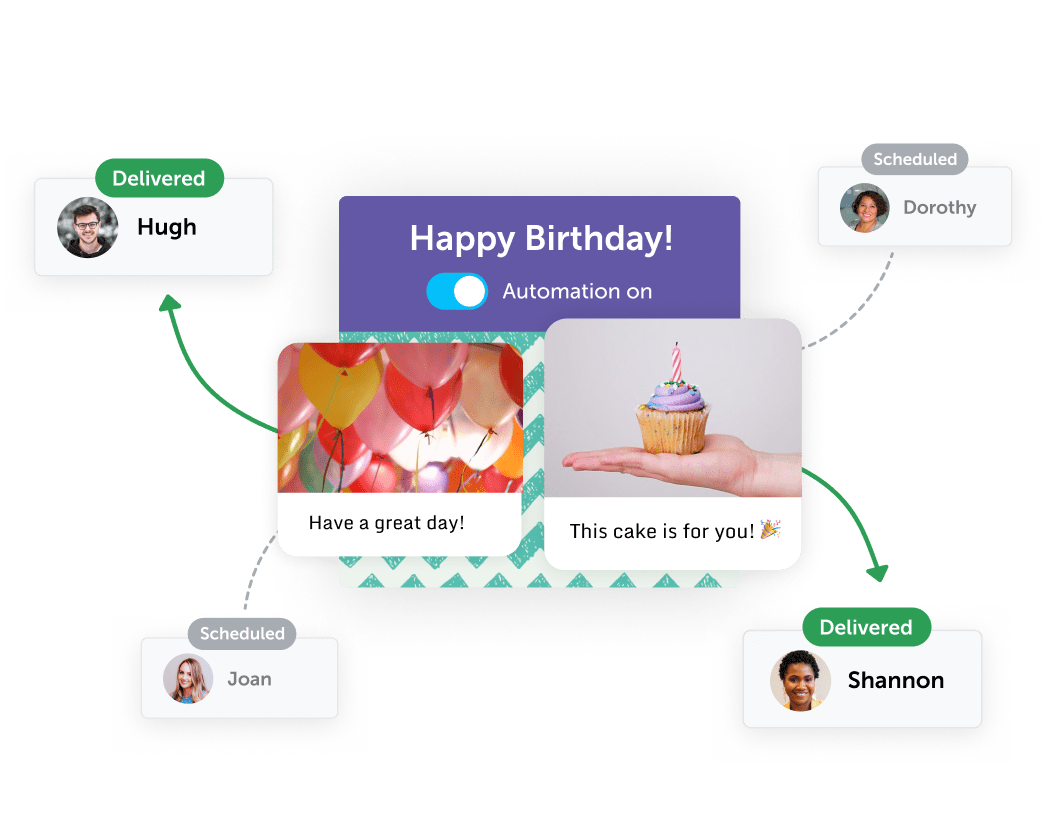 AUTOMATIONS
Schedule invitations & delivery
Not ready for the business features? Individual users can still use our automations to schedule when board invitations go out—and when the board will be delivered. Set it and forget it!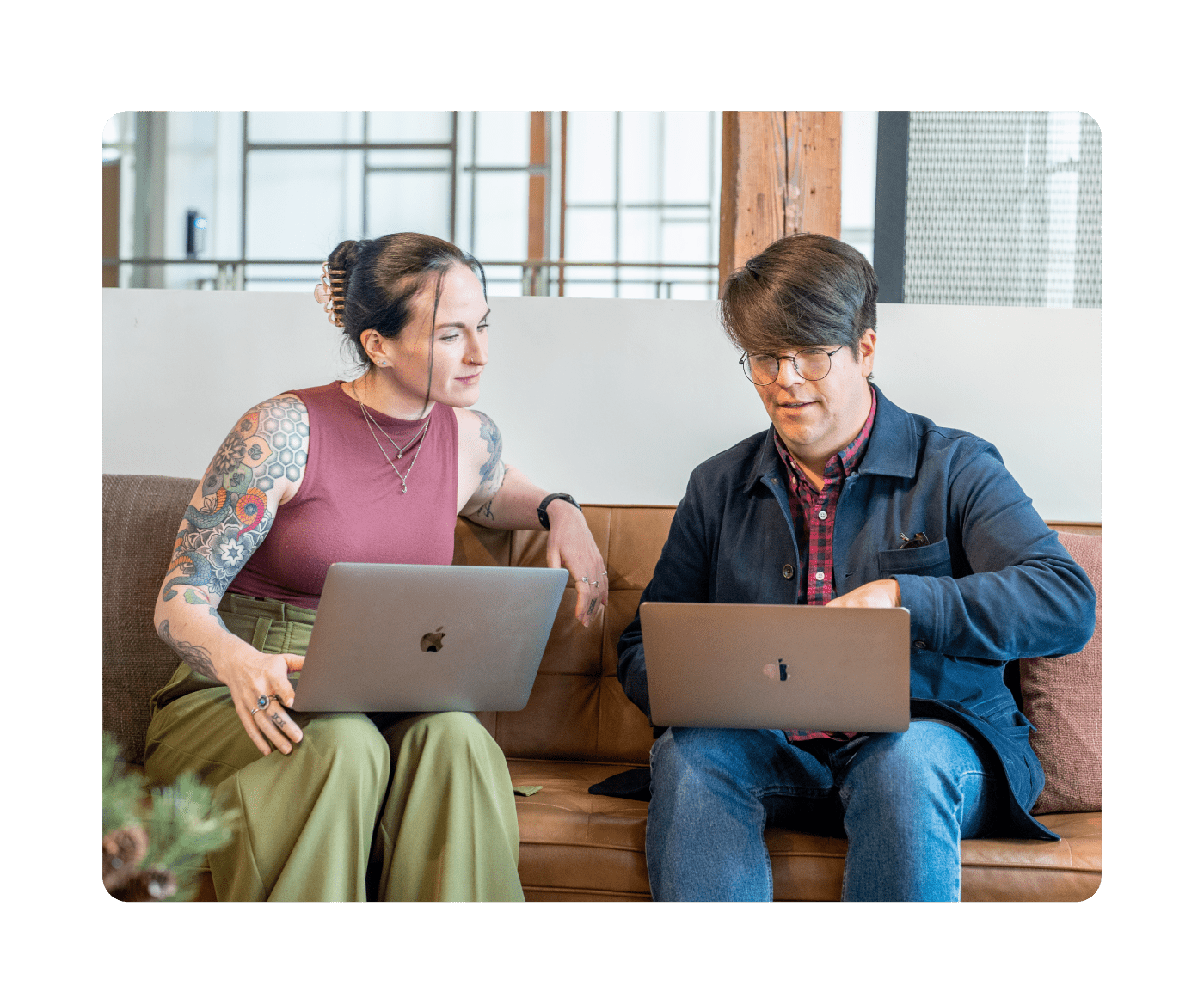 Kudoboards are easy to give to coworkers. People love the personalized messages with videos, images, and GIFs. When someone on our team receives one, they LOVE it!

Julie R.

Our HR Team supports employees around the world. Using Kudoboard allows us to appreciate each other no matter where we are. Love that!

Debbie C.

We chose Kudoboard for the wider use cases. Unlike many competitors which offer more narrowly focused services, we could use Kudoboard for all sorts of elaborate celebrations.

Jessica C.
TAKE AUTOMATIONS TO THE NEXT LEVEL
Get an Enterprise Plan
From integrations and automations to SSO and advanced reports, our Enterprise plan has everything your organization needs.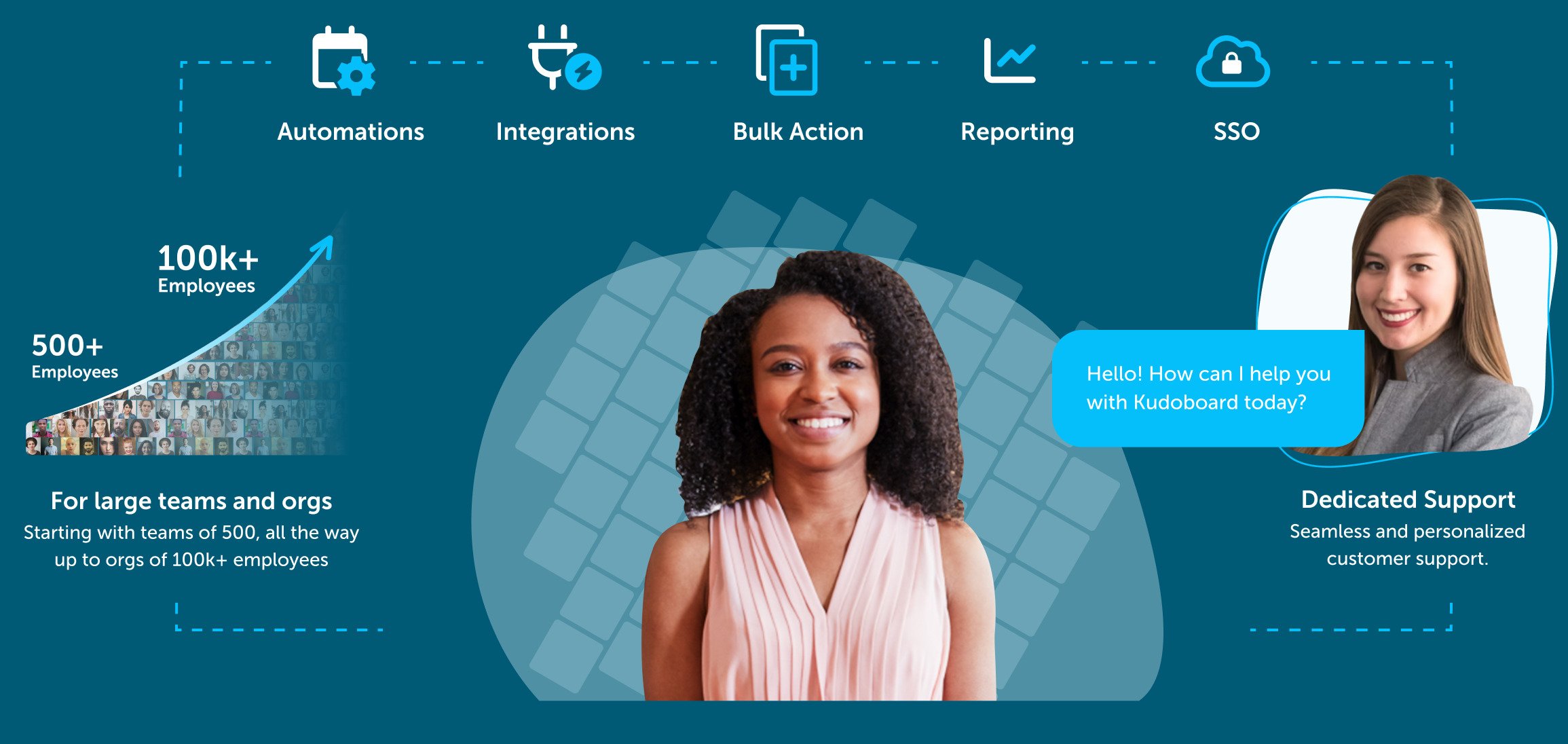 Frequently Asked Questions about Automations
The term "automation" is used to describe technology that streamlines various tasks and processes to require little-to-no manual intervention. This popular technology or system saves time and money by optimizing workflow and increasing efficiency. By reducing the amount of manual work required, automation allows for energy and resources to be used elsewhere and often reduces the number of errors made in the overall process.
Absolutely! Automation is very helpful across many industries and workplaces. Company leaders have found the use of automation to boost productivity, increase efficiency, and reduce errors. Here are some things automation can do to benefit your business:
Complete repetitive or time-consuming tasks faster and more accurately so that employees can spend valuable time on other projects or assignments

Reduce common errors made in this like data entry or repetitive tasks

Streamline customer service operations and improve response times

Collect and analyze data quickly

Speed up time spent on tasks and projects

Save costs by reducing the manual labor required

Reduce the number of repetitive tasks required of employees, allowing them to use their time and energy
We know that finding ways to utilize automation is a heavily discussed topic right now for many companies. That's why we have worked hard to create a way to deliver workplace appreciation in your organization as easily as possible! A Kudoboard business or enterprise subscription allows you to automate your board use in the following ways:
Automate boards for things like birthdays or work anniversaries ahead of time instead of trying to keep track of it all in real-time. Once the setup is complete, we handle the creation of your boards while you sit back and relax!

Create a template with customized messaging and graphics, and then use it to automatically generate as many boards as you want

Give board owner assignments to oversee the contributions and on-time delivery of your team kudoboards
Yes! Once you are subscribed to a business or enterprise plan, the setup of our automation feature can be found under your account in the admin panel. This can be accessed on any device by an assigned organizational admin.
Organizational admins in your business or enterprise subscription can access automation and controls through the admin panel. From there you can either create or manage automations on your own or assign it to a "board owner" for them to oversee the contributions and on-time delivery of the boards.
The ability to automate boards comes with both the Business and Enterprise subscription plans, at no extra cost to you. The Business plan, our most popular subscription, includes everything in our Premium Package as well as things like unlimited boards, custom branding, added access controls, data export, embeddable content, and more – starting at $299 a year. 
For larger companies with more than 500 colleagues, contact us about our Enterprise plan. This subscription is a customized plan and dedicated account management for larger enterprises with unique needs.
Don't take our word for it.