Analytics & Insights
Track recognition and engagement from all angles
Leverage more data and metrics to gain actionable insights into your company's engagement with Kudoboard.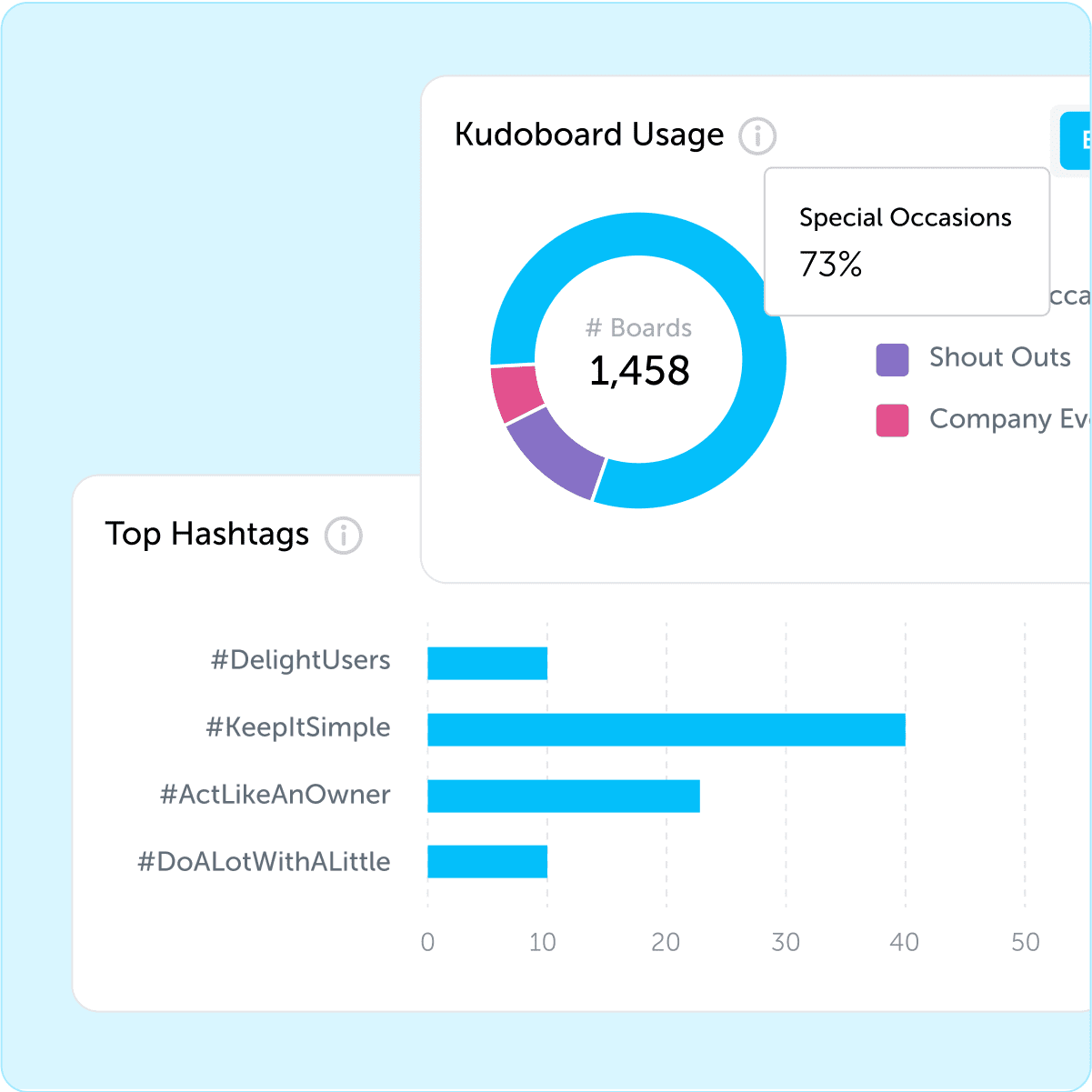 Stats at your fingertips
Visualize data to understand your workplace recognition and appreciation.
Gain actionable insights
Track key metrics that give you important insights into the health of your work culture.
View usage metrics
Track workforce appreciation, the frequency of recognition, and overall engagement.
Level up appreciation insights
Reports let you gauge progress across your teams helping to keep everyone on the same page.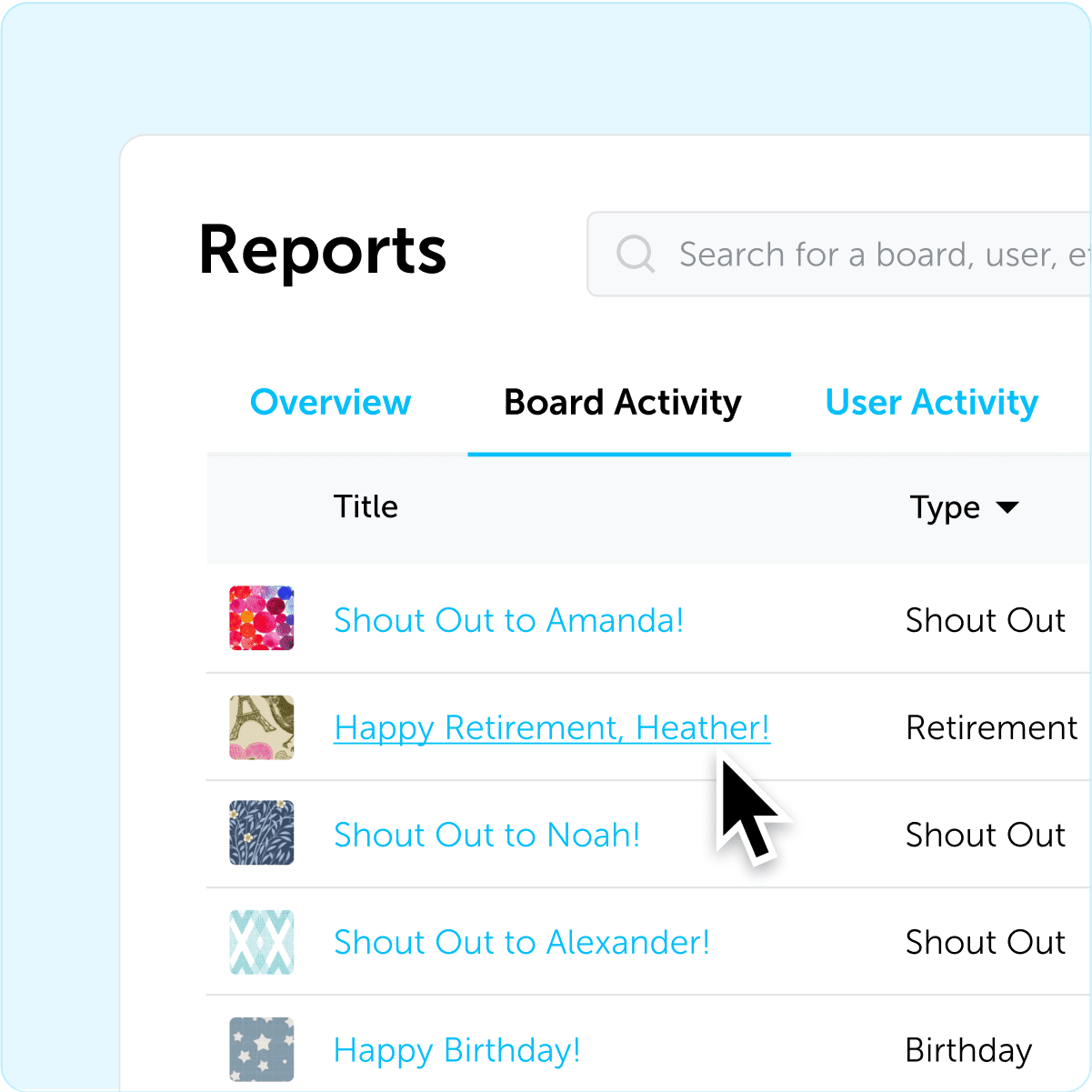 Analytics & Insights
Gratitude insights at scale
Understand how your organization is appreciated with the power of self-serve analytics.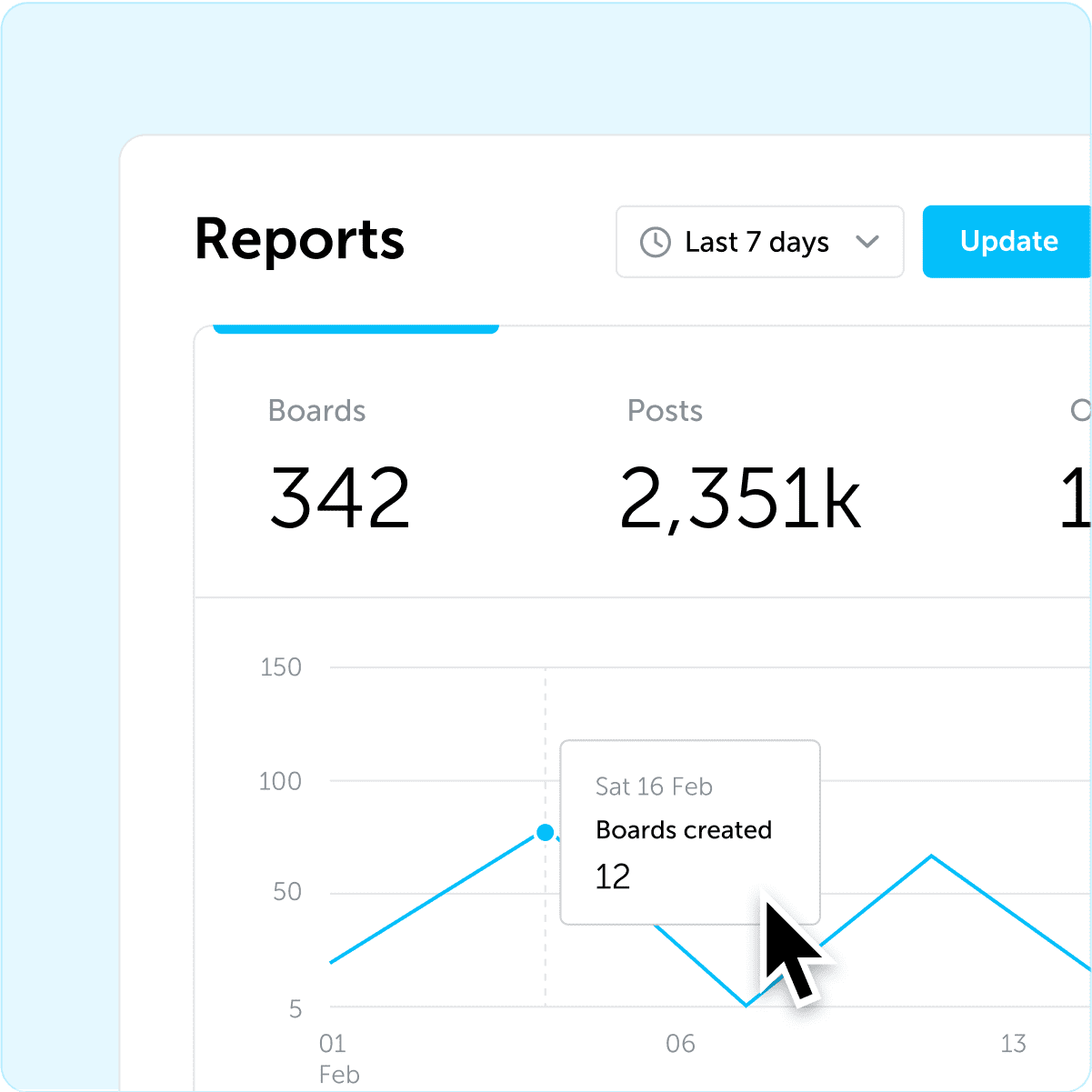 Analytics & Insights
Board & post metrics
Stay up to speed with what Kudoboards are getting the most engagements.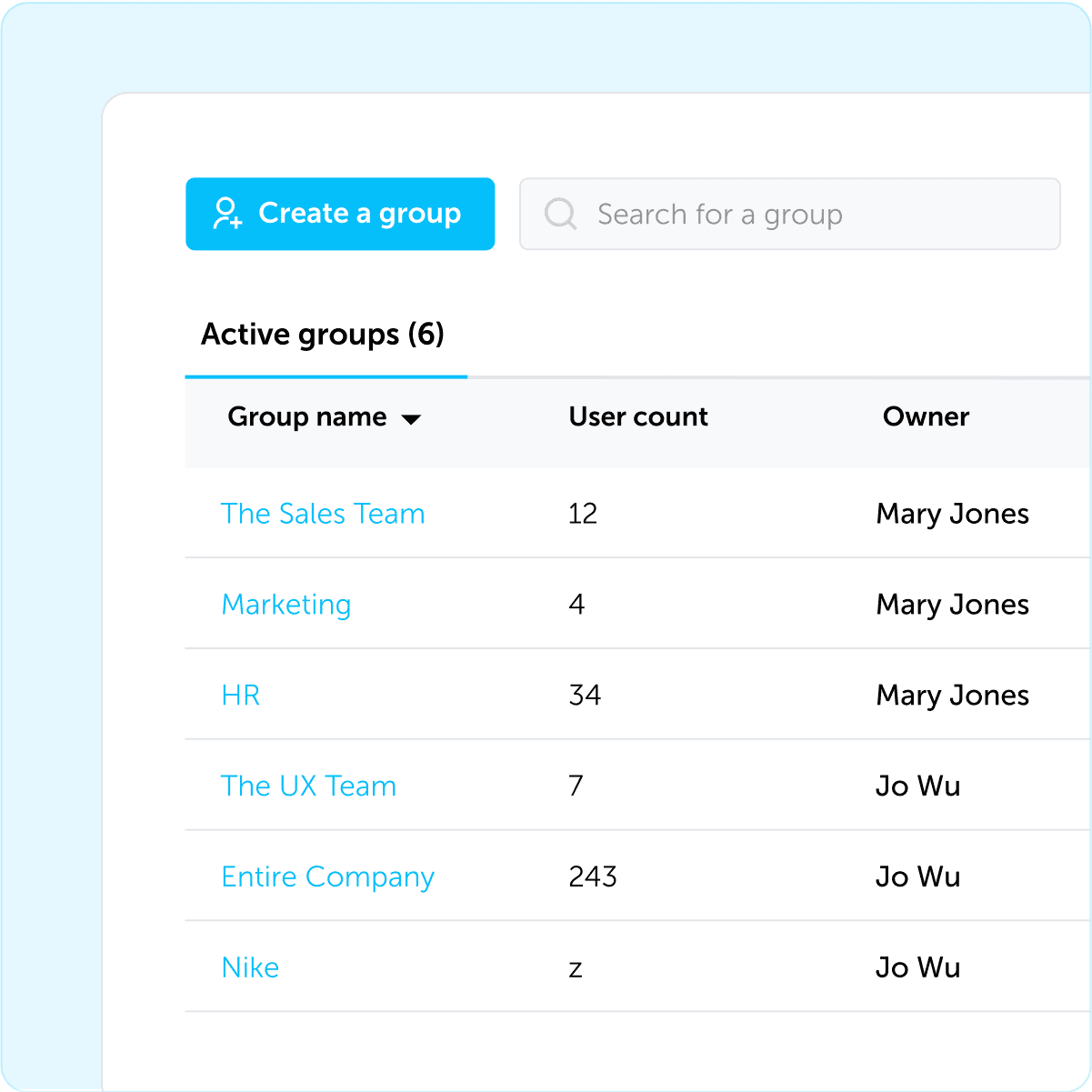 Analytics & Insights
User-level metrics
Stay on top of your users and track engagement on the user level.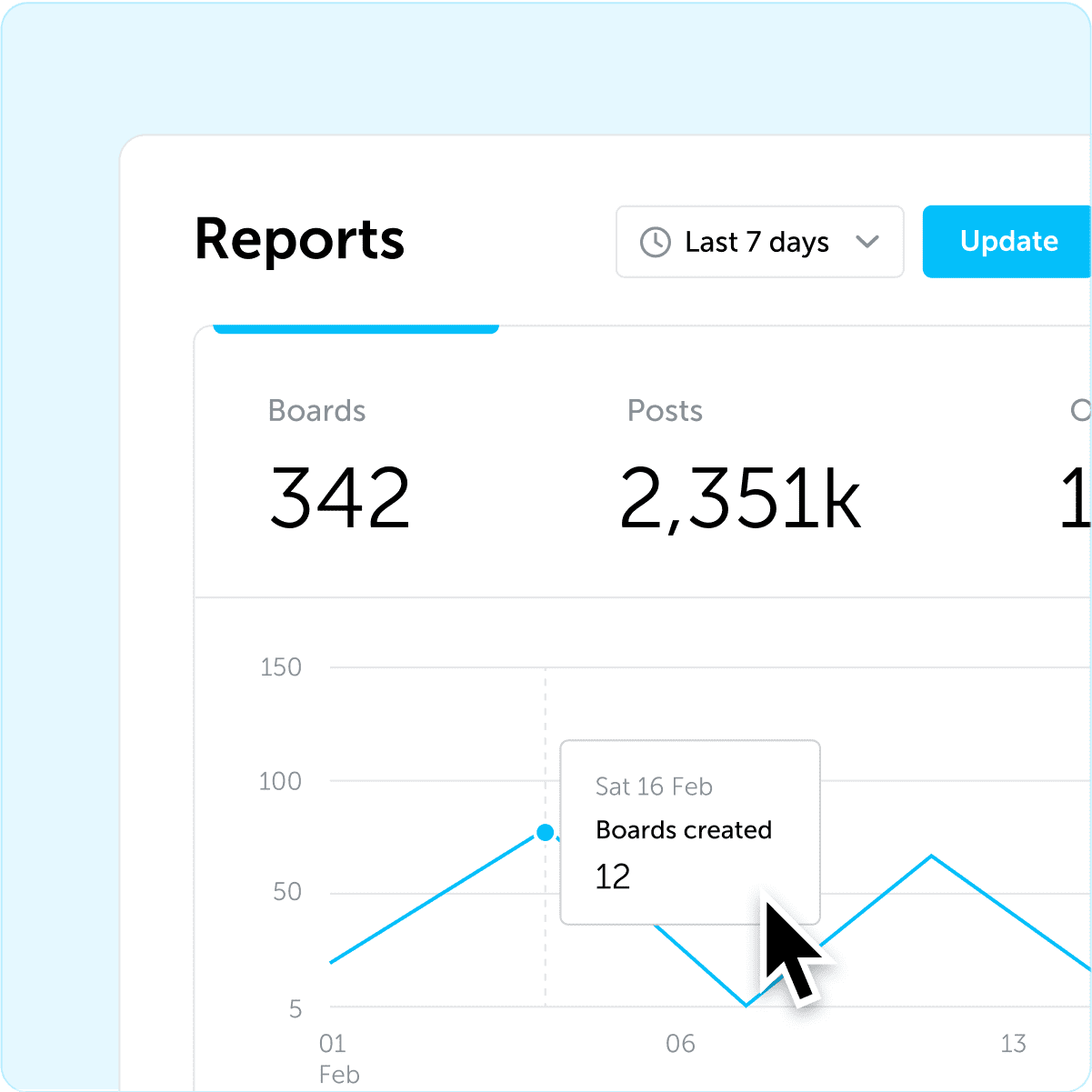 Analytics & Insights
Gifting metrics
How are your teams using gifting features? Enjoy visibility for compliance and budget purposes. Stay on top of gifts and team morale with metrics that matter.
How do others feel about Kudoboard?
TAKE Employee Analytics & Insights TO THE NEXT LEVEL
Get an Enterprise Plan
From integrations and automations to SSO and advanced reports, our Enterprise plan has everything your organization needs.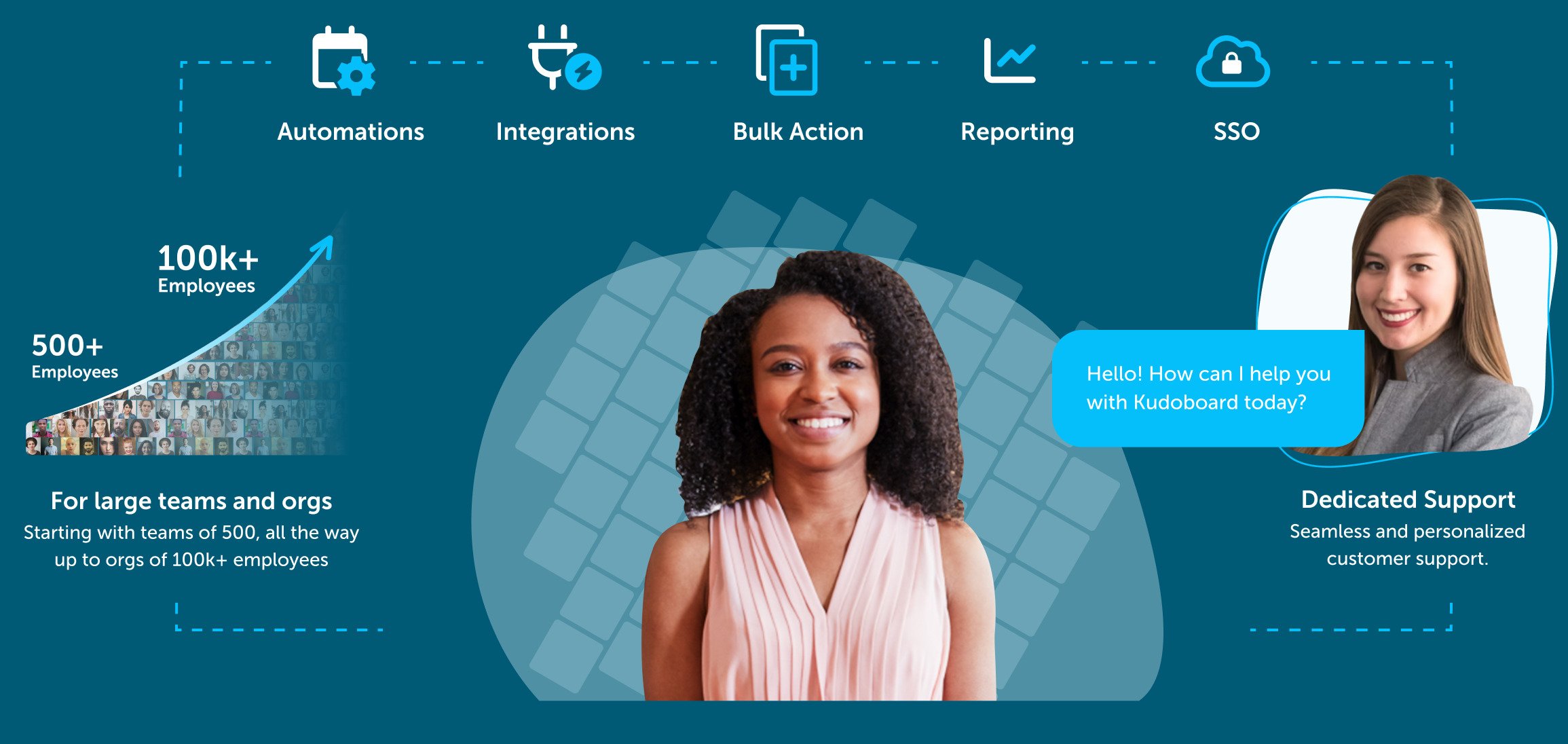 Frequently asked questions about employee insights & analytics
Employee insights and reports are the summaries and analysis of data regarding employees in your company. They are valuable pieces of information to aid department leaders and managers in understanding the strengths and weaknesses of their teams, as well as deciding which strategies and programs to implement. 
Employee insights are the data collected regarding things like engagement, job satisfaction, and the types of recognition given. These insights help to show what type of experience your employees are having and where potential issues might arise. 
Employee reports are how data and metrics are presented. They conclude the results found from employee insights and are often shown in the form of graphs, charts, and tables.
Every company leader or manager knows that a big part of their job is monitering the strengths and weaknesses of their organization. Employees are the foundation of a company and knowing whether or not they are happy with their jobs will affect what types of policies and programs are implemented. Here are some of the reasons employee insights and reports are important for your company:
Better understand your employees' performance

Visually track the health of your company culture

Predict potential issues before they arise

Find patterns and correlations in your employees' motivation and engagement

Utilize employee surveys and feedback

Track patterns in performance and sales or revenue
Analyzing metrics and data insights gives companies valuable information to understand the puzzle of staff engagement. It can be difficult to see each individual puzzle piece and know how or where they fit in the big picture. Here are a few ways employee insights help to understand that puzzle a little bit better:
Identify which factors increase or decrease engagement

Provide a guide to custom-tailor employee programs that target identified problem areas

Monitor the impact of programs and policies and know whether or not they are beneficial 

Improve overall communication 

Help create a more inclusive environment 

Highlight and reward achievement and high-performing individuals or groups

Recognize signs of burnout and disengagement and intervene before it becomes a serious issue

Build trust in leaders and team members

Assess employees' commitment and motivation through surveys and feedback
We know that tracking the health of your company is high on your list of priorities, which is why we've worked hard to simplify the process of tracking your appreciation metrics and data. Workplace appreciation is what we do best here at Kudoboard and we can show you ways to monitor and improve in this area through your Kudoboard business subscription! Here are some of the reports and insights you can receive through our products:
metrics on individual boards such as the number of posts, page views, users, referrals, and time spent on a page

How many boards have been created and which months they are most used

Which types of boards are most created (birthdays, work anniversaries, shoutouts, etc.)

Monitor who has received appreciation and recognition

The frequency of your appreciation and recognition

Which Kudoboards are getting the most engagement

Visual data to understand employee performance
With our Business and Enterprise plans, board metrics can be viewed for both an individual board and an organizational level. These reports and metrics can be found in your account dashboard.
With our Business and Enterprise plans, board metrics can be accessed by board creators, board admins, and organizational admins. Organizational-level board information can only be accessed by organizational admins.
Individual board-level metrics are not available for business trials.
Access to your organization's Kudoboard insights and analytics comes with both the Business and Enterprise subscription plans, at no extra cost to you. The Business plan, our most popular subscription, includes everything in our Premium Package as well as things like unlimited boards, custom branding, added access controls, data export, embeddable content, and more – starting at $299 a year. 
For larger companies with more than 500 colleagues, contact us about our Enterprise plan. This subscription is a customized plan and dedicated account management for larger enterprises with unique needs.
Don't take our word for it.