BIRTHDAY CARDS
Online birthday cards for individuals & groups
Empower people, teams and coworkers to celebrate moments that matter. Get started today!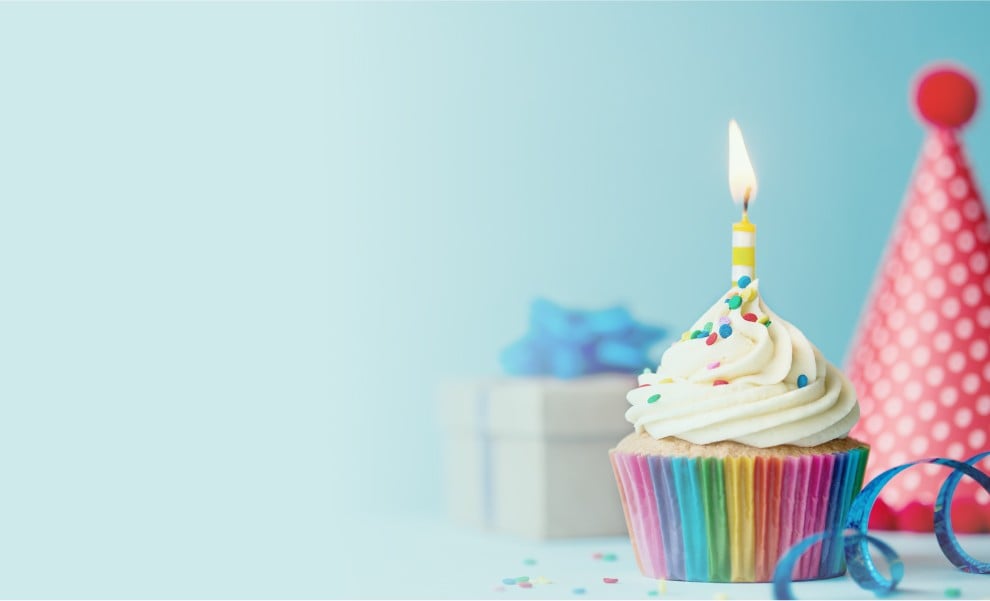 How online happy birthday cards work
Kudoboard's online birthday cards allow you to gather appreciation from a group, delivered directly to the recipient virtually.
Customize your birthday cards – here's a taste
Take it to the next Level with a Subscription
Team morale boost, delivered.
Empower colleagues to celebrate each other and have a stronger sense of belonging at work with Elevate by Kudoboard.
Unlimited boards and multiple board creators to celebrate all your milestones, company events, & peer-to-peer recognition.

Custom branding lets you personalize your Kudoboards with your organization look & feel.

Automate board creation for employee birthdays and work anniversaries.

Integrate with your key systems like SSO, Slack or MS Teams, and more.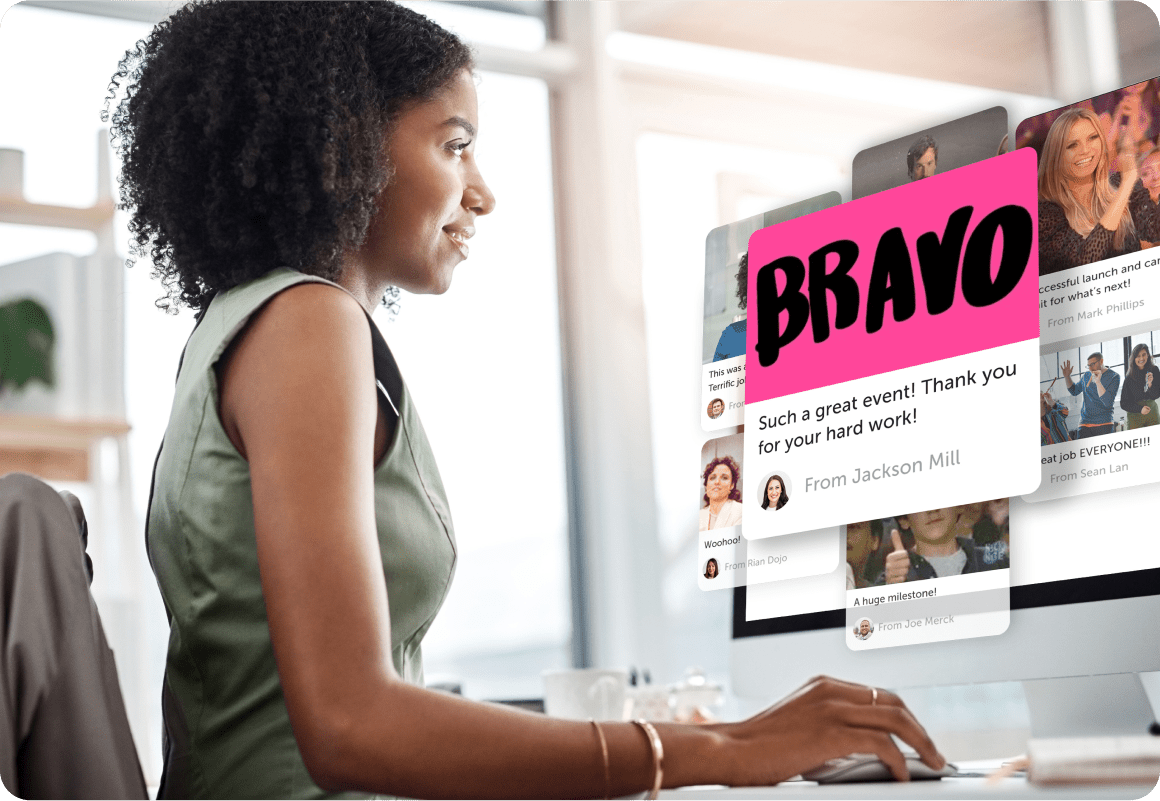 Having a birthday company event?
Enjoy even more features. Choose your own custom branding, artwork for your online birthday card, personalize even further with fonts, photos, GIFs and more features.
For more details scroll below.
Your logo at the top
Custom pricing
Custom URL
Proactive moderation
Multiple admins and contributors
Embeddable slideshow
Board export
Tagging, likes & comments
Custom disclaimer
Custom input fields
Board metrics
Dedicated account manager
Explore backgrounds to customize your birthday cards
Choose a lovely birthday card background from our custom art menu, then personalize with fonts, colors, photos, messages, and more.
Kudoboard Subscription
Keep the party going all year round
Unlimited boards for every important day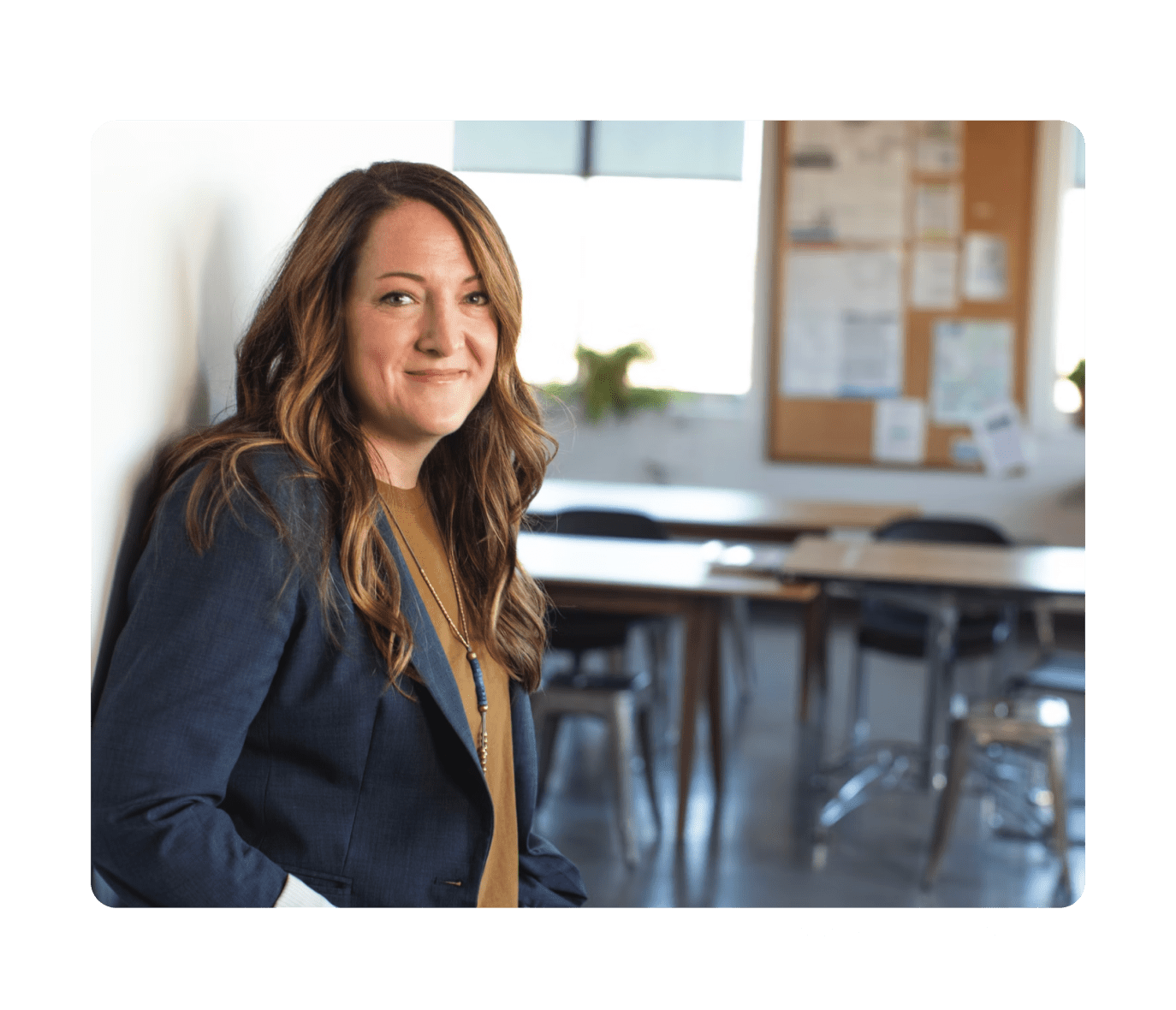 This was a total surprise to receive on my birthday. It was beautifully put together and made this birthday extra special. It was wonderful having photos and text. I love the fact that this can be turned into a hard copy to keep and refer back to.

Charlotte A.

The Kudoboard was a wonderful and memorable surprise! I loved it as a recipient and plan to use it in the future. I think it is an awesome tool to use for our virtual world.

Latasha T.

There's been a high positive impact to morale from those who have received Kudoboards. I have used them for birthdays, work anniversaries, condolences, and congratulations.

Jacquelyn H. Operations Manager Hospital & Health Care

We have a large office and multiple celebrations each month, ranging from birthdays, work anniversaries to new employees. Having the same go to resource to send out cards and to collect money for gifts makes it so much easier to organize and ensure everyone is recognized in the same way.

Meaghan P.
Happy Birthday cards that work for you
Totally Custom

Birthday Kudoboards are completely customized for your special recipient, including artwork, fonts, photos, GIFs, and videos

Invite Contributors—Anywhere

Friends, family, and teammates can all add to your online birthday card, no matter where they are. Just drop them the link!

Authentic Birthday Posts

A Kudoboard post is much more than a signature or quick "Happy Birthday" Posts can include fun memories, photos, videos, inside joke GIFs, and anything else to celebrate their birthday

Schedule Birthday Delivery

No need to worry about walking their birthday card around or getting their address. Simply schedule the birthday board to be delivered via email on a day of your choosing.

Thank Contributors

Recipients can quickly thank contributors once they receive their online birthday card. Thank them for  making someone's birthday even more special!

Print a Birthday Coffee Table Book

With just a click, convert the Birthday Kudoboard to a beautiful printed book or poster. This is a wonderful to memorialize someone and provide an additional birthday gift.

Display Birthday Slideshow

Celebrating someone's birthday at a party or birthday company event? Display the Kudoboard messages on a screen. Turn on the QR function to allow people to scan and contribute more to the Kudoboard in person.

Perfect for Teams

A great way to have a team celebrate someone's special day. Online group Birthday ecards are the perfect way to efficiently celebrate someone amongst a group. It's easy to manage, get group contributions and to deliver.

Birthday Emojis & Comments

Personalize birthday wishes and add engagement with post  comments and emoji reactions for even more fun! With our business plans, users can use emojis and comments to vote on things or drive additional conversations around someone's birthday wish.

Sustainability

Don't want to buy an overpriced birthday card that ends up in the trash. Save the trees, give a Kudoboard that is saved forever.  Our technology has the earth in mind. Kudoboards are more sustainable for your wallet AND the planet.
Celebrating employee birthdays, it matters.
Acknowledging the moments that matter is important. Showing you care is proven to change the way we think—and perform.
#1
reason people leave their job is because of a lack of recognition.
98%
of people would be happier if they were celebrated at work.
92%
of people feel happier at work when they receive a Kudoboard.
85%
prefer a Kudoboard over a paper card. It's more authentic.
83%
of customers experience a positive impact on morale with Kudoboard.
80%
prefer contributing to a Kudoboard over a paper card. It's more fun.
>75%
improvement in team morale is gained by Kudoboard deployment.
90%
say companies undervalue the effects of recognizing people.
Why is it important to celebrate an employee's birthday?
Celebrating an employee's birthday is a special way to bring employees together, show appreciation, foster a positive work environment, and build strong relationships within the organization. Celebrating an employee's birthday demonstrates that their presence and contributions are valued. It is an opportunity to recognize and appreciate their individuality, efforts, and accomplishments.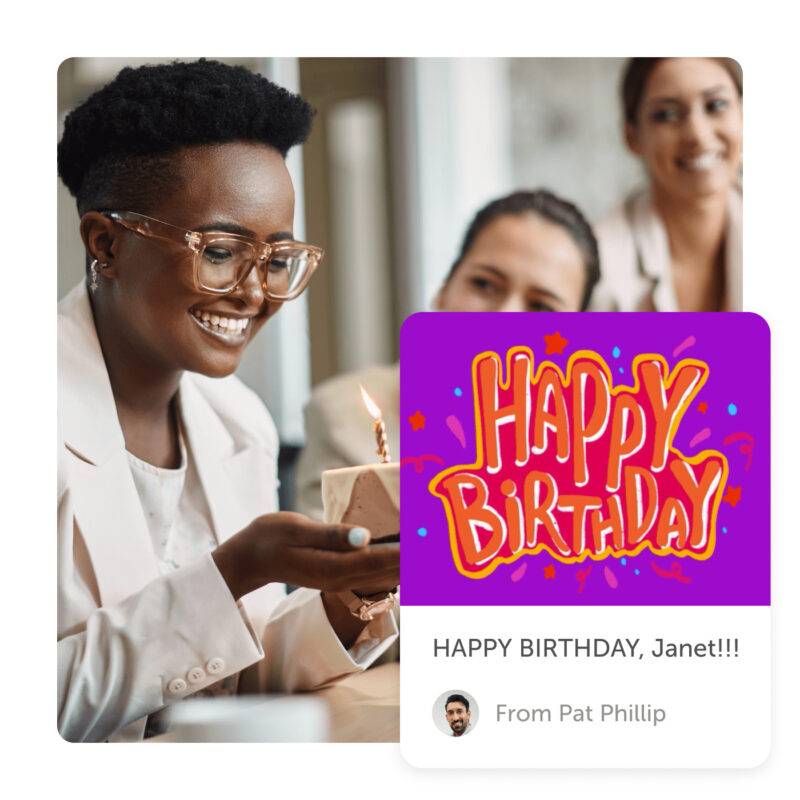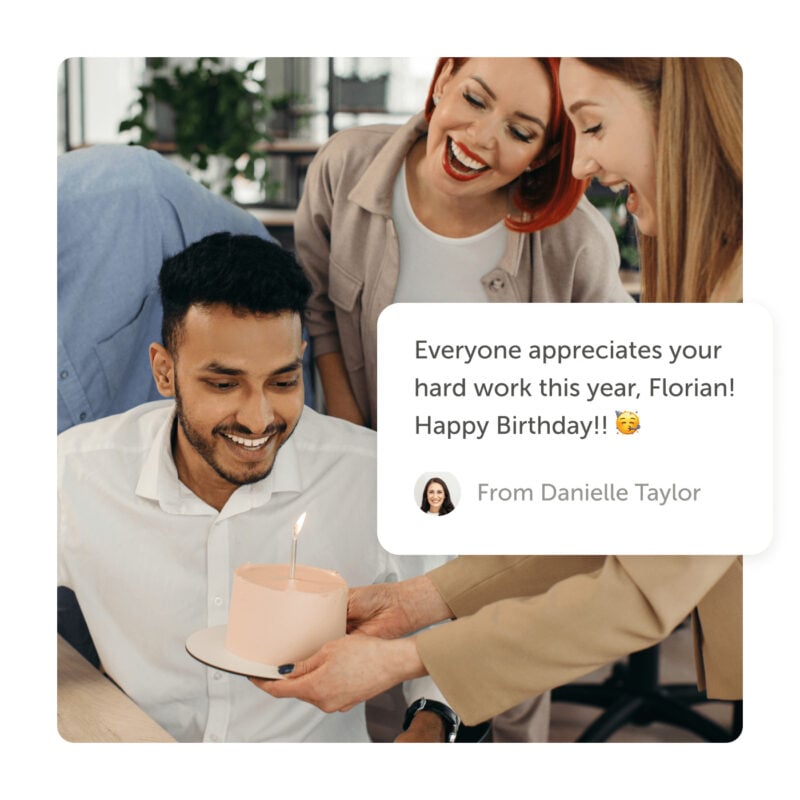 So much more than a happy birthday card
The old way (birthday cards made of paper) meant that someone needed to go out and buy a birthday card, walk it around the office, missing everyone who isn't there or who works remotely. Not anymore. Birthday Kudoboards are fast, efficient, and cost-effective—especially for remote and hybrid teams. Having a birthday card experience for employees, regardless of where they are, is important. Online birthday ecards are the way of the future.
What type of birthday card do you want?
Frequently asked questions about online birthday cards
Creating an online birthday card is simple. First, start the card and add whatever media you would like. You can make changes to the background and font as well. After you create your card, put the recipients email in and push send! You can even send it on a specific date and time. Here is a great example of a virtual birthday card. No more spending time in the grocery store looking at cards that are expensive and not very personal.
It is easy to add contributors to your group online birthday card! Once you have created the e-card as you see fit, simply add everyone's emails and send the invites so they can add their own media to the card. Remind them when it will be sent so that the card will be done in time! It is far easier (and more fun) than passing around a paper card for people to write on.
Most websites won't require it! With Kudoboard, It is easy for whoever you invite to simply add their post without signing in or giving extra information. Simply click "skip email" to post as a guest.
Many e-cards are free, but they often lack quality or are filled with obnoxious ads. Kudoboard offers birthday cards for as low as $5.99 one-off, or $3.49/board if purchased as part of a pack.
The great thing about virtual birthday cards is they last forever! Until you or the recipient deletes the card, it is theirs to view as long as they see fit. Virtual cards definitely last longer than paper cards, and are more personal!
The best part of an birthday e-card is the ability to add a lot of different media. Want to add a picture or video? No problem, simply upload what you want to use and add text if you wish! You can also add gifs and memes to add a touch of humor. Whatever you choose to add, the recipient will feel loved and celebrated on their special day.
Birthday cards have been a tradition for decades. When you receive a birthday card it shows that you are loved, celebrated, and remembered. Birthday cards are also a great way to retain bonds with friends and family that may be separated by distance. E-cards are great because they are more personal than most paper cards you can find at a store.
Feeling stuck on what to write in your virtual card? Virtual cards are great because they are so customizable. Don't feel like you have to be stuck with a non-meaningful, boring message. Start by adding a fun photo or video and go from there! You can add a funny story about the person, what you appreciate about them, a fond memory you have together, and so much more. With online birthday cards the possibilities are endless and the recipient will be guaranteed to love it!
Here are a few additional birthday card ideas to help inspire birthday messages:
Suggestions for Birthday Card Messages and Wishes 
Celebrating birthdays for hybrid or remote teams requires creativity and thoughtful planning to ensure all team members feel included and celebrated. Kudoboard is perfect solution for celebrating birthdays in hybrid, remote or in-person companies. Regardless, here are some ideas to celebrate birthdays for hybrid or remote teams:
Virtual Birthday Parties: Organize a virtual birthday party via video conferencing platforms where all team members can join. Share an online birthday card using Kudoboard.
Digital Birthday Cards also known as ecards or e-card: Kudoboard is the best digital birthday card. Create a digital birthday card using using the Kudoboard platform where team members can contribute personalized messages, photos, videos and even gift cards.  This birthday card can be shared with the birthday person, allowing them to feel the collective birthday wishes from the entire team.
The best birthday cards are those that are thoughtful, personalized, authentic and meaningful to the recipient. Use birthday cards that can be customized with the recipient's name and personalized message. Kudoboard makes this possible and more. Adding a personal touch makes the card more special and shows that you put thought and effort into selecting it.  Choose or create a birthday card with a design that matches the recipient's tastes or interests. Whether it's a beautiful illustration, animated birthday gif, a funny birthday cartoon, or an elegant design, the visual aspect of the birthday card can make it more memorable and enjoyable. Give a birthday card that can be repurposed as a keepsake or for other occassions. For example. convert a Kudoboard to a printed happy birthday book from all. The best birthday cards reflect the recipient's personality and are authentic.