How Online Birthday Cards Work
Kudoboard's online birthday cards allow you to gather appreciation from a group, delivered directly to the recipient virtually. 
Birthday Sample
Denali's birthday is coming up. Her brother Kevin started her a surprise Kudoboard and added photos & videos. He was planning to send it directly but decided to invite others to make it a group card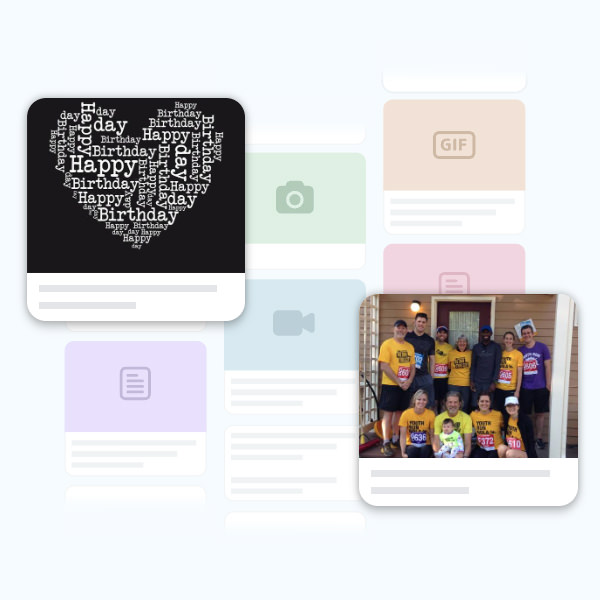 Something for everyone
Choose the option that's right for you — from single group cards to ongoing plans,
for personal use or for the office.
Company Event
Contact us to discuss your needs. Whether recognizing a departing CEO, celebrating a graduation for a university, or honoring caregivers at a hospital – we've got you covered.
In addition to all Milestone board features, company events offer:
Your logo at the top
Board export
Custom pricing
Tagging, likes, & comments
Custom URL
Custom disclaimer
Proactive moderation
Custom input fields
Multiple administrators
Board metrics
Embeddable slideshow
Dedicated account manager
Birthday cards for coworkers, done right
You've seen it before. Your coworker's birthday is just around the corner and someone starts to pass around a card in a manila folder for everyone to sign. There's barely space on the card for team members to add a note (let along a signature!). And five people are traveling for a conference while another one works remotely — so getting everyone to sign is basically impossible.
With Kudoboard, there's a better way.
Inviting team members to contribute, wherever they are, is a breeze. Simply send them the link to the board or use our system to email them an invitation. Then sit back, relax, and watch the birthday posts roll in for your coworker. And we're not just talking about a short note + a signature. Team members can add photos, GIFs, & videos to make the board fun and personalized.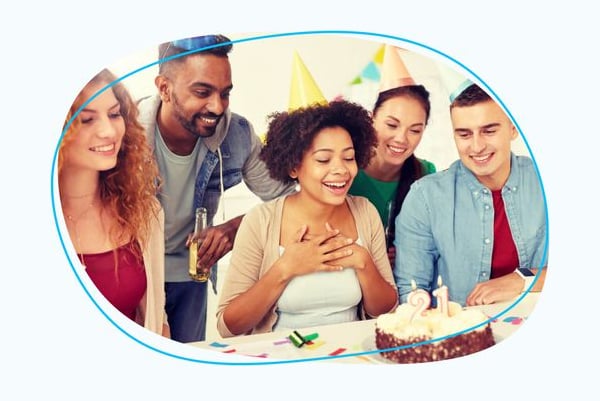 We used Kudoboard as a birthday eCard rather than passing a paper birthday card around the office. It was super convenient, everyone added hilarious GIFs to the board, and the recipient really enjoyed it.

Stacey H. Zillow
Frequently asked questions about Birthday for Coworkers
Sometimes writing on a coworker's birthday card is the last thing you have mental space for during your work day. Even though you are busy, you know how important it is to celebrate an employee's birthday and want to give them a meaningful message. Here are some unique messages for you to use on the next coworker's birthday card:
"Happy Birthday. You always make the office a brighter place."
"Thanks for having a birthday because now we all get cake."
"Happy Birthday. Thank you for your mentorship each day."
"Happy birthday to you! Only you and Human resources know your real age."
"Happy Birthday. You are not only a coworker but a friend. Thanks for being someone I can depend on at work."
Once you pick out the perfect message, we encourage you to add a photo, GIF, or even personally give the note in a video to your Kudoboard message.
The office party planning committee is meeting but no one knows what to do for an employee's birthday celebration. There are many options you can do for a coworker's birthday. If you are looking to celebrate an employee at the office, here are some great options:
Treat them to lunch
Decorate the breakroom
Provide treats for them or the office
For the remote employee, it might look different but can still be as meaningful. Here are some remote options for your coworker's birthday celebration:
Send favorite treat
Have a virtual birthday bingo party
Recognize them in a team meeting
Whatever you decide, send an e-card with personalized messages from the entire office.
Making an employee birthday card at Kudoboard makes collecting well-wishes from coworkers easy.
Our customization options provide each contributor with the ability to create the perfect message. All without going from cubicle to cubicle passing around a generic card.
Whether working in the office or from home, knowing what to give a coworker for their birthday can be difficult. Instead of getting them another "world's greatest" coffee mug, here are some inexpensive ideas on what to get a coworker for their birthday:
A personal care gift basket
A plant for their office space
Take them out to lunch
A gift card to their favorite place
Another meaningful gift you can get for a coworker's birthday is a card full of personal birthday wishes like a Kudoboard. We simplify getting an entire office's worth of messages to celebrate an employee's birthday.
In the monotony of daily work, work can often feel like a grind. With high levels of employee burnout, an employee celebration will boost workplace morale. Celebrating an employee's milestones, like a birthday, shows the employee they are valued and appreciated. Employees who feel recognized and celebrated are more likely to produce results and stay at the company.
Employee celebrations boost comradery and reduce stress for the office as a whole. Taking time out to celebrate joyful moments will build a happier workplace. As members of the office gather to enjoy a treat and shoot the breeze about pop culture, they build connections. These connections will allow for greater empathy and cooperation with each other. Therefore, you will have a more unified office overall.
Celebrating a coworker's birthday can be as simple as creating a Kudoboard Coworker Birthday Card. While it is simple to have employees send their well-wishes, it is meaningful.
Of course! Depending on the recipient, a humorous birthday card is a great way to lighten up an employee's birthday celebration. It's up to you to decide if you think the recipient would prefer a funny or traditional card more. If you choose to make the birthday card funny, Kudoboard is an excellent choice for an e-card. A Kudoboard birthday card gives participants time to sign at their convenience. It also allows for a more personalized and unique card that offers a handmade feel without all the hassle of glue and glitter. A Kudoboard Birthday card provides an array of customization options like pictures, videos, GIFs, and even a slideshow to give you a card perfect for your situation.
For many companies, the days of gathering together for a party or leaving a treat in the break room for an employee's birthday celebration are no longer possible. Knowing how to celebrate a birthday is difficult as more employees work remotely. Here are some simple ideas on how to honor an employee virtually:
Send a gift or gift card
Take a few minutes of a meeting to have employees sing to the birthday person.
Send an ecard
Send them a treat
Make a social media shout out
For more ideas check out this blog post. With Kudoboard, you can send an e-card with gift options making it an excellent choice for your virtual celebration. If sending a gift is something you would like to do, all you need to do is add it to your e-card. We provide options to add gift cards or fund collection from contributors. The versatility of our cards will ensure your employee or coworker feels recognized on their birthday.