Recognition & Engagement
Give your employees public shout outs & private recognition
Authentic appreciation for individuals can change lives—and organizations. It's time to rethink the way you offer recognition and engage employees.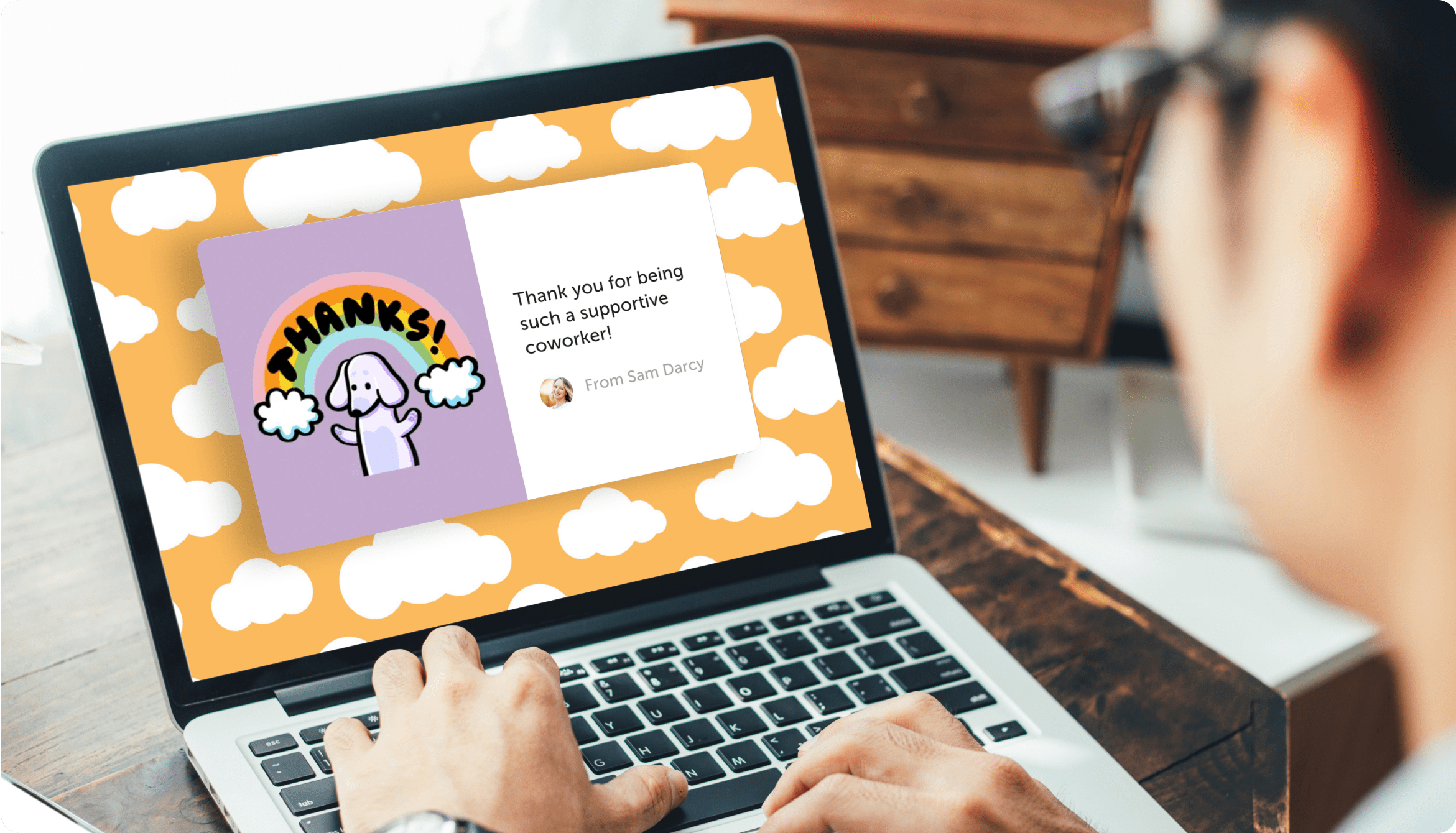 Perfect for shout outs
Invite your team to tag each other and publicly recognize employees and milestones.
And direct 1-to-1 recognition
Engage and recognize employees directly rather than inviting a group. Kudoboard now allows for 1-to-1 recognition.
Benefits your team will love
Get started today and start sharing the love on your team.
Recognition is directly linked to employee morale. Sharing appreciation and publicizing shout outs improves morale for the recipient and the creators.
Build camaraderie with your team—no matter where they are. Kudoboard's online group cards allow everyone to celebrate together.
Kudoboard's hashtag feature allows you to highlight company values within your shoutouts. Did someone demonstrate #KindnessFirst? Tag it in the Kudoboard!
Manage posts for organization boards with easy admin moderation and profanity filters.
How often are employees receiving recognition? Which team creates the most appreciation boards? See it all in our seamless dashboard.
Display your shout out boards in online meetings, on screen at special events, or embed in your company intranet for visibility.
Popular uses for our recognition & engagement tools
Creating Kudoboards to share connection and appreciation is vital for various occasions amongst teams and organizations. Here are some occasions where it can be particularly beneficial:
Ongoing shout outs
Quarterly win-walls
End-of-year awards
Staff appreciation week
Monthly "Show Some Love" campaigns
And more!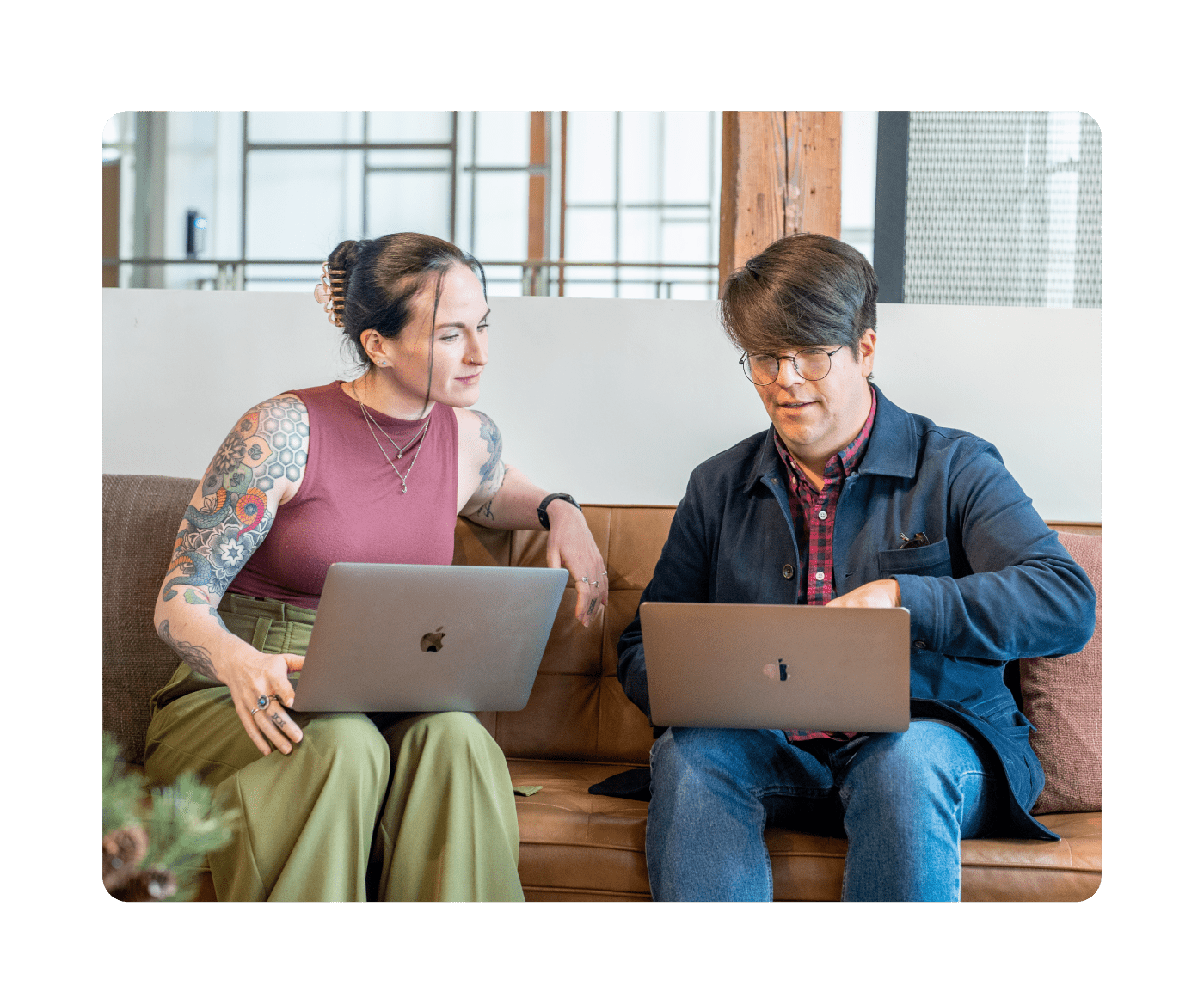 Kudoboards are easy to give to coworkers. People love the personalized messages with videos, images, and GIFs. When someone on our team receives one, they LOVE it!

Julie R.

Our HR Team supports employees around the entire country. Using Kudoboard has allowed everyone to appreciate each other no matter where they are. Love that!

Debbie C.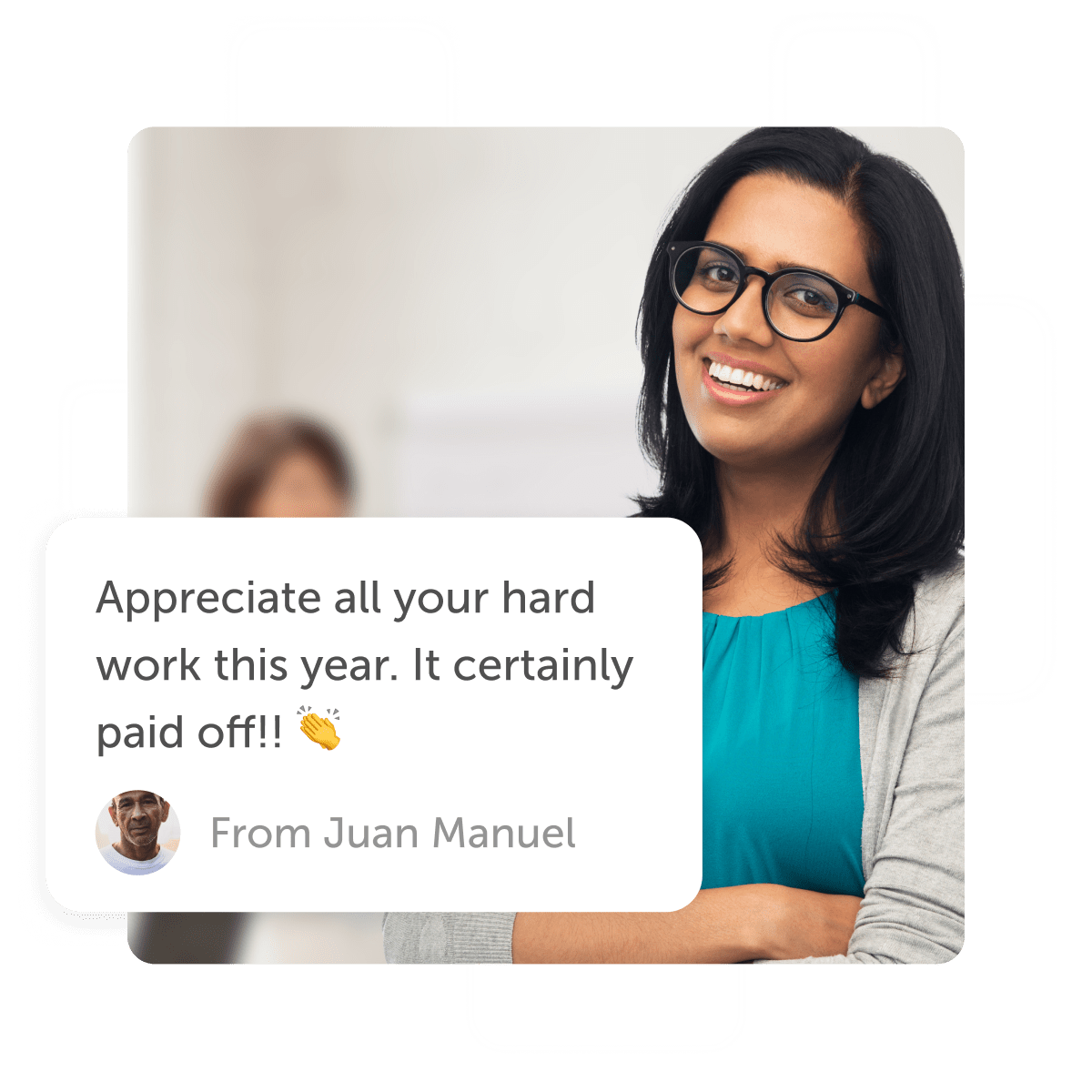 Recognition they'll remember
An appreciation board can be enjoyed forever. Bookmark it or print it as a hardbound book to remember everything you've accomplished.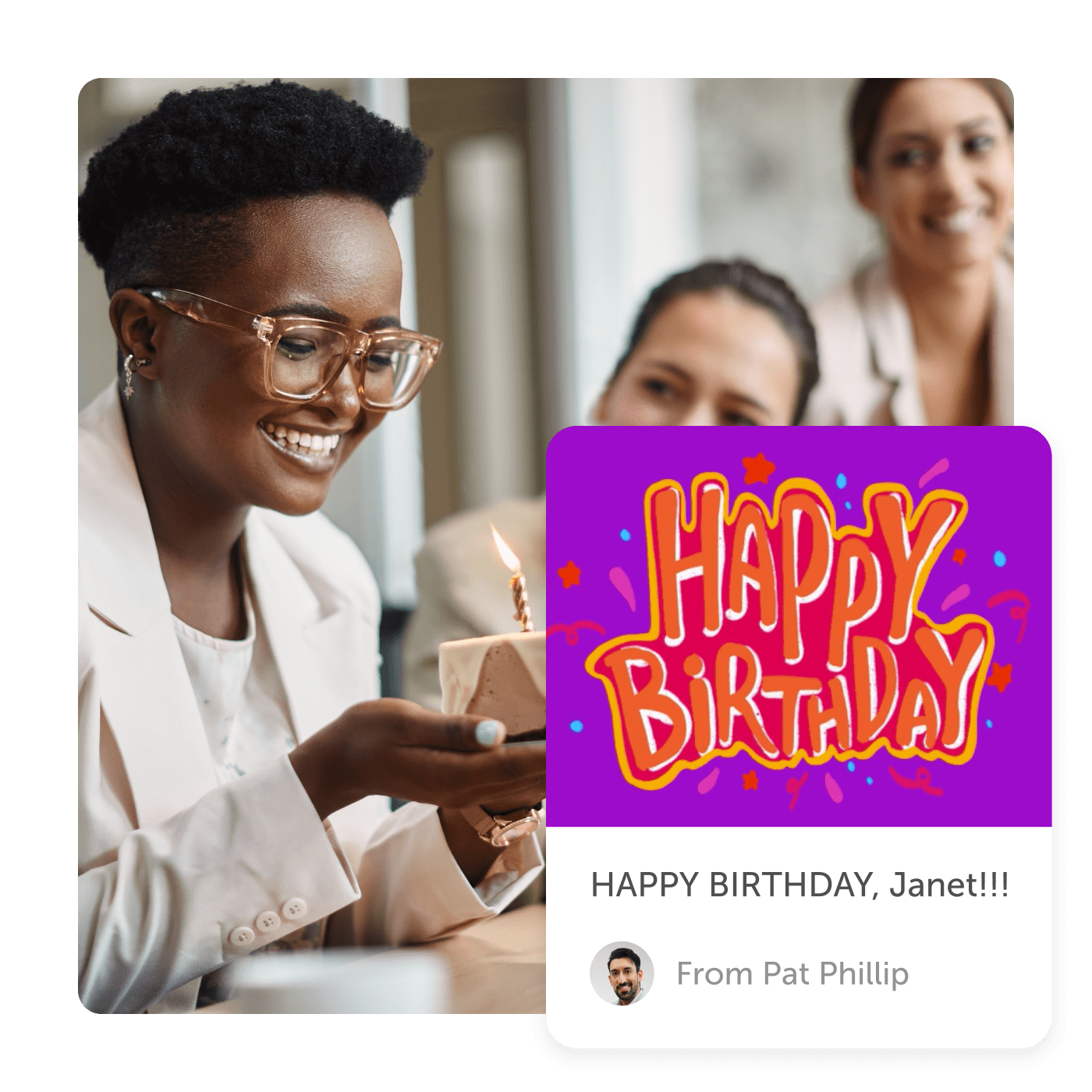 Celebrate better
Direct recognition is an important part of special events such as retirement, birthdays, anniversaries, and more. Share the recognition during an event with a slideshow or QR code.
TAKE YOUR RECOGNITION TO THE NEXT LEVEL
Get an Enterprise Plan
From integrations and automations to SSO and advanced reports, our Enterprise plan has everything your organization needs.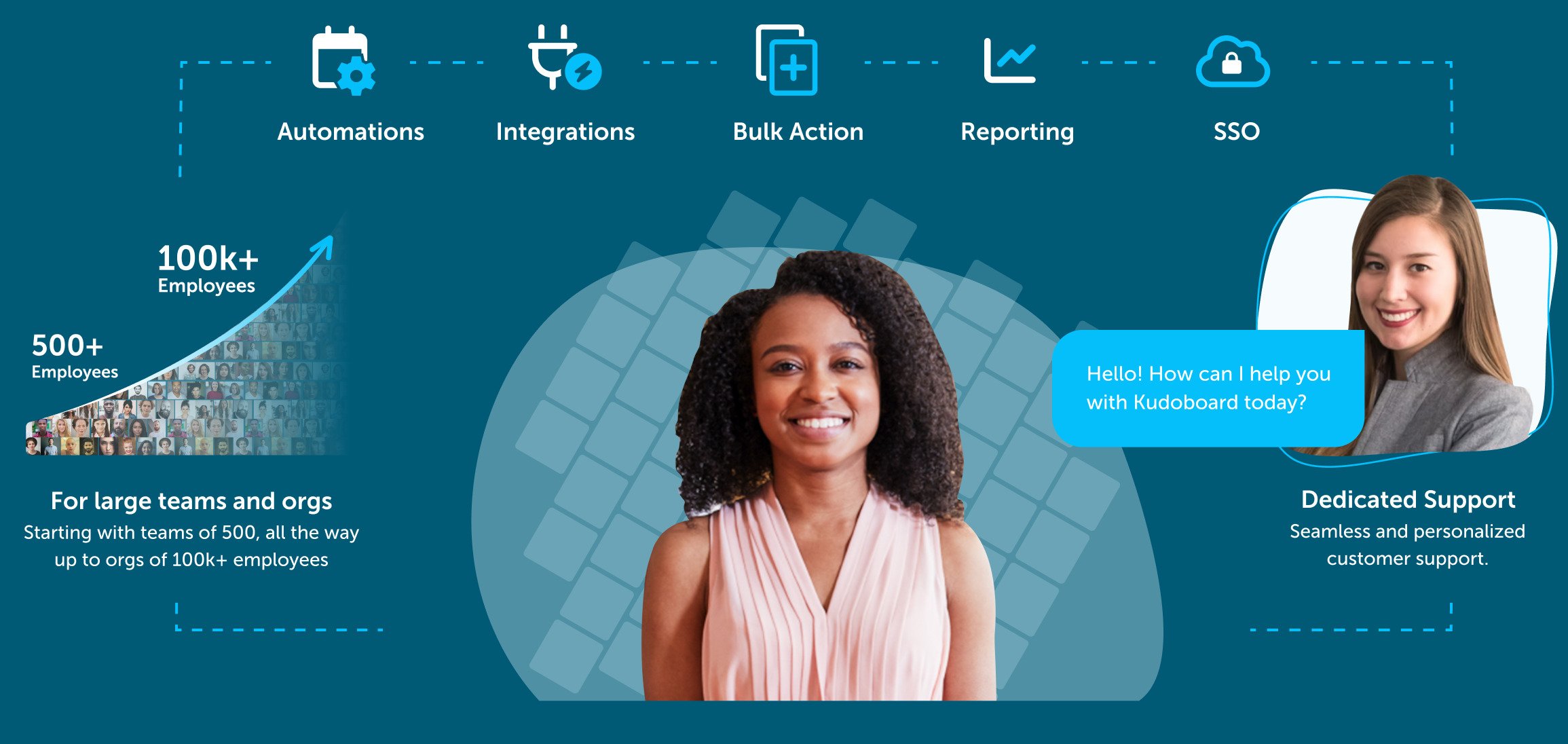 Frequently asked questions about recognition & engagement
Recognition is used in many different settings and often conjure images of group gatherings or parties coming together to honor special occasions, achievements, or milestones. Direct recognition differs by generally referring to a celebration between a limited number of people, such as one-to-one card exchanges or holiday cards.
Here are list of resources on how to engage employees:
Celebrating directly with another person or a small number of people allows the chance for a more intimate and personal experience. Here are some ideas for popular direct recognition:
Give them a shout out on Slack or in a group setting

Send holiday cards to one another to keep engaged in each other's lives

Have a small birthday party celebration

Host a cozy dinner party either at your home or a favorite restaurant

Create an online card through a service like Kudoboard to send someone a board full of examples of how much you mean to them or how proud you are of their achievements 

Celebrate the end of something with a movie night or outdoor picnic
Kudoboard is the perfect option for group or individual recognition and special occasions because it is full customizable to meet your specific needs. Here are some popular occasions to use Kudoboard for a memorable direct recognition:
Share birthday wishes to family or friends on a custom board filled with memories, photos, and videos.

Anniversaries, either at work or in personal relationships, can be celebrated on a Kudobaord full of vidoes, messages of congratulations and well wishes.

Create a slideshow to congratulate a friend or loved one on a well-earned retirement and share excitement for this new phase of life.

Shower a new graduate with congrats and advice for the future on a graduation online card. Allow others to join in on the fun by adding their own memories or advice.

Create an online card for important life events such as weddings or a new baby

Recognize a coworkers acheivements at work or an employee you feel is going above and beyond.

Share a "thank you" message for another person by filling a Kudobard with your gratitude and thanks.
Kudoboard has worked hard to make the process of creating direct recognition online cards so simple, anyone can do it! You choose the occasion (birthday, work anniversary, graduation, new baby, etc.) and we will take it from there.  
Once you click the "Create a Kudoboard" button on our website, our template will walk you through each step quickly and easily. You will be prompted to input the name of the recipient and a title for your board, and then you will select which type of board fits your needs best. From there, you can try out a variety of backgrounds until you find the right one. Voila! Your online card for direct recognition is created!
Now comes the fun part: adding in the virtual messages from you and/or members of your group. Fill it with photos, videos, GIFs, and words you think your recipient will love. If you are sending a group celebration card, send everyone a link or email inviting them to contribute, and watch as the board fills with messages your recipient deserves. 
When you have your online card exactly all you have to is click to deliver it and it will be sent to the inbox of your deserving friend, family, or coworker You will be amazed at how seamless and easy the process is!
If you are looking for a way to access everything needed for event celebrations and team engagement all in one spot, you have come to the right place! Elevate by Kudoboard is an ongoing business plan that provides all of the bells and whistles your company needs to make event celebrations memorable throughout your organization. Our plan provides unlimited customized boards, making it perfect for any size team to come together and participate in event celebrations anytime you need it. Our business plan makes it easy to quickly organize an event celebration that will be remembered by all!
Start your free trial today and experience workplace appreciation and work celebration reimagined.
Still looking for more information? Come check out our blog! You'll find new content posted regularly to help you find what you need. Feel free to poke around and see if anything else piques your interest. 
As always, we love hearing from you – so please contact us with any unanswered questions!