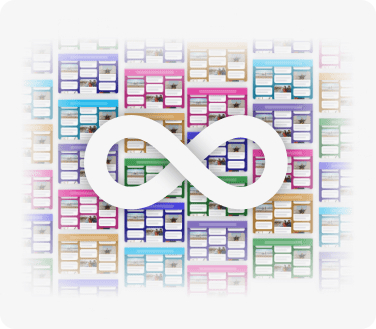 E-cards
Ecards are digital versions of greeting cards that one would send out for an occasion (birthdays, holidays, anniversaries, congratulations, condolences, etc.). Basically, an e-card is an electronic greeting card sent through the internet, usually to someone's electronic mail (more commonly referred to as email). Many people are using eCards instead of paper cards because they are customizable, environmentally friendly (as there is no physical copy), they last forever, and are usually more fun to create. Additionally, they are quick and cheap, which can come in handy when one needs to send a card last minute or when lots of cards need to be sent out (either all at the same time, or a lot over a period of time) and buying or making the cards and possibly paying for postage can really add up.
What Are E-cards?
E-cards are created through a variety of websites (like Kudoboard). People who send e-cards typically share them via email, however e-cards can also be printed, viewed as a slideshow, shared via social media, or sent through direct links. An e-card can be customized by changing the background, adding different types of media (photos, videos, gifs, text), and more. Lastly, an ecard can be personalized to the person it is going to. Furthermore, it can be created for the desired individual right away. Instead of spending so much time thumbing through all of the options at the store, pulling each one down, examining it and then putting it back to look at another, all to find the most appropriate one for the person and the occasion (and even then making compromises), it can be perfectly matched to the individual that's going to receive it, with no compromises.
How To Create An E-card?
Creating an e-card is simple. Find a website that offers e-cards (there are several, Kudoboard is a great option). If using Kudoboard, go to the website and click "create a kudoboard." From there, you can enter in the recipient's name, the occasion, and if you want to add funds for a gift card (this is a great option if there are many people contributing or if family/friends live far away but want to contribute to a gift).
Next, choose the type of board you'll need (this is based on how many contributors you have). The types of boards include: mini board, premium board, and milestone board. The mini board allows for up to 10 contributors and is free. The premium board is $5.99 and allows for up to 100 contributors. Finally, the milestone board allows for unlimited contributors and is $19.99.
Now you can start creating your card! Customize the background, add a post, and add contributors. Anyone with the link can post to the board using any type of media they would like. To share with contributors, click "add contributors" at the top of the card. Share the board with contributors via email, social media, direct link, or QR code. Finally, hit "schedule delivery."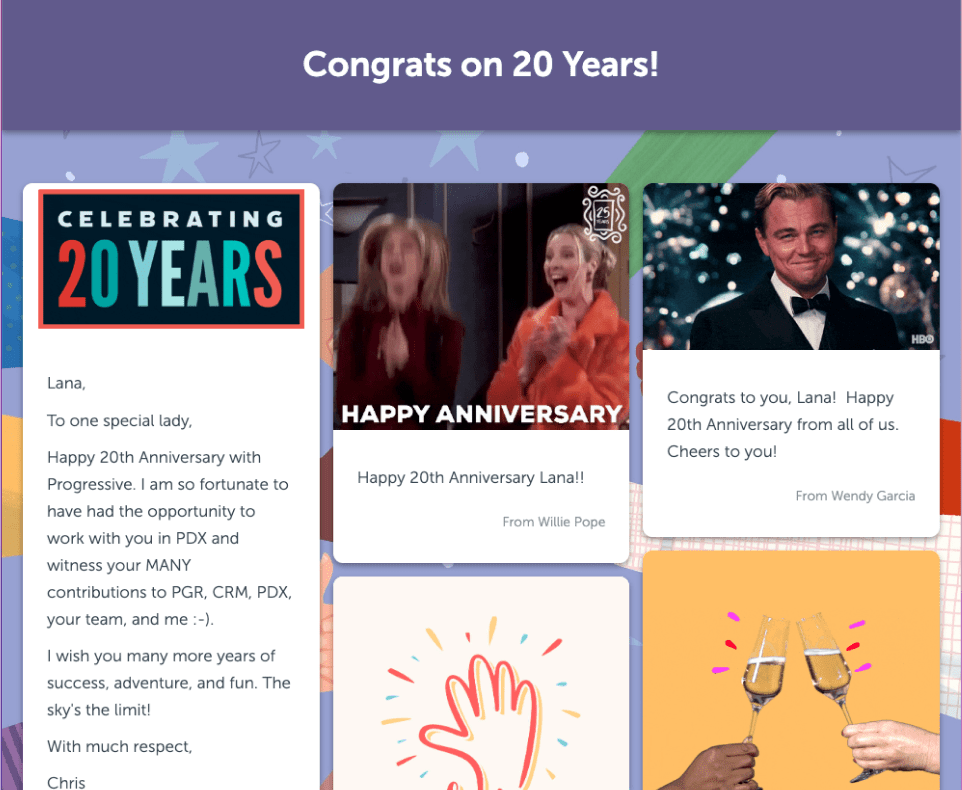 GETTING STARTED
Show someone you care with an e-card
Create custom e-cards for friends and family with our easy-to-use online card maker—with your own photos, GIFs, videos, and more!
E-card Ideas for Occasions?
E-cards are an amazing alternative to paper cards for many occasions. E-cards are also personal and workplace appropriate, and make it easy to celebrate the special recipient and any occasion.
In fact, e-cards tend to be preferred for the workplace, as there are many occasions for each individual employee throughout the year, and all of those events do add up when factoring in all of the employees at the work site. All of those events not only add up in regards to cost, but they also add up in the amount of occasions that need to be kept track of. That increases the possibility of someone being missed and as a result feeling left out. An additional benefit that some companies tend to appreciate is that it makes it easier to monitor the content of the cards, which can help ensure that no inappropriate subject matter is added into the card, causing potential problems for more than just the recipient of the ecard.
However, It is important to take into account the recipient's access to an email account or some equivalent. They should feel comfortable accessing any such account and maintain a practice of checking on it regularly. It does no good to send Grandma a birthday ecard if she struggles getting into her email (commonly set up for her by another person, like a grandchild), or if she checks it so rarely that she only sees the ecard you sent after her birthday has passed.
Fathers Day E-card
Father's day card is made easier with virtual cards. A Father's day ecard is a wonderful way to celebrate the men in your life, whether it be your grandfather, father, brother, uncle, husband, son, or anyone else. Father's day eCards are a wonderful way to say "thanks" to the men that have made a difference in our lives. If they have at any point acted in a fatherly role for you or for someone close to you, it is plenty appropriate to thank them for that by sending them a Father's Day ecard. If you want to make the eCard even more special, you can show it as a slideshow on Father's Day. Since even the miniboard allows for up to ten contributors for free, a Father's Day ecard can be shared with more than those closest to you, but can be shared with still others, especially those that may not receive any type of card of any kind from those to whom or for whom they have been fathers.
Mothers Day E-card
Mother's Day Card are a wonderful way to say Thank You to the mothers and women who have made a difference in our lives. Grandchildren, children, and others can contribute to the card and add special photos, memories, and more. Mother's day ecards can also include fun GIF's and sweet messages to your mom or grandma. Another way to use mother's day ecards is for grandmothers who may live far from their grandchildren and children, everyone can contribute to the card no matter where they live, making Grandma feel extra special. To see an example of a mother's day card, click here. To learn more about making a mother's day Kudoboard, read here.
Graduation E-card
Graduation is a monumental moment for many. Whether someone is graduating from high school, college, or even kindergarten, a graduation is something to celebrate. E-cards are an excellent and fun way to celebrate the graduate. With Kudoboard, graduation cards are made simple and fun with the ability to add fun GIFs, memes, photos, memories, and more. The ecards can be made to be themed around the school that the now former student attended (particularly if they're very proud of that school) or they can also be centered around the graduate's chosen field of study, or other extracurricular activity that they participated in. You can even add the option to collect funds for a gift card from contributors. Group graduation e-cards are fun to make and will make the recipient feel special. You can also create an alumni kudoboard to celebrate faculty and fellow graduates.
Engagement E-card
An engagement is definitely something special to celebrate.They are embarking on a fun and hopefully very long journey. There is so much hope wrapped up in a couple becoming engaged. Share in that hope with them by celebrating the now betrothed happy couple by sending them a fun ecard from a group (or just from you). With Kudoboard engagement cards, you can also add funds for a gift card for the happy couple. Here is an example of an engagement card that friends made for their newly engaged friends. In this Kudoboard, friends shared funny anecdotes, photos, and gifs.
Anniversary E-card
Anniversary e-cards are great for your spouse, partner, boyfriend or girlfriend, parents, grandparents, or anyone else who may be celebrating a special anniversary. If any way, their relationship has had an impact on you, either directly or from their example, than you and they would both enjoy celebrating their anniversary together through the receipt of an ecard. Here is an example of an anniversary e-card that was made for parents from their children. Anniversary e-cards will be treasured by anyone who receives them, and can be personalized to be sentimental, funny, share memories/photos, and so much more. To read more about why anniversary e-cards are great, read here.
Farewell/Retirement E-card
Farewells are never easy, and retirements are often bittersweet. Ecards are a great way to celebrate this occasion. Here is an example of a retirement e-card where fellow coworkers shared well wishes, memories, photos, and more to send their co-worker off to retirement. There are many ways to give retirement wishes, some including sharing memories/favorite stories, kind quotes, and more. You can also share retirement quotes. For some tips on creating a good retirement e-card, read here. If the farewell or retirement is sudden, it is still both convenient and still appropriate to send that the farewell or retirement ecard of that person has already bid farewell or retired. In fact, receiving an ecard either a short or long time (whether they've received an initial one or not) after they've left or retired can be a very comforting way to remind them that they have not been forgotten.
Online Funeral Memorial Board
The death of a loved one is never easy. Often people may be at a loss for words or how to express condolences. A wonderful and thoughtful way to express your sympathy is through an e-card. Memorial sites are a wonderful way for families, friends, and loved ones to collaborate and share memories of one who has passed away. Similar to the farewell and retirement ecards, funeral and memorial ecards can also be sent a little while after the event itself. The grieving process continues on after the event and receiving an ecard soon after may even help in that process. Memorial websites/eCards offer a convenient way for families and friends who are spread apart geographically to come together in sharing their thoughts and sentiments, they can last forever to then be returned upon by the grieving party, and lastly they can importantly offer efficient sharing of funeral information. Families can also make a memorial slideshow to celebrate the life of their passed loved one. eCards can also be used to serve as a virtual funeral guest book or memorial board.
Thank You e-Card
Expressing gratitude with thank you cards has been tradition. While paper thank you cards have been a standard for literally centuries, the practice has fallen out of favor partially because of the paper. Many people have taken to not seeing the use in spending the time and resources (yes the paper is cheap but you usually have to make the effort to go out and get the specific kind) towards something that is really so small. Anybody that is thanked however will not see it as having been a waste of time (especially in our fast-paced society where so few people slow down long enough to even vocally say "thank you." All of this ends up making thank you eCards perfect for any thank you occasion, and to boot they are easily personalized. Examples of when you can use thank you cards include: thank you to healthcare workers, teachers, mentors, leadership, bosses, and more. Remember, it is always free to say thank you, and putting a little extra effort into making a thank you special with an eCard will definitely show your appreciation.
Birthday E-card
Everyone loves being celebrated on their birthday! A birthday e-card is a thoughtful way to celebrate someone you care about. Here is an example of a birthday e-card that family members and friends contributed to. Ways that you can make the e-card extra special for the birthday person is by adding videos, fun memories, GIFS and photos that remind you of them, and more. The beauty of eCards is they are appropriate for anyone in your life, from your mom to your boss. eCards are also extremely easy for groups to sign.
Congratulations
Whatever you may be expressing congratulations for, an eCard is the way to go. One can express congratulations for many occasions such as a new job, personal accomplishment having finally been achieved, wedding/engagement, graduation, promotions, work anniversaries and more. Here is an example of what your congratulations e-card could look like. 
Holidays
Many people send out holiday cards to show how their families have grown, to update their loved ones on what has been going on with them over the year, and to simply share holiday well wishes. A fresh way to share your yearly updates is through a holiday eCard. The wonderful part of holiday eCards is avoiding the postage cost and printing cost of paper holiday cards. As an added bonus, from not having to account for the cost of each additional card, with an ecard it is much easier and of course cheaper to include those that otherwise would not have "made the cut" (and you definitely don't want anyone to feel left out during the holidays). To read more about holiday eCards with kudoboard, read here.
New Baby E-card
A new baby is something to celebrate. New baby eCards can be used as a way to announce a new baby, or congratulate new parents on their new bundle of joy. Parents can also celebrate by creating a slideshow of the new baby slideshow with Kudoboard. The slideshow can be a very good fit for this occasion as everyone loves looking at pictures of babies, and this way that they get a lot of them without having to ask for them. Printing the e-card would also be a great addition to any baby book.
Get Well Soon E-card
When someone is sick, it is always nice to let them know that they are being thought of. A fantastic way to let someone know that they are on your mind is through a get well soon e-card. The obvious benefit to using an ecard over a paper card is you don't have to risk getting another person sick by sharing a physical card before they're better (assuming of course that it a illness that it contagious).
How to Share and Send E-cards?
Technology has made eCards easy to share and send. The typical way to share eCards is through email, however Kudoboard offers four different ways to share an eCard. These include: direct link, email, QR code, and social media. Kudoboards can also be viewed as slideshows at parties, printed as a poster, or even printed as a book.
Why Do E-cards Matter?
ECards have been around for a while now (since 1994!). There has been a lot of technological advancement since the beginning of eCards, making them more popular now than ever. Ecards offer what paper cards can't, customization, originality, and more. Here are 6 reasons why Ecards aren't going anywhere anytime soon, and why they matter.
Environmentally Friendly
E-Cards are of course environmentally friendly because there is no printing involved (unless you choose to make an eCard into a book, but that is different than your typical paper card that will be enjoyed for a week or two and then tossed).
Saves Time and Is Efficient
Getting a paper card seems easy, but does take time picking one out (and trying to find one that isn't too generic). eCards are quick and easy to make, and you can customize them however you want, to avoid the generic messages of a paper card. It is also more efficient for groups to contribute to the card because everyone can do it at the same time, wherever they are.
Collaboration is Easy
Making a group eCard is easy and simple, and has all the other benefits of a virtual card. To share an eCard with friends, family, or coworkers to sign, simply click the "add contributors" button at the top of any Kudoboard. Board creators can share the Kudoboard in four different ways, QR code, social media, email, and direct link. Anyone can contribute to an eCard, making the card extra special for the recipient.
Editable
ECards are awesome because they are extremely easy to edit, personalize, and make your own. People can make themed eCards for their family members and friends (everyone adds GIFS, videos, or photos around a certain theme). People can also add all sorts of media, making the eCard extra special.
Lasts longer
Paper cards are wonderful and have many benefits, but eCards last forever. They can be pulled up and viewed as many times as the recipient wants, and can be made into a slide show or printed as a book.
eCards for Companies?
Companies can use eCards in many instances, and are an affordable way for companies to show their employees appreciation, celebrate retirement, anniversaries, welcome employees to the company, and more. Companies that invest in workplace appreciation and show their employees that they are valued, motivates employees and increases employee happiness.
Workplace Appreciation
To use eCards as workplace appreciation, companies can use them as shout-out boards. Management and team leads can use this as a one-on-one thank you to recognize an employee. Companies can also use a shout-out board to recognize/honor an employee who has gone above and beyond for their team. Management can use eCards to express congratulations on exceeding expectations, exhibiting desired behavior, and more.
Retirement
A retirement is an occasion that is bittersweet for the company and the employee. To commemorate such an occasion, a retirement eCard signed by all the coworkers and leadership that has worked with the retired employee can be a wonderful way to send them off to their next phase of life. Here is an example of a retirement eCard. Retirement eCards are an excellent way to send off an employee with thoughtful messages from their coworkers.
Welcome Cards
What better way to show comradery among co-workers than by welcoming a new team member with a welcome eCard. Welcoming new team members is a critical part of onboarding and ensuring that new employees feel accepted and improves the employee experience. Here is an example of a welcome group eCard that team members made for a new employee.
Birthdays/Anniversaries
Companies can also use eCards to celebrate employees birthdays and work anniversaries. Utilizing eCards for employees' birthdays is an efficient and affordable way to ensure that everyone feels valued and allows for many coworkers to sign the card virtually without passing around a paper card. Birthday eCards can be shown at office birthday parties as well. Work anniversaries are something to be celebrated as well and helps all employees feel valued for the work that they have done for their company.
Cost
Pricing for eCards vary, Kudoboard offers very reasonable prices for businesses large and small. The most popular plan is the business plan and for only $299, companies get unlimited board posts, multiple people can create boards, Slack and Teams integrations, and more.
eCards for Remote Teams?
Remote teams can also take advantage of eCards to help connect employees who are separated by distance.
Birthdays
Everyone enjoys feeling celebrated on their birthday, and a great way for remote companies to connect with their employees is through sending birthday eCards signed by their fellow coworkers.
Shout Outs
Everyone needs to feel appreciated for their hard work, and it feels nice to be recognized. When employees are consistently working at home, it can feel like their work isn't noticed as much, vs. when they are working in the office. Here is a fun example of a shout out eCard. When you can't give a high five in person, a virtual shout out board is a great way to say "great work."
Work Anniversaries
Celebrate your employees by letting them know how much they are valued. Remote employees especially need to know this as they aren't in the office as much. Here is an example of a work anniversary eCard.
Welcome and Farewell cards
Welcoming new team members, especially those who are working remote is an essential part of the onboarding process. Welcoming team members with a welcome eCard helps new team members feel like a part of the team. Here are more ideas of how remote companies can utilize eCards in their company.
Frequently asked questions about eCards
To invite contributors, typically the creator of the eCard will share via email. With Kudoboard, board creators can share the board four different ways: QR code, direct link, email, and social media. Anyone can contribute to the board without signing up for Kudoboard.
Making an eCard feel special and priceless is easy. Paper cards are tradition, but eCards can be personalized to the recipient's interests. Here are a few tips to make an ecard feel priceless. 
Post meaningful/funny quotes 
With eCards, you can add any type of text you want. These can include funny, sentimental, and meaningful quotes that remind you of the recipient. 
Make sure it gets to the recipient on time 
Schedule delivery of the eCard so that it gets to the recipient in a timely fashion. To ensure that the recipient will get the eCard by the desired date, ensure that all contributors are aware of when they have to finish adding to the eCard. 
Change the background/personalize the font
To really make an eCard stand out and feel special, personalize the background and font in a way that reminds you of the recipient. Choose colors that the recipient enjoys to make them feel loved. 
Expressing appreciation doesn't have to just be for thank you cards, it can be used for any occasion. To make an eCard feel priceless, express appreciation for all that the recipient has done. 
Sharing memories of the recipient is a wonderful way to make the eCard feel priceless. These memories can be funny or sentimental memories. 
Finally, a wonderful way to make an eCard feel extra special is by adding personal media like videos, photos, and text.
Not only can eCards be shared digitally via email, direct link, social media, or QR code, but they can also be shared in other ways. For personal and company use, Kudoboards can be shared as slideshows to be viewed at parties or get-togethers. eCards can also be printed as posters, or as a book, making an excellent gift for many occasions such as retirements, birthdays, anniversaries, and more.
eCards range in price from free to $19.99 for group eCards for personal use.
eCards are electronic cards used in lieu of paper cards. eCards can be used for any occasion, and are easy to send to recipients. eCards can be signed virtually and are easily shared with contributors to make group cards. 
eCards are continuously gaining popularity because they are affordable, especially compared to paper card alternatives. Ecards are customizable, making each one unique and original for any occasion. Ecards can be signed by multiple people. Ecards are also fun because you can add all sorts of media to the card, making each one special for the recipients.