4 Ways Your Remote Team Can Use Kudoboard
Are you wondering how you can make the most out of your Kudoboard business plan? There are so many different ways companies can use Kudoboard's features, so let's break them down together and find out why Kudoboard is an excellent way to reward your staff members.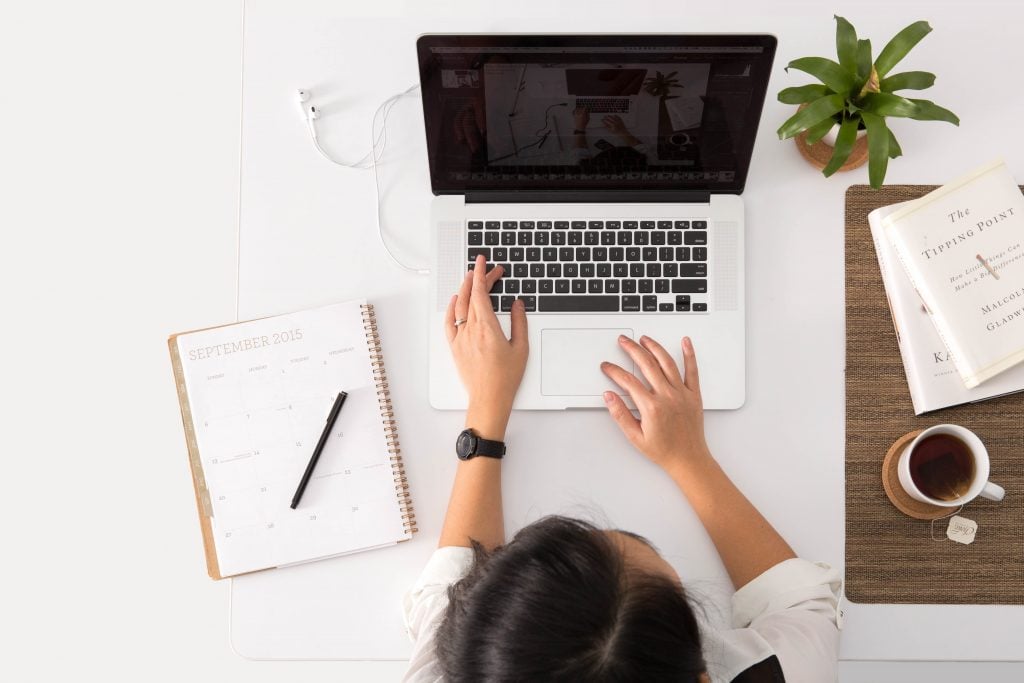 1. Workplace Appreciation
Workplace appreciation is one of the simplest ways to help your employees feel valued. Many companies struggle with this concept. Workplace appreciation is essential because it allows workers to feel like what they are doing matters to someone. Workplace appreciation is more than just saying "thanks, great work."
"More than 35% of employees consider lack of recognition of their work as the biggest hindrance to productivity."

Corporate Communication Experts
Many companies have a "performance review" where they may provide some form of verbal appreciation. That is not enough for employees to feel like their work matters.
3 Reasons to Show Workplace Appreciation
Workplace appreciation is a great way to promote and build a positive workplace culture. Let's go over three reasons why workplace appreciation is essential.
It helps employees feel greater satisfaction in their work.
Appreciation improves workplace morale.
Appreciation builds staff loyalty.
How Kudoboard Can Help with Workplace Appreciation
Let's go over how Kudoboard can help your remote team. Remote work can be tricky. Employees don't get a chance to have in-person meetings, and you can't just pop by their desks to tell them they are doing a good job. Kudoboard allows management to create unique and fun shout-out boards, thank you boards, and more to help employees feel the love and positivity.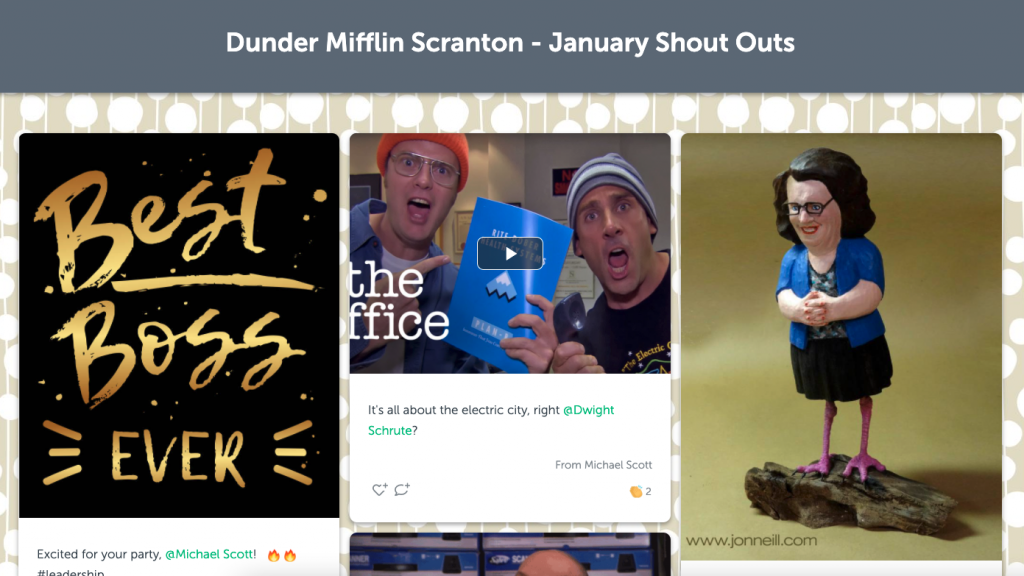 Look at this example of a Kudoboard shoutout board. With a shoutout board, management can choose one employee a month/week (for smaller companies), and other co-workers can add gifs, quotes, pictures, and more to tell that employee why they are fantastic. A shout-out board is just one example of how Kudoboard can help remote teams build each other up and feel appreciated.

2. Work Anniversary
Celebrating employees' time at a company is crucial to showing them how valued their work is. Workplace anniversaries help reduce employee turnover, which can help save companies a lot of money. According to HR Dive, employee turnover costs companies around 15,000 per employee. This cost is due to time spent training new employees, loss of productivity, and more.
3 Reasons To Celebrate Work Anniversaries
Aside from employee turnover, more reasons to celebrate work anniversaries include the following:
Celebrating work anniversaries shows that you are interested and invested in the employee's development in the company.
It fosters employee loyalty within the company.
It gets employees excited about coming to work.
How Kudoboard Can Make Work Anniversaries Special
Kudoboard helps make your employees' work anniversaries simple by putting all the work anniversary messages in one place without passing a card around. Here is an example of a 25th work anniversary Kudoboard. Whether you celebrate a first anniversary or a 25th anniversary, kudoboard can help.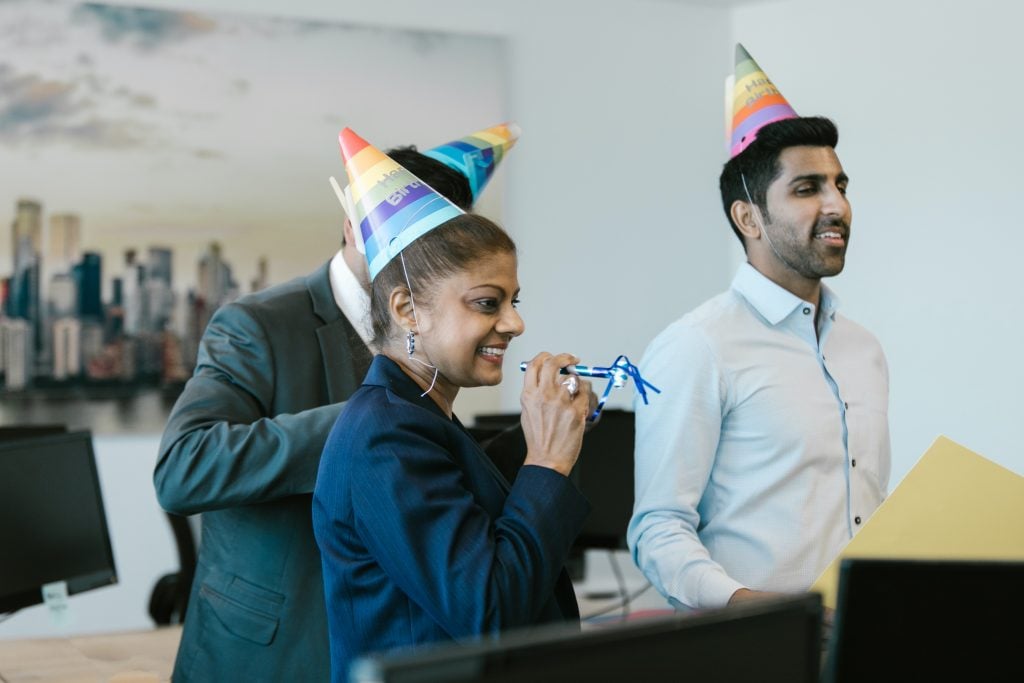 3. Office Birthdays
Celebrating birthdays is so essential for any team so that employees feel valued. Employees who feel valued and seen are more likely to stay, so celebrating office birthdays is an excellent way to ensure employee retention. Let's go over more ways why celebrating birthdays in the workplace matters.
3 More Reasons to Celebrate Birthdays
It increases employee happiness.
Employees are more productive.
It is a great way to foster team-building.
How Kudoboard Can Make Office Birthdays Easier
Kudoboard makes birthday cards simple for everyone by making them digital and easy to "sign." I especially like that people can add gifs, photos, memes, and text. Signing a birthday card has never been easier and leaves more room for creativity and less awkwardness. Look at this fun birthday card example from Kudoboard. Check out this article for more ideas on why you should celebrate workplace birthdays and ideas for parties.
4. Welcome and Farewell Cards
Welcoming and sending employees off in a tasteful manner is always helpful in creating a positive work culture. A positive work culture helps with employee retention and satisfaction. Here are some examples of what you can include in the welcome message. Welcome messages are great for motivating employees, fostering connections between employees, their team, and management, and giving them a taste for the company culture.
Similarly, farewell cards are essential because they show how much the employee was valued during their career. This is especially important for employees who have made a significant impact on the company.
How Kudoboard Can Streamline Welcomes & Farewells
Whether you are saying hello, or saying goodbye, kudoboard is a great way to let your employees know they are valued. Your team can perfect the process of creating a group leaving card, and you can see what a sample team farewell card would look like with Kudoboard. I love the ease of Kudoboard and how simple it is to have multiple people sign.
Everything You Need To Know about Kudoboard
Companies such as Airbnb, T-Mobile, LinkedIn, and more have are Kudoboard customers and loved it. We think you'll love it, too. Let's go over everything you need to know about using Kudoboard for your remote team.
Prices
Kudoboard has price plans for every company size. Starting at just $299 a year, companies can enjoy the benefits of Kudoboard's business. Larger companies may benefit from Kudoboard's custom plans, but even the smallest companies will begin to save money and see greater team engagement when they drop the paper greeting cards and inefficient workplace appreciation tools.
Reviews
All types of companies have used Kudoboard, and they love how easy it makes workplace appreciation. Check out our Capterra reviews to see more, but below are some thoughts from actual companies:
Kudoboards are easy to share with contributors, and it's great that they can personalize their messages with videos, images, and GIFs. When someone on our team receives a Kudoboard group card for a work anniversary, they LOVE it.

Julie R. from Hilton Hotels
Our HR Team supports US Sales, so we have members all over the United States. Using Kudoboard for birthdays has allowed everyone to participate no matter where they are. Love that!

Debbie C. from Microsoft
6 Awesome Kudoboard for Business Features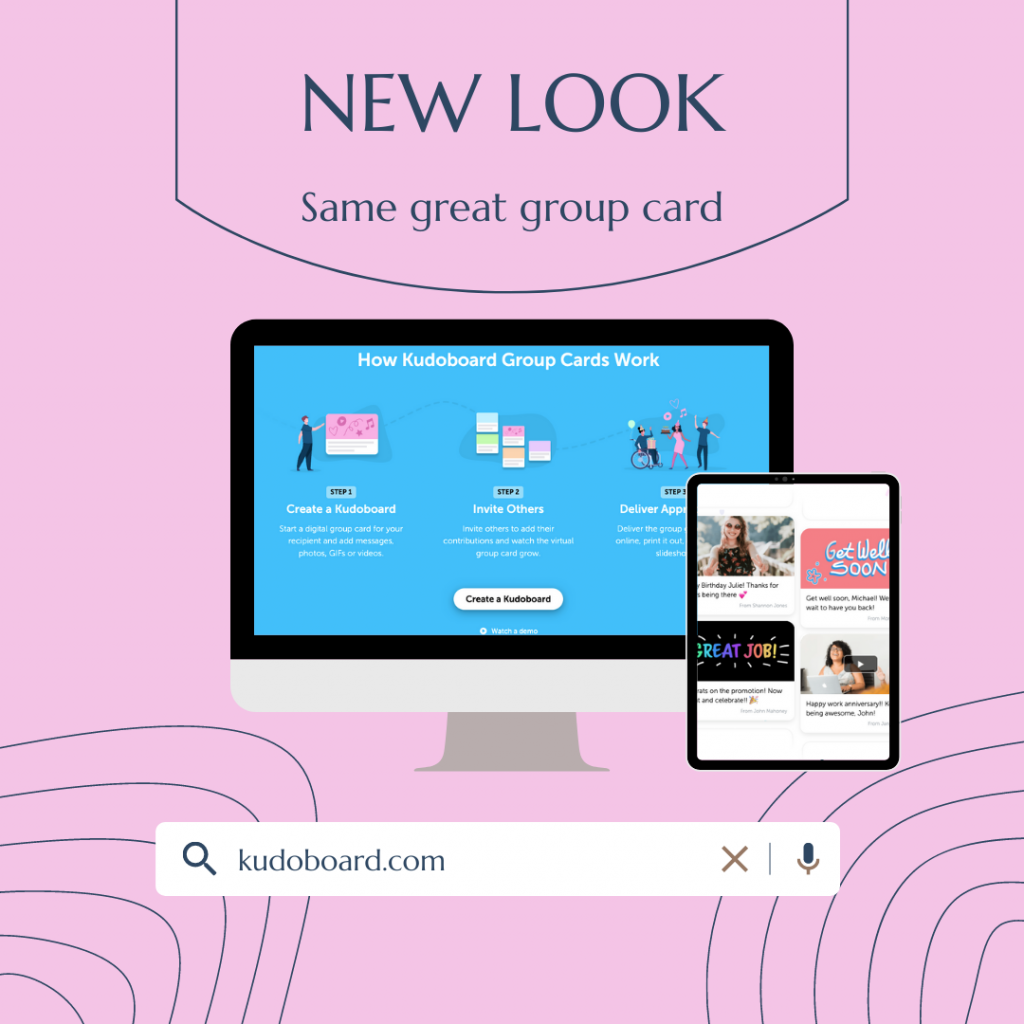 Kudoboard's Enterprise plan was designed for fast-moving businesses who want to keep employees connected. We optimized business features including:
An ad-free experience, plus Kudoboard will never sell your company's data. Ads are annoying, and Kudoboard values your time and security.
Add messages, photos, and GIFs to make each Kudoboard unique for its receiver. Whether your company sends a birthday card or a farewell card, it will be one-of-a-kind.
You can choose to have your card printed or delivered electronically. These options are great for remote, hybrid, and in-person companies. Companies can publish Kudoboards in the form of a poster or bound book, making it easier for display. A printed Kudoboard is a gift that employees cherish forever.
With Kudoboard, your cards are accessible forever.
Kudoboard is mobile and desktop friendly, meaning that its users can access it whenever, wherever, at their convenience. We also have a top notch Slack integration.
Kudoboard makes inviting others easy by sending a simple link or automated Slack message. Sending a thoughtful card has never been easier or less time-consuming.
Create custom Kudoboards for special events for your organization.
Planning an organization event? ❤️ Kudoboard is the perfect tool to collect messages, photos, videos, and more.
Learn more about our company event offerings
Conclusion
Kudoboard is a no-brainer for companies big or small. With all the excellent features, affordable price points, and time-saving aspects of Kudoboard, any business is guaranteed to love it. To be sure that companies love it, Kudoboard offers a free trial. So what are you waiting for?
Get started with your free business trial today!