Conferences & Offsites
Boost engagement at your conferences and offsites
The days of "tweet walls" are gone. It's time for a Kudoboard. Leave an impression, bring people together and capture authentic content at conferences and company offsites.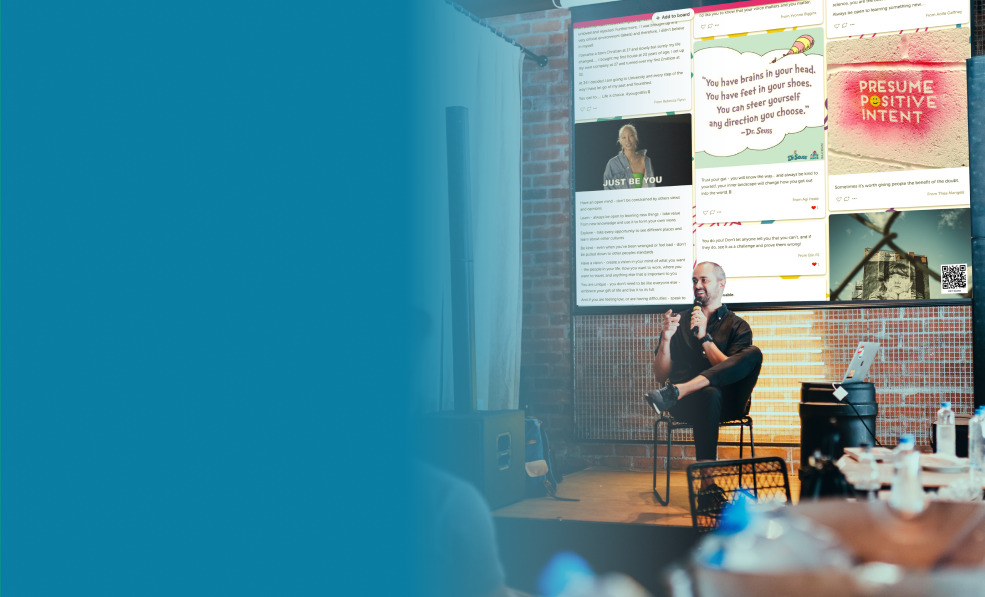 Improve conferences and company offsites
Kudoboard allows you to improve conferences and offsites by bringing together people for sharing ideas, shoutouts, photos, links, and more. 
How do we improve engagement at conferences and off-sites?
Interactive challenges and activities

Kudoboard can be used for polls, surveys, competitions and gathering authentic content at conferences and off-sites

Attendee storytelling and insights

People can share authentic stories and opinions on Kudoboard. They can make it fun by adding photos, gifs, videos and more.

Icebreaking & rapport building

People can introduce themselves and share fun facts in a creative and entertaining manner. Kudoboard makes it easy.

Speaker or attendee appreciation

Create a Kudoboard to recognize keynote speakers, attendees and others. Contributors can provide shout-outs from anywhere

Virtual participation anywhere

Is your conference or team off-site virtual? Kudoboard can be used to connect people together in a fun experience digitally.
Examples of Kudoboard enjoyed at conferences and off-sites
Take it to the next Level with a Subscription
Team morale boost, delivered.
Empower colleagues to celebrate each other and have a stronger sense of belonging at work with Elevate by Kudoboard.
Unlimited boards and multiple board creators to celebrate all your milestones, company events, & peer-to-peer recognition.

Custom branding lets you personalize your Kudoboard's with your organization look & feel.

Automate board creation for employee birthdays and work anniversaries.

Integrate with your key systems like SSO, Slack or MS Teams, and more.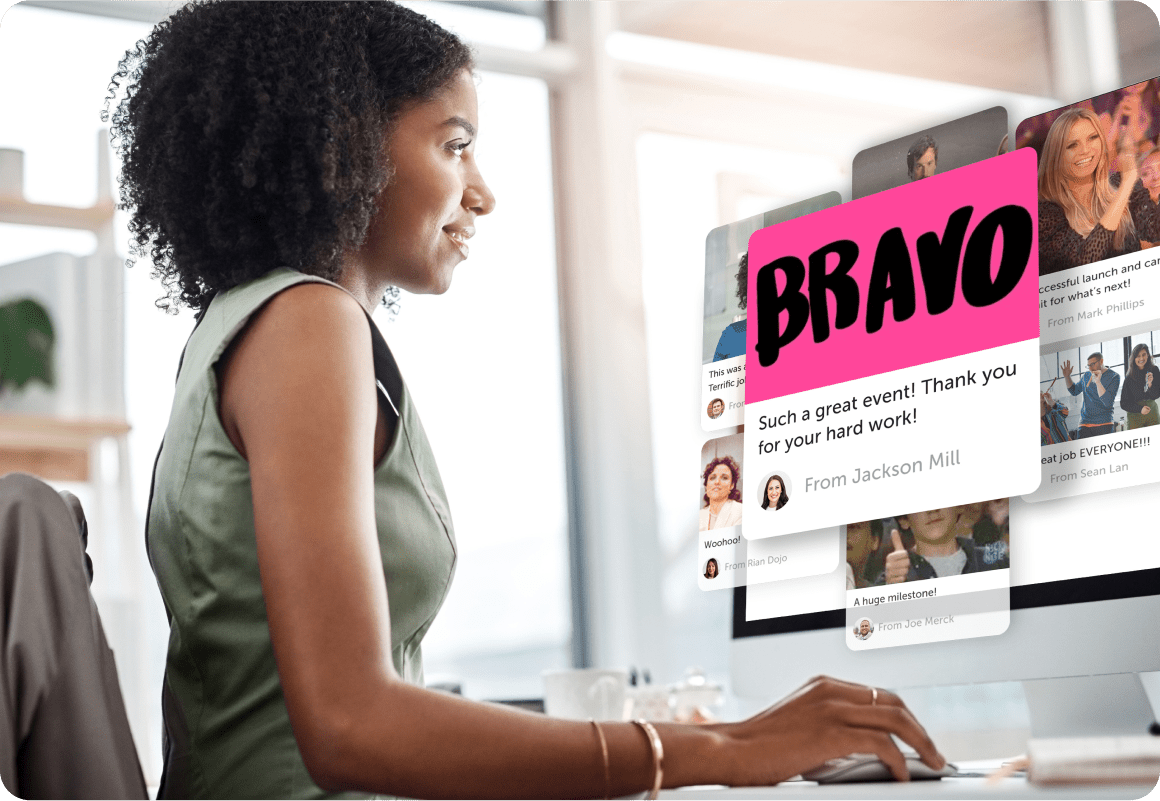 Planning a department event?
Kudoboard is a great way to boost engagement at your department event. Bring everyone's creativity to the party with with tons of fonts, photos, GIFs and more features. Plus, you can use your own custom branding and artwork for your department's event card.
We've got you covered. Contact us to get setup.
Your logo at the top
Custom pricing
Custom URL
Proactive moderation
Multiple administrators
Embeddable content
Board export
Tagging, likes, and comments
Custom disclaimer
Custom input fields
Board metrics
Dedicated account manager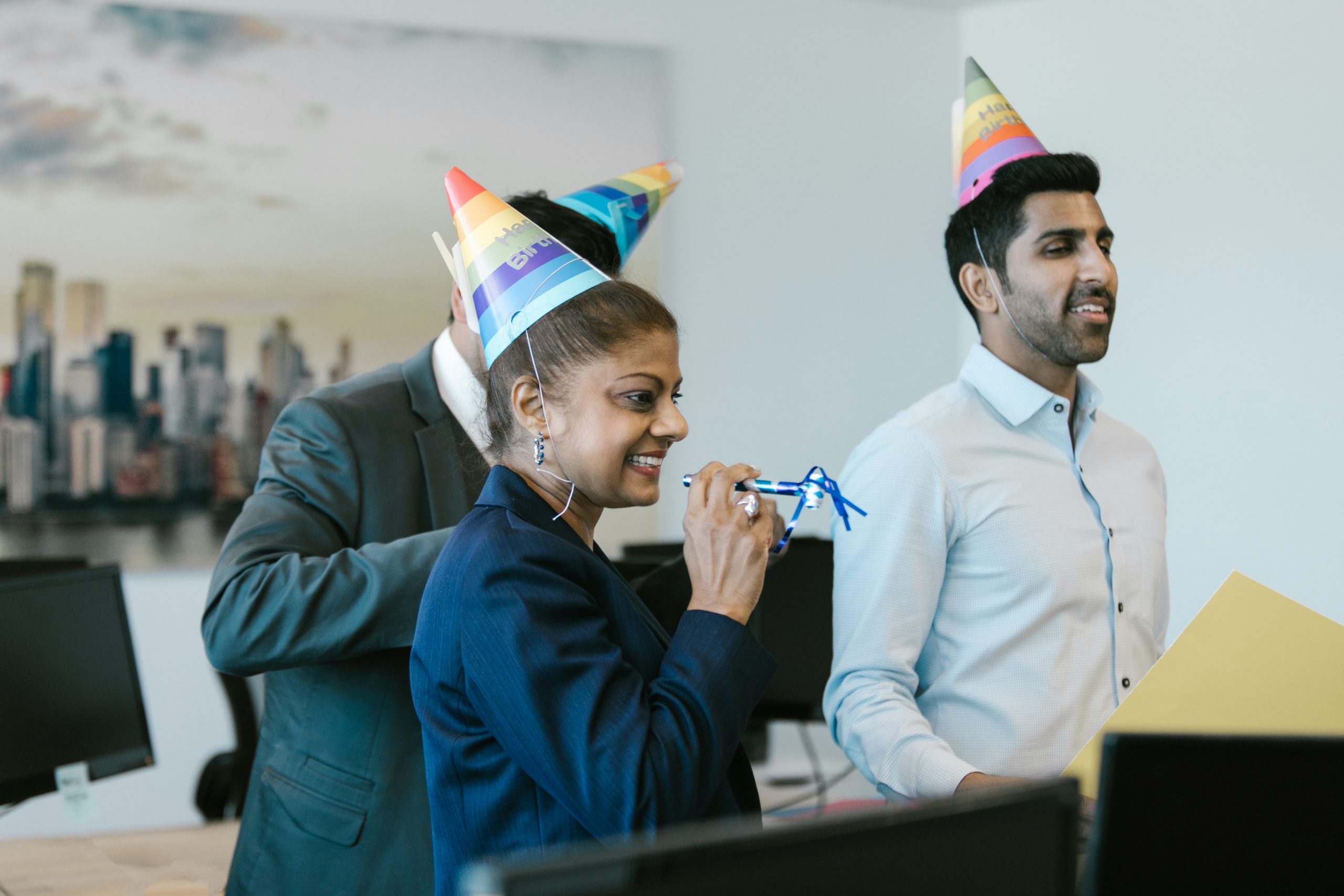 Easy to use. Easy to share. A great experience and perfect for the situation.

Pip L.

It's a more time saving way of being able to express celebratory thoughts, memories, or gratitude with those that we work with. I love too that we can add pictures and gifs for the more fun and creative ways of expressing these thoughts!

Peter O. Program Manager Higher Education

Kudoboard allows me to invite the entire organization to celebrate important employee milestones well before an event. With choices for backgrounds and many other personalization options, each card can be geared toward an individual recipient and occasion.

Elena H. Talent Acquisition Lead and Business Development Consultant

You can provide a global digital experience with ease. There is no need to manually coordinate with your colleagues, stakeholders or friends as this experience is so simple to manage all online.

Joe Q. Director, High Touch Demand Mechanical or Industrial Engineering
Kudoboard's best features for conferences and offsites
Totally Custom

Easily customize the look and feel for your conference or offsite including background artwork, fonts, personalization, display experience and add-ons.

Invite Contributors via QR Code

Executives, coworkers, clients, vendors… anyone can add to your kudoboard, from anywhere.  Just display a QR code

Schedule Delivery

No need to worry about walking around to deliver a Kudoboard to someone. Simply schedule the board to be shared via email on a day of your choosing.

Thank Contributors

Organizers can quickly thank contributors once they receive posts. It's automated and customizable.

Save Forever

Boards last forever, so your team can save the Kudoboard and all content for future consumption and campaigns.

Print It

Print posts, memories, photos, and shout outs for a permanent keepsake.

Display Slideshow

Display your Kudoboard during conferences and offsites. Enjoy engagement and gather additional content with the QR code.

Great for Virtual and In-person Events

Remote, in-person and hybrid teams can still be connected through a Kudoboard. Kudoboard's features are designed for virtual connection.

Emojis & Comments

Upgrade to a business plan to use comments and emoji reactions to posts for even more connection.

Sustainability

Kudoboards are more sustainable for your wallet AND the earth.
Latest "How To" articles about off-sites and events
Frequently asked questions about improving conferences and company offsites
Kudoboard is primarily an online platform that allows users to create digital boards filled with messages, images, and videos to celebrate and recognize someone or something. While it is not inherently designed for conference improvement, it can be used in a conference setting to enhance certain aspects of the event. Here are some ways in which Kudoboard could potentially improve conferences:
Speaker Appreciation: Conference organizers can use Kudoboard to create a board to appreciate and celebrate the speakers. Attendees can contribute messages, images, and videos to thank and acknowledge the speakers, making them feel valued and motivated to deliver their best presentations.
Attendee Engagement: Kudoboard can be used to engage conference attendees by creating a board where participants can share their thoughts, feedback, and experiences during the event. This can foster a sense of community and interaction among attendees, even in a virtual conference setting.
Networking: In virtual conferences, it can be challenging to facilitate networking opportunities. Organizers can create Kudoboards to help attendees introduce themselves, share their professional backgrounds, and connect with other participants, which can enhance networking and collaboration.
Celebratory Moments: Conferences often have milestones and achievements to celebrate, such as anniversaries, award ceremonies, or the successful completion of a project. Kudoboard can be used to create a visually appealing and interactive platform for attendees to celebrate these moments together.
Feedback and Testimonials: After a conference, organizers can use Kudoboard to collect feedback and testimonials from attendees. Attendees can leave messages, comments, or videos sharing their thoughts on the event, which can be valuable for improving future conferences.
Virtual Team Building: For virtual conferences that involve team members from different locations, Kudoboard can be used to create a collaborative and fun experience. Teams can contribute messages, images, and videos to strengthen their bonds and build camaraderie.
Remote Participation: Kudoboard is accessible online, making it convenient for remote participants to join in the conference experience. It provides a platform for them to engage and share their perspectives without being physically present.
Kudoboard helps improve engagement at conferences. Experience customizable and collaborative features that can be leveraged creatively to enhance various aspects of a conference, such as engagement, appreciation, and networking, especially in a virtual or hybrid conference format.
To improve engagement at conferences using Kudoboard, you can employ a variety of strategies that leverage its interactive features and ability to create a sense of community. Firstly, consider using Kudoboard as a platform for speaker appreciation. Create boards dedicated to each speaker, allowing attendees to express their gratitude and admiration. This not only boosts speakers' morale but also encourages interaction among attendees who share their sentiments.
Additionally, you can use Kudoboard for networking purposes. Encourage attendees to create personal boards where they introduce themselves, their backgrounds, and their conference goals. This virtual icebreaker helps attendees connect, fostering engagement. Furthermore, you can use Kudoboard to collect feedback and testimonials, which provide valuable insights for future conferences while ensuring attendees feel heard and appreciated.
To further enhance engagement, incorporate interactive surveys, polls, and discussion boards within Kudoboard. These features enable attendees to actively participate in conference topics and decision-making, promoting a deeper level of engagement.
Kudoboard also enables virtual attendance for remote participants, ensuring they can actively engage in the conference and contribute their thoughts and experiences. In summary, Kudoboard can be a versatile tool for improving engagement at conferences by facilitating appreciation, networking, feedback, and interactivity among attendees.
Kudoboard can be a valuable tool to improve engagement at company off-site meetings by fostering a sense of community, recognition, and interaction among employees. Here's how Kudoboard can enhance engagement at such meetings:
Recognize Employees: Kudoboard allows colleagues to show appreciation and recognition for each other through messages, images, and videos. During an off-site meeting, organizers can create a Kudoboard to celebrate the achievements, hard work, and dedication of team members. This recognition can boost morale and engagement.
Icebreaking and Team Building: At the start of an off-site meeting, Kudoboard can be used as an icebreaker activity. Employees can introduce themselves, share their interests, or reveal fun facts about themselves on a Kudoboard. This activity can help break the ice and foster a more relaxed and engaging atmosphere.
Event Agenda and Updates: The event organizers can use Kudoboard to share the meeting's agenda, updates, and important information in an engaging and visual format. Attendees can easily access this information, ask questions, and provide feedback, creating a more interactive experience.
Virtual Attendance: If some employees are unable to attend the off-site meeting in person, they can still participate virtually by contributing to a Kudoboard. This inclusion of remote team members enhances engagement and ensures that all employees are part of the meeting experience.
Interactive Surveys and Polls: Kudoboard can host interactive surveys and polls related to meeting topics. Employees can express their opinions, vote on decisions, and actively engage in discussions. This can make the meeting more participatory and engaging.
Team Challenges and Activities: Off-site meetings often include team-building activities and challenges. Kudoboard can be used to organize and document these activities. Teams can post updates, photos, and videos of their progress, creating a sense of competition and engagement.
Employee Stories and Insights: Employees can share their personal and professional stories on Kudoboard, providing a platform for everyone to learn more about their colleagues. This can lead to deeper connections and more engaging conversations during the off-site meeting.
Post-Event Reflections: After the off-site meeting, Kudoboard can be used for attendees to share their reflections, key takeaways, and action items. It provides a space for employees to continue the discussion and build on the meeting's outcomes.
Celebrating Milestones: If the off-site meeting coincides with company milestones or anniversaries, Kudoboard can be used to celebrate these achievements. Employees can contribute messages and content to commemorate the company's successes.
Kudoboard is a versatile and interactive platform that can be creatively integrated into company off-site meetings to encourage participation, recognition, and a sense of community. It provides a visually appealing and user-friendly way to engage employees, whether they are attending in person or virtually.
Improving company off-sites is a common topic of interest, and you should ask yourself a variety of questions.  Here are some common questions and topics you should answer when building a great company off-site:
"How can I plan a successful company off-site? What are the goals and measure of success?"
"What are some creative team-building activities for off-sites? How can Kudoboard support?"
"Where can I find tips for making company off-sites more engaging and productive? Contact us for tips"
"What are the best destinations for company off-site retreats?"
"Ideas for icebreakers and bonding activities at off-sites. We have ideas for you."
"How to set clear objectives and goals for off-site meetings?"
"What are strategies for effective off-site meeting facilitation?"
"Ways to ensure inclusivity for remote or off-site team members."
"How to measure the ROI (Return on Investment) of company off-sites?"
"Best practices for post-off-site follow-up and action plans."
"Balancing work and relaxation at company off-sites."
"Dealing with common challenges and issues during off-site meetings."
"Incorporating employee feedback into off-site planning."
"Innovative technology tools for enhancing off-site experiences."
"Creating a positive and productive off-site meeting culture."
These questions reflect a variety of concerns and interests when it comes to improving company off-sites, including planning, activities, engagement, and the overall impact of such events on team dynamics and productivity. Kudoboard can help answer these questions. We have resources and experience improving company off-sites and conferences.