welcome cards
Warm & friendly welcome to the team cards
Make onboarding new employees are more personal and welcoming experience with a board from their new team. Add photos, videos, GIFs, and messages of welcome now!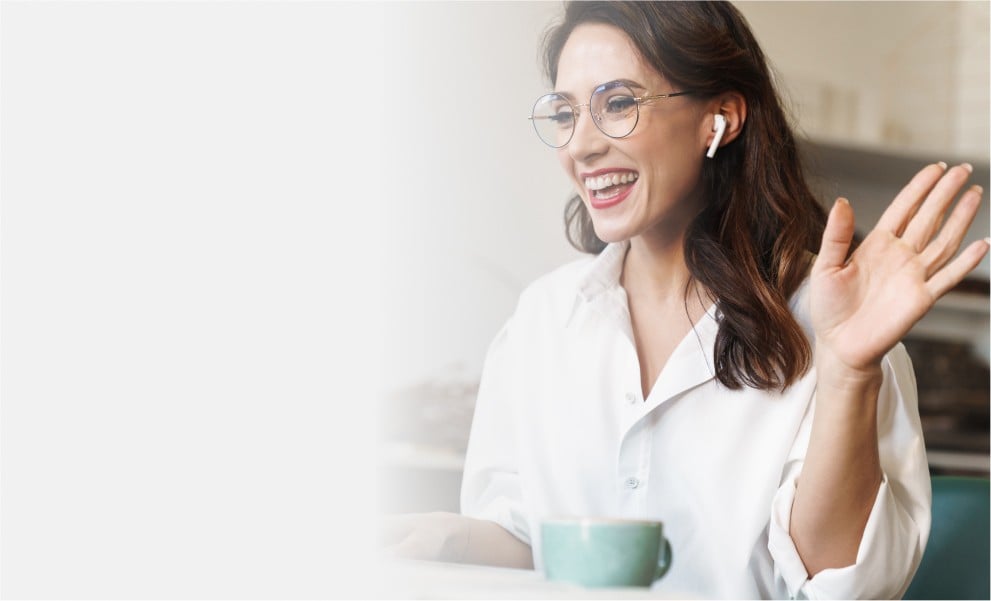 How online welcome cards work
Make a "Welcome to the Team" online group card to send to new employees before their first day to make it a smooth and fun transition.  
Customize your welcome cards – here's a taste
Take it to the next Level with a Subscription
Team morale boost, delivered.
Empower colleagues to celebrate each other and have a stronger sense of belonging at work with Elevate by Kudoboard.
Unlimited boards and multiple board creators to celebrate all your milestones, company events, & peer-to-peer recognition.

Custom branding lets you personalize your Kudoboards with your organization look & feel.

Automate board creation for employee birthdays and work anniversaries.

Integrate with your key systems like SSO, Slack or MS Teams, and more.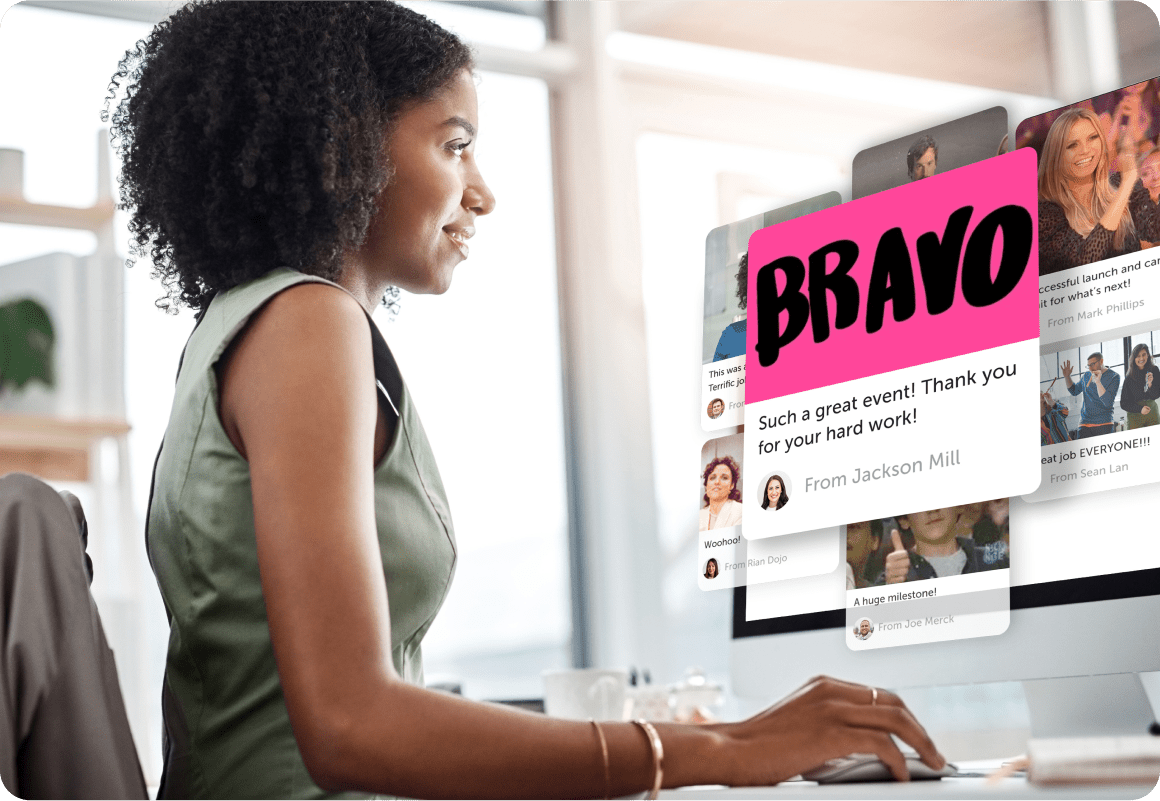 Having a welcome event?
Kudoboard can help you make a first impression that lasts forever, at your company welcome event. Colleagues can share their excitement with an online welcome card, filled with GIFs, photos, tons of fonts and more features.
We've got you covered. Contact us to get set up.
Your logo at the top
Custom pricing
Custom URL
Proactive moderation
Multiple administrators
Embeddable content
Board export
Tagging, likes, and comments
Custom disclaimer
Custom input fields
Board metrics
Dedicated account manager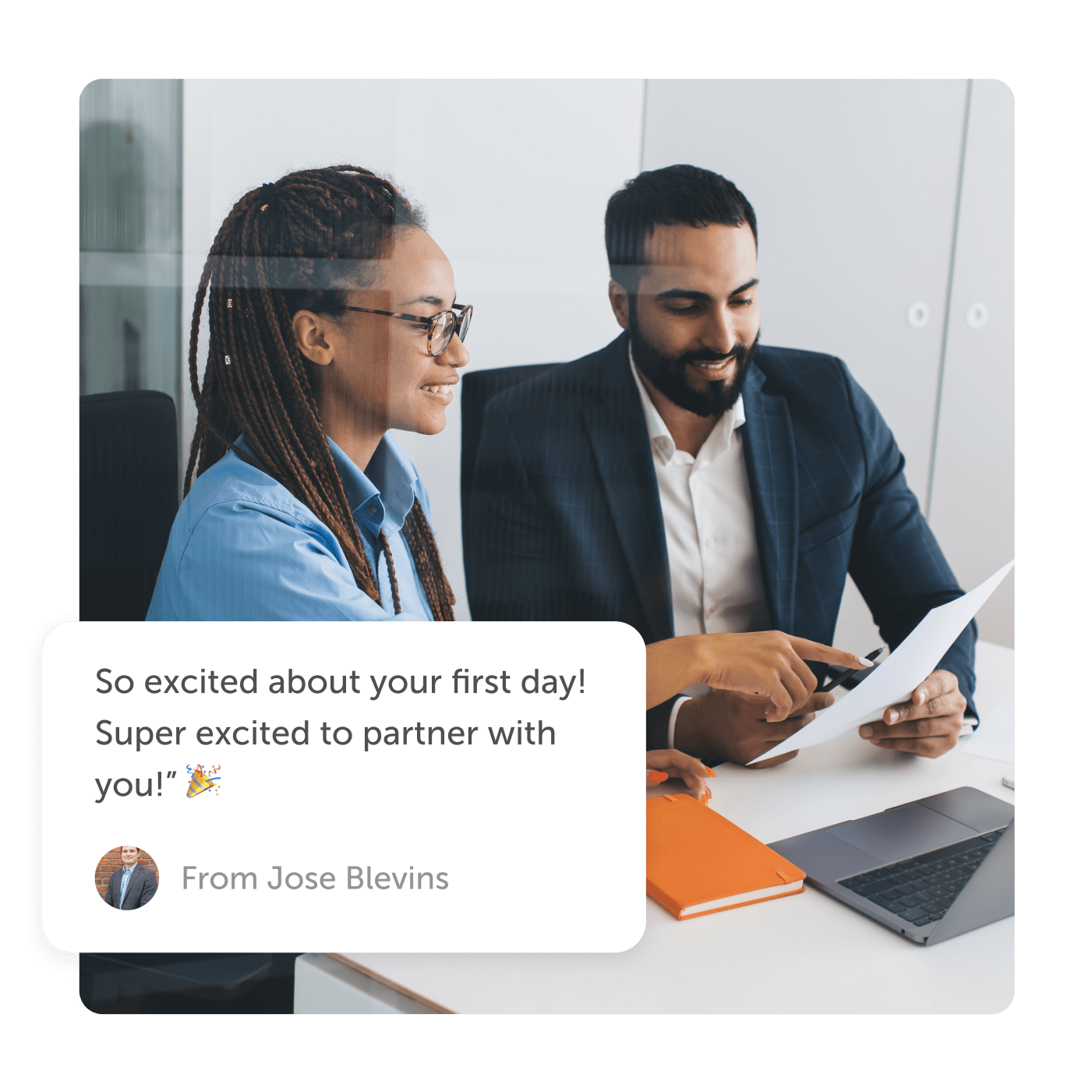 Kudoboard is currently allowing our small nonprofit highlight achievements and provide a curated onboarding experience that makes people feel seen and valued. It's simplicity is its value.

Andrew K. IT Administrator Contractor Small-Business

Gives such a great experience for new members joining our company! Current teammates get to share their excitement and personality through the use of static images, gifs, and comments!

Caroline K. Information Technology and Services Mid-Market

As an HR practitioner, when staff leave the organization, there is the need to have staff share memorable moments with staff that can be shared during the staff farewell party, the kudoboard has been instrumental in my department.

Martha O.

Last year, we purchased a Kudoboard to start a company wide employee engagement. We … used it for a month to collect feedback from our employees. The reviews we received were amazing and the board continues to be one of our top products. We keep it in all of our offices and our customers love it.

Annie B. Senior Accounting Manager Information Technology and Services
Group welcome cards that work for your team
Totally Custom

Kudoboards are completely customized for your team, including artwork, fonts, photos, GIFs, and videos.

Invite Contributors—Anywhere

Friends, family, and teammates can all add to your online welcome card, no matter where they are. Just drop them the link!

Authentic Posts

A Kudoboard post is much more than a signature or quick "Welcome to the Team!" Posts can include new hopes, photos, videos, funny GIFs, and anything else you think up.

Schedule Delivery

No need to worry about walking their card around or getting their address. Simply schedule the board to be delivered via email so it's ready when they first log in.

Thank Contributors

Recipients can quickly thank contributors once they receive their card. Thank you FOR thank you!

Save Forever

Boards last forever, so the recipient can bookmark this board of positive words for a rainy day boost.

Display Slideshow

Celebrating at an event or a "welcome to the team" lunch? Display the Kudoboard messages on a screen.

Add a Gift Card

Attach a gift card to your Kudoboard for a sweet token of appreciation. You can even crowdsource donations!

Perfect for Teams

Workplace appreciation never had it so good. Welcome to the Team boards are the perfect way to boost morale and express gratitude for your coworkers.

Emojis & Comments

Upgrade to a business plan to add comments and emoji reactions to posts for even more fun!
How you welcome them makes a difference
Acknowledging the moments that matter is important. Showing you care is proven to change the way we think—and perform.
#1
reason people leave their job is because of a lack of recognition.
98%
of people would be happier if they were celebrated at work.
92%
of people feel happier at work when they receive a Kudoboard.
85%
prefer a Kudoboard over a paper card. It's more authentic.
83%
of customers experience a positive impact on morale with Kudoboard.
80%
prefer contributing to a Kudoboard over a paper card. It's more fun.
>75%
improvement in team morale is gained by Kudoboard deployment.
90%
say companies undervalue the effects of recognizing people.
Welcomed employees are productive employees
Treating your employees right is vital to your company culture—and it starts before they even sign the offer letter. Welcoming a new employee with warm messages from their team eases those first day jitters, and can even encourage candidates to accept an offer letter. Set the tone for workplace appreciation with a warm welcome.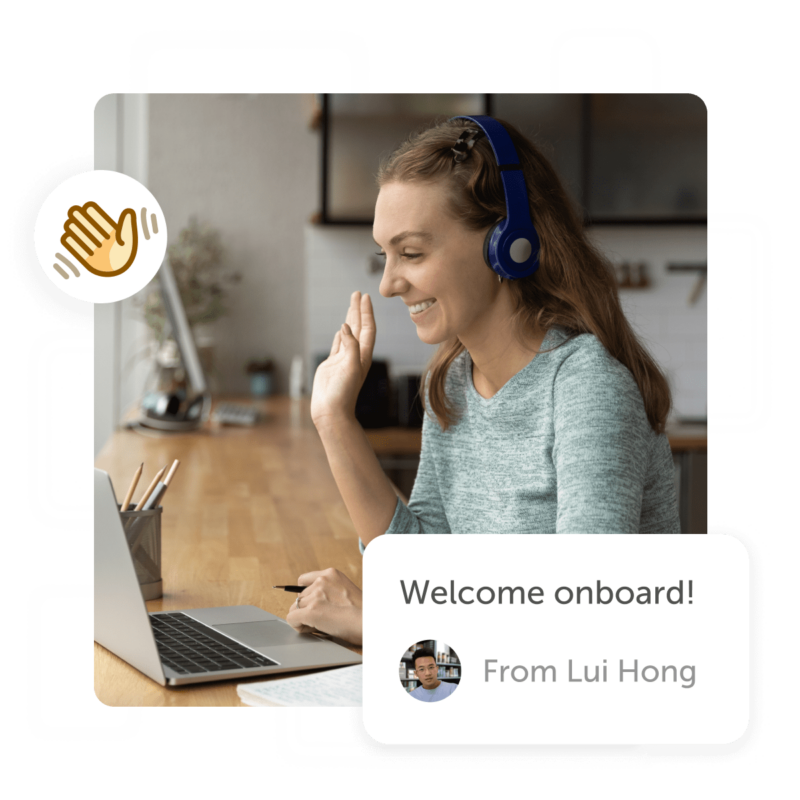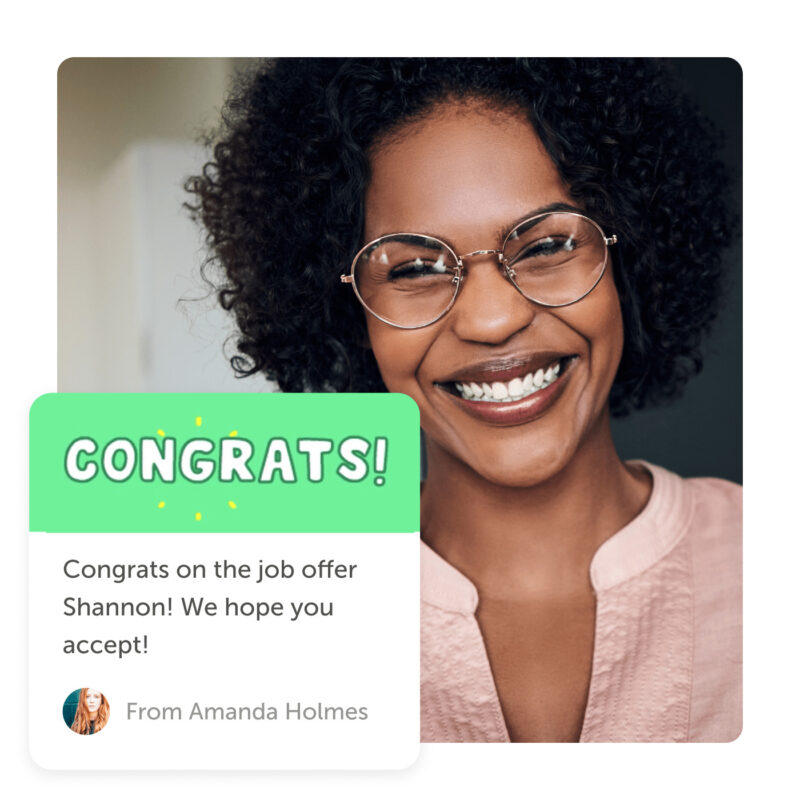 Better than a boring welcome email
Logging into your brand new email to an empty inbox is a bit depressing. Instead, imagine logging in to find an online welcome card filled with messages from all of your new teammates. It's useful for your existing employees, who will consciously adapt to a new coworker, but also for the new employee who may be a little hesitant on their first day. Appreciation starts on day one.
Frequently asked questions about welcome cards
Creating a welcome card is super simple! You can get started by clicking here, and following the step-by-step instructions. Explore the customized templates, add text and photos, and you will have a personalized greeting card in minutes!
Anytime we start a new endeavor, nerves run wild. Custom welcome cards are a great way to let your new employee know they are welcome and cared about. Humans love to feel included and the ability to allow the team to customize their own design will create that personal touch that can improve morale from the start.
The most important part of any welcome card is an inviting and friendly tone. Keep it light and fun. One idea is to have each team member introduce themselves with a few words and a photo or GIF they like. You can also have each person write a welcome message. Another option is to send a welcome from management with contact information for who they can reach out to with questions.
Remember, there are no hard and fast rules! Have fun with it and create your own custom card in minutes.
Looking for inspiration? This is a fun example from a Kudoboard customer.
Depending on your needs, there are multiple plans and pricing options. We are confident you will find something that fits each person, business, and budget. This is an excellent option for 1-1 cards, small group cards, or to try out the service. Go ahead and build your first virtual card today!
Yes you can, and we encourage it! Add your favorite photo, GIF, or meme to your post for a great personal touch. They are also a great way to make the board more appealing and fun visually.
Yes! Virtual welcome cards can be sent from an entire group. Miniboards are free and can have up to 10 contributors. Premium plans can accommodate up to 100 contributors. Our subscription plans vary and can offer up to unlimited contributors.
Inviting your team to contribute is simple and can be accomplished in 1 of 3 ways. You will get a unique board link once you have created the welcome card that you can message out through the system. You can also invite them through Facebook or send an email invitation.
Our custom cards will never expire! The recipient will have access to it for as long as they want!
No! Those who want to contribute will not need to subscribe to anything to post to a board. We love this feature because it cuts down one more barrier to entry to encourage your team members to post.
Start now to create a welcoming and warm company culture. There is always something to celebrate so make sure you are! Birthdays, farewells, condolences, and any other event or occasion you can think of is a great reason to send a custom greeting card! We also find it helpful to send email reminders the day before the event and to make sure you include a great first design on the post for inspiration.
Yes! It could be so fun to have a poster printed out to welcome your new person on their first day. You can order a print from us, or you can download your board and take it to your local print shop.