How Online Group Cards Work
Kudoboard's online group cards allow you to gather appreciation from a group, delivered directly to the recipient virtually.
Sample use
For teacher appreciation week, the PTA started Julia a Kudoboard. Parents and their children have begun to contribute, and the online board will be delivered at the end of the week.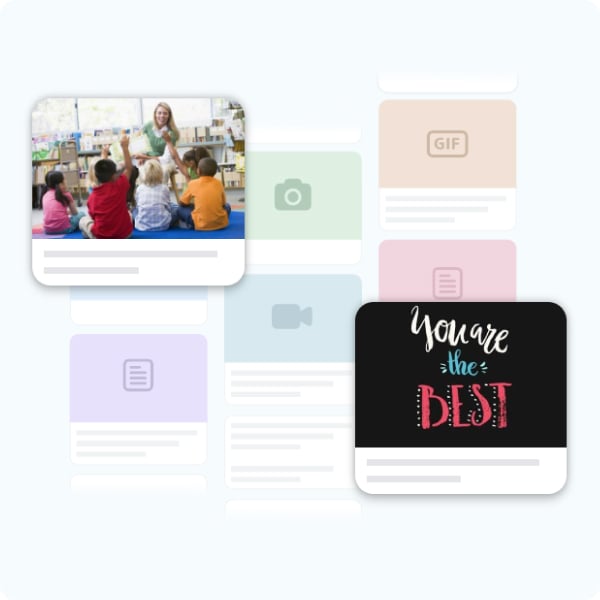 Something for everyone
Choose the option that's right for you — from single group cards to ongoing plans,
for personal use or for the office.
Company Event
Contact us to discuss your needs. Whether recognizing a departing CEO, celebrating a graduation for a university, or honoring caregivers at a hospital – we've got you covered.
In addition to all Milestone board features, company events offer:
Your logo at the top
Board export
Custom pricing
Tagging, likes, & comments
Custom URL
Custom disclaimer
Proactive moderation
Custom input fields
Multiple administrators
Board metrics
Embeddable slideshow
Dedicated account manager
Online Teacher Appreciation Cards, Done Right
You've seen it before. Someone starts to pass around a card in a manila folder for everyone to sign. There's barely space on the card for people to add a note (let along a signature). And five people are missing — so getting everyone to sign is basically impossible.
With Kudoboard, there's a better way.
Inviting people to contribute, wherever they are, is easy. Send them the link to the board or use our system to email them an invitation. Then sit back, relax, and watch the posts roll in.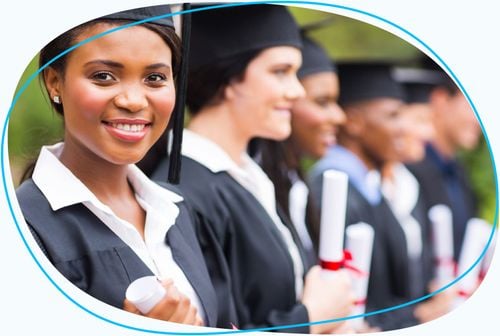 This was the perfect way for me and my classmates to recognize our professor before graduation. Super easy to invite others to add to the board, and the end product was AWESOME.

Sarah R. Michigan
Latest teacher appreciation articles from the blog
Frequently asked questions about Teacher Appreciation Cards
Whether it is during teacher appreciation week or just to say thank you, showing gratitude for a teachers hard work is meaningful to them. But what do you say? Is a simple thank you enough?
Teacher just want to feel recongized, seen, and appreciated because their job can be hard and thankless. So a simple thank you can be enough. If you would like to make it more meaningful consider writing a message with a few specific impacts they have made on a child's life.
Here are some simple and meaningful messages for a teacher appreciation card:
"Your creativity made for a fun year."
"Thank you for going the extra mile."
"Thank you for developing my childs love of [fill in the blank]"
"Thank you for taking the time to understand my kids interests"
"Thank you for being patient and kind with my child."
"Your classroom was a safe space for me/my child."
Teachers are a vital part of our society. They literally form the minds of our youth. The work they put in, directly impacts the well being of our future society. Unfortunately, many teacher are inundated with administrative tasks put on them by politicians, administrations, and even parents. While most people are trying to insure a good life for our youth, teachers often take the blame for things that go wrong.
Because of the high work load combined with reduces appreciation for what they are doing, teacher are quitting in droves. This is leading to teacher shortages within many school districts. If we can emphasize teacher appreciation, our teacher burnout will be reduced and so will teacher resignations. Most importantly, our teachers will know just how much we appreciate all they do for our children.
If you would like to send words of appreciation to a teacher, make a Kudoboard to give to them. A Kudoboard is an online group greeting card where anyone with the link can contribute messages of appreciation. It makes collecting words of gratitude from groups easy and is sure to show a teacher how much you appreciate them.
Absolutely! Teachers spend their days fulled with tackling classroom management issues, grading, lesson planning, professional development, and extra duties asked by administration. The list alone is a lot to handle but on top of that what is required of their job, they genuinely look out and care for their students. All of what they do is for the betterment of their students.
Sadly, most teachers don't hear thank you enough and are often reminded of what they need to improve on. So they definitely appreciate when someone takes the time out for teacher appreciation.
A great way to show your appreciation for a teacher is through a Kudoboard. You can quickly create a teacher appreciation group card of messages from students, parents, and faculty. It is quick, easy, and most importantly, meaningful.
Teacher appreciation week occurs on the first full week in May each year. This is because Nation Teacher Day occurs on the Tuesday of that week. This week a great opportunity to let all of the teachers in your life know how much you appreciate the hard work they put into to shaping our youth each day.
There are many ways you can show appreciation to your teachers, whether that is through homemade gifts, gift cards, or their favorite treat. Whatever way you decide to express your gratitude, be sure to pair it with a Kudoboard teacher appreciation group card. Our boards allow for you to compile messages of appreciation online for your teacher to enjoy.
We have made making teacher appreciation cards simple. First, select "Create a Kudoboard." Then, fill in the template and design the card to your liking. When finished designing, you can invite others to contribute their "Thank you's" to the card. Our cards allow contributors to add flare with GIFs, photos, and Videos. Once all have posted, the teacher will have a host of messages to directly know the impact they are having on their students and the community.
Once it is time to deliver the card simply schedule the delivery or print it off as a poster or book. For more detailed instructions, check out our step-by-step guide, 'How Do I Create a Kudoboard?' You can see an example of what a good luck ecard can look like by checking this example.
A Teacher appreciation card from parents doesn't need to be complicated or extravagant. It just needs to be intentional and meaningful. Kudoboard makes creating a teacher appreciation card from parents easy. Simply select "Create Kudoboard," select the board that fits your needs and begin creating.
As part of the creation process, you are able to change the background, add gift cards, and select others to contribute to the card. This is a great opportunity to make the card a teacher appreciation group card from other parents. As contributors post, they will be able to include videos from the children, photos, funny GIFs and memes, and meaningful messages.
Once the board is created, we offer a variety of delivery options from a slideshow, print a book or poster, or an email. A teacher appreciation Kudoboard is sure to make the process simple while making an impact on your teacher's experience.