executive departure
Honor an executive departure with a Kudoboard
Share appreciation, memories, and well-wishes with an executive departure event board from Kudoboard.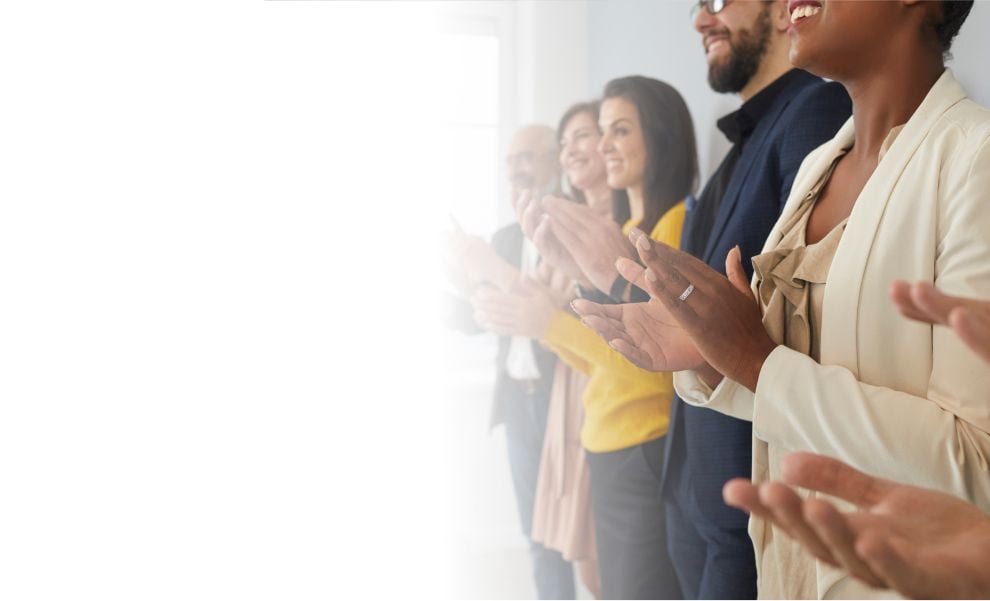 How to create an executive departure board
Kudoboard's executive departure boards allow you to share pictures, videos, GIFs, messages, and more as you honor and thank a leader. 
Customize your departure cards – here's a taste
Take it to the next Level with a Subscription
Team morale boost, delivered.
Empower colleagues to celebrate each other and have a stronger sense of belonging at work with Elevate by Kudoboard.
Unlimited boards and multiple board creators to celebrate all your milestones, company events, & peer-to-peer recognition.

Custom branding lets you personalize your Kudoboard's with your organization look & feel.

Automate board creation for employee birthdays and work anniversaries.

Integrate with your key systems like SSO, Slack or MS Teams, and more.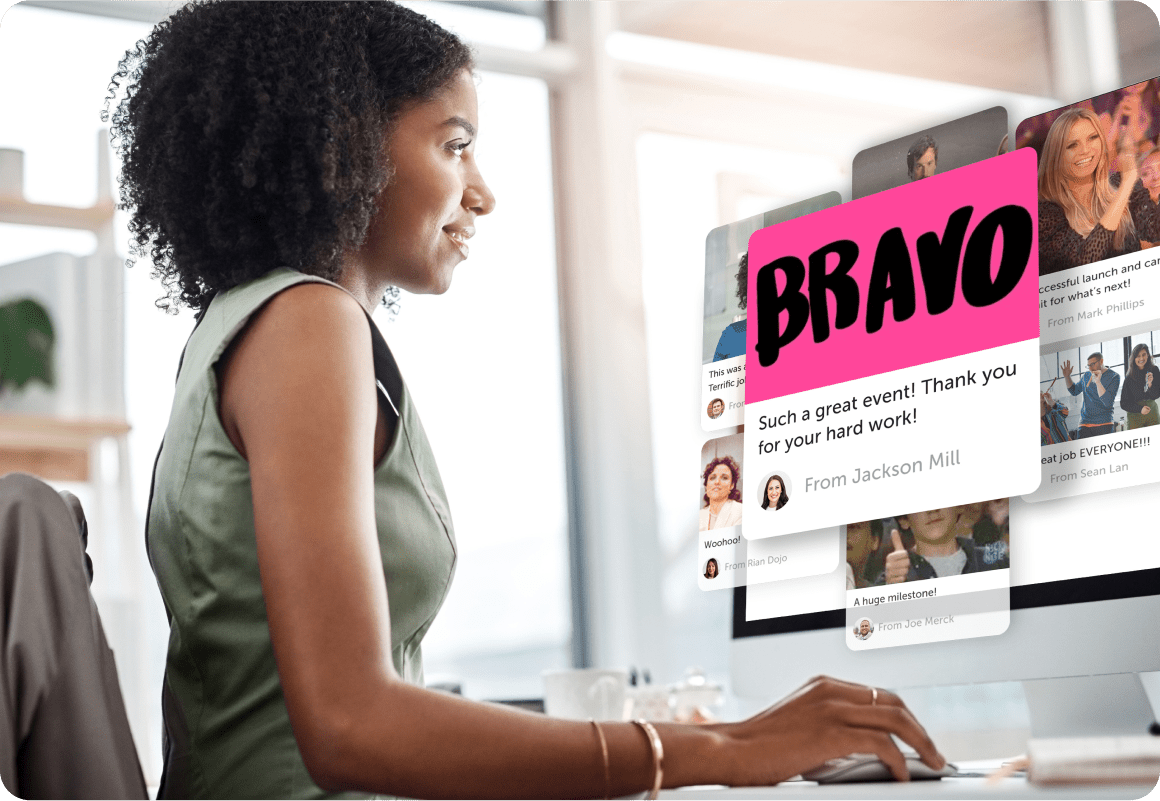 Planning an Executive Departure event?
Say goodbye to singing 'He's a jolly good fellow' and 'hello' to a Kudoboard for your next executive departure event. Create an executive departure card with your branding and let the organization loose to share their appreciation through tons of fonts, photos, GIFs and more features.
We've got you covered. Contact us to get setup.
Your logo at the top
Custom pricing
Custom URL
Proactive moderation
Multiple administrators
Embeddable content
Board export
Tagging, likes, and comments
Custom disclaimer
Custom input fields
Board metrics
Dedicated account manager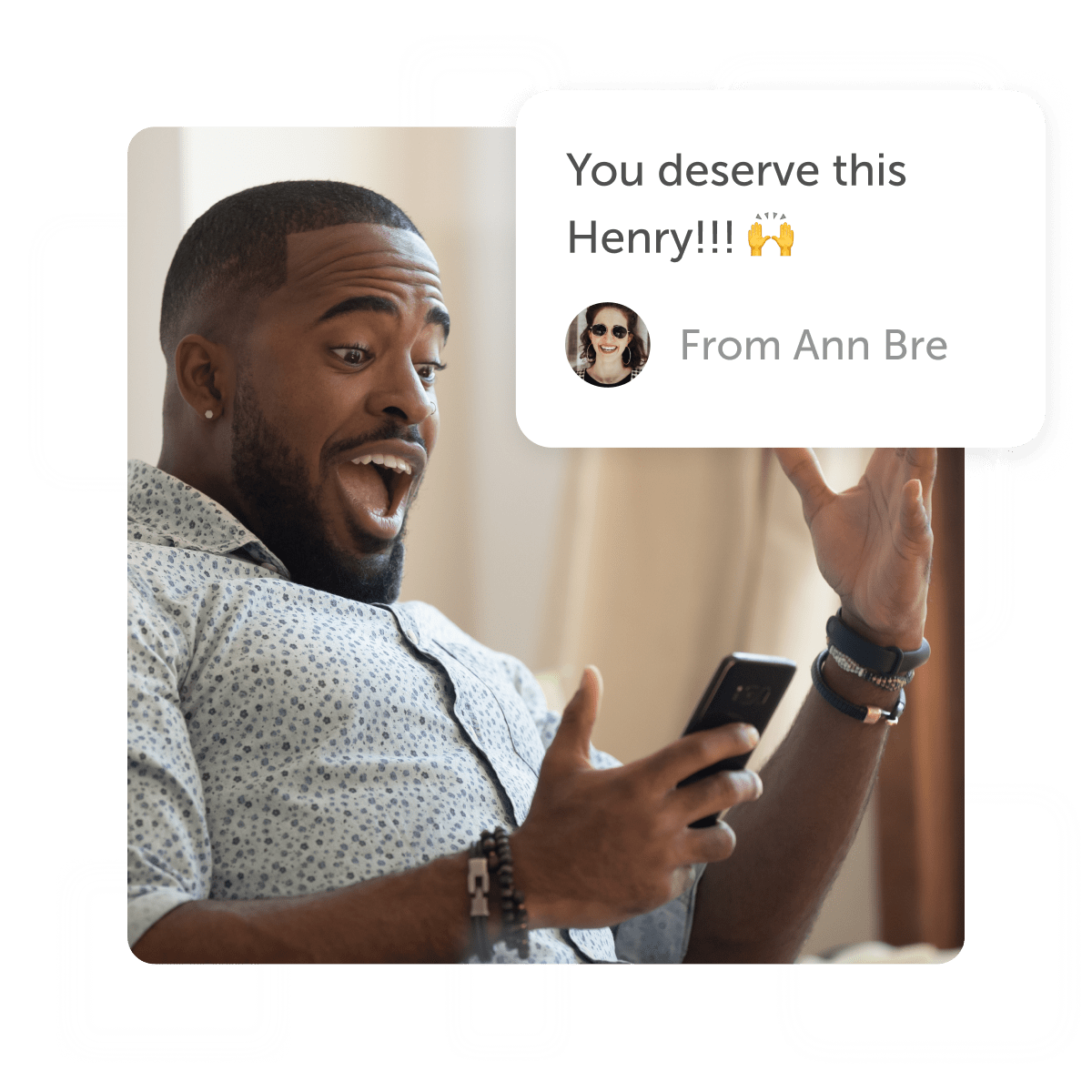 I've been able to send my colleagues goodbye messages with ease. There's no fuss and I love that you can add photos, videos, and gifs.

Elita Y.

We primarily use this to write employee farewell cards. It is an easy way to get everyone to sign the card.

Karlin W.

As an HR practitioner, when staff leave the organization, there is the need to have staff share memorable moments with staff that can be shared during the staff farewell party, the kudoboard has been instrumental in my department.

Martha O.

Because my Human Resources team is located across the United States Kudoboard cards allow me to create cards for service anniversaries, birthdays and other milestones easily; everyone on the team may contribute to the cards with fun graphics and sentiments. My team loves not just receiving the cards but contributing to them!

Debra C. Executive Business Assistant Computer Software
Executive departure online cards that work for YOU
Totally Custom

Easily customize the look and feel for your recipient, including background artwork, fonts, personalization, delivery experience and add-ons

Invite Contributors—Anywhere

Friends, family, and teammates can all add to your online thank you card, no matter where they are. Just drop them the link!

Authentic Posts

A Kudoboard post is much more than a signature or quick "Thank You!" Posts can include memories, photos, videos, inside joke GIFs, and anything else you think up.

Schedule Delivery

No need to worry about walking their card around or getting their address. Simply schedule the board to be delivered via email on a day of your choosing.

Save Forever

Boards last forever, so the recipient can bookmark this board of positive words for a rainy day boost.

Print It

On special occasions, a printed book or poster of your Kudoboard makes a beautiful present.

Display Slideshow

Celebrating at an event? Display the Kudoboard messages on a screen.

Perfect for Teams

Workplace appreciation never had it so good. Thank You boards are the perfect way to boost morale and express gratitude for your coworkers.

Emojis & Comments

Get a business plan to add comments and emoji reactions to posts for even more fun!

Sustainability

Kudoboards are more sustainable for your wallet AND the earth.
Celebrating departures makes a difference.
The power of gratitude is transformative. Showing you care is proven to change the way we think—and perform.
#1
reason people leave their job is because of a lack of recognition.
98%
of people would be happier if they were celebrated at work.
92%
of people feel happier at work when they receive a Kudoboard.
85%
prefer a Kudoboard over a paper card. It's more authentic.
83%
of customers experience a positive impact on morale with Kudoboard.
80%
prefer contributing to a Kudoboard over a paper card. It's more fun.
>75%
improvement in team morale is gained by Kudoboard deployment.
90%
say companies undervalue the effects of recognizing people.
GET A KUDOBOARD SUBSCRIPTION
Unlimited boards for your organization
Frequently asked questions about executive departure events
This term is used to describe a high-ranked leader in a company who leaves their place of work. This includes individuals like presidents, CEOs, CFOs, COOs, and many more.
An executive leader can leave a company for many different reasons. If they have reached the age of retirement they might be departing to shift into their long-awaited new phase of life. Other personal reasons can take executives out of their positions and away from their roles at work. Often leaders in key positions will leave the business to make advancements within their career or to accept a more beneficial opportunity somewhere else. In less fortunate situations the executive departure can be involuntary and possibly unexpected. This can happen for reasons such as arguments or conflicts, breach of contract, ethical issues, layoffs, a sale or acquisition, or other strategic moves from the business's board of directors.
Executive departures can cause real issues within an organization, specifically in the way communication begins to unravel. Voluntary exits like retirement are less frenzied and create minimal amounts of rumors spread throughout the company. Retirement, and even certain career advancements, are expected and seen as reasons to celebrate together. Sudden departures, both involuntary and voluntary, will inevitably result in whispered gossip and rumors spreading like wildfire throughout the organization. For this reason, it is crucial to fill the space with effective and strategic communication. As quickly as possible issue a statement announcing the executive's departure and give a reason that will stifle the rumors. While great detail into the reasons for departure is unnecessary, using a bland statement with no explanation (or a false explanation) will only make the gossip and rumors worse. 
Due to the high positions executives hold within a company, some transparency is needed during their departure from an organization. Not only will it help to eliminate gossip and rumors, but it will also give other employees a feeling of safety and security. Experience a shake-up in the leadership can be unsettling for employees, and not having a satisfactory understanding of why an executive is departing leaves employees to fill that void by assuming the worst. For this reason, businesses need to utilize an executive departure announcement in this time of change. 
An executive departure announcement is a formal explanation that educates employees within the company about the change. This announcement usually comes in the form of a letter or email and is sent out to everyone company-wide. This should be done in a professional way that is descriptive, yet concise, and helps employees know what to expect in the coming weeks and months. It can also include information on a company farewell event.
Each departure situation is unique therefore an executive departure announcement will need to be tailored to the circumstances. Regardless of the reasons though, each company departure announcement should be worded professionally and will need to have similar inclusions. It is important to strike a balance between giving adequate information and still keeping things professional. Here are some things to consider when creating an executive departure announcement:
Address the correct employees at the beginning of the letter. This departure notice might be sent to the entire company or only a certain affected department. 

Give an opening statement that clearly explains the reason for the letter (the departure of the executive), the name of the employee, and the position they help in the company.

Give information regarding the details of their departure. This includes the timeline of their exit, their last day on the job, and a concise reason for leaving. 

Outline the company's plans during this period of transition, what employees can expect, and what the next steps will be in filling the position. If applicable, add here what the company is looking for in someone interested in applying. 

Give employees an avenue for sharing questions and concerns, as well as a place to clarify information during the transition. 

Express appreciation and gratitude for the executive and their time at the company. Highlight any specific achievements or contributions that apply, and thank other employees who helped the executive during their employment. 

End it on a positive note to encourage the company in moving forward.
An executive departure event is a company event centered around saying goodbye to a high-ranking employee as they exit the company. Things like an executive retirement or a CEO departure to accept another position are often celebrated with a departure event. This company event is a chance for employees to share goodbyes, congratulations, and well-wishes for the executive's changes to their career. The details about a farewell event, including time and location, can be shared in the executive departure announcement sent out to employees. 
An executive departure creates a significant change to a company's structure and organization. Often, these high-ranking employees have been with the company for a long time and have made a significant impact on the organization. Hosting an executive departure event allows employees to come together and celebrate all that the leader has done for the company. It gives a sense of closure for both sides when they have space to share their feelings about the changes being made. For something like an executive retirement, a farewell event shows the executive they were valued in the company, that their impact will continue after they're gone, and that they have friends and colleagues cheering them on in this new phase of life.
Kudoboard's Company Event feature is a great choice for larger events like a CEO departure or executive retirement. Organizations that have a Kudoboard Business Plan are familiar with the features provided for a Company Event. Multiple administrators have access to manage your event through moderating posts, making edits, or deleting content. Customize your event board with a unique background, custom URL, and the company logo at the top of the board. Employees can engage with the board for the departure event by adding posts with pictures or videos, tagging each other in posts, and liking or commenting on other contributions. Take your executive departure event to the next level by displaying the board as a slideshow during the event, and embedding it on your website for others not in attendance to enjoy.
If you are looking for a way to access everything needed for workplace appreciation and special occasions all in one spot, you have come to the right place! Elevate by Kudoboard is an ongoing business plan that provides all of the bells and whistles your employees deserve to feel valued by their company. Our plan provides unlimited customized boards, making it perfect for any size team to come together and celebrate an executive departure anytime you need it. Our business plan makes it easy to quickly organize an executive departure event that will be remembered by all!
Start your free trial today and experience workplace appreciation reimagined.
We have worked hard to make a quick and easy way to organize a Company Event board that you are proud of. Whether you have access to unlimited boards through our business plan or need a one-time company event board, we have a solution to fit your event needs. Click here to see samples of a farewell event board, as well as additional features of our business plan. Once you choose which option is right for you, we will walk you through each step of creating a Company Event board for any executive departure event.  
One common reason for hosting an executive departure event is an executive retirement. It is a meaningful way to celebrate all of their achievements and contributions to their company over the course of their career. This company event allows everyone in the organization to come together and joyously send their co-worker into their new phase of life. Every executive is unique so celebrating their retirement must also be tailored to them specifically. Some ideas for celebrating an executive retirement are:
Company or department retirement party

Commemorative or custom gifts

Video or slideshow tribute from a service like Kudoboard

Donations

A corporate event such as a retreat or outing
Still looking for more information? Come check out our blog! You'll find new content like this posted regularly to help you find what you need. Feel free to poke around and see if anything else piques your interest. 
As always, we love hearing from you – so please contact us with any unanswered questions!