How Online Group Cards Work
Kudoboard's online group cards allow you to gather appreciation from a group, delivered directly to the recipient virtually.
Sample Kudoboard
Brett and Ana's wedding is coming up. Their coworker Vicente started them a Kudoboard and invited others to add photos & videos. He also plans to print a copy as a gift when they return from the honeymoon!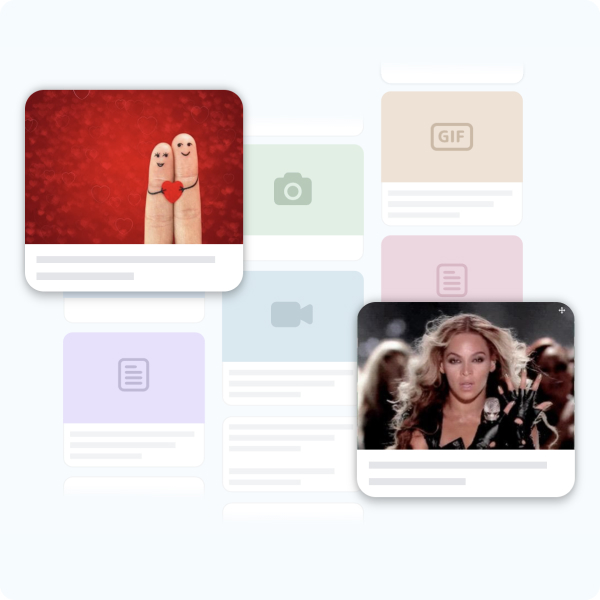 Something for everyone
Choose the option that's right for you — from single group cards to ongoing plans,
for personal use or for the office.
Company Event
Contact us to discuss your needs. Whether recognizing a departing CEO, celebrating a graduation for a university, or honoring caregivers at a hospital – we've got you covered.
In addition to all Milestone board features, company events offer:
Your logo at the top
Board export
Custom pricing
Tagging, likes, & comments
Custom URL
Custom disclaimer
Proactive moderation
Custom input fields
Multiple administrators
Board metrics
Embeddable slideshow
Dedicated account manager
Online Wedding Cards, Done Right
You've seen it before. Your coworker's wedding is this weekend, and someone starts to pass around a card in a manila folder for everyone to sign. There's barely space on the card for team members to add a note (let along a signature!). And five people are traveling for a conference while another one works remotely — so getting everyone to sign is basically impossible.
With Kudoboard, there's a better way.
Inviting team members to contribute, wherever they are, is a breeze. Simply send them the link to the board or use our system to email them an invitation. Then sit back, relax, and watch the wedding congrats roll in for your coworker. And we're not just talking about a short note + a signature. Team members can add photos, GIFs, & videos to make the board fun and personalized.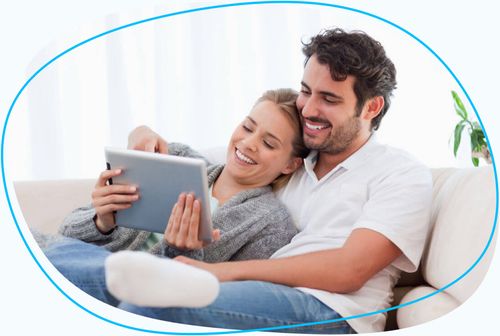 The whole office put together a terrific wedding card using Kudoboard for one of our coworkers who was getting married last weekend. It was a great way to get a bunch of people to write notes of congratulations!

John T. Arkansas
Frequently asked questions about Online Wedding Cards
We have made a digital wedding card simple. First, select "Create a Kudoboard." Then, fill in the template and begin designing the card to your needs. When finished designing, you can invite others to contribute to the card. Our cards allow contributors to add flare with GIFs, photos, and Videos. Before you send out the card, be the first to sign. Doing so will allow others to see the possibilities for their contribution.
Once it is time to deliver the card, all you need to do is schedule delivery or print it off. For more detailed instructions, check out a step-by-step guide, 'How Do I Create a Kudoboard?'
Anywhere! On the beach, in a plane, or at a desk. Simply grab your computer or mobile device and open Kudoboard. We designed our website to be accessed anywhere. Simply select the type of board that fits your needs and let our system walk you through the creative process.
Whether it is a friend, co-worker, or family member, deciding what to write on a virtual wedding card can be tiresome. Should you go with a simple but classic "congratulations," a heartfelt message or spice it up with a joke or pun? Either way, including joint congratulations or well-wishes, is a good idea. Here are some ideas on what to write on your Kudoboard Wedding Card:
Thank the couple for inviting you to their wedding
Write a meaningful message about the couple's relationship
"Congratulations to a wonderful couple!"
"Wishing you the best today and always"
"Our marriage advice: love, appreciate, and scrub the toilet"
Additionally, with a Kudoboard Digital Wedding Card, you can add additional flare with GIFS, Videos, and custom backgrounds.
When creating your Kudoboard wedding card, it is always a good idea to address both partners. The most critical part of addressing a couple is that it represents you and your relationship with them. Here are different ways you could address a wedding card:
Mr. and Mrs./ Mr. and Mr./ Mrs.and Mrs. with the last name they will go by
"To the Happy Couple"
"To the Bride/Groom and Groom/Bride"
Dear First Name and First name
"To my favorite couple,"
"First name and First name"
An Online Wedding card is a great way to show a new couple support and love. It allows more people to celebrate an important milestone. Instead of going door to door (or cubicle to cubicle) hoping for signatures on a grocery store card, an online wedding card gives participants time to sign at their convenience. It also allows for a more personalized and unique card that offers a handmade feel without all the hassle of glue and glitter. A Kudoboard Wedding Card gives an array of customization options like pictures, videos, GIFs, and even a slideshow to give you a card perfect for your situation.
The best backgrounds for a wedding card are timeless and neutral colors. You can also use celebratory backgrounds with champagne glasses, confetti, or floral accents. When in doubt find a background that matches the invitation or wedding colors. Kudoboard has a wide selection of patterns, textures, and colors appropriate for any occasion. We remove the worry of selecting the best background by curating options we feel are appropriate for a wedding card. If you find a background you like more, no worries. By using Kudoboard, you can upload a custom background.
After years of sifting through the dating pool, the wedding couple finally found someone to dedicate their life to. How exciting! By creating a wedding celebration card, you can celebrate with them. Also, a wedding card provides an opportunity to show the newlywed appreciation, love, and support. A card reminds them of all of the people they have supporting them. Additionally, if you cannot attend the wedding, this is a way to celebrate from a distance.
Absolutely! More and more couples are turning towards digital means to celebrate their nuptials from virtual invitations to digital thank-you cards. A Digital Wedding card provides accessibility, customization, and longevity. By using Kudoboard, anyone with an invite can contribute to the card. The couple will receive well wishes from anyone, whether or not they were in the office the day the card went around for signing. We understand that sometimes presenting a physical copy is more personal. So, we offer a print feature. Once all contributors have signed the Kudoboard follow these step-by-step instructions to print and ship your card.
Wedding Slideshow?
Yes, you can make a wedding slideshow and showcase memories and also allow your guests to contribute in real-time to the wedding slideshow.
Wedding Photo Collage?
Yes, you can make a wedding photo collage for your wedding before, during or after the big day.