How Online Group Cards Work
Kudoboard's online group cards allow you to gather appreciation from a group, delivered directly to the recipient virtually.
Sample Kudoboard
Brett and Ana's wedding is coming up. Their coworker Vicente started them a Kudoboard collage and invited others to add photos & videos. He plans to print a copy as a gift when they return from the honeymoon!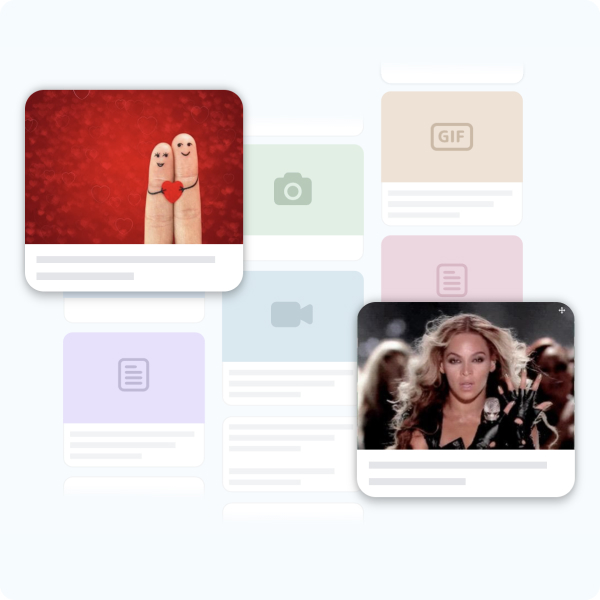 Something for everyone
Choose the option that's right for you — from single group cards to ongoing plans,
for personal use or for the office.
Company Event
Contact us to discuss your needs. Whether recognizing a departing CEO, celebrating a graduation for a university, or honoring caregivers at a hospital – we've got you covered.
In addition to all Milestone board features, company events offer:
Your logo at the top
Board export
Custom pricing
Tagging, likes, & comments
Custom URL
Custom disclaimer
Proactive moderation
Custom input fields
Multiple administrators
Board metrics
Embeddable slideshow
Dedicated account manager
A Wedding Collage, Done Right
For many online collage makers, there are frustrating limits. Whether it's an inflexible template that only allows you one screen's worth of posts, or a setup that doesn't allow GIFs & videos; it often feels like you can't quite make what you want. And if you are thinking of inviting several others to collaborate in the creation of the collage — forget about it!
With Kudoboard, there's a better way.
Whether you want to create a smaller collage for free or upgrade for unlimited posts, the size of the board is completely up to you. You can add messages, photos, GIFs, & videos from your computer or directly from your smartphone. And if you to invite others to contribute as well? It's as easy as sending them the link.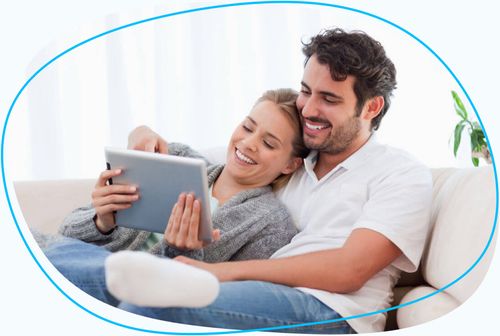 I sent out a link to a Kudoboard to my wedding attendees. They all uploaded photos & videos they took at the event, which was so fun to see before our official pics from the wedding photographer came back.

Terry Q. California
Frequently asked questions about Wedding Collage
A Kudoboard wedding collage allows you to be flexible in the number of photos while giving you the creativity to create your wedding photo display. Every Kudoboard wedding collage includes the ability to add videos, GIFs, and messages. It also acts as a group photo wedding card allowing you to invite others to contribute images and messages.
What is unique about our wedding collages, is the versatility of one board. Here are all of the things, you can do with your collage:
Sometimes it can be hard to choose just one picture to include in a wedding collage board. If you would like to add more than one picture to your posts, you are welcome to include up to four in a collage photo.
To create a collage photo, click '+Add to Board' at the top left corner. Then, select 'Add Image' and click 'Upload Image.' From here, you can choose the file you wish to use. We accept most file types but recommend using JPG or PNG files. Once you select 4 photos to upload, toggle to image collage at the top of the page. This will allow you to make it into an image collage.
At this point, you can rearrange the photos, zoom in/out on your images, and select a layout option. When the photo collage is to your liking, add desired text and click post. If you would like to see this process in real-time, check out this demo video.
Many online wedding collage makers limit you on what you can do with their collage templates and software. Whether that is only allowing you to have a screen's worth of posts or forcing you to stick to one of their templates, these other wedding collage makers can be inflexible.
A Kudoboard wedding collage allows you to be flexible in quantity and design and has other unique features to add creativity to your wedding photo display. These features include the ability to add videos, GIFs, and messages. Also, you can invite others to contribute to the wedding collage. Then once the collage is complete, we provide print options, like a poster or book, if you would like a physical copy of the wedding photo collage.
The best wedding photo collage design is the one that best fits the couple and the style of the wedding. If the couple is hosting an elegant wedding then the wedding photo display should reflect that decor. In contrast, if the couple is fun-loving and their wedding theme is more light-hearted, then the best wedding collage design is one that displays the quirks and personality of the couple.
A Kudoboard wedding collage allows you to personalize the design of the collage to meet the style of the wedding. Whether you want to create a small collage or a large one, you will be able to add messages, photos, GIFs, and videos to the wedding collage. This way, your wedding photo collage is sure to illustrate the couple's love story.
There are many directions to take for a wedding photo collage, and it can be overwhelming to know which direction to take to make the best wedding photo display. To decide on what is best, you must first decide on what you want the purpose to be. Do you want it to be a display of photos of the couple? Or do you want it to be a collection of photos and messages to display at a wedding event? How you answer these questions will guide you to the best idea.
Understanding the intent behind your wedding collage, here are some ideas to help kick-start your collage:
Compile photos of the couple and use them as a timeline
Take interviews from friends and family talking about you as a couple.
Add funny images of the couple
Ask for guests to contribute marriage advice
Use the Kudoboard wedding collage as a way to collect photos, videos, and congratulations from guests.
The nice thing about a Kudoboard wedding collage is that there is no need for a template. We take a group photo wedding card and make it into a beautiful collection of messages, well wishes, and photos. This allows for the couple to have the versatility to create a wedding photo display unique to their wedding needs.
Even though we do not have specific template options for a wedding photo collage, we do have an example to help direct you. Additionally, if you are looking for ideas on what to include in the wedding collage, here are some theme options:
Make the collage a wedding guestbook
Ask for guests to include marriage advice
Interview guest on things about the couple
Include pictures from the wedding or engagement party.
Make the wedding photo collage a timeline of the couple's life and love story.