How Online Group Cards Work
Kudoboard's online group cards allow you to gather appreciation from a group, delivered directly to the recipient virtually.
Sample Kudoboard
Billy and his sister Justine are making a Kudoboard for their parents for Thanksgiving. They've both added content, and it's scheduled to deliver automatically online on Thanksgiving Day.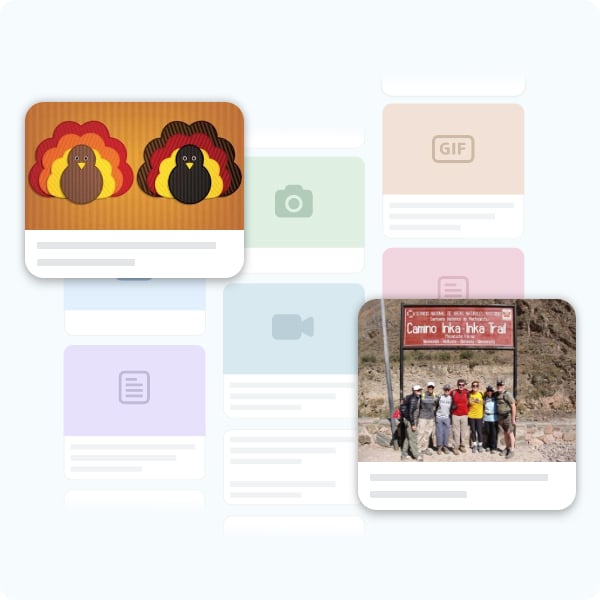 Something for everyone
Choose the option that's right for you — from single group cards to ongoing plans,
for personal use or for the office.
Company Event
Contact us to discuss your needs. Whether recognizing a departing CEO, celebrating a graduation for a university, or honoring caregivers at a hospital – we've got you covered.
In addition to all Milestone board features, company events offer:
Your logo at the top
Board export
Custom pricing
Tagging, likes, & comments
Custom URL
Custom disclaimer
Proactive moderation
Custom input fields
Multiple administrators
Board metrics
Embeddable slideshow
Dedicated account manager
Online Thanksgiving Cards, Done Right
eCards were one of the first viral hits of the 1990s internet. Unfortunately, they also became synonymous with cheap, ad-laden sites flashing outdated stock images. If you were wondering "How can I show someone I care on Thanksgiving…but not really?" – eCards were the unfortunate, but true, digital answer to your question.
But not anymore.
Forget about the corny jokes and annoying popups. With Kudoboard, you can create personalized, online Thanksgiving cards with pictures, videos, and notes. You can even invite others to contribute and turn it into a group card.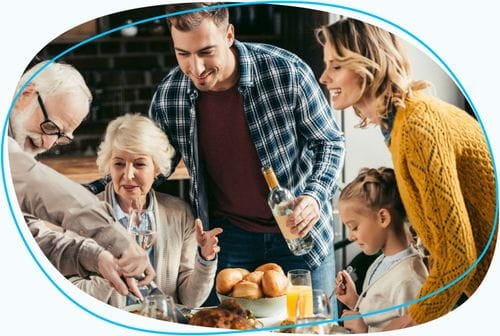 What a fun Thanksgiving card! Much more personal than most of the cookie-cutter eCards out there, because you can upload your own photos and videos. Highly recommend!

Terry T. Ohio
Frequently asked questions about Thanksgiving Cards
Here in the U.S. Thanksgiving is primarily thought to be an American holiday but other countries celebrate it as well. Americans celebrate Thanksgiving every year on the 4th Thursday in November with plates full of food and a focus on gratitude in our lives. Other countries that celebrate Thanksgiving are:
Canada: Canadian Thanksgiving, or in some areas called "Action de Grâce," is held every year on the second Monday of October
Liberia: Their tradition was brought by freed American slaves returning home, and is celebrated in November
German-speaking countries: In places like Germany, Austria, and Switzerland an event called Erntedankfest is held in early October, and is a celebration of the autumn harvests
Grenada: This Caribbean country celebrations Thanksgiving on October 25th in honor of America's military intervention in 1983
Japan: to honor the laborers' hard work each year, Japan celebrates 勤労感謝の日 ("Kinro Kansha no Hi") annually on November 23.
The Thanksgiving Day holiday, though quite controversial and rich with problematic history, is thought to be a celebration of the feast shared in Plymouth between the Wampanoag people and the Pilgrims after much loss and strife. The celebrations held today center around gratitude for the goodness in life despite all of our hardships. Things like family gatherings and Thanksgiving cards are used to take a pause from the everyday chaos and remember what is most important to us.
Thanksgiving cards are a tangible way to show love and gratitude to your family and friends over the holiday season. This time of year is largely focused on acknowledging what you are thankful for and for many of us, our friends and family members are at the top of that list.
Thanksgiving ecard from Kudoboard is a digital way, as an individual or group, to express love and gratitude to the people in your life during the holiday season. Picking out the perfect Thanksgiving card can mean hours spent googling "Thanksgiving cards near me" and walking card aisles hoping you will find the right one for your personality. With Kudoboard, you can custom-create a board to compile you gratitude messages along side photos, GIFs, and videos.
Finding ways to express gratitude throughout the year is important for our minds, bodies, and relationships with others. Thanksgiving cards might not be necessary, but they are a great way to pause and reflect on what is most important. Sending them to friends and families helps to create more meaningful connection and to hopefully inspire them to remember what things they are thankful for in their own lives.
We have worked hard to make the process of designing Thanksgiving ecard so simple, anyone can do it!
Once you click the "Create a Kudoboard" button on our website, our template will walk you through each step quickly and easily. You will be prompted to input the name of the recipient and a title for your board, and then you will select which type of board fits your needs best. From there, you can try out a variety of backgrounds until you find the right one. Voila! Your gratitude board is created!
Now comes the fun part: adding in the virtual Thanksgiving messages from you and/or members of your group. As the creator of the board (hats off to you), we suggest you do the honors of the first post. That way, when others come to add in their messages, they have an example of your creative ingenuity (you're welcome) as well as how this digital gratitude card works.
If you are sending a group Thanksgiving card, send everyone a link or email inviting them to contribute, and watch as the board fills with messages, photos, GIFs and videos. You will be amazed at how seamless and easy the process is!
You've made your Thanksgiving card already but it's sitting in front of you completely blank. We know, this is the hardest part! The most important part is that whatever you write comes from a place of genuine love or gratitude. Because we can't read your mind (sorry!) we aren't able to tell you exactly what to write. But here are some Thanksgiving message ideas to hopefully get you thinking in the right direction:
"Wishing you a Thanksgiving full of all of the things you love the very most"
"Our hearts are full reflecting on all of the goodness in our lives. Thanks for being at the top of that list!"
"Our cup of gratitude is overflowing this Thanksgiving season and we hope that you feel the same"
Thanksgiving cards are not a one-size fits all and they can be used in a wide variety of ways. One of Kudoboard's strengths is being able to offer a ecard that is fully customizable and able to fit your individual needs. Here are some ideas of how you could use a Kudoboard Thanksgiving card:
A seasonal message to friends and family of your gratitude and love
A religious Thanksgiving message
A way to document crafts and quotes from your preschool class and thens share with all of the parents
A compilation of Kindergartener's quotes about things they are grateful for
A teacher card with messages from their students about what they love, and are grateful for, about their teacher
A card for parents from kids who are grown and live far away from each other
Employees to share things about their boss that they are grateful for
A business to share with its clients and customers all the things their team is grateful for during the holiday season
Yes! Kudoboard offers a free mini-board to anyone with a small group of contributors (10 or fewer posts per board). This is a great option for a family or smaller companies with only a handful of employees who will be contributing.
Our premium board, which is our most popular, allows for up to 100 posts, and the option of adding videos, for $5.99. This board is most commonly used in business settings. For larger groups, companies, memorials, or milestones we have options that start at $20 per board, or contact us for custom pricing on bigger events like CEO departures, graduations, or fundraisers.
Click here if you are interested in our business plan that gives you unlimited boards and other resources to fit all of your workplace appreciation needs.
We know that, sometimes, just having a digital option for a Thanksgiving card isn't enough. That's why we have printing options for you! Kudoboard lets you choose to have your board printed as a beautiful, hardbound book, or as a high-resolution poster.
Once your board is full of the posts you want, you can select the option to have it printed as a book so you have a tangible way to remember your card. Our books come with a 7"x7" hardcover and have an image-wrapped, matte finish. We ship anywhere in the US, or to many countries worldwide.
If you choose to have the gratitude board printed as a poster, you have the option of 12", 24", or 48" wide. We can print and ship you a beautiful, semi-gloss poster, or you can download a high-resolution image of your board and print it on your own.