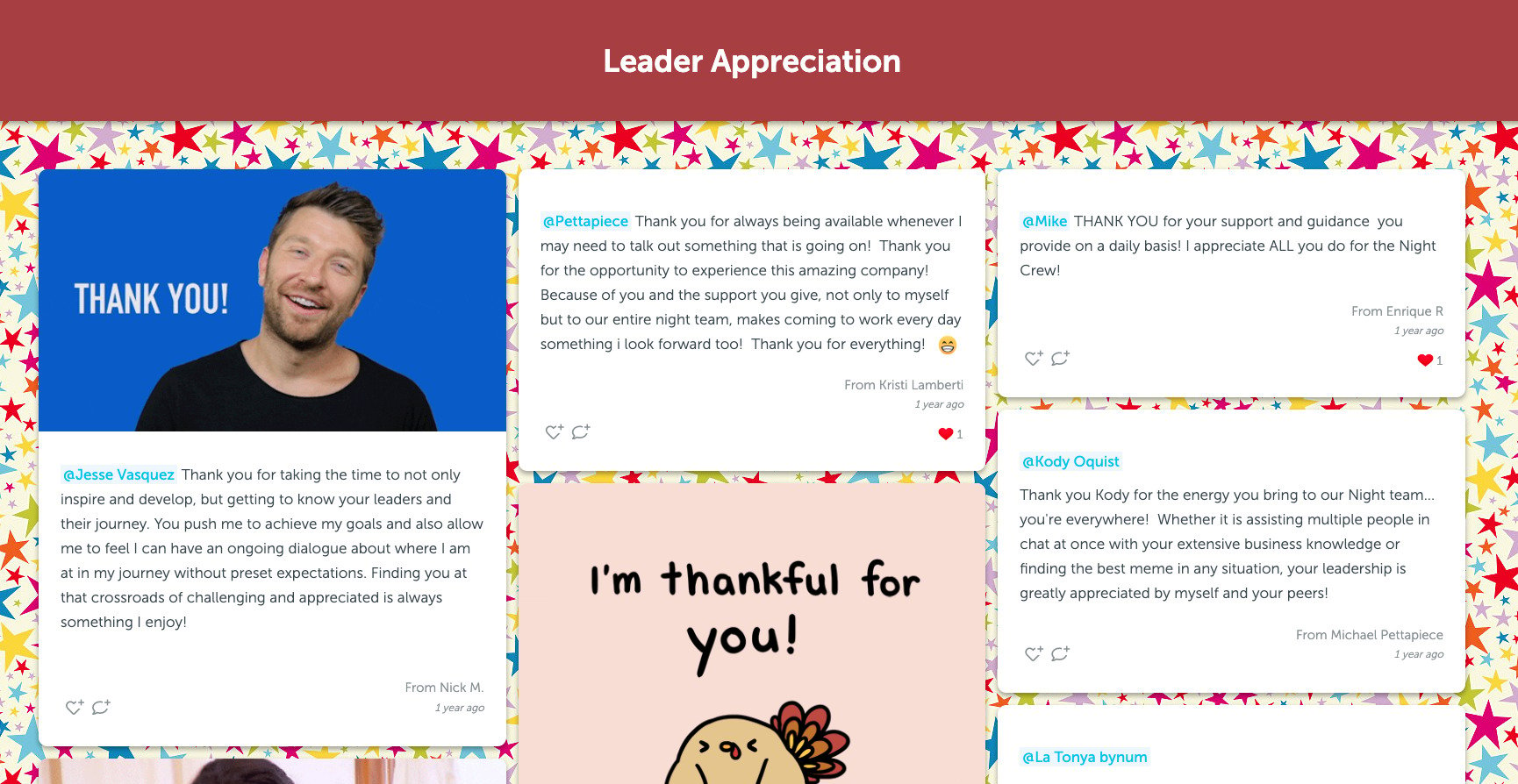 Workplace Appreciation
In recent years, companies are finding that more than perks and bonuses are needed to retain employees. Even though one might think that always getting monetary rewards as appreciation will keep employees fulfilled, this continually increases employee expectations to the point that companies may no longer be able to keep up. A Gloat's recent article states that "investing in employee development and recognition is the best motivator." 
Robert Half, an Australian researcher found that appreciation is one of the top three factors for employee happiness. Furthermore, this study found that as appreciation was consistently shown, the staff are loyal to the organization and this can help develop creativity and a positive work environment.
Each Day, Helping Millions Feel Rewarded at Work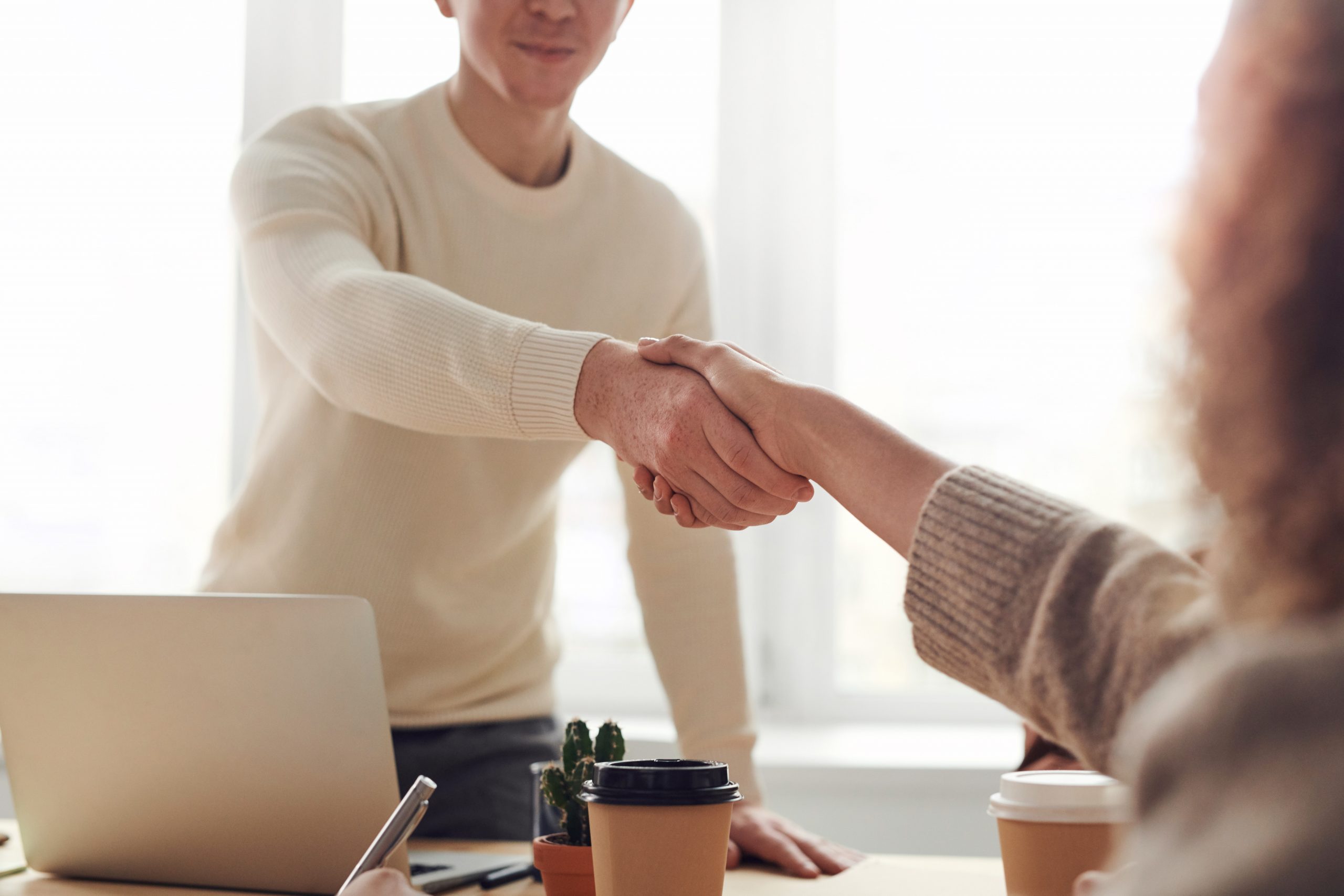 GETTING STARTED
Build stronger connections through gratitude
Well-recognized employees are more determined, have more drive to work and develop deeper ties to your company.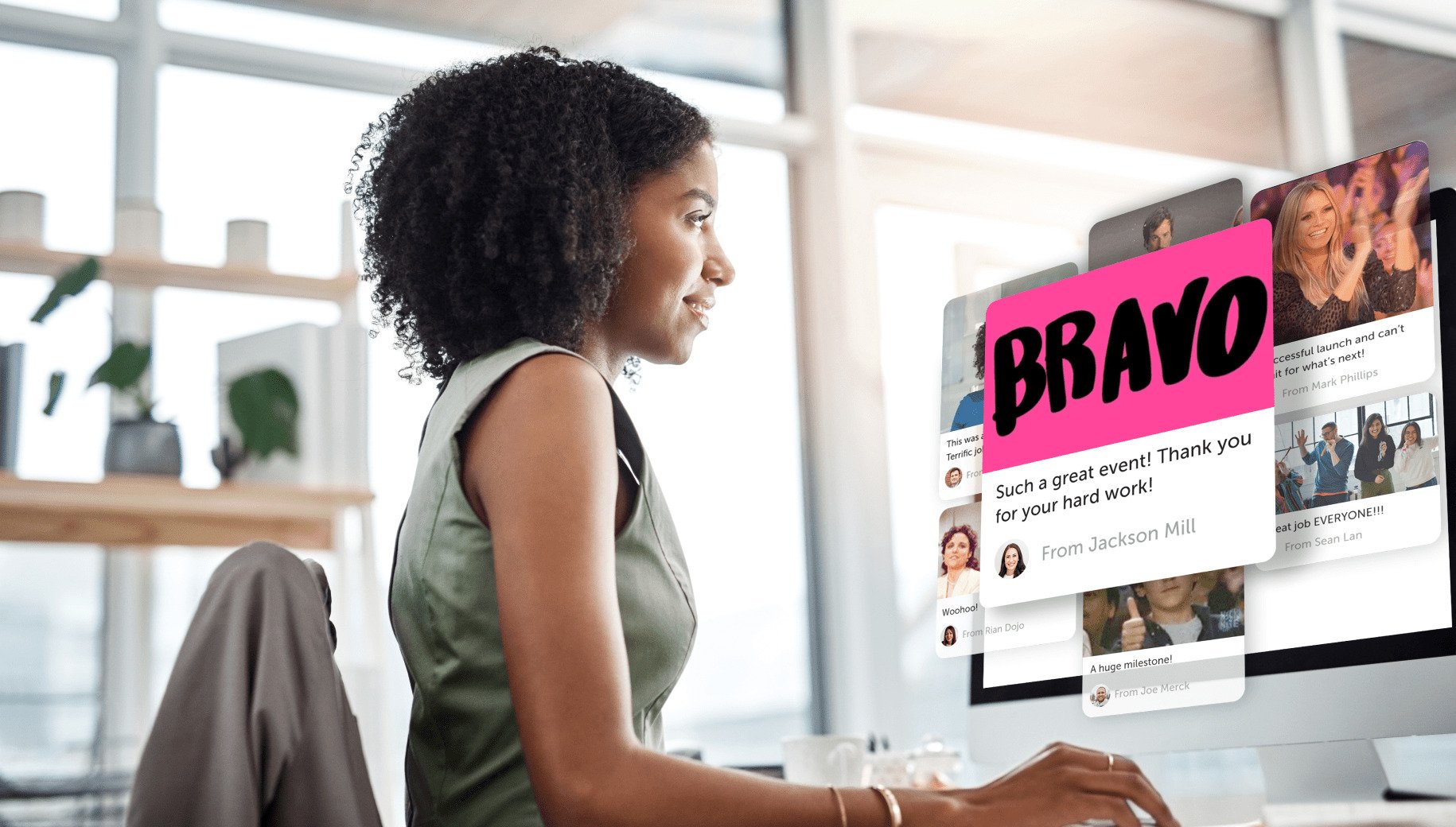 GETTING STARTED
Ready to grow gratitude within your company culture?
Well-recognized employees are more determined, have more drive to work and develop deeper ties to your company.
Celebrate your employees
Your employees have milestones, birthdays, work anniversaries, farewells, and more – be there for each.
Appreciation for anyone. Anytime.
Staff appreciation can create a unique company culture as it strengthens employee relationships.
Frequently asked questions about workplace appreciation
Workplace appreciation is defined as the act of recognizing and rewarding employee efforts to improve the workplace. Workplace appreciation is a company's opportunity to show gratitude for the hard work they put into the job every day. 
Staff appreciation can be achieved through a simple thank you as you pass someone in the hall, an email shout-out, or it can be more formal with bonuses and rewards. 
Workplace appreciation comes in two forms: formal and informal. A successful workplace appreciation program incorporates both styles while taking into account what style best fits the employee receiving the praise. No matter the style, the key part of appreciation is that it is genuine. 
Here are some informal workplace appreciation ideas:
Praise given in performance reviews 

A quick

thank you

message to them during the workday. 

Celebrating a birthday, anniversary, etc. 

Peer-to-peer recognition

board
Here are some formal ideas to show work appreciation:
A social media shout out

Employee bonuses and benefits

Appreciation lunch provided by the company

Hosting a company activity
The crucial component of any workplace appreciation message is that it genuinely celebrates the employee. It should be specific to something they accomplished, a goal they achieved, a behavior they do that you appreciate, etc. Once you've decided on what you want to show gratitude for, finding the right message is easy. 
Here are some workplace appreciation message examples to get you started:
"Because of your hard work, our entire team moved forward faster than anticipated! Thank you!"

"You've spent a long time working towards accomplishing this and you've exceeded expectations at every step."

"Thank you for bringing a smile to everyone on the team"

"Employees like you make the organization what it is today. Thank you for bringing your best to work every single day."
Sometimes a small and simple gift can go a long way in showing appreciation to your employees. However, knowing what the best gift is can be overwhelming. Whatever you decide to gift for team appreciation, it must be something they will actually enjoy. 
Here is a list of gifts sure to be enjoyed by any employee:
Practical company swag like a water bottle or a lunchbox

A massage or spa treatment

Lunch (catered or a gift card)

A desk plant

Throw a party

Host an event

Extra vacation time
In the book "The Five Languages of Appreciation in the Workplace," Gary Chapman along with psychologist Paul White discuss how people "express and receive appreciation in different ways" because they are speaking different appreciation languages. 
The five languages of workplace appreciation are words of affirmation, quality time, acts of service, tangible gifts, and appropriate touch. These aim to assist managers and co-workers to give appreciation in a way that is meaningful to each unique employee.
Workplace appreciation quotes are a perfect addition to any online card, speech, or evaluation. These quotes can be used to lift spirits, inspire further expressions of gratitude, or help you find the words for your praises. 
Here is a list of some workplace appreciation quotes:
"We know you work hard, but you make it look so effortless."

"I am constantly impressed by your performance. Thank you for your hard work."

" I am so grateful that you always take the time to help your coworkers."

"I love that you always come to work with a bright smile and a fantastic attitude!"

"Your enthusiasm for developing your talents is truly inspirational!"