15 Ways to Boost Employee Morale
The current job market is competitive—and lucrative for employees. The Great Resignation (or Great Reevaluation) has made it easier for employees to consider their many options. Instead of choosing jobs due to salary or location, employees are considering company culture, PTO, remote and hybrid work options, work-life balance, and day-to-day morale of employees.
Improving your competitiveness in the job market and decreasing your employee turnover will be key to your company's success. So how do you boost employee morale in your workplace?

The Cost of Low Employee Morale
It can be hard to see the signs of low employee morale, especially if it's a gradual decline in morale. But if you're not aware of low employee morale, you are also not aware of the costs you are incurring. Low morale is draining money from your business in a variety of ways. Let's break down the ways that low employee morale can be eating into your bottom line:
It is true that boosting employee morale can sometimes cost money (and time), but it's important to ask how much it will cost you if you DON'T improve employee morale.
15 Employee Morale Boosters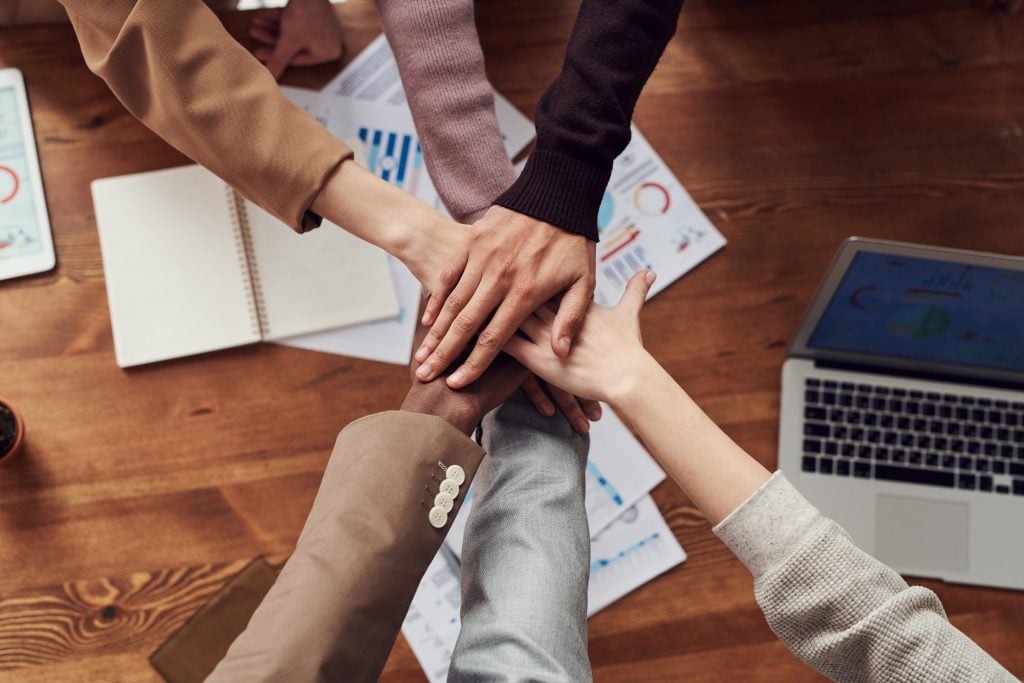 No matter your company size or budget, there are ways to boost employee morale. Small efforts, repeated and iterated on, can transform your workplace for maximum success. We've assembled a list of effective ways to boost employee morale without sacrificing productivity or draining your entire budget.
1. Seek (and use!) Feedback
We'll start with this one because it's arguably the most important thing you can do to improve employee morale. You can't make things better if you don't take the time to understand what's wrong. Do you know how your employees are feeling? What's the top complaint? What's the top request? If you don't know—you should.
Try conducting surveys or train your management to ask better questions during their one-on-ones with employees so you can determine needs within your company. However, if you seek feedback, you MUST take some kind of action on that feedback. Employees can easily identify hollow expressions of concern, which will have an adverse effect on morale. Seek feedback and then do your best to address it.
2. Birthday Love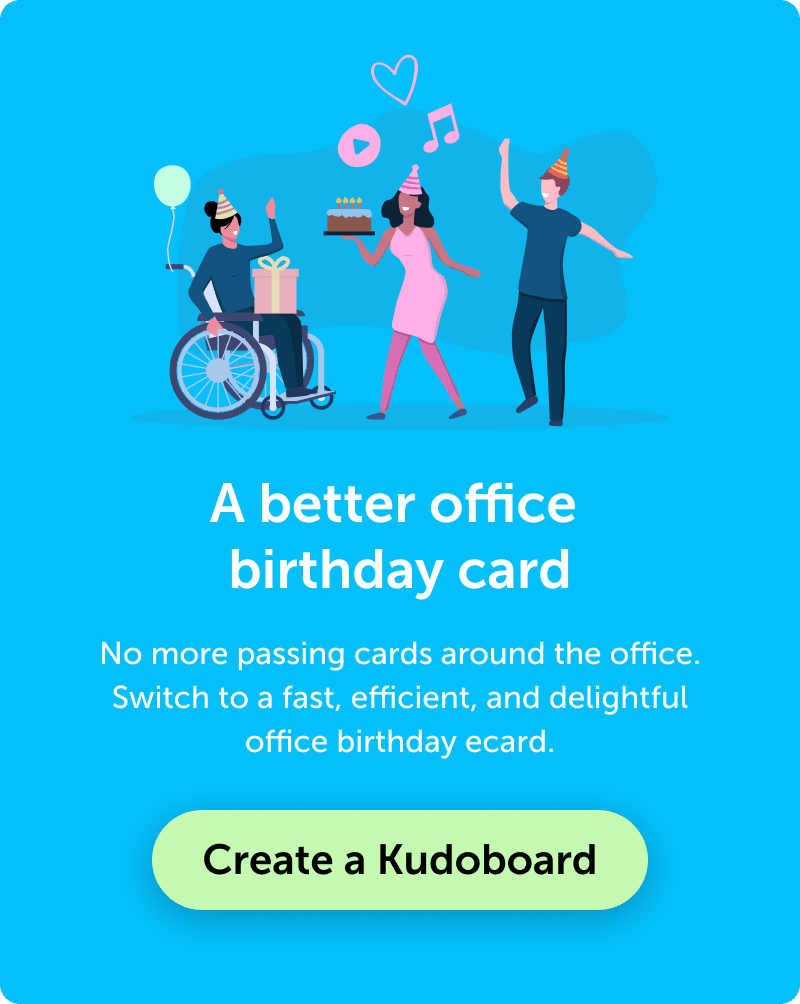 At Kudoboard we can summarize our philosophy of birthdays by saying simply that they matter. Birthdays are important, no matter how old or young you may be. Sometimes as adults we assume that it's childish to celebrate a birthday, but even grownups deserve to feel special on their birthday.
How does your company mark employee birthdays? It's an easy expectation to set and keep when you decide to make employee birthdays stand out. Consider the following options:
Creating birthday Kudoboards (ideal for remote workers)
Giving gift cards (not boring company swag!)
Sharing birthday shout-outs in a company meeting or newsletter
Making birthdays a paid vacation day for each employee
Bringing in treats or lunch for birthdays
3. Better Breaks
If you have employees working through lunch and rarely taking breaks… that's bad news. Your employees should feel both comfortable and empowered to take their lunch breaks and other regular breaks throughout the day. Office morale and productivity increase with regular breaks, so a "hustle culture" that rewards work without breaks is not going to produce long-term success.
It's not enough to just say "take your breaks, everyone!" either. Management needs to model these healthy behaviors, no matter how busy the workload gets. Create the expectation that everyone takes a full lunch break, and regularly leaves their computer to take short walks, chat with coworkers, get a drink, or just unplug for a minute. Consider adding a "long lunch" once a week or month, or an "early off" day. An even better morale booster? Make the switch to a 4-day workweek.
4. Embrace a Growth Mindset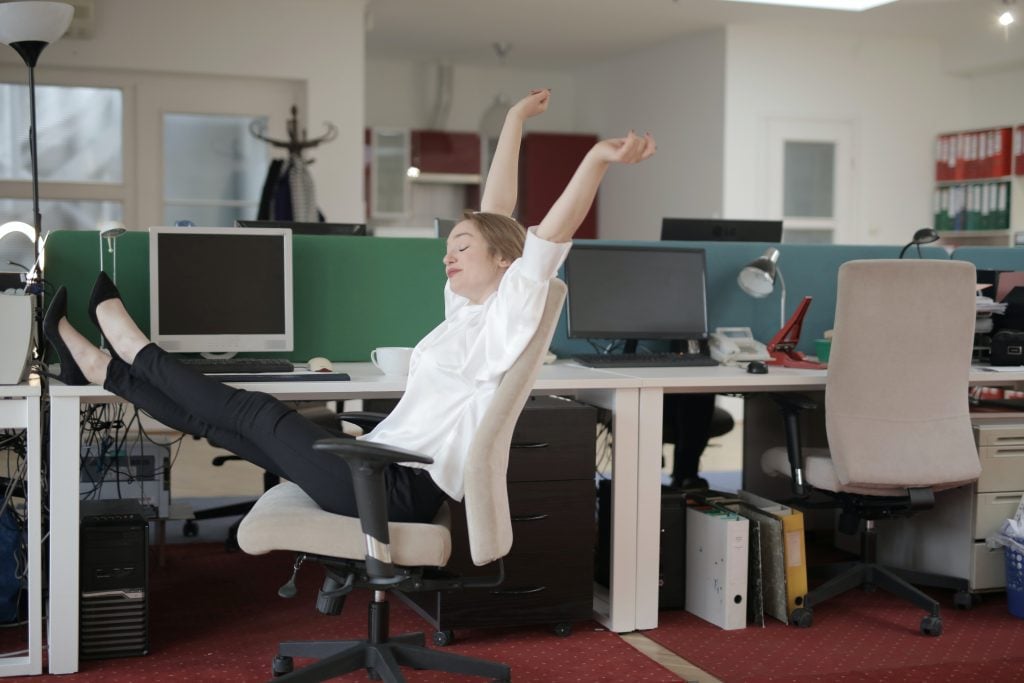 We love to learn about growth mindsets in the workplace, and we were surprised to find that companies who regularly share their failures actually have high employee morale. Sharing what went wrong and when mistakes were made expresses a positive outlook about the future because everyone is safe to fail—and continually learning.
Employees will make mistakes. So will management. But trying to hide or punish those behaviors has a poisonous effect on team morale. Instead, create and model safe spaces to share failures or concerns. Stand behind employees, even when they make mistakes, and you'll see trust abound.
5. Improve Working Conditions
Employees spend so much time at their workstations for their employers. Whether that's at home or in the office, those hours can slowly chip away at morale if the setting isn't pleasant. Improving that workstation can result in HUGE dividends for your employees and the company.
You can improve working conditions by:
Upgrading desks and chairs for ergonomic options (standing desks, exercise ball chairs, etc.)
Giving remote employees a home office stipend to spruce things up
Giving remote employees a home cleaning service stipend
Adjusting meeting schedules to suit employee lifestyles (no meetings before 10 am, or blocking out Wednesdays for deep work)
Provide snacks and drinks
Improve lighting and decor, add live plants
How do you know what will make the workstation better for your employees? Ask them!
6. Encourage Career Development & Side Projects
Feeling as though you're at a "dead end" is a hallmark of low employee morale. Most employees who report low morale also share that they don't think the company values them or their future. We can do better.
Does your company provide mentorship programs? Tuition stipends? Regular learning opportunities? Lack of upward mobility is another huge factor in employee morale and turnover, so you may need to reevaluate your promotion and internal hiring processes.
7. Increase Recognition
You can throw more money at your employees, but if they feel unseen and unappreciated it won't do much. If you want happy and healthy employees, the fastest track is to share more authentic appreciation.
Creating a regular routine of praising your coworkers for a job well done or congratulating them on events and achievements outside of work has an instant and major impact on workplace morale. Regular employee shout-outs and opportunities to celebrate accomplishments take some level of buy-in from your teams but are easier if you have a workplace appreciation platform.

8. Granting Leave
Burnout has become a buzzword in the post-pandemic era, and for good reason. When your employees are nearing burnout, low morale has been a problem for a while. The best cure for burnout is a break. We're not talking about the occasional 3-day weekend they'll enjoy—true breaks from work where they can rest and recharge.
Offering more leave is complicated, and doesn't always work for every industry, but there are ways to make it work for your business if you're committed. Here are a few ways that forward-thinking companies are leveraging leave for high morale:
Increasing paid vacation time or offering unlimited PTO
Expanding holiday breaks (like adding extra days to Christmas vacation)
Defining and expanding maternity and paternity leave policies
Creating a "company holiday" that everyone gets off, unassociated with regular holidays
Offering sabbatical leave for employees to travel, manage family situations, vacation, rest, or work on side projects
Creating medical, bereavement, or family leave options
9. Team Building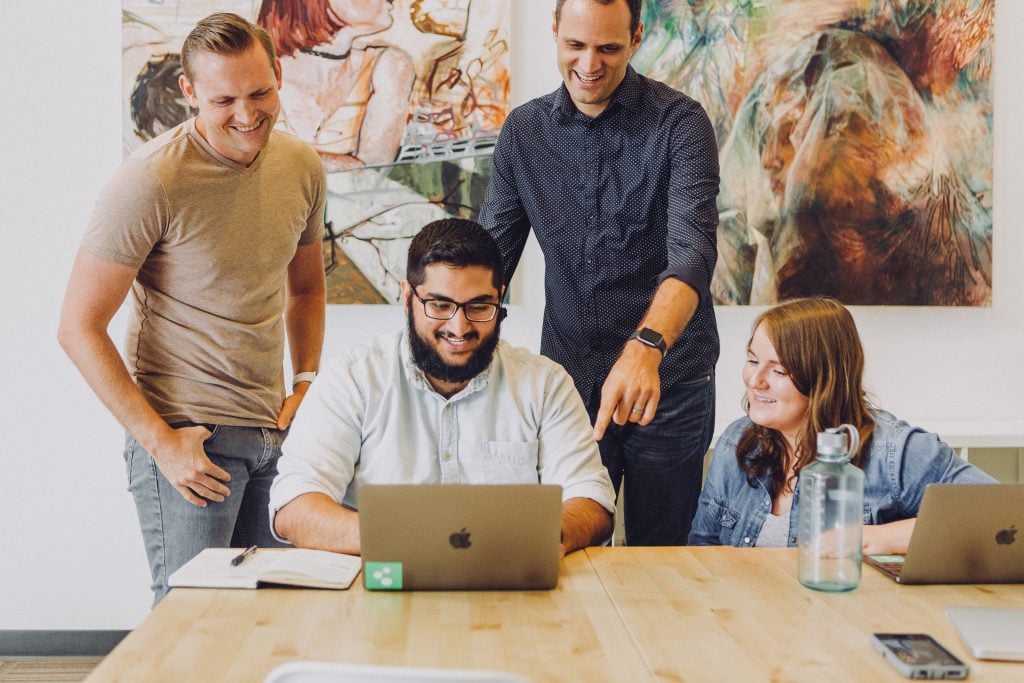 Employee morale is heavily influenced by team dynamics. A hard or boring job can be made tolerable by a supportive, fun team. A great job can be ruined by a lack of workplace connections. Creating a healthier team dynamic in your work environment is a great way to improve morale—and everything else.
Start with creating some practices for team appreciation and staying up to date on everything their coworkers are working on. Consider team activities or retreats that will provide your employees with opportunities to get to know one another and develop mutual respect. It's a critical part of the employee experience.
10. Mark Holidays
Holidays aren't just about time off (although that is important!). Holidays are an important way to measure the passage of time, the cycling of seasons, and the importance of culture. We celebrate with our friends and family outside of work, but having fun with holidays at work is a great way to improve staff morale and promote inclusivity.
Decorate the office. Bring in traditional treats or food to mark a season or holiday. Play holiday music and host an office Christmas party. Don't stop at the big holidays—celebrate Pi Day, March Madness, National Donut Day, and everything in between. Celebratory occasions are frequent and can be an easy way to bring everyone together, even for just a few minutes.
11. Communicate Company Updates
For good, or for bad, employees need to know. Feeling like they're in the dark about the company's performance is a fast track to doubts and plummeting morale. Transparency is key to healthy company culture. Even when things aren't going well, employees appreciate being treated as one of the team, especially when the company's success will have a major impact on their lives, too. Sharing earnings, hiring initiatives, clarity around cuts and layoffs, and other important information can create a company culture of trust (while also boosting morale).
12. Create & Support ERGS
An ERG is an "employee resource group." It's a flexible term for groups of like-minded employees united for a purpose. Usually, an ERG is sponsored by an executive team member or other management position and then run within your company to better the lives and working environment of employees.
Popular Employee Resource Groups
Women-only group
Racial & ethnic minority groups
LGBTQ+ individuals & allies
Book clubs
Health or exercise groups
Gamers
Volunteer work
Professional development
13. Improve Manager Training
No one wakes up on the day of their promotion and suddenly knows how to be an excellent manager. Some people are naturally gifted leaders, but so much of management takes time and experience.
In today's working environment, we've also determined that "soft skills" such as empathy, emotional intelligence, and conflict resolution are critical for managers. Take the time to train your executive team and all management positions on communication and emotional skills to better meet the needs of your employees (and to keep morale high).
14. Fire Problems
Once you've begun a practice of eliciting and processing employee feedback, you'll have to confront the problems that are brought to your attention—even the ones with high-performance records. If there is a manager or employee who is causing significant distress to coworkers, morale is sinking every single day. Keeping workplace bullies or bad managers sends a message to employees that the company rewards bad behavior and doesn't care about employee wellness. Make the hard decision to protect employees even when it means losing a big performer because that will define your company culture.
15. Lighten Things Up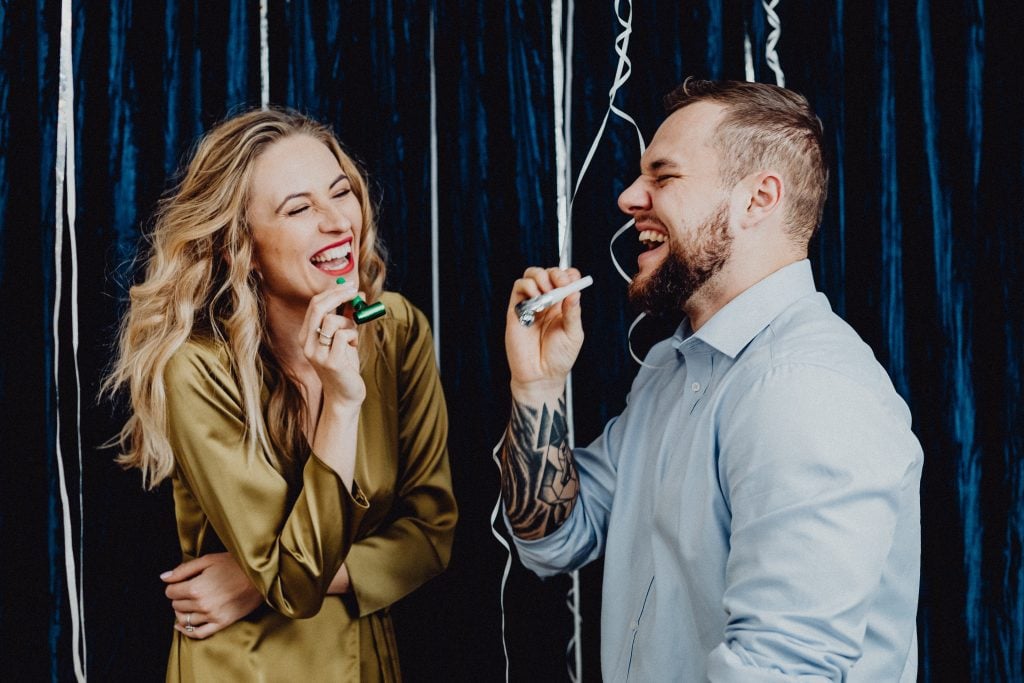 Everyone has had one of those jobs that feel like the clock is ticking backward, chipping away at employee satisfaction levels. Mindless, unchanging days are never good for morale. Instead, a totally free way to improve morale is to lighten things up. Turn on some music, or let employees take turns DJing before meetings (Zoom-friendly!). Share some office-friendly comedy clips or host a meme contest. Adding a silly or whimsical element, in person or via Slack, can seem frivolous but will help the general morale during long workdays.
From Boredom to Boosted
Only you know what will work for your company when it comes to improving morale. It's personal to your workplace culture and employee composition. But what we do know is that any effort exerted to improve morale will absolutely affect productivity and improve your bottom line.