How Online Group Cards Work
Kudoboard's online group cards allow you to gather appreciation from a group, delivered directly to the recipient virtually.
Sample Kudoboard
Brett and Ana recently got engaged. Their friend Vicente started them a Kudoboard and invited friends to contribute their photos & videos. He also plans to print a copy as a gift!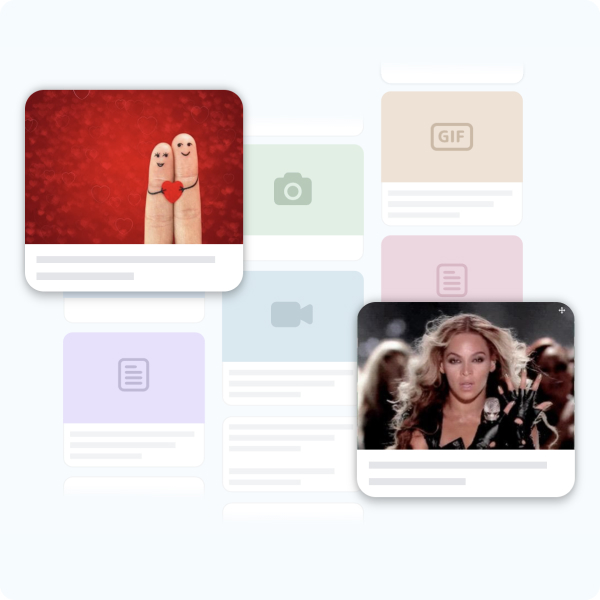 Something for everyone
Choose the option that's right for you — from single group cards to ongoing plans,
for personal use or for the office.
Company Event
Contact us to discuss your needs. Whether recognizing a departing CEO, celebrating a graduation for a university, or honoring caregivers at a hospital – we've got you covered.
In addition to all Milestone board features, company events offer:
Your logo at the top
Board export
Custom pricing
Tagging, likes, & comments
Custom URL
Custom disclaimer
Proactive moderation
Custom input fields
Multiple administrators
Board metrics
Embeddable slideshow
Dedicated account manager
Online Engagement Cards, Done Right
You've seen it before. Your coworker just got engaged, and someone starts to pass around a card in a manila folder for everyone to sign. There's barely space on the card for team members to add a note (let along a signature!). And five people are traveling for a conference while another one works remotely — so getting everyone to sign is basically impossible.
With Kudoboard, there's a better way.
Inviting team members to contribute, wherever they are, is a breeze. Simply send them the link to the board or use our system to email them an invitation. Then sit back, relax, and watch the engagement congrats roll in for your coworker. And we're not just talking about a short note + a signature. Team members can add photos, GIFs, & videos to make the board fun and personalized.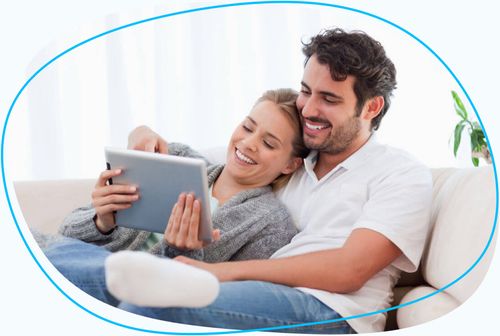 Great way to celebrate a couple who just got engaged. Our friend group is spread out across the country, so a Kudoboard group card worked perfectly for us to send our congratulations.

Sandra P. Alabama
Frequently asked questions about Engagement Cards
The best time to send engagement cards is soon after a couple has announced their engagement and before wedding announcements are sent out.
Sending an engagement card to the engaged couple is a nice way to say "congratulations" on your engagement, and more personal than a simple text or phone call.
A simple message stating congratulations is great for engagement cards. To make it more personal, here are a few ideas:
Share a personal memory of the two of them as a couple
"We are so glad you two found each other and that Tom proposed. I still remember when Tom first brought Melissa to meet us, and you both seemed so in love. We are so happy for the both of you and can't wait to celebrate at your wedding."
Share marriage advice or wisdom
"Remember to always love each other, even when you are mad. Go on dates frequently, and keep the romance alive through small and simple acts of service/love."
Include a quote about love that reminds you of the couple
"Love isn't something you find. Love is something that finds you." -"Loretta Young
If you are looking for a fresh way to share congratulations to the happy couple, a virtual card is a fun and easy option. There are many websites to make virtual cards, Kudoboard being one of them. To start a card with Kudoboard, simply go to their website and click "create a kudoboard." From there, you will be prompted to fill out a few questions about the occasion of the card (click engagement), and who the card is for. Before you can start creating your card, you will choose which type of board fits your needs. If you have less than 10 people contributing to the card, a mini board is a perfect (free) option! Once you choose the type of board needed, you can start creating your board. With kudoboard, you can change the background, add all kinds of media, and add contributors.
How many people can contribute to a Virtual engagement card?

With kudoboard, you can choose to have an unlimited number of contributors for a large group with a milestone board. If you have smaller groups, the mini board can have up to 10 contributors, and the premium board can have up to 100.

To add contributors to your board, simply click the "invite contributors" button at the top of the board. From there, you can choose four different ways to share the card (QR code, email, direct link, and social media).

To add contributors to your board, simply click the "invite contributors" button at the top of the board. From there, you can choose four different ways to share the card (QR code, email, direct link, and social media). 
How do I add photos and media to a virtual card? 

To add media to a card, simply click "add to board". From there, you can choose to add text, pictures, gifs, and videos.
Yes! Here is an example. This example utilized all the features of kudoboard (different media, contributors, background, and more.
If you are searching for ideas on what to write in an engagement card to your fiancée/fiancé, here are some ideas:
A meaningful quote, song lyrics, or poem that reminds you of them.
A sweet story of when you knew you loved them.
A fun memory
Dreams of what you would like your life to be like
To make an engagement card special for your soon to be spouse, it should be personalized. Paper cards can be personalized to an extent, but virtual cards are great for personalizing. To make an engagement card even more special, you can add a video to a virtual card, if you are talented you can even add a video of you singing, playing an instrument, reciting a poem, or more. Your significant other will love it and it can even be played in a slideshow at the wedding!