How Online Group Cards Work
Kudoboard's online group cards allow you to gather appreciation from a group, delivered directly to the recipient virtually.
Sample use
The Rubens Family decided to use Kudoboard to make an online Christmas card this year. They added photos & videos to the board and then sent the link to their friends & family.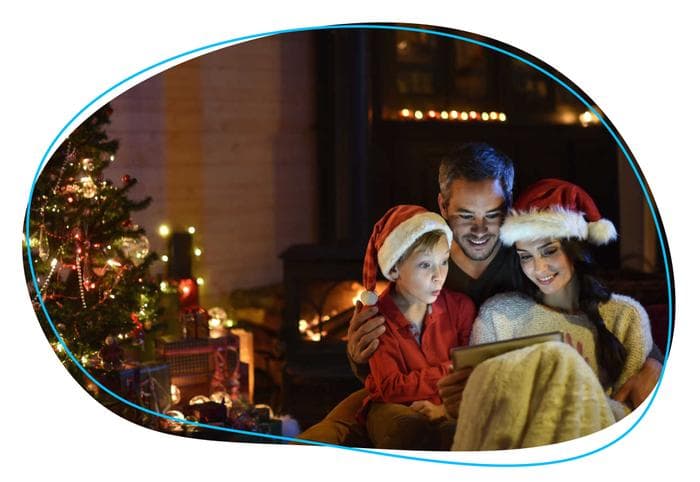 Something for everyone
Choose the option that's right for you — from single group cards to ongoing plans,
for personal use or for the office.
Company Event
Contact us to discuss your needs. Whether recognizing a departing CEO, celebrating a graduation for a university, or honoring caregivers at a hospital – we've got you covered.
In addition to all Milestone board features, company events offer:
Your logo at the top
Board export
Custom pricing
Tagging, likes, & comments
Custom URL
Custom disclaimer
Proactive moderation
Custom input fields
Multiple administrators
Board metrics
Embeddable slideshow
Dedicated account manager
Finally, online Christmas Cards done right
Christmas Cards can be such a hassle. First, you have make sure you have addresses for all of your friends & family. Then, you need to find a single picture (or if you are lucky, two) that sums up the year. And you need to make all this happen far enough in advance so that the cards actually arrive before New Years.
With Kudoboard, there's a better way.
You create the Christmas Card online, so all you need are email addresses. With our unique design, you can add as many photos & videos as you'd like. Want to write a more length update after a particularly noteworthy year? We've got you covered. And no more worrying about a deadline. You can take care of this entire process, including delivery, in <30 minutes.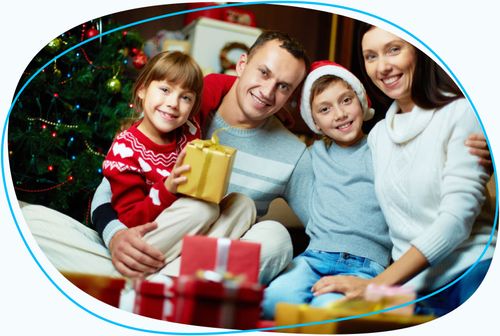 Creating and sending a Christmas Card with Kudoboard was so easy. And my extended family absolutely loved all the photos & videos I was able to include of our kids. Kudos on a great product!

Sarah S. California
Latest Christmas articles from the blog
Frequently Asked Questions about Online Christmas Cards
An online Christmas card from Kudoboard is a digital way to send goodwill and seasonal cheer to loved ones. For the individual tasked with "Christmas card duty," finding the right card, the right photo, and the right words (all within the right amount of time!) can be difficult. With Kudoboard, you can custom-create a board to compile all of your content easily, right from your computer or phone.
Let's say the deadline for sending your annual Christmas card has come and gone, amongst the chaos of the season, and the never-ending to-do lists. Instead of getting something printed out and mailed, you can instead choose a Christmas board on our website, and send all of your friends and family a link to view it! Kudoboard allows messages, GIF's, photos, and videos to be added to your Christmas card, so you can make it exactly what you want.
Just like baking treats and watching Christmas movies, for years, holiday cards have been a valued part of our seasonal traditions. Many of us fondly remember our parents writing out, or typing up, messages from our family's experiences that year to send out to grandparents and friends. But as time has passed, and the ways in which we communicate continue to change and evolve, the practice of sending out Christmas cards has also changed. Fewer and fewer people are sending them each year, while others are doubling down on keeping the tradition alive. Could there possibly be a middle ground?
Enter: Online Christmas cards. By eliminating the steps and costs of printing, envelopes, and postage, the process becomes a lot simpler. There is less waste, but still the same amount of space to have that annual check-in with your people. We all want to be able to share our lives with the people who matter most to us, while not adding more stress into our lives in order to do it. Online Christmas cards from Kudoboard present the perfect opportunity to do just that!
We have worked to make this process so simple, anyone can do it!
Once you click the "Create a Kudoboard" button on our website, our template will walk you through each step quickly and easily. You will be prompted to select a name or title for your board and select the type of board that fits your needs best. From there, you can try out a variety of backgrounds until you find the right one. Voila! Your board is created!
Now comes the fun part: adding in all of the things about your year to your electronic Christmas card that you want to share. Narrow down what information, photos, or videos you want to highlight, and get creating!
Kudoboard makes it easy and fun to add many different options to your virtual Christmas card. Your seasonal greetings, and information about your year, can be emphasized with photos, GIF's, or videos. Having to agonize over finding just one or two pictures for your card is a thing of the past. Your electronic Christmas card can hold as many as you want! You have the unique ability to style your board in a way that highlights your family's personalities, and what your friends and family would be excited to see.
For example, if "National Lampoon's Christmas Vacation" is your family's favorite holiday movie, placing quotes or GIF's throughout your board could be a fun addition. Or, maybe you don't consider it to be Christmas without your sister calling, at least once, to sing you your elementary school Christmas song. Imagine your sister's delight when she clicks onto your virtual Christmas card to find a video of that song posted next to your yearly highlights. With endless amounts of options, the sky is really the limit for what you can put on your virtual Christmas card!
This is a common question, and a regular dilemma that many people find themselves in each year. It seems that most Christmas card writers end up choosing one of two options: something short and sweet, or a more lengthy and detailed account of their year.
If you are trying to choose something from the "short and sweet category," here are a few ideas to get you started:
"May this season bring laughter and love to your and your family"
"Wishing you all the best this holiday season. Merry Christmas!"
"May all of your Christmas sweaters be the ugliest, and your memories be the happiest!"
"Wishing you plenty of what matters most this season: cookies and presents."
If you find yourself in the "lengthy and detailed" camp, you might try one of these ideas:
Stay classy: Post a family photo and a letter outlining what you have been up to this year
Less (words) is more: try putting most of your information in the form of videos rather than words! Post a bunch of videos showing highlights from your year.
Share the spotlight: Give each of your family members their own little spot on the board to write about their year, and post any pictures they want to share.
Appeal to the youths: Alongside your yearly recap, have each member of your family pick one GIF, to sum up their year, or rate the year from 1-10.
Whatever you choose to put on your Kudoboard Online Christmas card, if you make it fit your and your family's personalities, it is sure to be loved by all who receive it!
One of the main hassles of the traditional Christmas card is getting them printed in enough time to then mail them out before it's too late. Not to mention, the dreaded chaos of the post office. Yikes. With Kudoboard, you can have your Online Christmas card set up and ready to go all within one afternoon – a true procrastinator's dream! You can have your board created within a few minutes, and then you can take as long, or as little, as you want to fill your ecard with everything you want to share. From there, grab the link and share it however works best for you (email, text, social media, etc.).
We here at kudoboard are doing our best to set you up for success, and to help make your friends and family think you are more on top of things than you might actually be (you're welcome). Consider it an early Christmas gift from us!
Pricing for your virtual Christmas card varies depending on your need. Kudoboard offers a free mini-board that allows space for 10 posts or less. It is the perfect size for a few messages, and a handful of photos to showcase your year.
Our Premium board (our most popular) allows for up to 100 posts, and also includes the option of adding videos, for only $5.99. This option gives you the chance to add a variety of pictures and videos from your year, as well as to give each member of your family a chance to add their own message for family and friends to see.
From there, we have a variety of options for larger groups, companies, memorials, or milestones that start at $20 a board.
Absolutely! Kudoboard offers the perfect solution for your workplace's business Christmas card. Whether you are a small company with only a handful of employees, or somewhere with hundreds of people working together, we have a board that can fit your needs.
For example, with our Milestone board, you have unlimited posts so that every employee in your company can post their own message to the electronic Christmas card. In addition, with this board, you have the option to play the posts as a slideshow, which would be perfect for a work Christmas party.
We know that, sometimes, just having a digital option for your electronic Christmas card isn't enough. That's why we have printing options for you and your family! Kudoboard offers the opportunity to have your board printed as a beautiful, hardbound book, or as a high-resolution poster.
Once your board is full of messages and memories from your year, you can select the option to have it printed as a book. Our books come with a 7"x7" hardcover, and have an image-wrapped, matte finish. We ship anywhere in the US, or to many countries worldwide.
If you choose to have your online christmas card printed as a poster, you have the option of 12", 24", or 48" wide. We can print and ship you a beautiful, semi-gloss poster, or you can download a high-resolution image of your board and print it on your own.
Can't find all of the information you were looking for here? Come check out our blog! We are regularly posting new content to help you find what you need. Since you are currently reading the "online Christmas cards" FAQ's, here is a link to some Christmas-related posts to get you started.
Once you are over on the blog, feel free to poke around and see if any of the other content piques your interest! And, as always, we love hearing from you – so please contact us with any unanswered questions!