How Online Group Cards Work
Kudoboard's online group cards allow you to gather appreciation from a group, delivered directly to the recipient virtually.
Sample use
Dani just finished her PhD. Dani's boyfriend created her an online Kudoboard and invited friends and family to contribute photos, videos, and messages.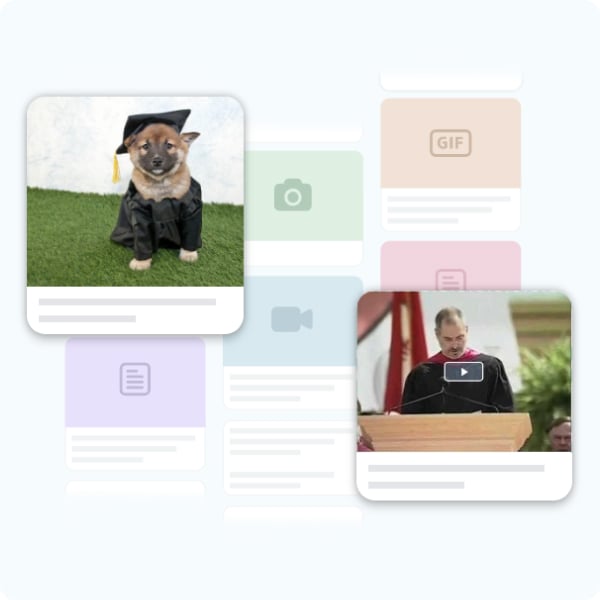 Something for everyone
Choose the option that's right for you — from single group cards to ongoing plans,
for personal use or for the office.
Company Event
Contact us to discuss your needs. Whether recognizing a departing CEO, celebrating a graduation for a university, or honoring caregivers at a hospital – we've got you covered.
In addition to all Milestone board features, company events offer:
Your logo at the top
Board export
Custom pricing
Tagging, likes, & comments
Custom URL
Custom disclaimer
Proactive moderation
Custom input fields
Multiple administrators
Board metrics
Embeddable slideshow
Dedicated account manager
Personalized Graduation Cards Done Right
You've seen it before. A family member starts to pass around a greeting card for everyone to sign. There's barely space on the card for folks to add a note (let along a signature!). And several family members live in other states — so getting everyone to sign is basically impossible.
With Kudoboard, there's a better way.
Inviting people to contribute, wherever they are, is a breeze. Simply send them the link to the board or use our system to email them an invitation. Then sit back, relax, and watch the graduation posts roll in. Family & friends can add photos, GIFs, & videos to make the note truly personalized for the recipient.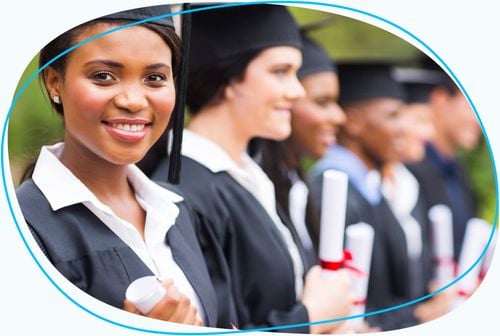 When my younger sister was wrapping up college, I had the whole extended family record videos and upload them to her Kudoboard. Not everyone could make it to the graduation in-person, but seeing everyone on the Kudoboard graduation card made her day.

Kevin L. Colorado
Latest Graduation articles from the blog
Frequently asked questions about Graduation Cards
An online graduation card from Kudoboard is a digital way, as a group, to celebrate a graduate in your life. When someone reaches the immense achievement of graduation it is often celebrated with cards and gifts. Looking for the perfect card can mean hours spent in card aisles hoping to find the one that fits their personality as well as yours. With Kudoboard, you can custom-create a board to compile everyone's messages directly from your computer or phone.
Let's say your granddaughter is graduating from college in a few weeks. Rather than searching for a card at the store, you can instead choose a graduation card on our website, and send each family member and friend a link to contribute. Kudoboard allows you to add her name, personalized messages, GIFs, photos, or videos to the board so that it can be personalized to your granddaughter. This makes a great option for those living far away to still join in on the celebrations
Graduating is a big achievement and deserves acknowledgment and celebration! If you receive a graduation announcement you are not required to send a card or a gift. However, If the graduate is someone important in your life, a card is a wonderful way to show that you care. With a graduation card from Kudoboard, you can allow multiple people to contribute to the board so that your recipient is showered with love and support during this exciting time.
When you think of graduation, often "high school" is the first thing that comes to mind. But graduations happen across many different environments and circumstances. Anytime someone is graduating from an important setting you can show your support through a graduation card. Here are some of the most common occasions where graduation cards are given:
High School
College
Preschool
Kindergarten
Nursing school
Honoring teachers
Law school
Military
Trade schools
Apprenticeships
Anyone in your life who is graduating from something can receive a graduation group card from Kudoboard. Because our cards are fully customizable you can tailor is to fit your needs and circumstances. There is no need to search around for a card that says the right thing in the right way – just make your card exactly how you want it! Common recipients of graduation cards are:
Boyfriends
Girlfriends
Son
Daughter
Sibling
Spouse
Granddaughter
Grandson
We have worked to make this process so simple, anyone can do it!
Once you click the "Create a Kudoboard" button on our website, our template will walk you through each step quickly and easily. You will be prompted to input the graduate's name and a title for your board, and then you can select which type of board fits your needs best. From there, you can try a variety of backgrounds until you find the right one. Voila! Your graduation board is created!
Now comes the fun part: adding in the messages from you and your group. As the creator of the board (hats off to you), we suggest you do the honors of the first post. That way, when others come to add in their messages, they have an example of your creative ingenuity (you're welcome) and how this congratulations grad card works.
Once you are done send members of your group a link or email inviting them to contribute, and watch as the graduation group card fills with the kind of congratulations and celebrations your graduate deserves. You will be amazed at how seamless and easy the process is.
Good question! The answer depends on your recipient and your relation to them. Your graduation card messages can range from sweet and encouraging to funny and personally specific. Here are some types of messages to use:
Simple congratulations: "Congrats, you did it! We are so proud!"
Inspirational: "This is a huge achievement, and though the road ahead will have many twists and turns, you've shown that you can achieve what you put your mind and heart to."
Funny: "Wow, all of that work just for a piece of paper?"
Quotes: "It is in your hands to create a better world for all who live in it" -Nelson Mandela
Sentimental: "It's hard to believe this day has already come. I am proud of the person you are today and I can't wait to be a part of this next phase of your life."
Sometimes just having a digital option for your graduation card isn't enough. That's why we have printing options for you and your group! Kudoboard lets you print your digital board as a beautiful, hardbound book, or as a high-resolution poster.
Once your board is full of posts and congrats from everyone in your group, you can select the option to have it printed as a book. Our books come with a 7"x7" hardcover and have an image-wrapped, matte finish. We ship anywhere in the US, or to many countries worldwide.
If you choose to have your graduation card printed as a poster, you have the option of 12", 24", or 48" wide. We can print and ship you a beautiful, semi-gloss poster, or you can download a high-resolution image of your board and print it on your own.
Absolutely. A Kudoboard graduation card is a unique and fun way to send a graduation announcement. Our products are customizable to fit your specific needs so you never need to worry about searching elsewhere for the right fit. To make a graduation announcement, rather than sending a link for others to post messages for the graduate, you can fill the board with pictures and information about graduation. For example, if your son is graduating high school you could fill the board with photos and memories from preschool-high school to highlight his school experience and achievements. At the top post the information detailing when and where graduation will occur, as well as any information about a graduation party or celebrations after graduation.
Yes, sending money with a graduation card is commonly done. It is not necessary, and many people send cards or messages without money. If you choose to send money with your graduation group card, Kudoboard allows you to collect funds from any desired contributors. Once your graduate receives the graduation card they will be able to redeem the funds in the form of a gift card of their choosing.
See this page for more information about gift cards for your graduation card.
Still have more questions? Come check out our blog! We regularly post new content to help you find what you need. Once you are there, feel free to poke around and see if any of the other content piques your interest. And, as always, we love hearing from you – so please contact us with any unanswered questions!