How online birthday cards work
Kudoboard's online birthday cards allow you to gather appreciation from a group, delivered directly to the recipient virtually. 
Birthday Sample
Denali's birthday is coming up. Her brother Kevin started her a surprise Kudoboard and added photos & videos. He was planning to send it directly but decided to invite others to make it a group card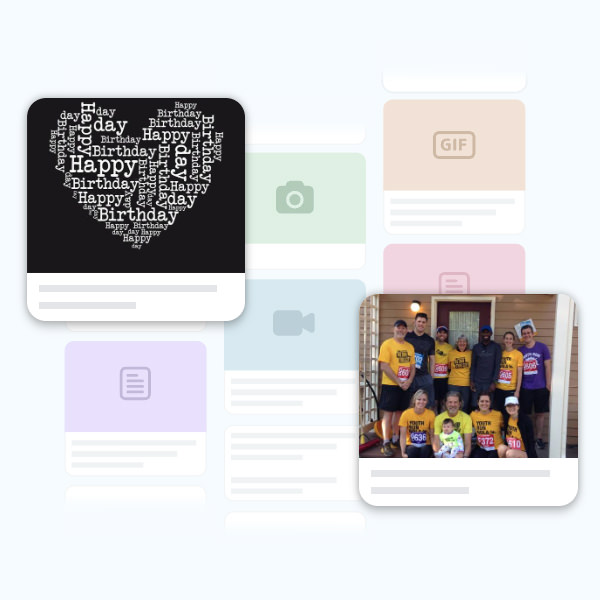 Something for everyone
Choose the option that's right for you — from single group cards to ongoing plans,
for personal use or for the office.
Company Event
Contact us to discuss your needs. Whether recognizing a departing CEO, celebrating a graduation for a university, or honoring caregivers at a hospital – we've got you covered.
In addition to all Milestone board features, company events offer:
Your logo at the top
Board export
Custom pricing
Tagging, likes, & comments
Custom URL
Custom disclaimer
Proactive moderation
Custom input fields
Multiple administrators
Board metrics
Embeddable slideshow
Dedicated account manager
A personalized 100th birthday card done right
eCards were one of the first viral hits of the 1990s internet. Unfortunately, they also became synonymous with cheap, ad-laden sites flashing outdated stock images. If you were wondering "How can I show someone I care…but not really?" – eCards were the unfortunate, but true, digital answer to your question.
But not anymore.
Forget about the corny jokes and annoying popups. With Kudoboard, you can create custom online cards with photos, GIFs, videos, and notes recognizing your recipient's 100th birthday. You can even invite other friends and family members to contribute and turn it into a group card.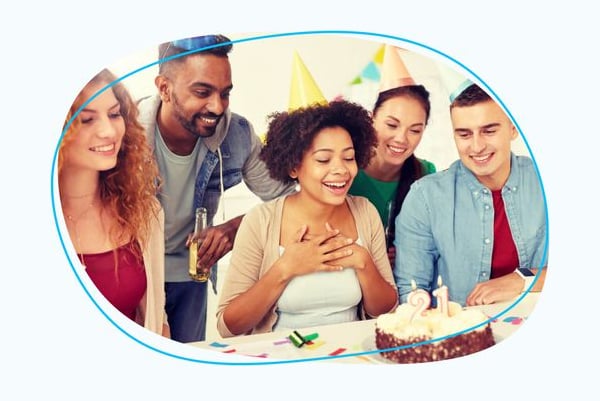 It was really wonderful receiving a Kudoboard for my 100th birthday. My daughter added so many lovely photos and videos; it was truly touching.

Evelyn T. California
Frequently asked questions about 100th birthday cards
Turning 100 is a significant milestone birthday. Few can mark such an occasion. It is only fitting that you celebrate the decades of life of whoever has made it to 100. After so much lived experience and 100 years' worth of birthday cards, knowing what to write on a 100th birthday ecard is difficult. Making it to 100 years is difficult and surely demonstrates how fantastic a person they are. So what should you write for a milestone birth like this? If it is someone you are close to, share your favorite memory or list things they have taught you. Your message is your time to tell the person how much they mean to you or pay homage to the person they are after 100 years. If it is someone you know less personally and you don't have a personal anecdote to share, it is ok to be more general. Here are our favorite simple and sweet messages for an online birthday card for 100th birthday:
"To celebrate your life is to recognize the brightness that you have brought into the world these 100 years."
"Reaching the age that you have reached is something not many can do. It requires strength, endurance, and a whole lot of laughter. All of which you have. Happy Birthday."
"You have given us so much over the years, and you deserve more than that every day. Happy 100th birthday."
After 100 years of life, undoubtedly, the person has learned to laugh off the craziness of life. You may want to consider adding some of that humor to their card. If so, here are some of our favorite funny messages:
"You don't look a day over 79!"
"Happy anniversary of the day you were born—100 years ago!"
"100 years of being awesome. How do you do it?"
"You're not 100! You're two fifty-year-olds
The 100th birthday is a milestone birthday. It is a birthday only a few people have that should be celebrated. On such a momentous occasion, a regular card won't do. Not to mention there are not many options just hanging around in a retail store. So where should you buy a 100th birthday card? Kudoboard is the perfect place to purchase a 100th birthday ecard. A Kudoboard is a virtual card you can create on our website. Once you have created a board with the perfect background, you can invite anyone on social media or with an email to write a post on the card. Contributors can include videos, pictures, GIFs, and unique messages. Once all contributors have posted, the Kudoboard can be printed, made into a book, or made into a slideshow.
Kudoboard provides many unique benefits for a 100th birthday card, and here is why:
After decades of relationships, the birthday person will likely have many people who can contribute to a card. Instead of receiving countless cards, they have to keep track of, Kudoboard allows for all personal congratulations to be in one accessible spot.
Decades of relationships mean decades for these people to move away. A Kudoboard allows you to invite anyone to contribute to a card. This will ultimately let more people to reach out and celebrate such a milestone birthday.
Kudoboard gives a personal touch to their card. Instead of a standard card, they will receive a board full of unique pictures, anecdotes, and messages they may not have received otherwise.
Reaching the 100th year is a benchmark for seniors. It is like finally making it into an elite club they only share with a small percentage. So what is the 100th birthday called? Any milestone that reaches a hundred is called a centenary. A person who has lived for 100 years is called a centenarian. So when you make their 100th birthday ecard, you can call them by their new title, a centenarian. Consider theming their birthday card and celebration with colors typically associated with the 100th-year celebration. These colors are generally black and gold, black and white, or black and silver. However, it is always a good idea to simply theme it after the centenarian's favorite color. Another fun fact about the 100th birthday is that some dignitaries like the president, prime minister, or the king will send their well wishes in a card.
Surely after 100 years of life, there is a photo or two worth sharing on an online birthday card for 100th birthday. So once you've rummaged through a century of images and found the perfect one, adding a photo to your Kudoboard message is straightforward. Simply click '+Add to Board' at the top left corner. Then, select 'Add Image' and click 'Upload Image.' From here, you can choose the file you wish to use. We accept most file types but recommend using JPG or PNG files. After the image uploads, you can add your desired text and post the photo. If you want to add more than one photo, consider adding an image collage.
Most veterans who serve see things civilians wouldn't understand. Veterans who reach 100 years have spent that time living with the baggage from their service. When it is time to celebrate a milestone birthday, there is something even more special about celebrating the sacrifice and long life of a veteran. So what ways can you honor a veteran's service and birthday in an online birthday card for 100th? First, start with personalized messages from those closest to them. Then, ask for a broader audience to give their appreciation to your veteran and contribute. Perhaps you could aim for 100 posts for a 100th birthday card.
Once all contributors have signed the virtual birthday card for 100th, you are ready to print. We have a few different options for printing: print a poster through us, download and print at a local print shop, or have us create a book. To print a poster through us, follow these steps:
In editor mode, select the eye icon to 'view as recipient.'
Click the printer icon.
Select poster
Customize print size and select 'Print and Ship.'
Calculate the price and order the print.
If you want to print the card at your local print shop, download the JPG version of the board. To download a JPG of your board, do the following:
Open your board
Next to the board's title, choose the 'Download or Print' button
Select the digital delivery option ensuring the blue poster button is selected.
Download the file from your email.
For more detailed instructions or a demonstration video, check out 'What is a Digital Download for a Kudoboard?'.
The final way to print a virtual birthday card for the 100th is to make it into a book. A book can be longer lasting than a poster and might be the best option to present to the birthday person. To do this, follow the instructions in 'How can I turn my Kudoboard into a book?' Here you will find additional questions.