How Online Birthday Cards Work
Kudoboard's online birthday cards allow you to gather appreciation from a group, delivered directly to the recipient virtually. 
Birthday Sample
Denali's birthday is coming up. Her brother Kevin started her a surprise Kudoboard and added photos & videos. He was planning to send it directly but decided to invite others to make it a group card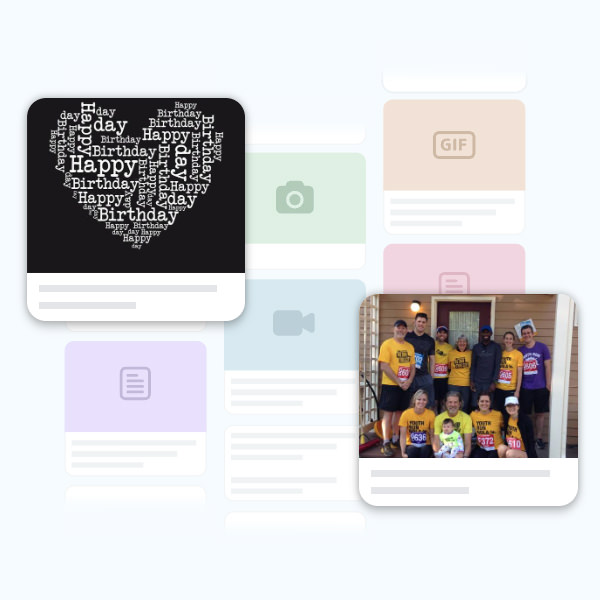 Something for everyone
Choose the option that's right for you — from single group cards to ongoing plans,
for personal use or for the office.
Company Event
Contact us to discuss your needs. Whether recognizing a departing CEO, celebrating a graduation for a university, or honoring caregivers at a hospital – we've got you covered.
In addition to all Milestone board features, company events offer:
Your logo at the top
Board export
Custom pricing
Tagging, likes, & comments
Custom URL
Custom disclaimer
Proactive moderation
Custom input fields
Multiple administrators
Board metrics
Embeddable slideshow
Dedicated account manager
A personalized birthday card for your brother, done right
eCards were one of the first viral hits of the 1990s internet. Unfortunately, they also became synonymous with cheap, ad-laden sites flashing outdated stock images. If you were wondering "How can I show someone I care…but not really?" – eCards were the unfortunate, but true, digital answer to your question.
But not anymore.
Forget about the corny jokes and annoying popups. With Kudoboard, you can create custom online cards with photos, GIFs, videos, and notes recognizing your brother's birthday. You can even invite other family members to contribute and turn it into a group card.
The Kudoboard birthday eCard I got from my sister was great. So many hilarious family photos in one place!

Tim C. Utah
Frequently asked questions about online birthday card for brother
He may be the person who knows just what button to press to drive you absolutely crazy, but he's also the guy that will have your back, no matter what. The sibling relationship is unlike any other. You absolutely cannot let his birthday pass without letting him know what he means to you. Try sending a virtual birthday card for brother that will help him feel the love. Throw in some birthday cake and you are good to go!
Wishing your bro a happy birthday by creating a custom Kudoboard card is super simple! You can get started by clicking here, and following the step-by-step instructions. You will start by entering your information and who the birthday ecard is for. Then you can explore the customized templates, add text and photos, and you will have a personalized greeting card to wish him a happy birthday in minutes!
Your brother has been by your side for your entire life. You can count on him for anything. It is also easy to take that special relationship for granted. We forget to make sure that he knows we love and appreciate it. What better day than his birthday to turn that around? Kudoboard can help you create a custom virtual birthday card for brother that will be memorable for him for years to come. It's quick and easy and is the gift that keeps on giving!
The sky is the limit for how to write a birthday card for brother! You can make it a funny birthday card, a sentimental birthday wish, or even a walk down memory lane. It can be from just you if you are looking to move to the front of the pack for the best sibling award. You can also create a birthday greeting card from a group of people, whether they are family, friends, or both! Be sure to add photos, videos, gifs, and other media to really personalize the birthday card. One option is to have a group all write their favorite memory with your brother. You could also creating a funny birthday card by having people post funny stories or jokes to make him laugh!
If you are looking for ideas on what to write, we've got you covered!
Thank you for being the best brother around. Happy Birthday!
I'm so glad you got stuck with me from the very beginning. Happy Birthday bro!
Dear brother, You may get on my nerves, but I'm glad you exist. Happy Birthday!
Wow, you won the sibling lottery. You are welcome. Happy Birthday Brother!
Looking for inspiration? This is a fun example of a birthday card from a Kudoboard customer.
Depending on your needs, there are multiple plans and pricing options. We are confident you will find something that fits each person, business, and budget. You can always create a Miniboard for free. This is an excellent option for 1-1 cards, small group cards, or to try out the service. Go ahead and build your first virtual card today!
Yes you can! Add your favorite photo, GIF, or meme to your post for a great personal touch.
Yes! Virtual birthday cards can be sent from an entire group. Miniboards are free and can have up to 10 contributors. Premium plans can accommodate up to 100 contributors. Our subscription plans vary and can offer up to unlimited contributors.
Our custom cards will never expire! The recipient will have access to it for as long as they want!
Yes! It could be so fun to have a poster printed out with your unique birthday card to celebrate your brother's special day! You can order a print from us, or you can download your board and take it to the local print shop.