How Online Birthday Cards Work
Kudoboard's online birthday cards allow you to gather appreciation from a group, delivered directly to the recipient virtually. 
Birthday Sample
Denali's birthday is coming up. Her brother Kevin started her a surprise Kudoboard and added photos & videos. He was planning to send it directly but decided to invite others to make it a group card.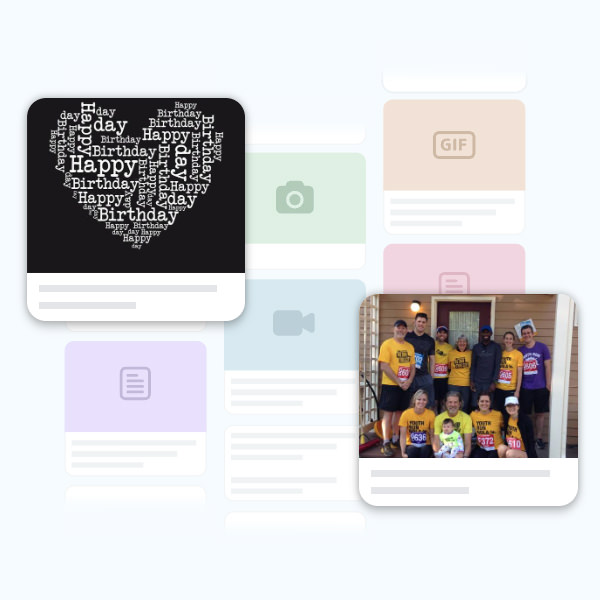 Something for everyone
Choose the option that's right for you — from single group cards to ongoing plans,
for personal use or for the office.
Company Event
Contact us to discuss your needs. Whether recognizing a departing CEO, celebrating a graduation for a university, or honoring caregivers at a hospital – we've got you covered.
In addition to all Milestone board features, company events offer:
Your logo at the top
Board export
Custom pricing
Tagging, likes, & comments
Custom URL
Custom disclaimer
Proactive moderation
Custom input fields
Multiple administrators
Board metrics
Embeddable slideshow
Dedicated account manager
A personalized 70th birthday card done right
eCards were one of the first viral hits of the early 90s internet. Sadly, they also became known for cheap, ad-laden sites flashing outdated stock images. If you were wondering "How can I show someone I care…but not really?" – eCards were the unfortunate, but true, digital answer to your question.
But not anymore.
With Kudoboard, you can forget about the corny images, popup ads, and spammy looking emails. Instead, you can create a custom card with photos, videos, GIFs, and messages celebrating the recipient's 70th birthday. You can even invite other colleagues, friends, or family to contribute and turn it into a group card.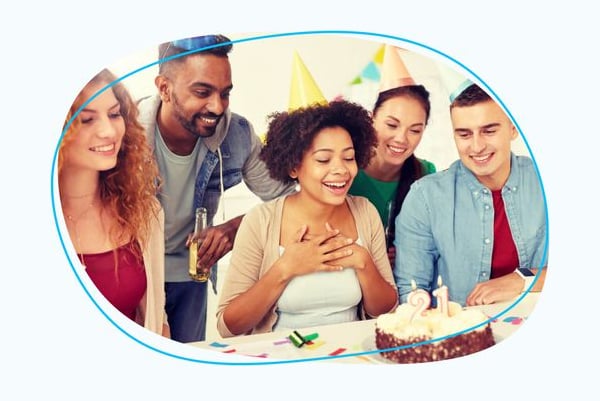 I had never heard of Kudoboard before receiving one for my 70th birthday. It was so special to see all of the photos and videos. Thank you!

Frank A. Michigan
70th Birthday Card FAQs
A 70th birthday is a milestone birthday, and a big one at that! For the person who is celebrating 70 years on earth, they've probably received hundreds of cards over the years from various family members. This makes knowing what to write a little complicated, don't worry though, we are here to help. Here are a few ideas that can get you started:
Share A Memory: This is a great way to honor the life of your loved one that is celebrating a 70th birthday. Sharing a memory you have of them shows you care and appreciate the role they have played in your life. Whether it is something small like remembering how they used to read to you when you were younger, or something big like getting you through a tough time, the sentiment will be appreciated.
Write A Poem: (or find one that you think they would like) If you are creative or the birthday person loves poetry, finding a poem that makes you think of them is a thoughtful way to say "I love you and this reminds me of you."
Include A Picture: Quickly finding or printing a picture of the two of you can be a great way to say "happy 70th birthday! I'm so glad you are apart of my life."
Share Something You've Learned From Them: The best gift you could give a grandparent or parent who has been around for 70 years? Letting them know that they have left a legacy, they've had a purpose. Sharing something that you've learned from the birthday person will let them know how much you really care.
If someone is turning 70, there is a high likelihood they have a lot of family and little grandchildren (maybe even great grandchildren!). Children can definitely still contribute to celebrating someone, even if they are younger and may not be writing yet. Here are some ideas for grandchildren to wish their grandparents a happy 70th:
Handprint pictures
Children's handprints are growing all the time, so it is fun to commemorate how little they are by making a handprint picture as a gift. There are so many ideas for fun ways to incorporate handprints in cards, and the birthday person will love it!
A drawn picture of the two of them
A great way for a child to wish their grandparent a happy birthday is by drawing a picture of them together. They can make it however they want and really let their creativity shine. Perhaps the child can even draw a picture of them doing a favorite activity (reading books, fishing, or making cookies).
A dictated list of why they love the person
If the child can write, have them write a list of reasons why they love their grandparent. If they can't write, you can ask them and write it on the card. Any grandparent would love hearing the reasons!
If you want to choose an eCard over a paper card, it is really easy to make a 70th birthday eCard. To start, choose an eCard website (Kudoboard is easy!). Once you start, follow the prompts (enter your email, the recipient's name and email, etc.). Next start customizing! Customizing is the fun part of creating a virtual card. You can add different media (pictures, gifs, memes, and videos). You can also change the background and fonts. Finally, hit send and wait for their reaction. The person being celebrated will feel so loved on their milestone birthday.
People have been giving out paper cards for decades now, so why change something that works? While paper cards are functional and get the job done, they are usually lacking in a few areas (customization, cost, ability for easy collaboration, etc.). Virtual cards have all those benefits and more, here's a list of four reasons to choose an eCard:
Affordability. Most eCards are free to make depending on your needs (the price usually changes with how many people are contributing).
Customization. Virtual cards are extremely customizable and can be personalized to fit what the recipient likes.
You Can Add Different Media. This sort of goes along with customization, but with eCards you have the ability to add any type of media you want. Does the recipient like cats? Easy, find a funny cat meme or gif. Are they more sentimental? Add some photos or videos from a favorite memory. You can't do that with a paper card.
It's easy for multiple people to contribute to an eCard. One of the best reasons to choose an eCard is the option for people to easily contribute. Passing around a card (or having everyone get separate cards) isn't very fun for anyone. eCards are great because anyone can contribute to ONE card from anywhere in the world.
It is so easy for multiple people to contribute to an eCard! Kudoboard makes it especially easy by having the board creator add everyone's emails (you don't have to sign up to contribute to the board). Once the person clicks the link in their email they can easily add any type of media.
Birthday eCards vary in cost depending on your needs. For example, Kudoboard starts free and you can have up to 10 people contributing or 10 board posts. If you need to add more contributors/board posts, the premium board is only 5.99 (cheaper than a lot of paper cards) and allows for 100 contributors/board posts! To find out more about Kudoboard's pricing, click here.