How Online Birthday Cards Work
Kudoboard's online birthday cards allow you to gather appreciation from a group, delivered directly to the recipient virtually. 
Birthday Sample
Denali's birthday is coming up. Her brother Kevin started her a surprise Kudoboard and added photos & videos. He was planning to send it directly but decided to invite others to make it a group card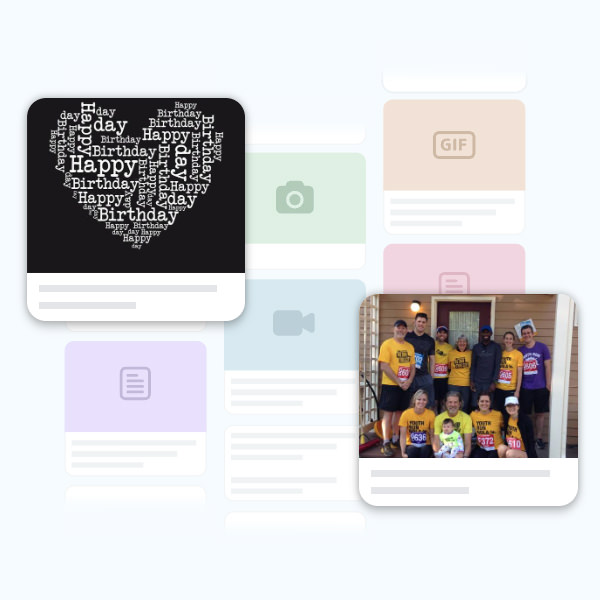 Something for everyone
Choose the option that's right for you — from single group cards to ongoing plans,
for personal use or for the office.
Company Event
Contact us to discuss your needs. Whether recognizing a departing CEO, celebrating a graduation for a university, or honoring caregivers at a hospital – we've got you covered.
In addition to all Milestone board features, company events offer:
Your logo at the top
Board export
Custom pricing
Tagging, likes, & comments
Custom URL
Custom disclaimer
Proactive moderation
Custom input fields
Multiple administrators
Board metrics
Embeddable slideshow
Dedicated account manager
A personalized 80th birthday card done right
eCards were one of the first viral hits of the early 90s internet. Sadly, they also became known for cheap, ad-laden sites flashing outdated stock images. If you were wondering "How can I show someone I care…but only just a little?" – eCards were the unfortunate, but true, digital answer to your question.
But not anymore.
With Kudoboard, you can forget about the corny images, popup ads, and spammy looking emails. Instead, you can create a custom card with photos, GIFs, videos, and messages celebrating the recipient's 80th birthday. You can even invite other friends and family members to contribute and turn it into a group card.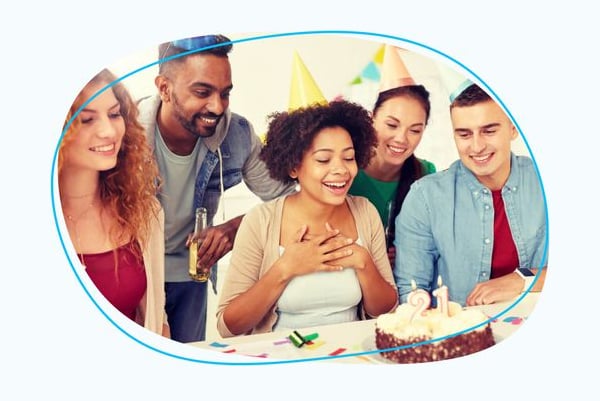 My family made me a Kudoboard for my 80th birthday, sent it to me by email, and printed it as a poster. What a special treat.

Stephen R. Utah
Frequently asked questions about 80th Birthday Cards
The 80th birthday is definitely a milestone birthday! It is considered a significant milestone because it means that the person has been around for 80 whole years, and still going strong. In 80 years it is likely they have seen a lot and experienced quite a bit of life. Celebrating those years of hard work and living is important.
If you are stuck with what to write, first consider who it is for. Here are some message ideas depending on who the card is for:
Grandma
"Grandma, I am so grateful you are a part of my life. Thank you for teaching me so much about ___________. I love you!"
"Grandma, happy birthday! It's nice to look back on all the great memories and be thankful for them."
"Happy birthday, dear Grandma! You mean the world to me, and I hope you have a wonderful day!"
"Happy 80th birthday, Grandma! You've been an incredible role model and a cherished friend to us all over the years, thank you."
Grandpa
"Grandpa, thanks for teaching me about fishing and changing a tire. Now I can eat without relying on anyone and drive safely!"
"Grandpa, you're 80 years young! Thanks for all you do for our family."
"You always cared for me, and I cherish that. Happy birthday, Grandpa!"
Mom
"Mom, thank you for carrying our family for so long (literally and metaphorically), we love you! Happy birthday!"
"Happy birthday from your favorite child 😉 You're the best mom I could have ever had!"
"Mom, thank you for teaching me the importance of serving others and being kind. I'll always love you!"
Dad
"Dad, thank you for sharing your wisdom with us throughout the years. We love you and couldn't imagine life without you. Happy birthday!"
"Happy birthday and good job being awesome for 80 years! You're an inspiration to all your children and posterity."
"Thank you for teaching us the value of hard work. You showed us that it is possible to provide and still have time for family. We love you! Happy birthday."
Friend
"I cherish our friendship and I always will. Thanks for being there for me through the hard times."
"You've been a wonderful friend over the years and I wouldn't trade our friendship for anything. I hope only good things come your way!"
"I hope your day is filled with happiness and joy, please let yourself be spoiled on your special day!"
Chances are, the person being celebrated has received all kinds of birthday cards throughout their life. 80 years worth to be exact! Here are some unique card ideas for the special person in your life:
Make A virtual card
Create a Homemade card with highlights from their 80 years of life
Make a group card listing 80 reasons why they are loved
Grandchildren and great-grandchildren are one of life's many joys.If everyone is spread out throughout the country, grandchildren can participate by making videos of why they love their grandparent. This can also be done "interview style" asking the children questions about their grandparent.
Another idea would be to make handprint cards. These are easy to make and fun for the kids and the grandparents. There are a lot of themed handprint card ideas (an example would be a tree using their feet as the stump and the hands as the leaves.)
A great idea for an 80th birthday card is to make it digital! Virtual birthday cards have many benefits, the main one is how easy it is to make. Here are a list of benefits eCards have:
eCards are affordable
eCards make it easy for small and large groups to contribute
Virtual cards are easy to make
Virtual cards are customizable and personalized to the recipient
To make a virtual card, choose an eCard site. To use Kudoboard, click "create a kudoboard." and follow these steps:
Fill out the prompts with the recipient's name, occasion, and if people should contribute to a group gift card.
Choose the type of Kudoboard you need. For small groups, a mini board is free and can have up to 10 contributors/board posts. For larger groups, a premium board is only $5.99 and can have up to 100 blog posts.
Next, start customizing your board! Change the background and start adding your first post. Add media (pictures, videos, gifs, and memes).
To add contributors, find the "add contributors" button at the top of the board. Share the board four different ways (QR code, social media, direct link, or email). Remind everyone to have their posts done by the delivery date!
Finally, schedule delivery of the board by clicking the "schedule delivery" button at the top of the card.
Many eCards range from free to 20.99 for individual cards depending on your needs. Most eCard websites offer free cards. Visit our pricing page for more information.