How Online Birthday Cards Work
Kudoboard's online birthday cards allow you to gather appreciation from a group, delivered directly to the recipient virtually. 
Birthday Sample
Denali's birthday is coming up. Her brother Kevin started her a surprise Kudoboard and added photos & videos. He was planning to send it directly but decided to invite others to make it a group card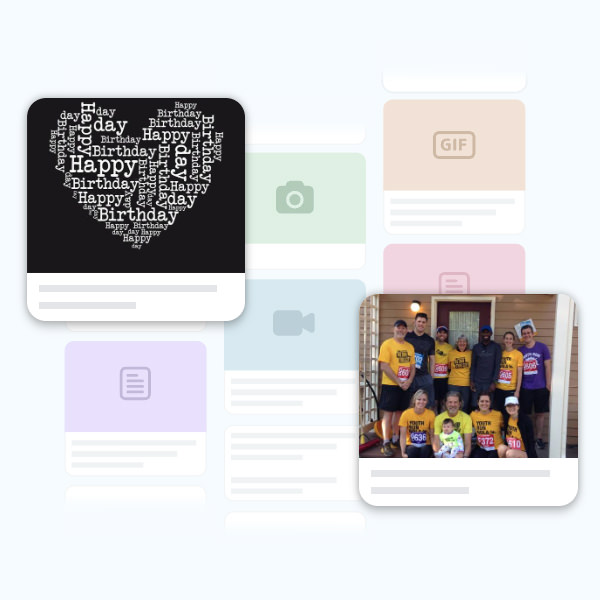 Something for everyone
Choose the option that's right for you — from single group cards to ongoing plans,
for personal use or for the office.
Company Event
Contact us to discuss your needs. Whether recognizing a departing CEO, celebrating a graduation for a university, or honoring caregivers at a hospital – we've got you covered.
In addition to all Milestone board features, company events offer:
Your logo at the top
Board export
Custom pricing
Tagging, likes, & comments
Custom URL
Custom disclaimer
Proactive moderation
Custom input fields
Multiple administrators
Board metrics
Embeddable slideshow
Dedicated account manager
A personalized birthday card for your son, done right
eCards were one of the first hits of the 1990s internet. Unfortunately, they also became known for cheap, ad-laden sites flashing outdated stock images. If you were wondering "How can I show someone I care…but not really?" – eCards were the unfortunate, but true, digital answer to your question.
But not anymore.
Forget about the corny jokes and annoying popups. With Kudoboard, you can create custom online cards with photos, GIFs, videos, and notes recognizing your son's birthday. You can even invite other family members to contribute and turn it into a group card.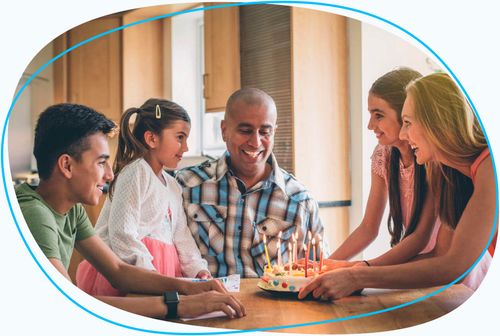 We made our son a Kudoboard while we was away at college. We invited several family members to contribute, and it was great. I'd definitely recommend the service.

Clark R. Missouri
Frequently asked questions about Birthday Card for Son
Whether a professional photo of your son or an embarrassing adorable photo of him, adding a photo to your son's birthday card will make it personal. Adding a photo to your Kudoboard message is easy. Simply click '+Add to Board' at the top left corner. Then, select 'Add Image' and click 'Upload Image.' From here, you can choose the file you wish to use. We accept most file types but recommend using JPG or PNG files. After the image uploads, you can add your desired text and post the photo. If you want to add more than one photo, consider adding an image collage.
When setting up a Kudoboard, there are various types of boards from which to choose. We offer Mini, Premium, and Milestone. Each of these varies in customization options and the number of contributors able to write messages on the card. For a free option, select the Mini Board. This option allows you to add ten messages, gifs, or photos.
We have made making your son's online birthday card simple. First, select "Create a Kudoboard." Then, fill in the template and select 'Mini Board.'. Now you are ready to design the card to your liking. When finished designing, you can invite others to contribute to the card. Our cards allow contributors to add flare with GIFs, photos, and Videos. Before you send out the card, be the first to sign. Doing so will enable others to see the possibilities for their contribution.
Once it is time to deliver the card, all you need to do is schedule a delivery or print it off. For more detailed instructions, check out our step-by-step guide, 'How Do I Create a Kudoboard?' You can see an example of what your son's birthday card could look like by checking this example.
To make a free online birthday card for your son, select our Mini Board. This option allows you to add ten messages, gifs, or photos. Setting up and designing our free mini-board is easy. Simply select "Create Kudoboard," enter the information, and select "mini-board" as the plan. Then create your board and invite contributors.
Once you are ready to use your son's virtual birthday card, downloading it to print or save is easy. To download a Kudoboard, you need to:
Open your board
Next to the board's title, choose Download or the Print button
Select the digital delivery option ensuring the blue poster button is selected.
Download the file from your email.
Your Kudoboard will download in JPG format. The file will appear just as it did when the file was requested. You can print it at a local print shop or use the download for your son's birthday celebration. For more detailed instructions or a demonstration video, check out 'What is a Digital Download for a Kudoboard?'.
You searched the internet for a way to add your son's name to his birthday card without much hassle. At Kudoboard you can add his name and other customization options. After selecting 'Create Kudoboard,' you will be prompted to fill in information about your board. Doing this will populate a title for your son's virtual birthday card. The title is the best place to add your son's name to the board. The title can be edited anytime if you decide to change it.
If you want to personalize it further, our boards offer personaliztions of backgrounds. Personalization grants you to upload a photo of your son as the background of his card.
Being a parent is a beautiful opportunity. Birthdays are an opportunity to reflect on how quickly your son grew up. Between the tears you shed as you reminisce on their life, you need to write a message on their birthday card; a message to adequately describe your love and celebrates the unique person they are. Depending on your son's personality, the message could be funny or heartfelt. If you would like to write something funny, here are some options:
"I hate to break it to you, but you're officially 'old school' now."
"Each day, I am proud of you, but today you get a card."
"I smile because you are my daughter. I laugh because there is nothing you can do about it."
If you would instead write a heartfelt message, here are some options:
"I've loved watching you grow into an exceptional man. I am so proud of you. Happy Birthday"
"Loving you is my greatest joy. You make it so easy! Happy Birthday."
"You give me so many reasons to be proud of the man you are. I love you now and forever. Happy Birthday."
Whatever you decide, use your online birthday card for your son to remind him of all the best things about him.