How Online Birthday Cards Work
Kudoboard's online birthday cards allow you to gather appreciation from a group, delivered directly to the recipient virtually. 
Birthday Sample
Denali's birthday is coming up. Her brother Kevin started her a surprise Kudoboard and added photos & videos. He was planning to send it directly but decided to invite others to make it a group card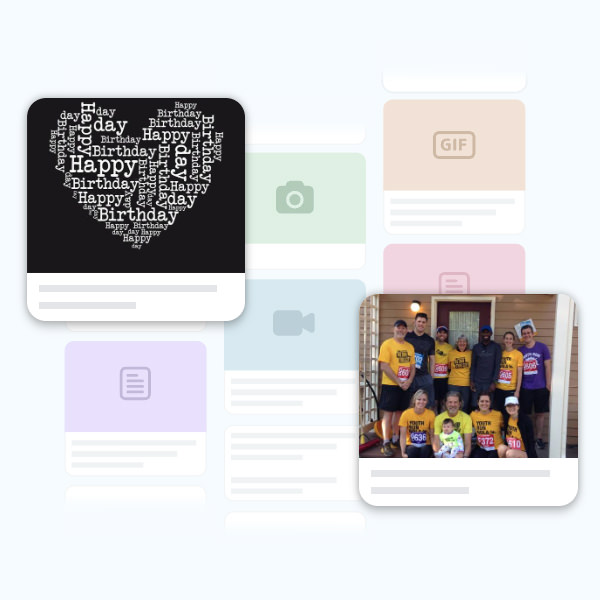 Something for everyone
Choose the option that's right for you — from single group cards to ongoing plans,
for personal use or for the office.
Company Event
Contact us to discuss your needs. Whether recognizing a departing CEO, celebrating a graduation for a university, or honoring caregivers at a hospital – we've got you covered.
In addition to all Milestone board features, company events offer:
Your logo at the top
Board export
Custom pricing
Tagging, likes, & comments
Custom URL
Custom disclaimer
Proactive moderation
Custom input fields
Multiple administrators
Board metrics
Embeddable slideshow
Dedicated account manager
Personalized birthday cards for her, done right
eCards were one of the first hits of the early 1990s web. Regrettably, they also became known for cheap, ad-laden sites flashing outdated stock images. If you were wondering "How can I show someone I care about them…but only a bit?" – eCards were the unfortunate, but accurate, digital answer to your question.
But not anymore.
Forget about the corny jokes and annoying popups. With Kudoboard, you can create customized, online cards with pictures, videos, and notes celebrating her birthday. You can even invite the rest of the family to contribute and turn it into a group card.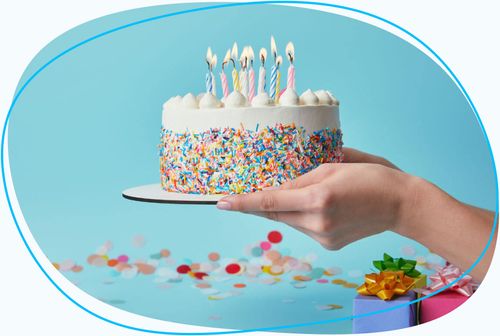 I loved the Kudoboard that my friend created me. She added a couple hilarious GIFs along with photos of our friendship. So nice!

Teresa L. Delaware
Frequently asked questions about Birthday Card for Her
We have made making an online birthday card for her simple. First, select "Create a Kudoboard." Then, fill in the template and select the board type that best fits your needs. Now you are ready to design the card to your liking. When finished designing, you invite others to contribute to the card. Our cards allow contributors to add flare with GIFs, photos, and Videos. Before you send out the card, be the first to sign. Doing so will enable others to see the possibilities for their contribution.
Once it is time to deliver the card, all you need to do is schedule a delivery, create a book, or print it off. For more detailed instructions, check out our step-by-step guide, 'How Do I Create a Kudoboard?'
She's pretty great isn't she? Whether a romantic partner or a fitness instructor, whatever relationship you have with her impacts your life. So, for her birthday, you want to celebrate how special she is by writing a personal message from you on her virtual birthday card. But knowing what to write can be difficult. Not to worry, we have made a list of some of our favorite messages for your virtual birthday card for her.
Consider the following if you would like to bring some humor to her card:
"Don't worry about blowing out all those candles on your cake. I've already asked the fire department to be on standby. Happy Birthday, my ancient friend!"
"Aging is mandatory—adulting is optional. Happy birthday."
"There's no one who deserves to be celebrated more than you. Happy birthday."
Here are some sweet and simple responses for any woman in your life:
"Every day, but especially today, I am thankful that you were born. Happy birthday."
"I should say it more often, but I am so thankful to have you in my life."
"I appreciate all you do for me. Happy birthday."
Finally, here are some romantic messages for the special girl in your life:
"Here are [insert age here] reasons why I love you.
"You will always be the one for me."
"Cheers to another year I get to spend loving everything about you. Happy birthday, my lovely wife."
Whether it is your friend or your favorite hairdresser you've probably laughed a lot together. Now is your opportunity to bring more joy into her life with her online birthday card. But what should you do? Kudoboard provides many ways to include humor in a board. Here are some of our favorites ideas:
Ask contributors to include funny memories they had with her.
Include your favorite short videos or GIFs that are bound to make her laugh.
Post a funny picture you have of her.
Make the background of the card a photo you know she will laugh at
Include your favorite joke or an inside joke you both share.
All Kudoboards download in JPG format. To upload a virtual birthday card to Facebook, you will need to download the card. To download a Kudoboard, you need to:
Open your board
Next to the board's title, choose Download or the Print button.
Select the digital delivery option ensuring the blue poster button is selected.
Download the file from your email.
Once your card downloads, you upload the JPG to Facebook using a post.
If you would like to publicly invite your Facebook friends to contribute to your daughter's birthday ecard, Select the 'Invite Contributors' in the top right corner of your Kudoboard. There are two ways to invite contributors on Facebook. You can create a direct link or share directly on Facebook. Clicking on the 'social tab' will automatically populate a post ready for you to submit. If you prefer to make your post through a direct link, follow these steps:
Click the 'Copy Link' button.
Your link will now be in your computer's clipboard. From here, you create a post on Facebook.
In the post, paste the link with any message you wish to add.
Submit your post
Women are incredible. They juggle many hats and are continually caring for others. When we have important women in our lives, we want her to know how phenomenal she is. There is no better day than a birthday to do this. A birthday card is a ideal vehicle for praise for her. Here are some ideas on how to make a birthday card for her filled with love.
Ask contributors to share things they admire about her
Create posts full of moments contributors were impacted by her
Share your favorite photos of her
Add a gift card to her favorite place or a spa day
Sometimes text alone in a birthday card for her is not enough. Adding a photo to your text adds charm and impact. However, knowing what image to add to a birthday card for her can be cumbersome solely due to the sure volumes of potential options. When selecting the correct image, the most important thing is that it is appropriate for the situation. Be sure to select a photo that puts her in a positive light and not one she would be embarrassed about. Now that you've eliminated all of the embarrassing pictures of her sleeping, consider some of these options:
Your favorite picture of you and her
A picture of her celebrity crush
A picture of her favorite place
A picture of her favorite animal
A picture you know she would find funny
A funny meme
When you select the perfect image to add to your post, simply click '+Add to Board' at the top left corner. Then, select 'Add Image' and click 'Upload Image.' If you cannot decide on just one photo you can create an image collage.