How Online Birthday Cards Work
Kudoboard's online birthday cards allow you to gather appreciation from a group, delivered directly to the recipient virtually. 
Birthday Sample
Denali's birthday is coming up. Her brother Kevin started her a surprise Kudoboard and added photos & videos. He was planning to send it directly but decided to invite others to make it a group card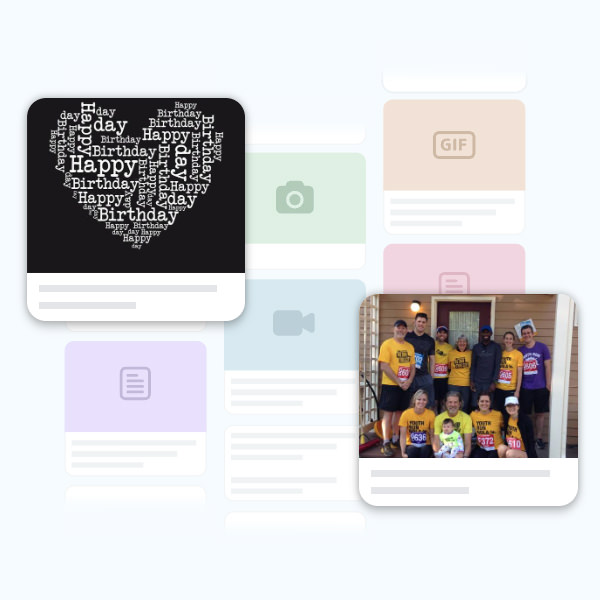 Something for everyone
Choose the option that's right for you — from single group cards to ongoing plans,
for personal use or for the office.
Company Event
Contact us to discuss your needs. Whether recognizing a departing CEO, celebrating a graduation for a university, or honoring caregivers at a hospital – we've got you covered.
In addition to all Milestone board features, company events offer:
Your logo at the top
Board export
Custom pricing
Tagging, likes, & comments
Custom URL
Custom disclaimer
Proactive moderation
Custom input fields
Multiple administrators
Board metrics
Embeddable slideshow
Dedicated account manager
Personalized birthday card for grandpa, done right
e-Cards were one of the first hits of the early 1990s web. Sadly, they also became known for cheap, ad-laden sites flashing outdated stock images. If you were wondering "How can I show someone I care…but only a bit?" – e-Cards were the unfortunate, but true, digital answer to your question.
But not anymore.
Forget about the corny jokes and annoying popups. With Kudoboard, you can create customized, online cards with pictures, videos, and notes celebrating your grandpa's birthday. You can even invite the rest of the family to contribute and turn it into a group card.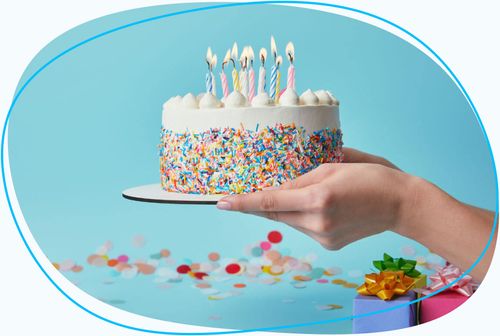 Hands down the best card I've ever received. Was such a surprise to get a Kudoboard started by my Granddaughter with photos & videos from the whole family.

Thomas A. Michigan
Frequently asked questions about Online Birthday Card for Grandpa
Wishing grandpa a happy birthday by creating a custom Kudoboard card is easy and fun! You can get started by clicking here, and following the step-by-step instructions. You will start by entering your information and who the card is for. Then you can explore the customized templates, add text and photos, and you will have a personalized greeting card for your grandfather to send birthday wishes in minutes!
What makes grandpa special is that he chooses to be in your life. Parents have to deal with us, they are stuck with us, but grandparents actively make that effort to build a relationship. That is a truly unique and special relationship to have. Ecards for Grandpa are a simple way to show appreciation for that love. It doesn't require a big investment for you, but the payoff will be huge for grandpa. Celebrate grandpas birthday in a new way this year!
There are many possibilities for how to structure your birthday card for Grandpa. You can create an individual card from yourself or a group card from multiple contributors, get the whole family in on the action! Be creative and have fun with it! The best card comes from the heart, so be sure to personalize it. Grandpas love to tell us stories and experiences from their lives, so let them know you are listening and let them know what you have learned from them. A fun birthday card idea would be to share stories of your own experiences you have had with them personally.
If you want ideas on what to write, we've got you covered! Here are some birthday card ideas for your special grandfather:
You are the best, Grandpa. We hope you enjoy lots of birthday cake. Happy Birthday!
We are so grateful to have you in our lives, Grandpa! Happy Birthday!
I hope I'm still as fun as you when I'm that OLD. Happy Birthday Grandpa!
Have a wonderful birthday Grandpa! Happy Birthday to our favorite old man!
You're not old Grandpa, you are classic! Happy Birthday on your special day!
Looking for inspiration? This is a fun example of a birthday card from a Kudoboard customer.
Depending on your birthday card needs, there are multiple plans and pricing options. We are confident you will find something that fits each person, business, and budget. You can always create a Miniboard for grandpas birthday for free. This is an excellent option for 1-1 cards, small group cards, or to try out the service. Go ahead and build your first virtual card for your grandfather today!
Yes! Virtual cards for grandpa can be tricky if they aren't super confident with electronics. A fun poster would be perfect to hang up for him to see all of the messages. You can order a print from us or download your board and take it to your local print shop.