How Online Birthday Cards Work
Kudoboard's online birthday cards allow you to gather appreciation from a group, delivered directly to the recipient virtually. 
Birthday Sample
Teresa is the head of the marketing department. One of her team members started her a Kudoboard for her upcoming birthday and invited other coworkers to post.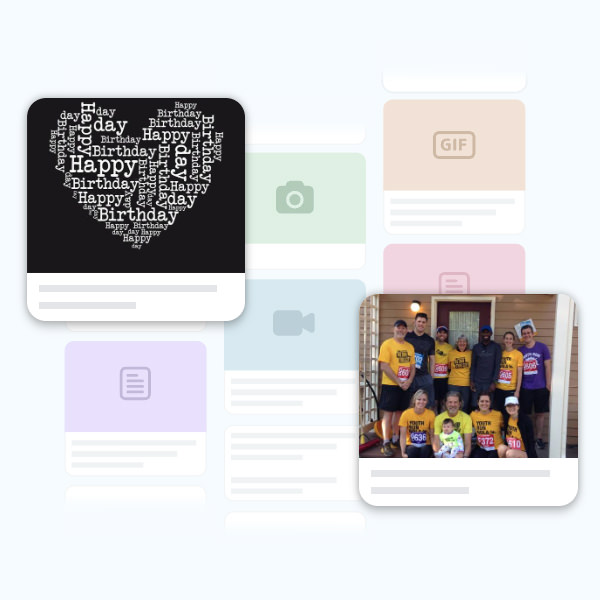 Something for everyone
Choose the option that's right for you — from single group cards to ongoing plans,
for personal use or for the office.
Company Event
Contact us to discuss your needs. Whether recognizing a departing CEO, celebrating a graduation for a university, or honoring caregivers at a hospital – we've got you covered.
In addition to all Milestone board features, company events offer:
Your logo at the top
Board export
Custom pricing
Tagging, likes, & comments
Custom URL
Custom disclaimer
Proactive moderation
Custom input fields
Multiple administrators
Board metrics
Embeddable slideshow
Dedicated account manager
A birthday card for a boss, done right
You've seen it before. Your boss's birthday is just around the corner and someone starts to pass around a card in a manila folder for everyone to sign. There's barely space on the card for team members to add a note (let along a signature!). And five people are traveling for a conference while another one works remotely — so getting everyone to sign is basically impossible.
With Kudoboard, there's a better way.
Inviting team members to contribute, wherever they are, is a breeze. Simply send them the link to the board or use our system to email them an invitation. Then sit back, relax, and watch the birthday posts roll in for your boss. And we're not just talking about a short note + a signature. Team members can add photos, GIFs, & videos to make the board fun and personalized.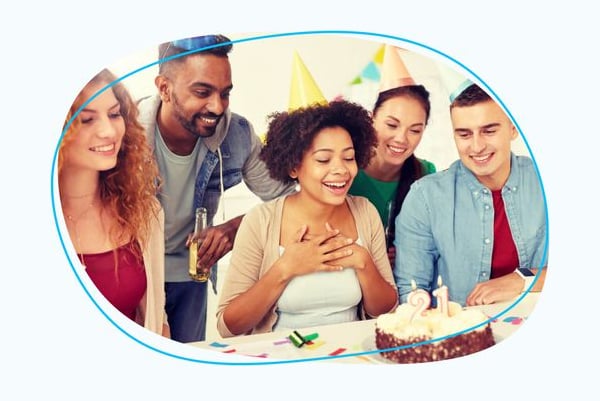 We used Kudoboard as a group birthday card for our boss rather than passing a paper card around the office. It was super convenient, everyone added hilarious GIFs to the board, and she really enjoyed receiving it.

John R. AT&T
Frequently asked questions about Birthday Card for Boss
Knowing what to write on your boss's birthday card can be intimidating. Not only are they your mentor, but they also hold the fate of your job in their hands. The last thing you want to do is accidentally burn a bridge over your boss's birthday card. For the sake of job security, it is probably best to stay respectful. You can take a few directions to write the perfect, non-offensive message. The first is to use a more traditional message like:
"Happy Birthday. May your day be filled with joy."
"I wish you the best birthday. You deserve it."
"Happy Birthday. I wish you the best for today and the rest of the year."
The second option is to show appreciation for their work and mentorship. Some possibilities for this could be:
"Wishing a great day to a great mentor."
"Happy Birthday. You are an example of all that is good at this company."
"Thank you for your hard work, encouragement, and mentorship. I hope you have a happy birthday."
Once you are ready to give your boss your Kudoboard, downloading it to make it available to print or save is easy. Every Kudoboard downloads in JPG format. The downloaded file will appear just as it did when the file was requested.
To download a Kudoboard, all you need to do is:
Open your board
Next to the board's title, choose Download or the Print button
Select the digital delivery option ensuring the blue poster button is selected.
Download the file from your email.
From here you can print it at a local print shop or use the download for a company celebration. If you need more detailed instructions or a demonstration video, go here.
So you have a boss who loves a good joke? Awesome! Writing a funny note is your time to add laughter to your boss's birthday card. Aside from using a quote from "The Office," here are some funny messages you can write on a boss's online birthday card:
"If your life is like your meetings, it will never end."
"Wishing a very happy birthday to the person who determines my salary increase."
"Every year your birthday comes on the exact day at the exact time. It seems to be as punctual as you are."
If you want to add another layer of humor to your message, try adding a funny video, GIF, or photo to your Kudoboard. Whatever the message, adding humor to a birthday card is sure to brighten up your boss's online birthday card.
When setting up a Kudoboard, there are various types of boards to choose from. We offer Mini, Premium, and Milestone. Each of these varies in the number of contributors able to write messages on the card. For a free option, we offer the mini board. In this option, you can add ten messages, gifs, or photos. Setting up and designing our free mini-board is easy. Simply select "Create Kudoboard," enter the information, and select "mini-board" as the plan. Then create your board. When all members are finished contributing, there are two options on how to send your boss's online birthday card:
Send a direct link through email, text, Slack, or other communication tools.
Schedule a delivery through kudoboard.com. For further instructions on how to do this, look here.
Either of these options will send a personalize virtual birthday card to your boss with the click of a few buttons.
On your boss's birthday, it is important to celebrate with them. Whatever your relationship is, showing appreciation for the person they are can mean a lot to them. However, maybe it isn't in the 'cards' to spend the time and the money on a grocery store card. Here at Kudoboard, we offer a free virtual birthday card for your boss. Our free birthday card is the 'Miniboard' which allows ten contributors to add to your custom card.
To create a mini-board select "Create a Kudoboard" on the top right of our webpage. Then, fill in the template and choose 'Mini Board.'. Now you are ready to design the card to your liking. Once finished, you can invite others to contribute to the card. Our cards allow contributors to add flare with GIFs, photos, and Videos. Before you send out the card, be the first to sign. Doing so will enable others to see the possibilities for their contribution.
Once it is time to deliver the card, all you need to do is schedule an electronic delivery or print it off. For more detailed instructions, check out our step-by-step guide, 'How Do I Create a Kudoboard?'