How Online Birthday Cards Work
Kudoboard's online birthday cards allow you to gather appreciation from a group, delivered directly to the recipient virtually. 
Birthday Sample
Denali's birthday is coming up. Her brother Kevin started her a surprise Kudoboard and added photos & videos. He was planning to send it directly but decided to invite others to make it a group card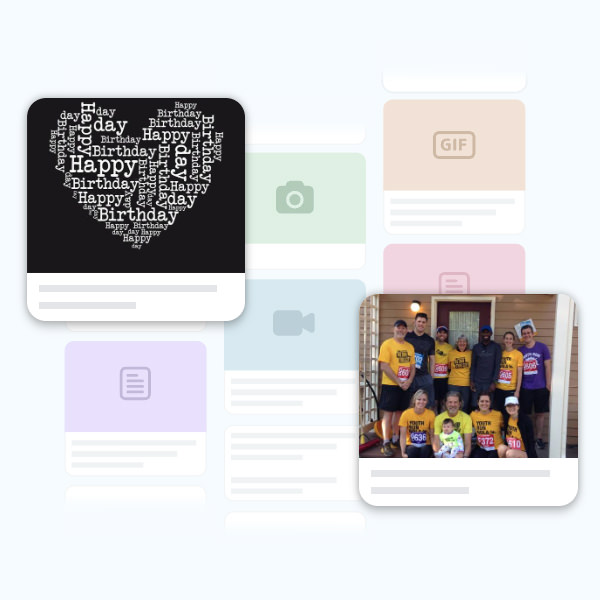 Something for everyone
Choose the option that's right for you — from single group cards to ongoing plans,
for personal use or for the office.
Company Event
Contact us to discuss your needs. Whether recognizing a departing CEO, celebrating a graduation for a university, or honoring caregivers at a hospital – we've got you covered.
In addition to all Milestone board features, company events offer:
Your logo at the top
Board export
Custom pricing
Tagging, likes, & comments
Custom URL
Custom disclaimer
Proactive moderation
Custom input fields
Multiple administrators
Board metrics
Embeddable slideshow
Dedicated account manager
A personalized 60th birthday card done right
eCards were one of the first viral hits of the 1990s internet. Unfortunately, they also became synonymous with cheap, ad-laden sites flashing outdated stock images. If you were wondering "How can I show someone I care…but not really?" – eCards were the unfortunate, but true, digital answer to your question.
But not anymore.
With Kudoboard, you can forget about the corny pictures, popups, and spammy looking emails. Instead, you can create a personalized online card with photos, GIFs, videos, and messages celebrating your recipient's 60th birthday. You can even invite other colleagues, friends, and family to contribute and turn it into a group card.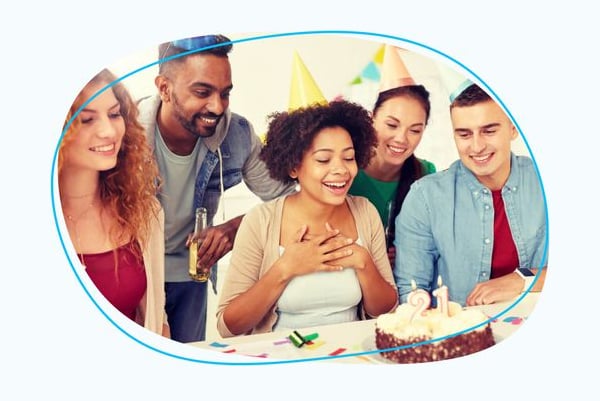 What a special gift I received for my 60th birthday. To get messages, photos, and videos from my family and friends wishing me well was truly amazing.

Carl T. Connecticut
Online Birthday Card for 60th Birthday- FAQ's
Ok, this may not be the most popular saying out there right now but according to this article, there is some truth to it. "To claim '60 is the new 40' is really just a way to describe the way that people are living longer, healthier lives, and feeling younger at 60 than their parents and grandparents – which is something to celebrate." You heard them, 60 is a milestone birthday and deserves to be celebrated! Try an online 60th birthday card by Kudoboard to make this birthday a special one.
Wishing your loved one a happy 60th birthday by creating a custom Kudoboard birthday card is super simple! You can get started by clicking here, and following the step-by-step instructions. You will start by entering your information and who the card is for. Then you can explore the customized templates, add text and photos, and you will have a personalized greeting card in minutes!
For some reason, a birthday is considered special for children, and not that important for adults. All of the sudden there is no need for a birthday gift? How is that a way to say happy birthday? We say rage against the norm! Let's party! As we get older, we have more to celebrate. We have learned more lessons and lived through more experiences. We are gifted more time on this earth so arguably, we should celebrate more! Your sixtieth birthday marks some big life changes. It is a milestone birthday and a virtual birthday card for their 60th birthday is a great way to celebrate!
60 years is a long time to be on planet Earth. We all deserve some love on our special day. A 60th birthday is a great time to bring people from all parts of someone's life together to celebrate them, whether with a birthday party, birthday greeting card, or even a great birthday gift. It is not always possible to gather those people physically, but a Kudocard card for their 60th birthday would be perfect. Ask friends and family of the birthday person to write a post sharing their favorite stories or memories with that person. Make it a funny 60th birthday card and have their loved ones share embarrassing stories. Want it to be from just you? That's a great birthday gift as well! Post photos, memories, stories, or meme's all in one cute 60th birthday card!
If you want ideas on what to write, we've got you covered!
Happy 60th birthday! You don't look a day over 59! Wish you love on your birthday!
Happy birthday to someone who means the world to me. I hope it's a great day! Happy 60th !
I'm so happy to celebrate with you today. Happy 60th birthday!
You are bringing sixty back! Happy Birthday!
60 is just 21 with 39 years of experience. Happy Birthday!
Just imagine a bunch of balloons, cookies, birthday cake, a gift, and decorations. That's all from me. Best birthday wishes! Happy 60th Birthday!
Happy sixtieth birthday to someone who means the world to me. Happy birthday!
Looking for inspiration for your happy 60th birthday card? This is a fun example of a birthday card from a Kudoboard customer.