How Online Group Cards Work
Kudoboard's online group cards allow you to gather appreciation from a group, delivered directly to the recipient virtually.
Sample use
Tanya started a Kudoboard for Tom to recognize him for boss's day. Tanya's whole team got into it, adding GIFs and funny quotes from the past year before delivering it to Tom.
Something for everyone
Choose the option that's right for you — from single group cards to ongoing plans,
for personal use or for the office.
Company Event
Contact us to discuss your needs. Whether recognizing a departing CEO, celebrating a graduation for a university, or honoring caregivers at a hospital – we've got you covered.
In addition to all Milestone board features, company events offer:
Your logo at the top
Board export
Custom pricing
Tagging, likes, & comments
Custom URL
Custom disclaimer
Proactive moderation
Custom input fields
Multiple administrators
Board metrics
Embeddable slideshow
Dedicated account manager
Finally, boss's day cards done right
You've seen it before. Boss's Day is just around the corner and someone starts to pass around a card in a manila folder for everyone to sign. There's barely space on the card for people to add a note (let along a signature!). And five team members are traveling for a conference while another one works remotely — so getting everyone to sign is basically impossible.
With Kudoboard, there's a better way.
Inviting team members to contribute, wherever they are, is a breeze. Simply send them the link to the board or use our system to email them an invitation. Then sit back, relax, and watch the posts (or roasts!) roll in. And we're not just talking about a short note + a signature. Team members can add photos, GIFs, & videos to make the card personalized for the recipient.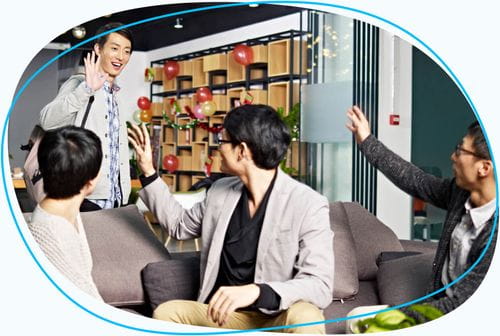 The Kudoboard my team made me for boss's day was HILARIOUS. They definitely know me well.

Frank N. Oregon
Frequently asked questions about Boss's Day Card
A Boss's Day card from Kudoboard is a digital way, as a group, to send love and appreciation to your boss. For the employee tasked with picking out a card for everyone to sign, spending hours in card aisles hoping to find the one that fits your specific boss can be difficult. With Kudoboard, you can custom create a board to compile everyone's virtual gratitudes right from your computer or phone.
When Boss Appreciation Day rolls around, instead of passing a card around the office, you can instead choose a virtual "Boss's Day" board on our website and fill it with messages from you and your group. This makes it a great option for employees working remotely or far away to still join in on the fun.
If you have ever found yourself hurriedly typing "boss's day cards near me" at the last minute because you forgot when boss's day was, we have something you will like! Our Boss's Day cards are created, signed, and delivered entirely online, so even if you forget until the morning of, we've got your back. Whether you are using our free board or a board with more features, you can have your boss's day card created in less than 10 minutes!
We have worked to make this process so simple, anyone can do it.
Once you click the "Create a Kudoboard" button on our website, our template will walk you through each step quickly and easily. You will be prompted to input your boss's name and a title for your board, and then select which type of board fits your needs best. From there, try a variety of backgrounds until you find the right one. Voila! Your Boss's Day board is created!
Now comes the fun part: adding in the virtual messages from you and your group. As the creator of the board (hats off to you), we suggest you do the honors of the first post. That way, when others come to add their messages, they have an example of how this digital Bosses Day card works. From there, send members of your group a link or email inviting them to contribute, and watch as the electronic Boss's Day card fills with the kind of love and appreciation your boss deserves. You will be amazed at how seamless and easy the process is.
After the Boss's Day board is created, each contributor will be able to add to the card in a user-friendly way. Our site will walk you through posting a message, photo, GIF, and/or video so that you and your team can deliver your boss the perfect card they deserve.
This is a common question and it can be difficult to know where to begin. Should you write something funny? Something serious? Sweet and sappy? All of the above? The answer depends on your work culture and the personality of your boss. Here are a few ideas to get you started:
Formal/Professional
"I am so grateful to be a part of your team. I'm looking to many more years working together"
"Thank you for how much you do for us, we are so lucky to have a boss like you!"
"I have learned so much from you, thanks for being the best boss!"
Heartfelt/Personal
"It's not every day you find a boss as [insert characteristic] as you, and I am so grateful to have your support. You deserve the best day!"
"After the tough year we've had, I am more grateful than ever before to work for a boss like you. Thanks for the work you put into making your employees feel supported and valued.
Funny/Sarcastic

"Happy Boss's Day to the best boss ever! I've never met a smarter or more qualified person for this job. I hope to be just like you one day (If I keep going with these sorts of comments will I get a better performance review?)"

"Wishing the happiest Boss's Day to the boss with the world's greatest employees. You are welcome!"
National Boss's Day is celebrated every year on October 16th. If the 16th lands on a weekend then Boss's Day is celebrated on the following Monday. Having it fall on the same day every year makes it a little easier to plan ahead and have the perfect boss's day card ready to go!
We know that sometimes a digital form for your boss's day card isn't enough. That's why we have printing options for you and your group! Kudoboard gives the option to have your boss day board printed as a beautiful, hardbound book, or as a high-resolution poster.
Once your board is full of posts from everyone in your group, you can select the option to have it printed as a book. Our books come with a 7"x7" hardcover and have an image-wrapped, matte finish. We ship anywhere in the US, or to many countries worldwide.
If you choose to have your boss's board printed as a poster, you have the option of 12", 24", or 48" wide. We can print and ship you a beautiful, semi-gloss poster, or you can download a high-resolution image of your board and print it on your own.
Still have more questions? Come check out our blog! We regularly post new content to help you find what you need. Feel free to poke around and see if any of the other content piques your interest! And, as always, we love hearing from you – so please contact us with any unanswered questions.