How Online Group Cards Work
Kudoboard's online group cards allow you to gather appreciation from a group, delivered directly to the recipient virtually.
Sample use teaser
Sarah's 25th birthday is coming up. Her friend Dara made her a surprise birthday Kudoboard and invited a few others to participate. She plans to play it as a slideshow at Dara's birthday party.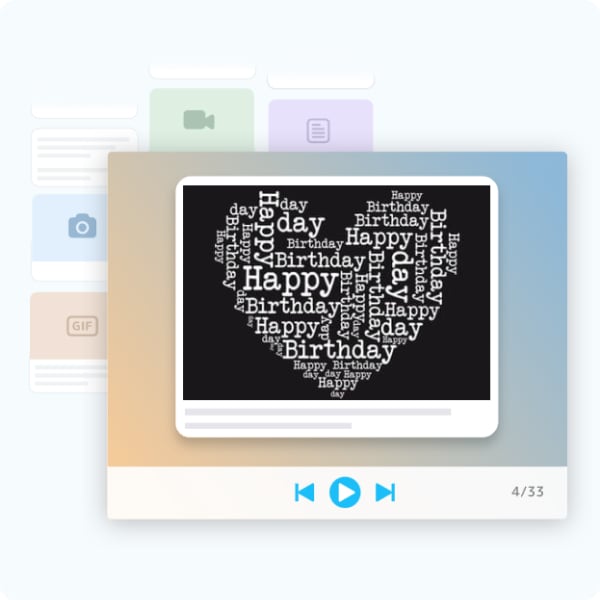 Something for everyone
Choose the option that's right for you — from single group cards to ongoing plans,
for personal use or for the office.
Company Event
Contact us to discuss your needs. Whether recognizing a departing CEO, celebrating a graduation for a university, or honoring caregivers at a hospital – we've got you covered.
In addition to all Milestone board features, company events offer:
Your logo at the top
Board export
Custom pricing
Tagging, likes, & comments
Custom URL
Custom disclaimer
Proactive moderation
Custom input fields
Multiple administrators
Board metrics
Embeddable slideshow
Dedicated account manager
Ideal for milestone birthdays
Your colleague has his 50th birthday next week. Grandma's 80th birthday party is fast approaching. Your husband is turning 30. Not every birthday is slideshow worthy. But for the big ones – a slideshow cannot be beat.
With Kudoboard's birthday slideshow maker, we've got you covered.
Create a board with photos, GIFs, videos, and messages. Keep it solely between you & your recipient, or invite others to contribute. On the big day, pull up the Kudoboard to play as a slideshow. Boom, you are officially a birthday hero!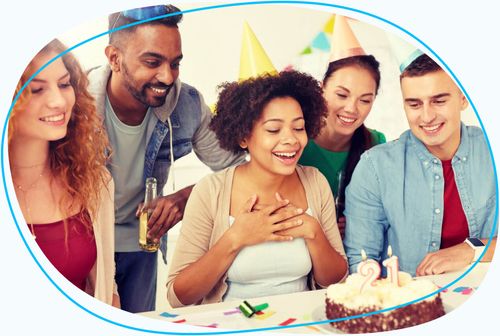 When my best friend turned 21, I created her a birthday slideshow using Kudoboard. I added a ton of pictures myself, and then invited a few other friends to contribute. She loved it!

Laura W. California
Frequently asked questions about Birthday Slideshow
A birthday slideshow is a collection of photos and messages compiled together to play on a loop. A birthday photo slideshow is a great alternate option to a birthday photo display because it takes the hassle away from lugging in a bunch of photos and finding a place to display them. A slideshow can be displayed on any capable device.
A Kudoboard birthday slideshow takes slideshows to the next level with the ability to post a photo, video, or GIF with a corresponding message. Whether it is just for you and them or you invite others to contribute, a Kudoboard birthday photo slideshow will surely be a memorable way to display your birthday wishes.
Making a birthday slideshow is quick and easy with Kudoboard. Any created milestone board can be displayed as a slideshow.
To begin, select "Create a Kudoboard" and select a "Milestone board." If you are a business, select a Business or Enterprise plan. Once you have selected a background, begin inviting anyone you wish to contribute to the board. After you collected all of the photos and messages, simply click the "Play Slideshow" button. This button can be found on the top right of your board or your Dashboard.
In your settings, you will have the ability to decide if you want to display the title, skip videos, or show a QR code. If you need further instructions check here.
There are a handful of ways to make your Happy Birthday slideshow a meaningful part of an event or present. Most people will plan to add a series of pictures, videos, and music but those are general categories. This leaves the directions you can take limitless.
Here are some ideas on how to direct your slideshow:
Make the visuals a timeline of their life.
Compile funny memories from their friends and families
Highlight their year. Include impactful moments, accomplishments, and adventures they had during the year.
Compile a list of ways they have impacted others' lives.
If you need further ideas, be sure to check out a Kudoboard example slideshow to get inspired on which direction to take on your birthday slideshow.
The best birthday slideshow maker is one that creates an impactful photo display while being versatile and easy to use. A Kudoboard birthday slideshow does just that, it accomplishes two essential birthday functions. What begins as an online greeting card full of messages, photos, and videos for the recipient can easily turn into a birthday slideshow.
Creating a birthday slideshow is easy, all you need to do is select "Create a Kudoboard" and select a Milestone or Business plan. Once you have selected a background, start posting photos or invite others to contribute. When the board is complete, select the "Play Slideshow" button at the top right.
Just like that, you have an edited birthday party slideshow that can be turned into a book when the party is complete.
There are a few things to consider when trying to decide on the best song for a birthday slideshow:
What is their age? The last thing you want to do is to play a very mature song at a kid's birthday party. Taking their age into account is very important and will narrow your search.
What is the length of the slideshow? Depending on the length of the slideshow will determine if the song you select will fill the time or if you will need to compile a few different songs to last the entire runtime.
Are the lyrics appropriate for the occasion? Even though a song sounds upbeat, the lyrics may be deceptively dark. It is important to read through and ensure the words match the occasion.
If a song you wish to include meets all of these requirements, chances are the song will pair nicely with your birthday slideshow.
Here are some universal song ideas if you are looking for a starting point:
Forever Young by Rod Stewert
My Wish by Rascal Flatts
Birthday by the Beatles
"Happy Birthday" by Stevie Wonder
A Kudoboard birthday slideshow is free to download. As the board creator, you will be able to download the slideshow to any compatible device. Simply, select "settings" then click "Export video." You will then pick where you wish to download the file. Once the birthday photo slideshow is downloaded, you will be able to display it without the need for an internet connection.
For further instructions, be sure to check out our step-by-step instructions. Here you can find a guide on how to create the slideshow, settings you can change, how to download, and even an example.