How Online Birthday Cards Work
Kudoboard's online birthday cards allow you to gather appreciation from a group, delivered directly to the recipient virtually. 
Birthday Sample
Denali's birthday is coming up. Her brother Kevin started her a surprise Kudoboard and added photos & videos. He was planning to send it directly but decided to invite others to make it a group card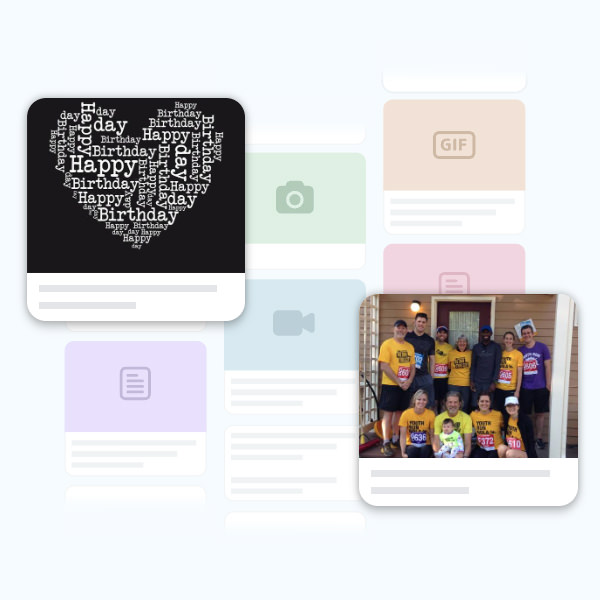 Something for everyone
Choose the option that's right for you — from single group cards to ongoing plans,
for personal use or for the office.
Company Event
Contact us to discuss your needs. Whether recognizing a departing CEO, celebrating a graduation for a university, or honoring caregivers at a hospital – we've got you covered.
In addition to all Milestone board features, company events offer:
Your logo at the top
Board export
Custom pricing
Tagging, likes, & comments
Custom URL
Custom disclaimer
Proactive moderation
Custom input fields
Multiple administrators
Board metrics
Embeddable slideshow
Dedicated account manager
A personalized 30th birthday card done right
eCards were one of the first big hits of the early 90s internet. Sadly, they also became known for cheap, ad-laden sites flashing outdated stock images. If you were wondering "How can I show someone I care…but only just a little?" – eCards were the unfortunate, but true, digital answer to your question.
But not anymore.
With Kudoboard, you can forget about the corny images, popup ads, and spammy looking emails. Instead, you can create a custom card with photos, GIFs, videos, and messages celebrating the recipient's 30th birthday. You can even invite other colleagues, friends, or family to contribute and turn it into a group card.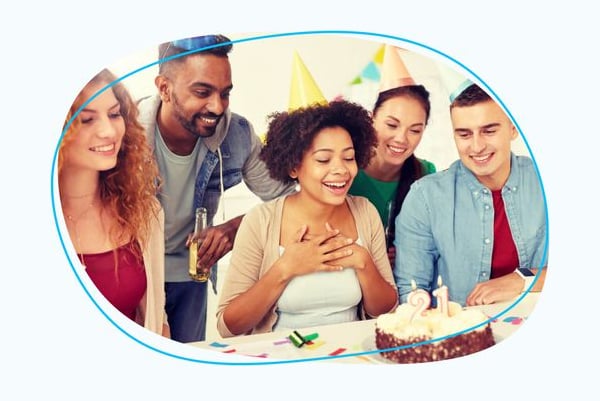 I really enjoyed the birthday card my colleagues created me with Kudoboard. The GIFs were hilarious, and it was super easy to respond and thank everyone.

Geng W. Civic Champs
Frequently Asked Questions about 30th birthday card
A 30th birthday eCard from Kudoboard is a digital way, as an individual or a group, to celebrate someone in your life turning 30. For the individual who is tasked with picking out a card for everyone to sign, spending hours in card aisles hoping to find the one that fits the circumstances (and personalities of everyone involved) can be difficult. With Kudoboard, you can custom-create a board to compile everyone's virtual "30th birthday wishes" right from your computer or phone. On your board, you can add messages, GIFs, images, or videos so that the birthday card can be personalized to the recipient. This makes a great option for those living farther away to still join in on the celebration.
A 30th birthday is usually seen as a pretty big deal. Sure, turning 18 or 21 is when people start treating you like an adult, but around your 30's is usually when you start treating yourself like an adult. Your brain is done growing, you've worked out plenty of those dumb mistakes we all make in our 20's, and now you get to start figuring out what you really want in life. Plus, you are still a few good years away from a midlife crisis. It's an exciting time in life, and we think it's an important milestone to celebrate!
We think so. Gifts are great, but cards give us a chance to say what we need to the people we care about on their special day. Sometimes the message inside makes more of an impact than a present ever could. Handmade or storebought cards have been the standard for a long time. However, virtual birthday cards have begun to gain popularity and we personally think they deserve a high ranking as well. Here's why:
They are Convenient: no driving to the store or spending hours trying to make your own. With just a few clicks you have not only created the card but sent it as well.
They Last Longer: A virtual card can't have a cup of orange juice spilled on it, or accidentally trampled by your dog when she has the zoomies. It is tucked away safely to pull up whenever you need it.
They are Nice to Mother Nature: In a time where we are all trying to be more environmentally conscious, choosing an eCard over a paper one is a small choice to help make a big difference
They are Customizable: Kudoboard's 30th birthday cards are made to be exactly how you want them to be. No more searching aisles wondering how you are going to find what you need. Just hop on our website and in minutes you will have a personalized gift for whoever is turning 30.
They are Fast and Easy: Whoops – your cousin is turning 30 today instead of next week like you thought? No worries here! Choosing a virtual option for her 30th birthday card means you can have something set up in less than 10 minutes (and she never has to know this wasn't planned all along).
You no longer have to worry about whether or not you are a masterfully skilled birthday-card-maker, because Kudoboard has your back. We have made this process so simple, anyone can do it!
Once you click on that blue "create a kudoboard" button, our template will walk you through each step of the card-making process quickly and easily. You will be prompted to input the name of your recipient, a name or title for your board, and to select which type of board fits your needs best (birthdays & celebrations). From there, try out a variety of backgrounds until you find the right one. Voila! Your board is created. Now that we have taken away the time-consuming stress of actually making the card (like the hours you spent last year on that candy bar birthday card) you can use the rest of your time filling the board with all of the 30th birthday love your recipient deserves!
That is the money question, isn't it? In our opinion, this is the most important part of the card; the make-it-or-break-it piece (no pressure). No one knows your recipient the way that you do, so only you can really know what they will want to hear. We aren't the kind of friend to leave you stranded though, so below are a few ideas to get you started depending on what kind of 30th birthday card you need:
Funny:
"R.I.P. to your 20's, It looks like they are officially expired."
Sarcastic:
Happy Birthday! You don't look a day over 29!"
Romantic:
"If I had to do the last 30 years over again, I would find you sooner and spend every extra day with you I could. I love you!"
Cute:
"Happy Birthday! In banana years, I think you are bread now"
Puns:
"Happy Birthday! 30's are pretty rad(ish) – (with a picture of a radish next to it)
Whoever you need one for! Kudoboard makes it easy to customize it according to your recipient. Grandma needs a card for her granddaughter? Check. Mom needs a card for her brother? Check. You need a card for your twin best friends? Check and check. Whichever person in your life is turning 30, our virtual birthday cards are the way to go!
Pricing for your 30th birthday eCard varies depending on your need. Kudoboard offers a free mini-board to anyone needing 10 or fewer posts on their board. Our premium board, which is our most popular, is $5.99 and allows for up to 100 posts and the option of adding videos. This would give you plenty of room to put as many things on the board as you want, and even invite friends and family to join in! From there, we have a variety of options for larger groups, companies, or milestones that start at $20 a board.
For larger events contact us for custom pricing.
Yes! That is one of the aspects that Kudoboard does best. While it is great to have the ability to give your friends and family a virtual birthday card just from you, it might be even more meaningful to include other important people in their life. Picture their face when they click on the link and the screen is filled with pictures, messages, and videos wishing them a happy 30th birthday. That is sure to be something treasured for a long time.
Our free mini-board allows for up to 10 posts. It's perfect for just you or a couple of other individuals to wish someone a happy 30th birthday. Our most popular birthday board, our premium board, bumps you up to a 100-post maximum for $5.99. The premium board also gives you the perk of adding videos to the online 30th birthday card. With this option, you can send a link to all of your friends and family inviting them to contribute to the board and join in on the fun.
We know that, sometimes, just having a digital option for a 30th birthday card isn't enough. That's why we have printing options for you! Kudoboard allows the option to have the board printed as a beautiful, hardbound book, or as a high-resolution poster.
Once your board is full of the posts you want, you can select the option to have it printed as a book so a 30th birthday can be remembered in a tangible way. Our books come with a 7"x7" hardcover and have an image-wrapped, matte finish. We ship anywhere in the US, or to many countries worldwide.
If you choose to have the virtual 30th birthday card printed as a poster, you have the option of 12", 24", or 48" wide. We can print and ship you a beautiful, semi-gloss poster, or you can download a high-resolution image of your board and print it on your own.
Can't find all of the information you were looking for here? Come check out our blog! We are regularly posting new content to help you find what you need. Since you are currently on the "30th Birthday Card" FAQ, here is a link to some posts to get you started.
Once you are over on the blog, feel free to poke around and see if any other content piques your interest! And, as always, we love hearing from you – so please contact us with any unanswered questions!