How Online Group Cards Work
Kudoboard's online group cards allow you to gather appreciation from a group, delivered directly to the recipient virtually.
Sample use
Julia Petro is a teacher, and her class decided to start her a Kudoboard – just because. Parents and their children have begun to contribute, and the online board will be delivered at the end of the week.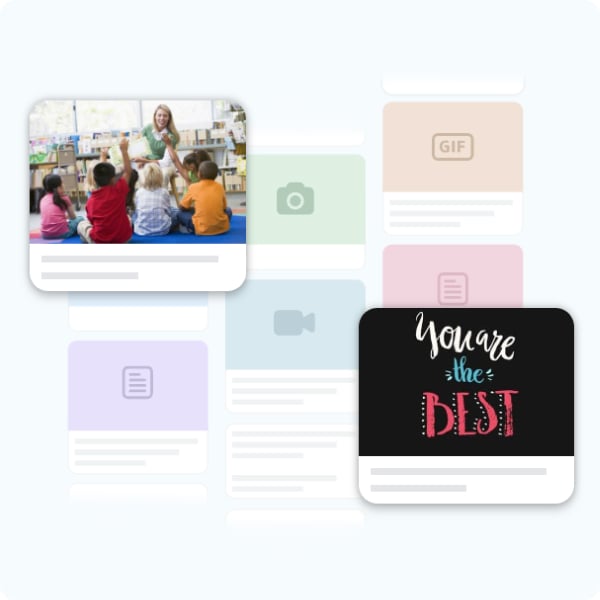 Something for everyone
Choose the option that's right for you — from single group cards to ongoing plans,
for personal use or for the office.
Company Event
Contact us to discuss your needs. Whether recognizing a departing CEO, celebrating a graduation for a university, or honoring caregivers at a hospital – we've got you covered.
In addition to all Milestone board features, company events offer:
Your logo at the top
Board export
Custom pricing
Tagging, likes, & comments
Custom URL
Custom disclaimer
Proactive moderation
Custom input fields
Multiple administrators
Board metrics
Embeddable slideshow
Dedicated account manager
Finally, an online card done right
You've seen it before. Your group wants to appreciate someone, so a card with a manila folder is passed around. There's barely space on the card for people to add a note (let along a signature!). And five team members are traveling for a conference while another one works remotely — so getting everyone to sign is basically impossible.
With Kudoboard, there's a better way.
Inviting team members to contribute, wherever they are, is a breeze. Simply send them the link to the board or use our system to email them an invitation. Then sit back, relax, and watch the posts roll in. Folks can add photos, GIFs, & videos to make the congratulations personalized for the recipient.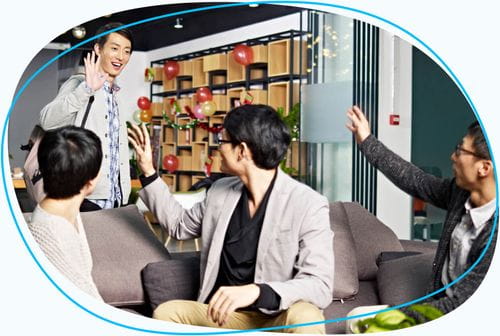 Kudoboard was a great way to send a colleague a card, just because. I added a message + GIFs, invited a few other folks to post, and then delivered it last week. She loved it!

Sonya L New York
Frequently asked questions about Just Because Cards
An online just because card from Kudoboard is a digital way, as an individual or group, to show you care on days when it's least expected. Everyone is familiar with choosing cards and gifts on special days like birthdays, anniversaries, and holidays. But what about the days in between? Those are the perfect times to give a just because card to let someone know you are thinking about them.
For the individual tasked with picking out a card for everyone to sign, spending hours in card aisles hoping to find the one that fits the circumstances (and personalities of everyone involved) can be difficult. With Kudoboard, you can custom-create a board to compile everyone's digital messages directly from your computer or phone.
Let's say one of your friends has been working hard through difficult challenges, and your group of friends wants to shower her with love, just because, to help her feel seen. Rather than passing a card around for everyone to sign, you can instead choose a "just because" board on our website, and send each friend a link where they can add their contributions. Kudoboard allows you to add messages, GIFs, images, or videos to the board so that it can be personalized with inside jokes, memories, and messages your friend will appreciate. This makes a great option for those who live far away to still join in on the fun.
It is common to gift our friends and family cards on special days like birthdays, anniversaries, or holidays, and also in challenging times like breakups, deaths, or other losses. But sometimes we want to show someone we care on a seemingly ordinary day so that they feel loved and seen – just because. Sending a just because card is the perfect way to do that. Our friends and family need to feel our love and support on the good days, the bad days, and everything in between. None of us can be sure how those around us are feeling and what they are going through, so it is important to let them know we are thinking about them on the days they least expect it.
Anyone! The nature of a virtual just because card is not to have a specific reason, it's meant to simply be a "thinking of you" card. This makes it a great option for anyone in your life whose day you want to brighten. Here are some examples of people you can give a just because card:
Friends
Boyfriend or girlfriend
Mom or Dad
Brother or sister
Grandparents
Daughter or son
Grandchildren
Teacher
Coworker
We have worked hard to make the process of designing a just because ecard so simple, anyone can do it!
Once you click the "Create a Kudoboard" button on our website, our template will walk you through each step quickly and easily. You will be prompted to input the name of the recipient and a title for your board, and then you will select which type of board fits your needs best. From there, you can try out a variety of backgrounds until you find the right one. Voila! Your just because card is created!
Now comes the fun part: adding in the virtual "thinking of you" messages from you and/or members of your group. We suggest that, as the creator of the board (hats off to you), you do the honors of the first post. That way, when others come to add in their messages, they have an example of your creative ingenuity (you're welcome) as well as how this virtual just because card works.
If you are sending a group love card, send everyone a link or email inviting them to contribute, and watch as the board fills with messages your recipient deserves. You will be amazed at how seamless and easy the process is.
Knowing the perfect thing to write in a just because card can be hard. You want it to be personal and meaningful so that the recipient feels seen and loved. Attaching photos and videos onto your Kudoboard just because card is a great way to make a lasting impression, but it still doesn't solve the problem of "what do I write?" While we don't know your specific circumstances or relationship, we can point you in a few directions to help you come up with the perfect message. Here are some just because card examples to get you started:
"Just because I was thinking of you on a Thursday means you are getting this card today. I wanted you to know that I love you!"
"I know I don't say it as often as I should, so I am taking this chance to say how much you mean to me"
"I wanted to make sure someone told you today how amazing you are"
"My life is better with you in it, and I just thought you should know that"
"You always make my day brighter so I wanted to send you this card to hopefully brighten yours!"
We know that, sometimes, just having a digital option for a just because card isn't enough. That's why we have printing options for you! Kudoboard lets you choose to have your board printed as a beautiful, hardbound book, or as a high-resolution poster.
Once your board is full of the posts you want, you can select the option to have it printed as a book so your loved one has a tangible way to remember your gift. Our books come with a 7"x7" hardcover and have an image-wrapped, matte finish. We ship anywhere in the US, or to many countries worldwide.
If you choose to have the just because card printed as a poster, you have the option of 12", 24", or 48" wide. We can print and ship you a beautiful, semi-gloss poster, or you can download a high-resolution image of your board and print it on your own.
Still have more questions? Come check out our blog! We regularly post new content to help you find what you need. Once you are there, feel free to poke around and see if any of the other content piques your interest. And, as always, we love hearing from you – so please contact us with any unanswered questions!