How Online Group Cards Work
Kudoboard's online group cards allow you to gather appreciation from a group, delivered directly to the recipient virtually. 
Sample use
Johanna has worked at her company for the past 5 years. She received an administrative professional day card from her colleagues and loved all the fun GIFs and notes of appreciation.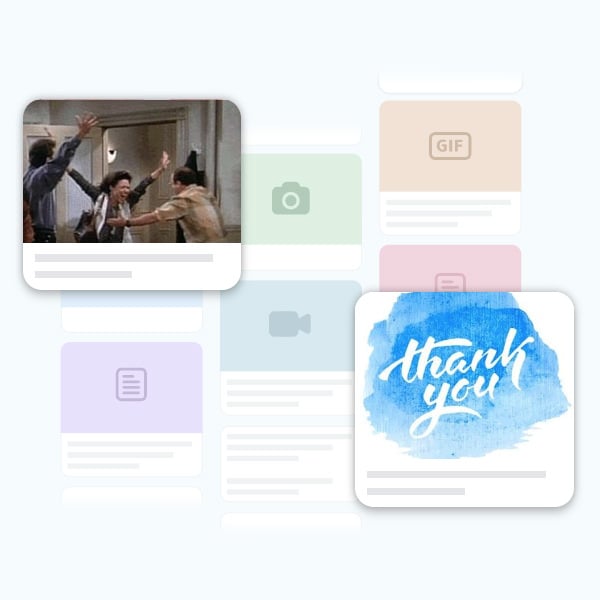 Something for everyone
Choose the option that's right for you — from single group cards to ongoing plans,
for personal use or for the office.
Company Event
Contact us to discuss your needs. Whether recognizing a departing CEO, celebrating a graduation for a university, or honoring caregivers at a hospital – we've got you covered.
In addition to all Milestone board features, company events offer:
Your logo at the top
Board export
Custom pricing
Tagging, likes, & comments
Custom URL
Custom disclaimer
Proactive moderation
Custom input fields
Multiple administrators
Board metrics
Embeddable slideshow
Dedicated account manager
Finally, a group card done right
You've seen it before. Administrative Professionals day is just around the corner and someone starts to pass around a card in a manila folder for everyone to sign. There's barely space on the card for people to add a note (let along a signature!). And five team members are traveling for a conference while another one works remotely—so getting everyone to sign is basically impossible.
With Kudoboard, there's a better way.
Inviting team members to contribute, wherever they are, is a breeze. Simply send them the link to the board or use our system to email them an invitation. Then sit back, relax, and watch the thank you messages roll in. Team members can add photos, GIFs, & videos to make the card personalized for the recipient.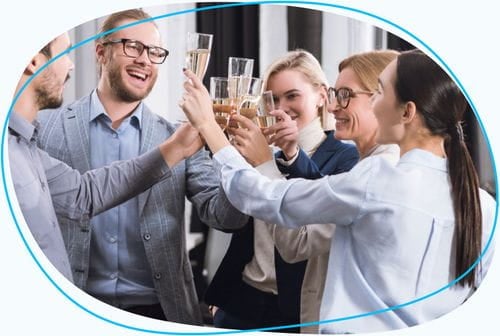 I created a card recognizing Jessica for Administrative Professionals Day. She loved it, and it was so easy to gather notes from our department (even though we are spread out across the country!).

Paul L. Wisconsin
Frequently asked questions about Administrative Professionals Day Card
Administrative Professionals Day is the day we acknowledge and appreciate the administrative professionals who work tirelessly to keep companies running smoothly. They work behind the scenes and often have their hard work unnoticed. Celebrating Administrative Professionals Day allows us to shine a light on all that they do and make sure they know how much they are appreciated. Administrative Professionals Day cards are often used, but with Kudoboard you can make that gift extra special by creating a customizable group card. Having all of the team members who benefit from admin professionals come together to share photos, GIFs, videos, and messages can make your celebration of Administrative Professionals Day much more meaningful.
Administrative Professionals Day is celebrated every year in the United States on the last Wednesday in April. So while it is not always on the same date, knowing exactly when it falls every year makes it easy to still plan ahead. Once April rolls around you can start looking for Admin Professionals Day card ideas so that you have the perfect card ready once the day arrives. Using Kudoboard for your group Administrative Professional card allows you to get a head start on it and allow other participants to contribute throughout the month.
Administrative Professionals Day started as Secretaries Day but was later changed to include other well-deserving administrative employees. Here is a list of those you can thank with an Administrative Professionals Day card:
Secretaries
Receptionists
Administrative assistants
Personal assistants
Executive assistants
Administrative support
Client Service Representatives
The unsung administrative heroes of our companies deserve the best of the best. When it comes to giving them an Administrative Professionals Day card, you might be wondering what to write or what to say to make sure they know how much you appreciate them. While we might not know exactly what messages your admin professionals will love most, here are some ideas to get you started:
"All of your hard work does not go unnoticed. Thanks for all that you do, we would be a mess without you!"
"You are truly the magic glue that holds this team together"
"I don't know how you always seem to go above and beyond in everything you do – you are such a joy to work with and I am grateful to have you!"
"Happy Admin professionals day! I'll try and convince the boss to let you leave early so you can have a break from the rest of us. You've earned it!"
"I am pretty sure your hard work and organization is the only thing keeping me sane. Happy administrative professional's day!
"I know this job can be stressful at times, and you work so hard to keep things running smoothly. But life would be pretty boring without having to save our butts all of the time, don't you think?"
We have worked hard to make the process of designing a group Administrative Professionals Day card so simple, anyone can do it!
Once you click the "Create a Kudoboard" button on our website, our template will walk you through each step quickly and easily. You will be prompted to input the name of the recipient and a title for your board, and then you will select which type of board fits your needs best. From there, you can try out a variety of backgrounds until you find the right one. Voila! Your admin professional card is created!
Now comes the fun part: adding in the virtual messages of appreciation from you and the members of your group. As the creator of the board (hats off to you), we suggest you do the honors of the first post. That way, when other team members come to add in their messages, they have an example of your creative ingenuity (you're welcome) as well as how this virtual Administrative Professionals Day card works.
Once you have your contribution done, send everyone else a link or email inviting them to contribute, and watch as the board fills with messages that your admin professional deserves. You will be amazed at how seamless and easy the process is!
Yes! Kudoboard offers a free mini-board to anyone with a small group of contributors (10 or fewer posts per board). This is a great option for smaller companies with only a handful of employees who will be contributing.
Our premium board, which is our most popular, allows for up to 100 posts, and the option of adding videos, for $5.99. This board is most commonly used in business settings. For larger groups, companies, memorials, or milestones we have options that start at $20 per board, or contact us for custom pricing on bigger events like CEO departures, graduations, or fundraisers.
Click here if you are interested in our business plan that gives you unlimited boards and other resources to fit all of your workplace appreciation needs (believe us, your administrative professionals will thank you!).
We understand that having a digital option for an Administrative Professionals Day card isn't always enough. That's why we have printing options for you! Kudoboard lets you choose to have your board printed as a beautiful, hardbound book, or as a high-resolution poster.
Once your board is full of the posts you want, you can select the option to have it printed as a book so your recipient has a tangible way to remember your gift. Our books come with a 7"x7" hardcover and have an image-wrapped, matte finish. We ship anywhere in the US, or to many countries worldwide.
If you choose to have the Administrative Professionals Day card printed as a poster, you have the option of 12", 24", or 48" wide. We can print and ship you a beautiful, semi-gloss poster, or you can download a high-resolution image of your board and print it on your own.
Still have more questions? Come check out our blog! We regularly post new content like this one regarding Administrative Professionals Day to help you find what you need. Once you are there, feel free to poke around and see if any of the other content piques your interest.
As always, we love hearing from you – so please contact us with any unanswered questions!