How Online Group Cards Work
Kudoboard's online group cards allow you to gather appreciation from a group, delivered directly to the recipient virtually.
Sample use
Miriam is an actress performing in an upcoming production of A Midsummer Night's Dream. Her family started her a Kudoboard and will deliver it online and in printed form on opening night.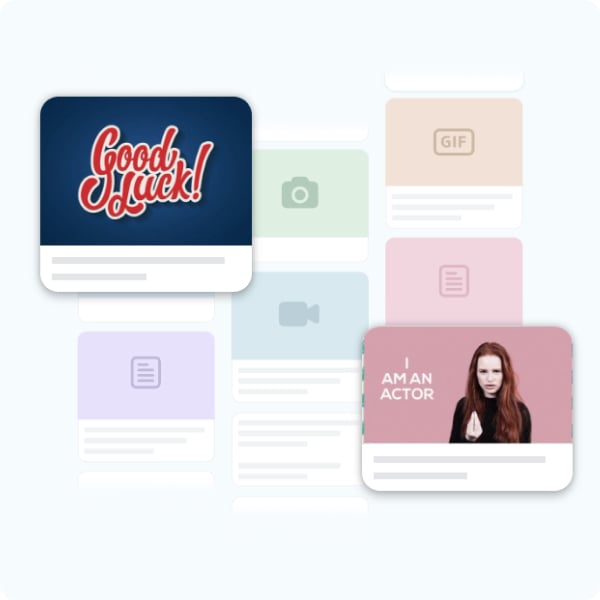 Something for everyone
Choose the option that's right for you — from single group cards to ongoing plans,
for personal use or for the office.
Company Event
Contact us to discuss your needs. Whether recognizing a departing CEO, celebrating a graduation for a university, or honoring caregivers at a hospital – we've got you covered.
In addition to all Milestone board features, company events offer:
Your logo at the top
Board export
Custom pricing
Tagging, likes, & comments
Custom URL
Custom disclaimer
Proactive moderation
Custom input fields
Multiple administrators
Board metrics
Embeddable slideshow
Dedicated account manager
Personalized Good Luck Cards, Done Right
You've seen it before. A colleague is moving offices and someone starts to pass around a card in a manila folder for everyone to sign wishing them the best of luck. There's barely space on the card for people to add a note (let along a signature!). And five team members are traveling for a conference while another one works remotely — so getting everyone to sign is basically impossible.
With Kudoboard, there's a better way.
Inviting team members to contribute, wherever they are, is a breeze. Simply send them the link to the board or use our system to email them an invitation. Then sit back, relax, and watch the Good Luck posts roll in. And we're not just talking about a short note + a signature. Team members can add photos, GIFs, & videos to make the note truly personalized for the recipient.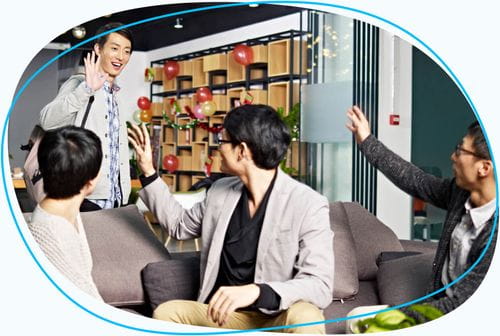 You have such a terrific product!! I created the card for my manager who resigned suddenly, as I wanted a way for her to know how much she'd be missed and to wish her good luck. Not everyone is connected via social media, so this was a fun way to give her her own personal wall with memes and animations. Now she can look at her messages wherever she is!

Susan P. MHE Education
Frequently asked questions about Good Luck Cards
A good luck card is a greeting card made specifically to wish someone luck on something upcoming. The card can be wishing someone luck on an exam, a new job or position, on an important interview, or any other occasion where you wish to encourage them. A good luck card can also be a simple way to give a confidence boost to a friend to get through a challenge.
A Kudoboard good luck cards can help you compile messages of good luck from a group sure to encourage your loved one. Simply create a board, select a background, and ask contributors to post messages, videos, or funny GIFs.
The goal of a good luck card is to motivate someone in a new challenge, adventure, or circumstance. A message of any length can be encouraging as long as you show you care. Here are some of our favorite things to for wishing good luck to someone in your life:
"I know today won't be easy, but I also know you are up to the challenge."
"You worked hard to get to this point. No matter the outcome, I am proud of you"
"I am excited for you and your family to start the next chapter of your life. I wish you the best of luck on this new journey."
"Congratulations on the promotion. I knew your hard work would pay off."
"Congraulations! May the odds be ever in your favor, but if not, there's always next time!"
"Best of luck! If everything goes wrogn, there's always a career as a professional bingo caller."
We have made making good luck ecards simple. First, select "Create a Kudoboard." Then, fill in the template and design the card to your liking. When finished designing, you can invite others to contribute good luck messages to the card. Our cards allow contributors to add flare with GIFs, photos, and Videos. Before you send out the card, be the first to sign. Doing so will enable others to see the possibilities for their contribution. Once all have posted, the recipient will have a host of messages wishing good luck from a group of people cheering them on.
Once it is time to deliver the card, all you need to do is schedule delivery or print it off. For more detailed instructions, check out our step-by-step guide, 'How Do I Create a Kudoboard?' You can see an example of what a good luck ecard can look like by checking this example.
Yes! All of our Kudoboard Good Luck Cards are easily printed. After you create your board and all the contributors have posted, you are ready to print. Here at Kudoboard we provide a few different options for different options for printing. You can print a poster through us, download and print at a local print shop, or have us create a book.
To print a poster through us, follow these steps:
In editor mode, select the eye icon to 'view as recipient.'
Click the printer icon.
Select poster
Customize print size and select 'Print and Ship.'
Calculate the price and order the print.
If you want to print the card at your local print shop, download the JPG version of the board. To do this, follow these steps:
Open your board
Next to the board's title, choose the 'Download or Print' button
Select the digital delivery option ensuring the blue poster button is selected.
Download the file from your email.
For more detailed instructions or a demonstration video, check out 'What is a Digital Download for a Kudoboard?'.
A student's educational journey can be a stressful thing. Whether it is finals week, an upcoming presentation, a scholarship application, or applying to advance in college or graduate school, a good luck card can be a great way to encourage students.
But it can be hard to know what to say that will actually make an impact during these hard days. The good news is, most students will just appreciate knowing someone knows they have something important and is wishing them the best. So the pressure is off!
Here are some of our favorite ways to say good luck to students:
"Thinking of you on this important test day"
"Test suck but you rock!"
"I can't wait to see what you do this semester! Best of luck!"
"No matter the outcome of the application, I am proud of you for how hard you worked to get here."
"Good luck with the presentation today. You've got this!"
Finding a new job is a major deal for most people. Whether it is a promotion, a better situation, or simply trying something new, they are bound to be excited and nervous about this new opportunity. Thankfully, making a good luck card for a new job is quick and easy with Kudoboard. At Kudoboard, you can make a good luck ecard unique to your needs. Simply select "Create Kudoboard" and begin creating.
Our boards allow for you to invite others to contribute to your messages of congratulations and good luck. Once everyone has contributed, the recipient will receive a board full of GIFs, memes, videos, and messages to encourage them as they being their new job.