How Online Group Cards Work
Kudoboard's online group cards allow you to gather appreciation from a group, delivered directly to the recipient virtually.
Sample use
Father's Day is coming up next week. Bill's son Jacob started him a Kudoboard, invited his siblings to contribute, and will send the online board to Bill on Father's Day!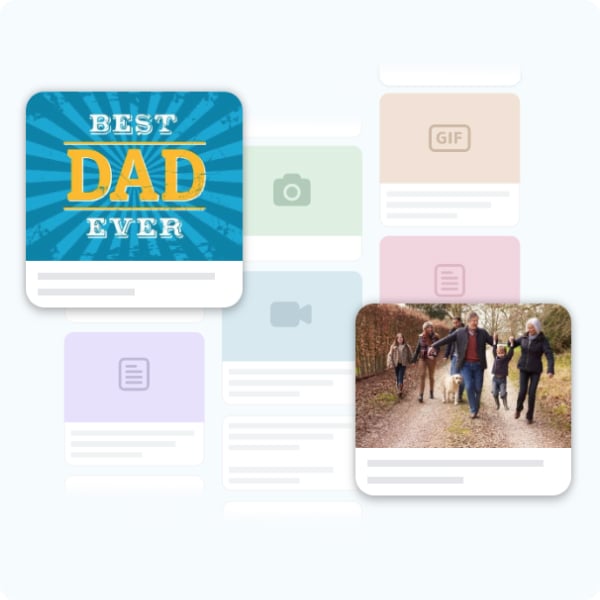 Something for everyone
Choose the option that's right for you — from single group cards to ongoing plans,
for personal use or for the office.
Company Event
Contact us to discuss your needs. Whether recognizing a departing CEO, celebrating a graduation for a university, or honoring caregivers at a hospital – we've got you covered.
In addition to all Milestone board features, company events offer:
Your logo at the top
Board export
Custom pricing
Tagging, likes, & comments
Custom URL
Custom disclaimer
Proactive moderation
Custom input fields
Multiple administrators
Board metrics
Embeddable slideshow
Dedicated account manager
Personalized Father's Day cards, done right
eCards were one of the first hits of the early 1990s web. Unfortunately, they also became known for low-quality, ad-laden sites flashing outdated stock images. If you were wondering "How can I show Dad I care about him…but only a little bit?" – a Father's Day eCard was the unfortunate, but accurate, digital answer to your question.
But not anymore.
Forget about the corny jokes and annoying popups. With Kudoboard, you can create customized, online cards with pictures, videos, and notes celebrating Father's Day. You can even invite the rest of the family to contribute and turn it into a group card.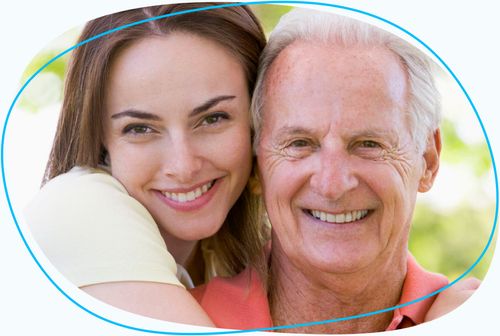 I used Kudoboard for Father's Day because I don't live in the same place as my Dad. I loved the ability to add so many memorable photos and videos. Overall, a fantastic Father's Day card for when the family isn't all in the same location!

Cynthia S. North Carolina
Frequently asked questions about Father's Day card
Father's day is a special day to celebrate and thank all of the men who have had an influence in our lives. These may include father's, uncles, brothers, or anyone who has been a father figure in your life. Father's day is all about celebrating men who have made great efforts to provide support.
To Husband
"Thank you for providing for our family and making us all feel so loved. Our children are blessed to have you as their father, and I couldn't ask for a better husband. We love you!"
"Thank you for being an example of patience and kindness to our children (and to me), we are all so lucky to have you!"
"The kids love you so much and you bring us so much joy daily. Thanks for being a fun and patient father, we are pretty obsessed with you!"
To Father
"Dad, thank you for helping me with my homework and being patient with me. Sorry for giving you extra gray hairs. I love you!"
"Dad, thank you for being an example to me, I am the father/mother I am because of your example and influence."
"Dad, thanks for being such a great dad to all of us. Thank you for being patient, kind, and an example of hard work to me. I love you!"
To Grandpa
"Grandpa, thanks for always taking my phone calls and helping me to feel loved. You are not just my grandpa, but my friend. I love you!"
"Grandpa, we all love you and are grateful to have you in our lives! Happy Father's day and thank you for always being there for us when we need you!"
To Son
"Happy father's day to a great man. It has been amazing to see you become a father. Your children are lucky to have you in their lives!"
For more ideas on what to write, you can always include a fun memory, reasons why the recipient is loved, or include photos.
Father's day eCards are simple and affordable to make! There are many eCard sites out there, and Kudoboard is an excellent choice.
To make a Father's day Kudoboard, simply go to the website and click "create a kudoboard". Fill out all the information (who the card is for, what the occasion is (click Father's Day), and if you are collecting gift card funds). Next, choose the type of board you need. For more information about the type of boards Kudoboard offers, including pricing, read here. Finally, start customizing your board. With Kudoboard, you can customize the background, add multiple types of media, and more. The men in your life will feel loved and appreciated!
There are many free options for eCards, including Kudoboard. Kudoboard's mini board is free, and offers options for up to 10 board posts (or 10 contributors). These board posts can be typed messages, gifs, and photos. If you want to add a video, you can upgrade to a premium board for only $5.99. With the premium board, you can have up to 100 board posts (or contributors).
To help little ones make a father's day card, you can always make handprint art, include photos, or help the children answer questions (survey style) about their fathers. Children can also draw a portrait of their dad to include in the card.
Father's day falls on the third Sunday of June every year. Don't forget to celebrate the special men in your life this June!