How Kudoboard Helps You Remember Loved Ones
When a special event or occasion happens in life, you want to memorialize it. You may photograph it, video it, and receive messages from friends and loved ones. You can have all of these amazing mementos, but if they are all separate and not in one designated place, you'll be chasing them down or giving up on them.  The most fantastic and effective solution to scattered memories is to make a Kudoboard!
What is a Kudoboard?
A Kudoboard is the best way to gather a group of people and give them one place to show appreciation. No matter what type of group it is (i.e., coworkers, family members, friends), it is a central place for people to upload photos, videos, and messages for the person you want to show appreciation for. Some perfect occasions for a Kudoboard are:
Below are some fun ways to use a Kudoboard during these special occasions!

Birthdays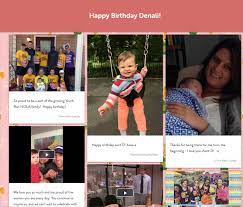 Birthdays should always be celebrated. This year instead of sending a card around the office for everyone to sign, make a Kudoboard. No matter if you are all in a workplace together or working remotely, you can log on to the Kudoboard and add your birthday wishes. On their special day, you can give your coworker the Kudoboard that will include birthday messages, photos that you have of them, and any video clips.
Not only is a Kudoboard great for the workplace, but it is a beautiful gift from family members or friends as well. No matter where your friends or family are in the world, they can wish their loved one a happy birthday this year. If you have an older picture of your friend, you should upload them to the Kudoboard. It will be such a great gift for their birthday and a great way to honor them on their special day.
If you have a loved one that has passed away and it is their birthday, consider making a Kudoboard for their family. This will be a great place to share memories and birthday wishes. The family will appreciate that you remember their family member's birthday and enjoy reading the messages and seeing pictures of them.
Remembering a Loved that has Passed Away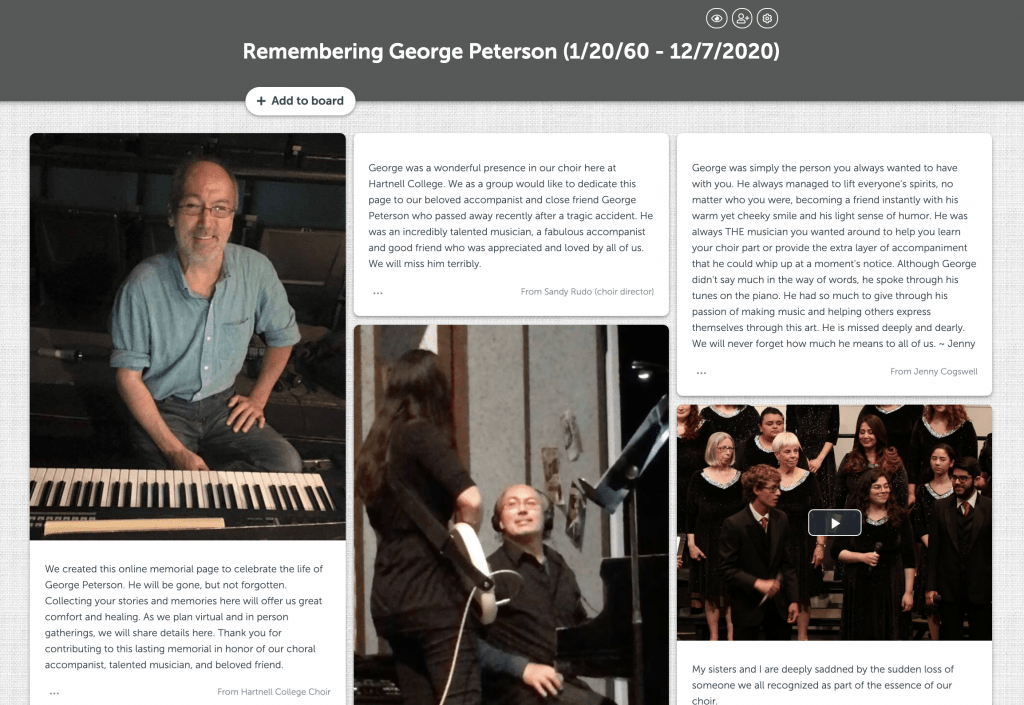 A fantastic way to use a Kudoboard is to remember a loved one that has passed away. Grief can be a consuming feeling after you lose a friend or family member; reading messages of condolence and stories of their life will help during difficult times.
Why is a Kudoboard the best way to express condolences? ❤️ It's a thoughtful and heartfelt way to bring family members, friends, and colleagues together to honor the life of a loved one. Everyone can add messages, photos, and videos of tribute.
Learn more about our online memorials
A great memorial to your loved one will be to have a place where others can put messages, pictures, and videos to honor their friend or family member. A Kudoboard is accessible to people all over the world. Any friend, past coworker, or family member can log on to the Kudoboard and read others' messages and make one of their own. They can even start a conversation about your loved one's life. It will be a great way to show remembrance and help during your and their time of grief.
There are probably so many photos of your family member out there that you have never seen. Providing a beautiful way to share your loved one's image can be made easy with a Kudoboard. You and all of those that have access to view the board will love to see them at different stages of their life. The stories, messages of condolences, photographs, and videos will all help with the grieving process.
Anniversaries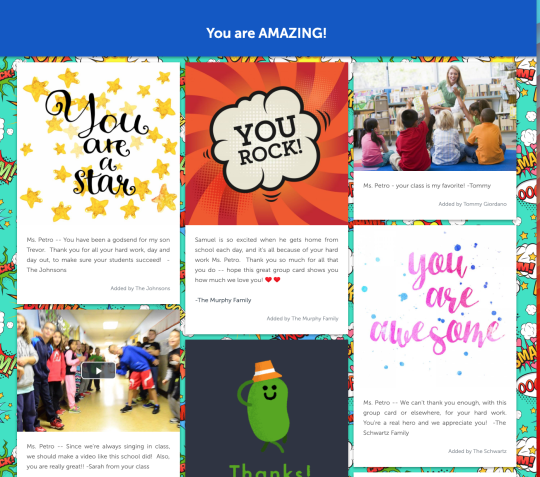 Anniversaries are a great reason to create a Kudoboard! There are so many different types of anniversaries that you can celebrate:
Wedding
Work
The date of the passing of a friend or family member
The date of a significant milestone in life
If it is your parents' 50th wedding anniversary, make a Kudoboard. You can have all of their children, grandchildren, relatives, and friends upload messages and images from the past 50 years. Imagine their surprise to see so many different stories and pictures from the life that they built together.
A work anniversary or a significant milestone in someone's life (i.e., ten years cancer-free, an adoption date, college graduation) are great reasons to celebrate with a kudoboard. Letting the person you are celebrating know that you remember and care with a Kudoboard is a great way to show them love.
Honor the life of the person that has died with a Kudoboard. The anniversary of a loved one's passing can be difficult for the family. Often we remember the grieving family right after the death of a loved one, but each year that passes can be just as hard. A great memorial to them will be sharing all of the stories you remember about them with their family.
Holidays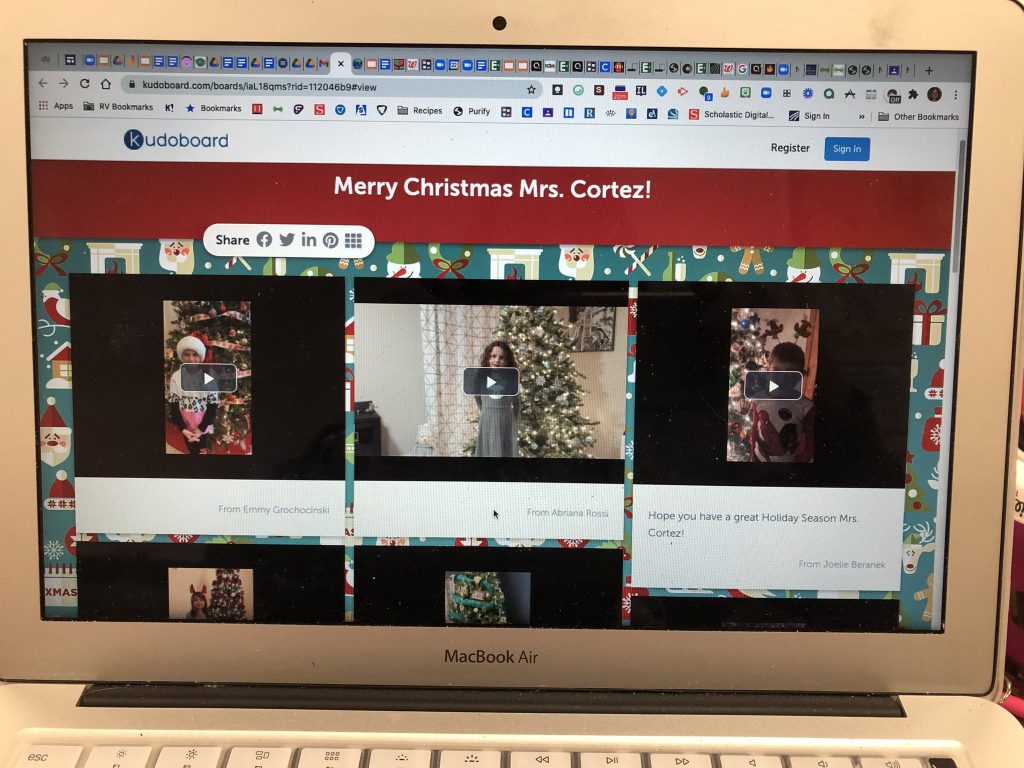 Holidays are an excellent time for a Kudoboard. Whether you want to make one for Christmas, Valentine's Day, Easter, or Veteran's Day, it will be a welcome gift. You can show your love for someone on a holiday with a Kudoboard. For Christmas, you can create a board for your child's teacher and have the parents upload a video or message wishing their teacher a Merry Christmas. It will be something that their teacher will treasure.
Remembering our Veterans each year with a Kudoboard is a great way to honor them. Suppose you have photos from when a family member served in the military. In that case, you can upload them to a Kudoboard and have others write messages of thanks.
Retirement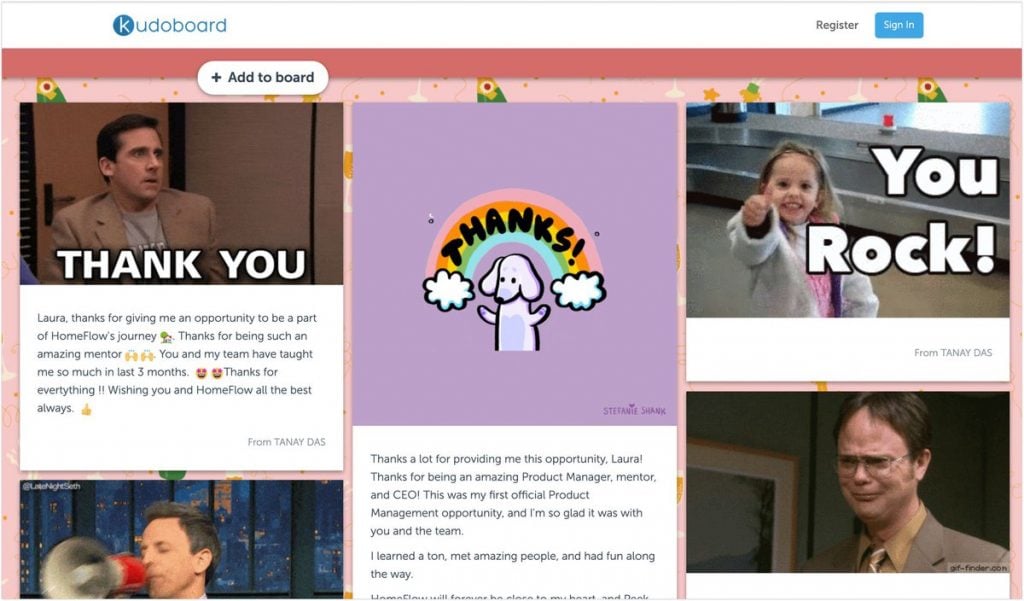 When your coworker has decided to retire, you should make them a Kudoboard. There are probably so many current and past employees of your workplace that would like to give them well wishes on their retirement, and a great way to do that is with a Kudoboard. Instead of doing a card, make them a board and include pictures of them throughout their time in the workplace.
There are probably people whose lives they have touched or mentored in the past that would love to tell them thank you. Saying farewell to a coworker can be bittersweet, but you will appreciate having a place to express yourself. A Kudoboard is a great place for those people to express gratitude and let them know how much they appreciate them.
Get Well Soon
When a friend has been going through a difficult time with an illness, you want to do something to raise their spirits and help them feel better. You could ask friends and family members to record videos or write messages letting them know you are all thinking of them during this challenging time. A great place to gather those get well soon messages would be on a Kudoboard. Give them something to smile about with some funny images or words of love and affirmation.
Sickness can be so debilitating, but if you have something to look at and feel better, it will help you feel cared for and loved. Show your love to the person in your life that is suffering right now by organizing a Kudoboard.
What to Do With Your Kudoboard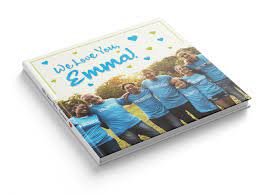 An amazing feature of Kudoboard is that you can print it and make it into a book! Suppose the Kudoboard was made as a memorial for some who passed away. In that case, you can print multiple copies of it and give it to their friends or family members as a gift. It will be a fantastic keepsake for them to go back to so that they can remember their loved ones.
At any time, you can also download a copy of the kudoboard. You will be able to save your digital copy to your computer so that you can always have access to it.
Conclusion
If you are looking for a unique way to celebrate someone you love, make them a Kudoboard. There are so many different occasions and reasons to create a board. From birthdays and holidays to memorials, you can capture a loved one's life in the form of a Kudoboard and then print it so that it can be treasured for years to come. Go check out Kudoboard and start building today.