Thank You Messages for Veterans
At Kudoboard, we're always encouraging gratitude. It's a life-changing practice that can totally transform your relationships—and day-to-day satisfaction. November is a beautiful month centered on gratitude as we progress toward Thanksgiving. But before we get to Thanksgiving, we have an opportunity to express gratitude for the true heroes in our midst. Today we're brainstorming ways that we can thank veterans for everything they do for us and this nation, including what you can say in your Veterans Day thank you messages.

When is Veterans Day?
Veterans Day is celebrated on November 11, and may feature a moment of silence at 11 am. If Veterans Day falls on a weekend it may be observed on the closest business day.
What is Veterans Day?
Veterans Day is an acknowledgment of the bravery and sacrifice that our military has demonstrated throughout American history. On November 11, 1918, the fighting ceased for The Great War, or World War I. The following year, President Woodrow Wilson declared this Armistice Day and said the following:
"To us in America, the reflections of Armistice Day will be filled with solemn pride in the heroism of those who died in the country's service and with gratitude for the victory, both because of the thing from which it has freed us and because of the opportunity it has given America to show her sympathy with peace and justice in the councils of the nations…"
In 1954, after World War II and Korea saw record numbers of American military serving in foreign wars, the official holiday was renamed Veterans Day, and recognized all service members in any conflict, in perpetuity.
Today, Veterans Day is a day to honor those who have served on behalf of the United States of America, within our nation, and in foreign countries around the world. Veterans Day honors the service of active duty military, those who have returned from service, and the ultimate sacrifice of fallen heroes (who are also recognized in May for Memorial Day).
Types of Veterans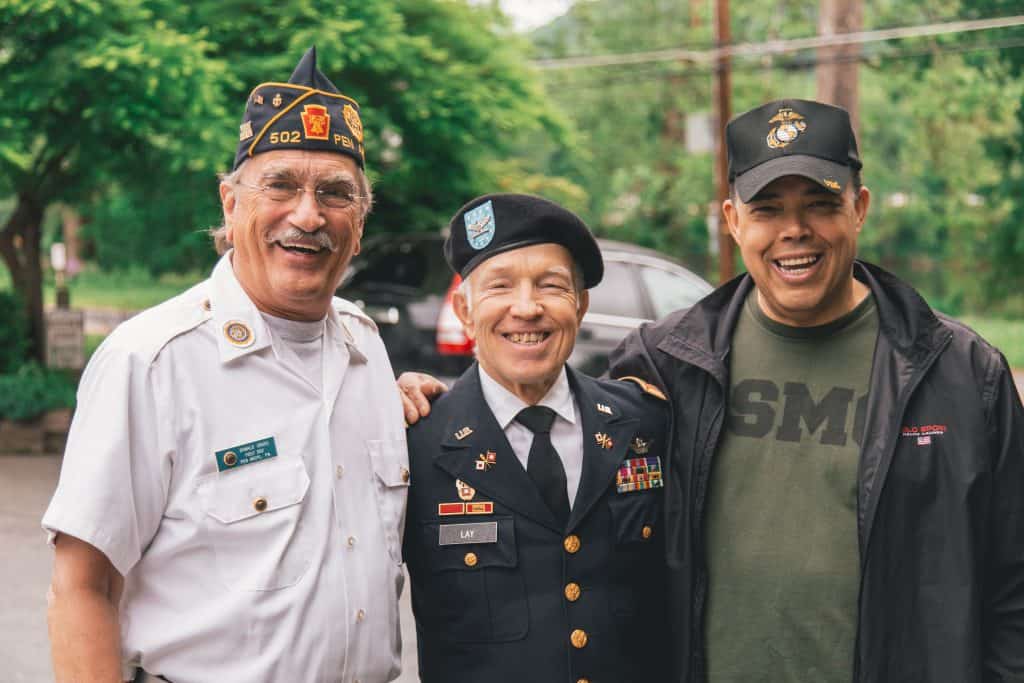 There is no one-size-fits-all category for veterans. There are many different types of veterans, but the one thing they all share is deep love and loyalty to their country. Veterans Day acknowledges every type of America's veterans, every branch of the military, every conflict, in times of war or peace. There are three main categories of veterans we should consider on Veterans Day, however: active duty veterans, fallen heroes, and veterans who have returned from service.
Active Duty
Active Duty veterans are those who are currently enlisted and serving in the U.S. Military in some capacity. They may be stationed abroad, living on a U.S. military base, or in the reserves, but their day-to-day life is still very much a dedication to keeping our nation safe. Veterans Day is the perfect time to remember all they have and will do for our safety as a nation.
Fallen Heroes
A fallen soldier is celebrated on Memorial Day but should also be celebrated on Veterans Day. Losing someone that you love can leave the deepest wounds. The military family will be feeling that heartbreak of loss long after the funeral. Showing your gratitude to their hero will be such a blessing to them, especially if it's the first Veterans Day after their loss. Their son or daughter gave their lives protecting our freedom; a card is such an easy gesture but could have the highest appreciation from a family member.
Served and Returned
This is the most general and expected definition of the word veteran—those who have served and returned. Returned veterans can be of any age, any length of service, and any location. My grandfather served in Vietnam, and we have a family member who completed dangerous service during Desert Storm. No type of military service is more deserving than another, and everyone who has returned with honor from their service for this country should get our gratitude.
Veterans Day Quotes
This November 11, you can honor each brave man and woman by sharing a veterans day quote along with your warm wishes. Here are a few great ones:
"My heroes are those who risk their lives every day to protect our world and make it a better place."

Sidney Sheldon
"How important it is for us to recognize and celebrate our heroes and she-roes!"

Maya Angelou
"A hero is someone who has given his or her life to something bigger than oneself."

Joseph Campbell
"This will remain the land of the free only so long as it is the home of the brave."

Elmer Davis
"Never was so much owed by so many to so few."

Winston Churchill
"As we express our gratitude, we must never forget that the highest appreciation is not to utter words, but to live by them."

John F. Kennedy
"Better than honor and glory, and History's iron pen, Was the thought of duty done and the love of his fellow-men."

Richard Watson Gilder
"Soldiers are men… most apt for all manner of services and best able to support and endure the infinite toils and continual hazards of war."

Henry Knyvett
"He loves his country best who strives to make it best."

Robert G. Ingersoll
Thank You Messages for Veterans
It's the least we can do to thank Veterans for everything they've done for our country. Because of them, we're safe and our freedoms are protected. Because of them, large regions of the world are more democratic and stable. They have sacrificed their time, their safety, and their lives in order to serve, and we should do what we can to express that gratitude. We've assembled some ideas you can use as thank you messages for veterans. 
Thanking an Individual Veteran
I am so proud to call you my dad because of all you've done for this country.
You've probably seen a lot of Happy Veterans Day messages, but I wanted to offer my personal thanks for everything you've done to protect my freedom.
Happy Veterans Day to my favorite vet!
Not only are you my son—you're also my greatest hero.
When I see the American flag, I think of you and how grateful I am for your service.
I have always been so impressed with your emails while deployed and feel thankful for your service.
You have made me more appreciative and patriotic through your example.
I will never understand all you've gone through for this country but I can say that I am incredibly grateful for it.
Thanking All Veterans
Thank you to all the brave veterans who sacrifice so much for our country.
To those who served and those who continue serve our nation… Happy Veterans Day!
They put their lives on the line each and every day for our freedoms. Let's not forget all they've done today.
Today is a day to remember that our freedoms aren't free. Thank you to all the brave soldiers who make it possible.
Here's a salute to all of the military members past and present who have made this nation great. We honor you!
Ways to Thank Veterans
This Veterans Day, there are many ways to honor the soldiers who protect our way of life. You won't regret making any effort to share your gratitude with veterans in your life, or the armed forces in general. Here are some ideas for things you can do this November 11 to share your messages of gratitude with veterans:
Call or text a veteran you know
Share a video of support
Create a Kudoboard for a veteran or veterans within a community or organization
Offer a discount or freebie to veterans through your business
We are in awe of every brave member of the U.S. military, past, present, and future. Thank you for your courage and sacrifice so that we can enjoy freedom. We are forever indebted to you. Happy Veterans Day!