A Bittersweet Farewell to a Coworker
Saying goodbye to a favorite coworker can be bittersweet. When Trish moved on to her next adventure, her coworkers were happy for her—but sad to see her go. They created a Kudoboard to send her off with best wishes, and we were so touched by the messages.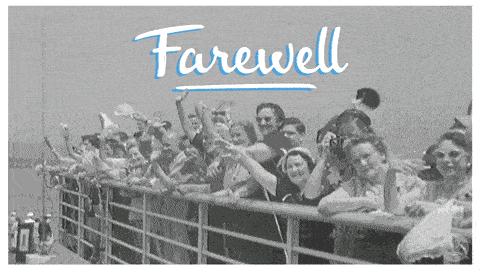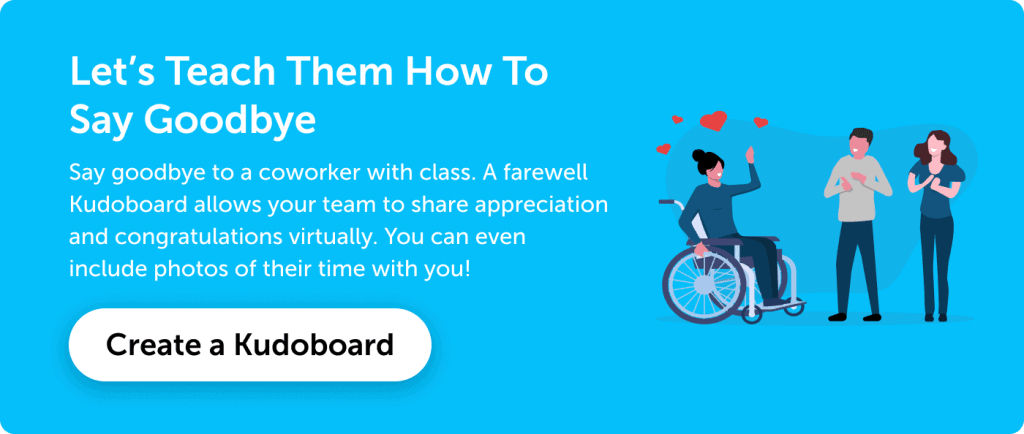 I am so sorry to hear that you are leaving us Trish! It has been an absolute pleasure working with you and although I am sad to see you leave, I wish you all the best with your new role!

Belinda
You have been just absolutely amazing. A joy to work with and your positivity and kindness has had a massive impact on those around you. I will miss working with you and I know you will be amazing in your new role.

Sara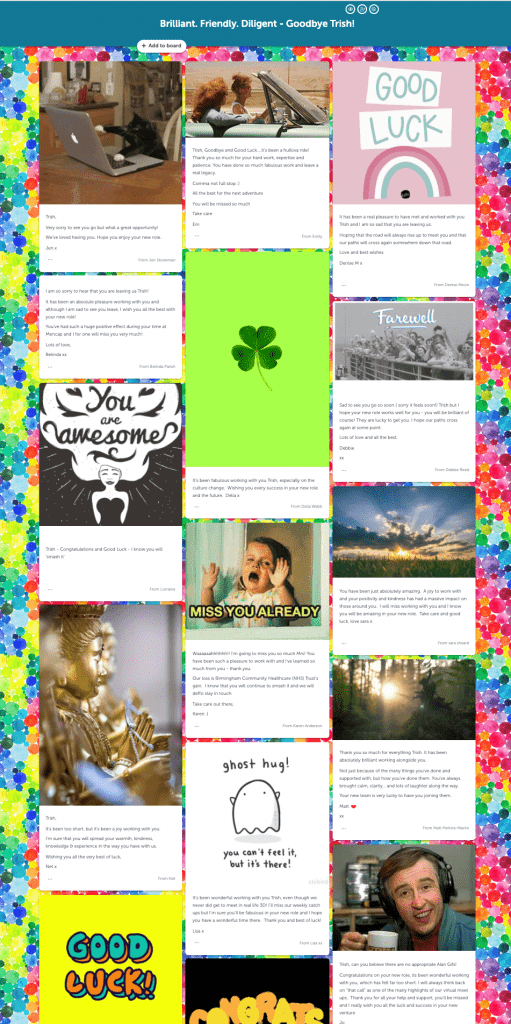 Trish was definitely feeling the love from her coworkers and enjoyed her farewell Kudoboard.
Good luck with your next role, Trish, and thank you for letting us share!
How To Make A Virtual Farewell Card?
If you are looking for a fresh way to say farewell to a coworker, a virtual goodbye card is a fun and easy option. There are many websites to make virtual cards, Kudoboard being one of them. To start a card with Kudoboard, simply go to their website and click create a kudoboard. From there, you will be prompted to fill out a few questions about the occasion of the card (click farewell), and who the card is for. Before you can start creating your card, you will choose which type of board fits your needs. If you have less than 10 people contributing to the card, a mini board is a perfect (free) option! Once you choose the type of board needed, you can start creating your board. With kudoboard, you can change the background, add all kinds of media, and add contributors. 
How To Add Contributors To A Farewell eCard?
To add contributors, simply click "add contributors" at the top of the board. You can share the Kudoboard in 4 different ways (QR code, social media, direct link, or email). Contributors do not have to sign up for Kudoboard to add to the board.
What To Write in A Farewell eCard To A Coworker?
There are many ideas of what to write in a virtual coworker farewell card. Here are a few:
"I'll miss seeing you around the office! Thanks for all the laughs!"
"Good luck at your new job! They are lucky to have such a hard worker!"
"You were such an important part of our team, we will miss you!"
"Can't wait to see where your next chapter leads you! Thanks for being a great coworker and friend."
For more ideas of what to say, check out this article from BetterUp.
Why Is It Important To Say Goodbye?
Saying goodbye to a co-worker who is leaving is a classy and kind gesture. This also helps provide closure for employees who have been at the company for a long time. Saying goodbye also expresses appreciation for the years of dedication and hard work at the company.
For more information about group leaving cards, check out this article.