How Online New Baby Collages Work
Kudoboard's online collages allow you to gather appreciation from a group, delivered directly to the recipient virtually.
Sample Use
Mark and Stacy just had their baby. Cousin Susan started them a Kudoboard, invited family to contribute, and will deliver the collage online in a few days. Susan also plans to print a copy.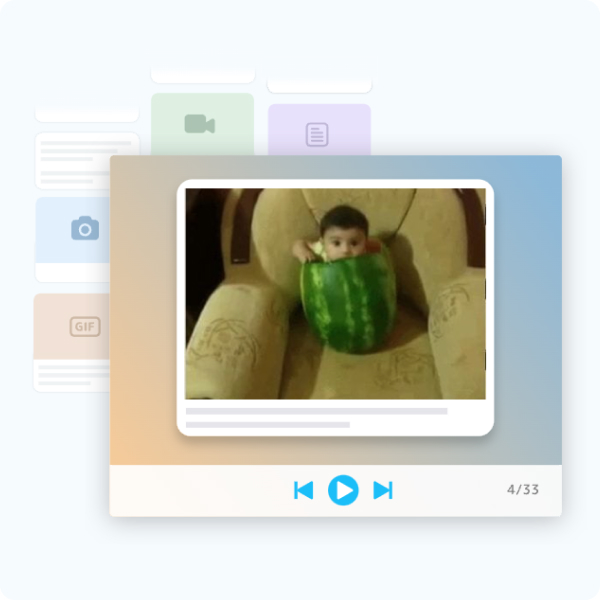 Something for everyone
Choose the option that's right for you — from single group cards to ongoing plans,
for personal use or for the office.
Company Event
Contact us to discuss your needs. Whether recognizing a departing CEO, celebrating a graduation for a university, or honoring caregivers at a hospital – we've got you covered.
In addition to all Milestone board features, company events offer:
Your logo at the top
Board export
Custom pricing
Tagging, likes, & comments
Custom URL
Custom disclaimer
Proactive moderation
Custom input fields
Multiple administrators
Board metrics
Embeddable slideshow
Dedicated account manager
Make & send an online baby collage with ease
For many online collage makers, there are frustrating limits. Whether it's an inflexible template that only allows you one screen's worth of posts, or a setup that doesn't allow GIFs & videos; it often feels like you can't quite make what you want. And if you are thinking of inviting several others to collaborate in the creation of the collage — forget about it!
With Kudoboard, there's a better way.Whether you want to create a smaller collage for free or upgrade for unlimited posts, the size of the board is completely up to you. You can add messages, photos, GIFs, & videos from your computer or directly from your smartphone. And if you to invite others to contribute as well? It's as easy as sending them the link.
Wow — SO MUCH FUN! It was a great way for the office to create a congrats collage for a colleague well who is expecting a new baby next month. Will definitely use Kudoboard again in the future.

Francesca P. Bed, Bath & Beyond
Frequently Asked Questions about Baby Collage
A new baby collage is a compilation of videos and photos that celebrates the new baby. Family members, new parents, and friends can contribute and add photos (or just be invited to view the collage as a way for parents to share their good news). 
There are many online baby collage websites that parents and family members can use. Kudoboard is a great option for this and allows for family members and friends to contribute to the collage. With Kudoboard's online baby collage maker, you can also add other forms of media such as GIFs, videos, and text.
To make an online baby collage, find a website that allows for new baby cards to be made. If using Kudoboard, go to the website and click "create a kudoboard". Next, you will fill out the information and select "new baby" for the occasion. If a family member or friend is creating the collage for the parents, they can choose to have a gift card fund for the new parents. This is a great new baby gift for parents and anyone who is contributing to the new baby card can add to the fund. Now that the board is created, you can start adding photos and other media to the board. To add contributors, simply click the "add contributors" button at the top of the board. Adding contributors with Kudoboard is easy, as you can share in four different ways; QR code, social media, email, or direct link.
Of course! You don't just have to add photos to a new baby collage. Contributors can add text, photos, GIFs and video to any collage.
A new baby collage with Kudoboard is the perfect way to have parents announce and share adorable photos of their new baby with friends and family. New parents can share the collage on social media for their friends and family, or through email. Additionally, friends and family can utilize a new baby collage to congratulate new parents on their baby.
Yes, to see an example of a new baby board, click here. Additionally, Kudoboard's blog always has new information about a variety of topics.