Get Well Soon Group eCard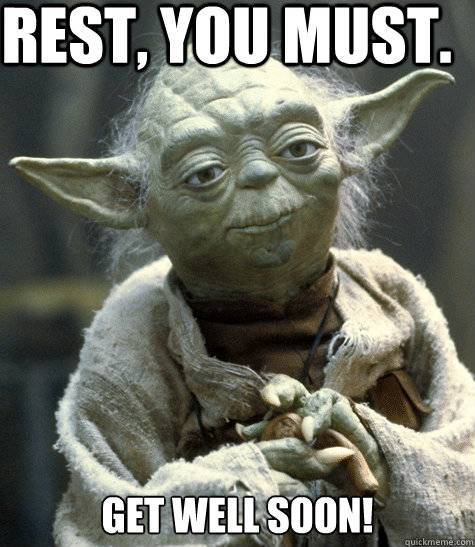 Kshipra Desai recently received a "Get Well" eCard using Kudoboard from coworkers. But not just any "Get Well" board – one with a Yoda Meme and an epic cute cat video! With Kudoboard, your get well card on Facebook can be filled and shared across email, Slack, and social media so everyone can wish you well.
Here is a memorable quote from the board:
"So, i was thinking of nice 'get well soon' messages, and what you would REALLY like to see. I hope i did good, i know your love for Damien Lewis is very much alive 🙂 Here's to a speedy recovery mate, i know it's been a pain (literally) and we're looking forward to seeing you back on your feet. Rest up! and remember, per the discharge notes….don't make any important personal or business decisions during recovery 🙂 Kiran"
Who doesn't love a spicy actor picture when they're feeling ill? It's clear that this group get well soon eCard was a hit and hopefully it helped Kshipra feel better!
See the board HERE!
Thanks for letting us share your board, Kshipra, and a hearty "Get Well Soon" from all of us at Kudoboard!
Why Send A Get Well Soon eCard?
When I am feeling sick, it always helps me feel better when I get a text or message from a friend or family member asking how I'm doing. I'm sure many others feel the same way, it's just nice to feel noticed once in awhile. This is why sending a get well soon card is not only a nice thing to do, but it can also help someone feel better. Our mental state plays a large role in our ability to recover quickly.
Virtual get well soon cards are a great option for get well soon cards because it allows people to send well wishes without getting exposed to any illness. This is also great for family members and friends who live far away but want to express well wishes for their ill relatives. eCards are also a great way to get a lot of people involved in expressing well wishes to the person who is ill.
How to Create A Get Well Soon Group eCard
To create a get well soon eCard, go to Kudoboard and click "create a kudoboard." From there, you can enter in the recipient's name, the occasion, and if you want to add funds for a gift card (maybe something to offer them a pick-me-up). Next, choose the type of board you'll need (this is based on how many contributors you have). Now you can start creating your card! Customize the background, add a post, and add contributors. Anyone with the link can post to the board using any type of media they would like. Finally, hit "schedule delivery."
They will feel loved and appreciated while feeling sick, and hopefully the eCard will help them feel better as well.