Choosing The Right Kudoboard Option For You
Smaller teams/businesses (100 coworkers and under) occasionally email us asking whether the Premium Package or Business Plan is best for their use case. The simplest answer:
If you want any of the following…
unlimited boards
more than 1 Kudoboard creator
custom board backgrounds & branding
advanced administrative/privacy controls
all the bells & whistles
…go with a Kudoboard business plan. Otherwise, a Premium Package will save you money.
It can be difficult to choose, but either way Kudoboard is money well spent and your employees will love getting recognized with a special eCard made just for them.
For a different way to look at it, here is a decision tree to explain our thinking around which Kudoboard option to choose: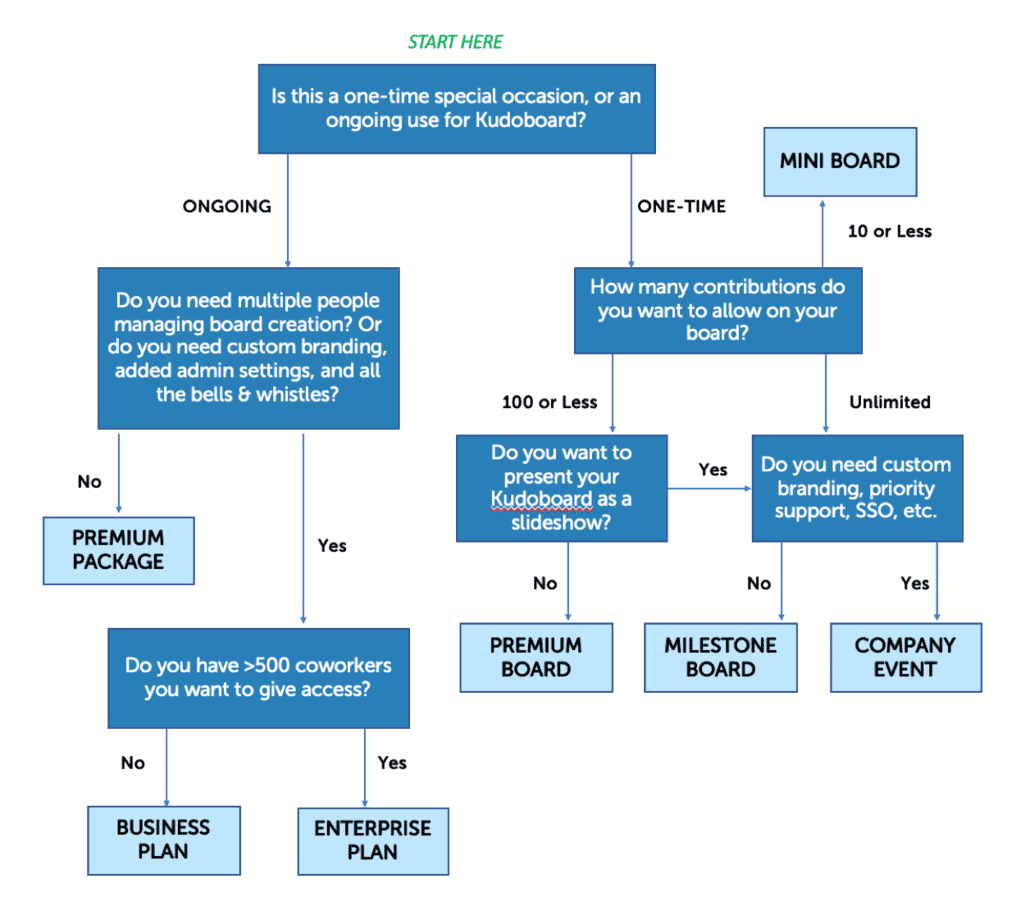 Still have questions? No problem – you can always email us at [email protected] and we'll get back to you within 1 business day. While you wait, here are some articles that can help you get started with different group eCard ideas.
Retirement
Here is a quote from the article:
"When the retirement card gets passed around the office (or, even better, the group ecard sent via Slack), what should you say? Speaking from the heart is always a great option, or you might turn to some beautiful retirement quotes. "
Birthdays
Below is a quote from this article:
"Do you know a friend, family member, or colleague with a birthday coming up? What better way to celebrate than by gifting them a virtual card that will last forever. With Kudoboard, creating eCards are easy and affordable. Here are 3 tips for creating the perfect eCard that says "happy birthday" to the person you care about."
Work Anniversary
Check out this article about celebrating work anniversaries using Kudoboard. Here is a quote from the article:
"Group eCards are great for all occasions, especially 5 year work anniversaries (or any work anniversary). Making an eCard to celebrate this occasion is easy and affordable! We at Kudoboard would love to help you make your colleagues feel special and appreciated."
Hope that helps, and if you are still looking for inspiration -- explore more about our group cards for any of your upcoming special occasions. Remember, we at Kudoboard want to help individuals and businesses choose the right eCard for them, don't hesitate to email with questions or peruse our many blog articles. Our blog has a lot of examples of different ways to use group eCards, tips for businesses, and more.
The Kudoboard Team