How Online Group Cards Work
Kudoboard's online group cards allow you to gather appreciation from a group, delivered directly to the recipient virtually.
Sample use
Sarah's 25th birthday is coming up. Her friend Dara started her a surprise birthday collage; added photos, videos, and notes; and invited a few others to participate. The online collage will be delivered next week.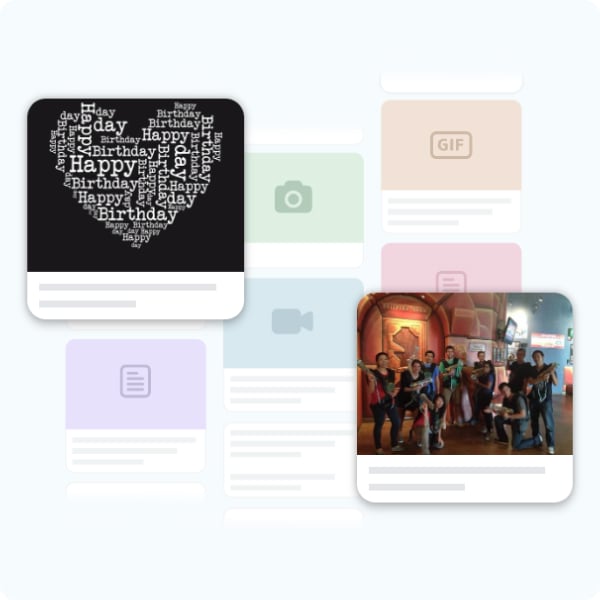 Something for everyone
Choose the option that's right for you — from single group cards to ongoing plans,
for personal use or for the office.
Company Event
Contact us to discuss your needs. Whether recognizing a departing CEO, celebrating a graduation for a university, or honoring caregivers at a hospital – we've got you covered.
In addition to all Milestone board features, company events offer:
Your logo at the top
Board export
Custom pricing
Tagging, likes, & comments
Custom URL
Custom disclaimer
Proactive moderation
Custom input fields
Multiple administrators
Board metrics
Embeddable slideshow
Dedicated account manager
Make & send an online birthday collage with ease
For many online collage makers, there are frustrating limits. Whether it's an inflexible template that only allows you one screen's worth of posts, or a setup that doesn't allow GIFs & videos; it often feels like you can't quite make what you want. And if you are thinking of inviting several others to collaborate in the creation of the collage — forget about it!
With Kudoboard, there's a better way.
Whether you want to create a smaller collage for free or upgrade for unlimited posts, the size of the board is completely up to you. You can add messages, photos, GIFs, & videos from your computer or directly from your smartphone. And if you to invite others to contribute as well? It's as easy as sending them the link.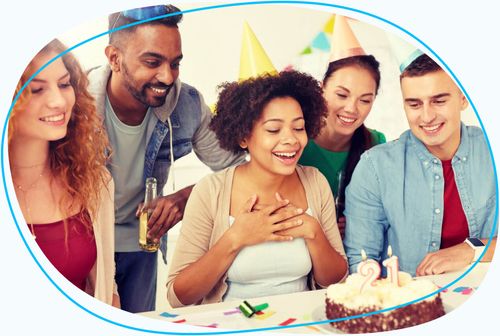 I make an online birthday collage for my best friend each year. Kudoboard is great because I can easily choose a nice background & font, add (and re-arrange!) a bunch of photos, and even invite others to contribute.

Heidi R. New York
Frequently asked questions about Birthday Collage
A video is a great addition to a birthday collage. Whether it is a personalized message from you or one of your favorite videos together, adding a video to your birthday photo collage is simple. First, to be able to add a video, be sure to select our Premium Board when you begin creating a board. Once you've selected the board and background follow these steps to upload a video:
Click "+ Add to Board"
Select "Add Video"
Click on the type of video upload you need. You can upload a video, record a video, or attach a Youtube video link.
Write a message
Click "post"
Now you should see a post with your video and message displayed on the birthday collage. If something doesn't appear correctly or you wish to change the post, you will be able to edit it at any time.
A Kudoboard birthday collage is a free way to say happy birthday in a unique way. Our boards can easily compile photos and videos to best celebrate a birthday. To access a free birthday collage, you will need to create a "Mini Board." A Mini Board will give you up to 10 posts of messages, photos, and GIFs. These are great as a 1-to-1 board or for a small group.
To create a free love collage click, "Create a Kudoboard" on the top right of our webpage. Then, fill in the template and choose 'Mini Board.' Now you are ready to design the collage to your liking and invite others to contribute. Our boards can be upgraded at any time if you decide to invite more contributors or would like more posts, add videos, or invite more to contribute.
For an example of what a birthday collage looks like on Kudoboard, check out this example. For more detailed instructions on how to create a birthday group photo card, check out our step-by-step guide, 'How Do I Create a Kudoboard?'
Birthdays are a great time to celebrate all of the things that make someone unique. A birthday collage maker should be able to do the same. Instead of being limited to only photos, A Kudoboard's birthday collage can include pictures, videos, and GIFs. The variety of options will show off the best parts of the one celebrating the birthday.
Additionally, a Kudoboard birthday photo collage easily allows you to invite contributors to post their photos, videos, and messages. In a matter of a few clicks and sending an invitation, you will have a birthday group photo card full of "Happy Birthday" wishes to properly celebrate the birthday.
All Kudoboard birthday collage's download in JPG format. To upload a birthday photo collage to Facebook, you will need to download the card. To download a Kudoboard, you need to:
Open your board
Next to the board's title, choose Download or the Print button.
Select the digital delivery option ensuring the blue poster button is selected.
Download the file from your email.
Once your card downloads, you upload the JPG to Facebook using a post.
If you would like to publicly invite your Facebook friends to contribute to the group photo birthday card, Select 'Invite Contributors' in the top right corner of your Kudoboard. There are two ways to invite contributors on Facebook. You can create a direct link or share directly on Facebook. Clicking on the 'social tab' will automatically populate a post ready for you to submit. If you prefer to make your post through a direct link, follow these steps:
Click the 'Copy Link' button.
Your link will now be in your computer's clipboard. From here, you create a post on Facebook.
In the post, paste the link with any message you wish to add.
Submit your post
The nice thing about a Kudoboard birthday collage is that there is no need for a template. We take your photos and videos and make them into a beautiful collection of messages and photos. This allows you to have the versatility to create a birthday collage unique to your specific needs.
Even though we do not have specific template options for a birthday photo collage, we do have an example to help direct you. Additionally, if you are looking for ideas on what to include in the thank you collage, here are some options:
Create a timeline of their life
Include your top 10 memories of them
Write what your love about them in the number of the age they are turning
Send one of your favorite GIFs with a message
Include their favorite photos of places they traveled or accomplished that year
Make a bucket list of the things you hope to do with them in the coming year.
There are a handful of ways to make a birthday collage a meaningful part of an event or present. While it is meaningful to make a birthday photo collage full of messages and videos wishing them "Happy Birthday," there are ways to spice it up. To do this, consider a theme for your posts. Do you want it to be fun? Do you want them to feel special? Do you want to highlight their life? How you answer these questions can be a guide on how to direct your birthday photo collage.
Here are some theme ideas on how to direct your collage:
Make it a timeline of their life and share memorable moments in it.
Compile funny memories from their friends and families.
Highlight their year. Include impactful moments, accomplishments, and adventures they had during the year.
Compile a list of ways they have impacted others' lives.
Create a collage of all of the videos, memes, and GIFs they sent you over the year.