What is a Memorial Slideshow?
As you plan a memorial service, you will want to showcase the life and accomplishments of the deceased. Whether it's with photographs, videos, important possessions, or symbolic items, you can bring the personality of your loved one into the funeral or memorial service.
The most effective and impressive way to do this is with a memorial slideshow that honors your loved one. Today we'll explain everything you need to know about memorial slideshows and how to make them. 

What is a Memorial Slideshow?
A memorial slideshow or funeral slideshow is a multimedia presentation about the deceased that is shown at their funeral, viewing, or other types of memorial service. Memorial slideshows have grown in popularity as technology has become more affordable and accessible. Some funeral homes and custom memorial websites may feature an option for a funeral slideshow.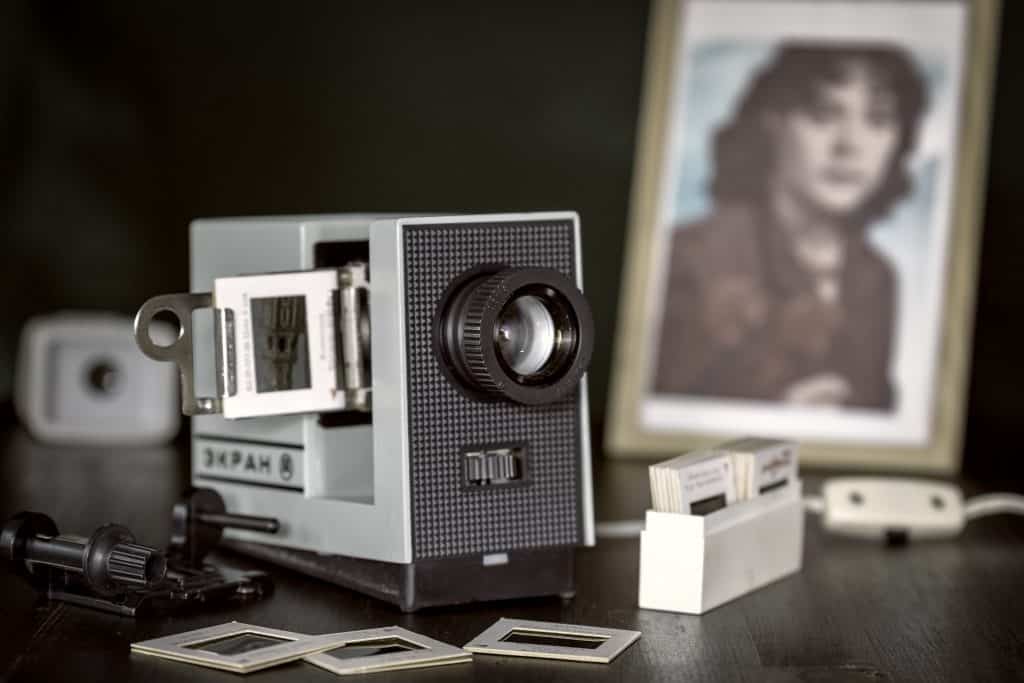 Why Do You Need a Memorial Slideshow?
A memorial slideshow is a beautiful way to showcase the life of your loved one. It can also be a great way to share condolence messages and memories of the deceased. Of course, a funeral slideshow isn't a requirement, but it presents some serious advantages for your memorial service or grieving process.
Multimedia Format
A memorial slideshow allows you to showcase photos, videos, and written messages. Many memorial services will feature a table for photographs and a funeral guest book, but a slideshow or memorial video that runs throughout the service can display more than a table ever could.
Collaboration
Funerals take a lot of work. A good memorial slideshow doesn't have to. You can share the load by having all of your loved ones collaborate on a tribute video in memory of the deceased. Everyone with photos and videos can upload them, with or without personal comments, so that all you have to do is push play.
Forever Access
At the last funeral I attended, I heard so many people commenting "Wow, I've never seen that photo of him!" or "I never saw a photo of him this young!" Funeral attendees might enjoy seeing all of the unique photos of their loved one, but a funeral guest book or table of framed photos will only last as long as the memorial service. However, making a memorial slideshow that can be shared with a link can help everyone enjoy the photos and videos throughout their grieving process, long after the funeral program is over.
When to Make a Memorial Slideshow
A memorial slideshow works best when you have sufficient photos, videos, and short written memories that you'd like to share with others mourning this loss. You'll want to determine the availability of technology for your memorial service—is there a projector in the chapel or funeral home? Can you set up the photo slideshow on a TV or large monitor?
A memorial slideshow can also be a great option for a virtual memorial service, to share with those who can't attend the funeral, or when you want to share the treasured memories of your loved one with others more easily.
Memorial Slideshow Options
When it comes to actually making a memorial slideshow, you'll have several options and you'll need to find the one that best meets your needs. We'll break down a few of the memorial slideshow options and what makes them unique.
Google Slides
Using Google Slides for your memorial slideshow is a user-friendly and collaborative option. Many people already use or have experience with Google Slides, making it easy to jump in or learn new techniques. The slide deck can be viewed with a link, and can easily be shared with anyone who'd like to see it.
One drawback is that you will need to fully construct each slide and manage the transitions before viewing. This means gathering photos, dropping them into slides, and then creating your settings for each slide if there are multimedia options.
Apple Photos
If you have iPhones or Macs, it's easy to create a slideshow from an album. You can even create a shared album where everyone can add their own photos and videos to pool resources. Unlike Google Slides, a Photos slideshow will automatically populate and shuffle the images. You can choose how fast or slow you'd like them to transition, and you can add music.
This is probably the fastest way to create a slideshow, but only if you already have the images you need or if your family is already well-versed in Apple products. This is also an easier option to migrate to YouTube for permanence.
Kudoboard
"When my father passed away, family across the entire country wanted to honor him. I searched through dozens of online memorial websites, and Kudoboard's online memorial option was perfect. It allowed everyone to add their cherished memories and photographs."

James C., Nevada
Kudoboard Memorials are different from any other memorial slideshow, because they can be more easily crowdsourced, and can share personal messages or memories from friends and family members. A Kudoboard Memorial starts as a memorial website that collects contributions from anyone invited. You'll get to choose the background, layout, and other settings, then send it along to everyone who might like to contribute.
You can add photos, video clips, GIFs, written messages and memories, the obituary, and anything else you might like to show everyone how you felt about your loved one. The website can be shared with a link, printed as a book or poster, and, of course, a slideshow. The slideshow can be easily played with adjustable transitions at a funeral, wake, or other type of memorial service.
FlexClip
"One, two, three, that's how easy it is… Fantastic app-page in which you can easily navigate and edit pre-made templates to one's own gusto. I highly recommend this site."

User Daniel
When it comes to free slideshow makers, FlexClip is a really great option. They provide slideshow templates and incredibly easy editing. We'd recommend this to someone who wants a professional look without much experience in video editing. You can pull in various stock images and other content to fill out the slideshow if you don't have as many photos or videos as you'd like.
FlexClip is web-based video editor, but the free version is very limited. You'll have a lower-quality video and limited length. FlexClip focuses on marketing-type video, and isn't a dedicated funeral slideshow maker, but if you're looking for a one-time production, it can be a viable option.
PicPlayPost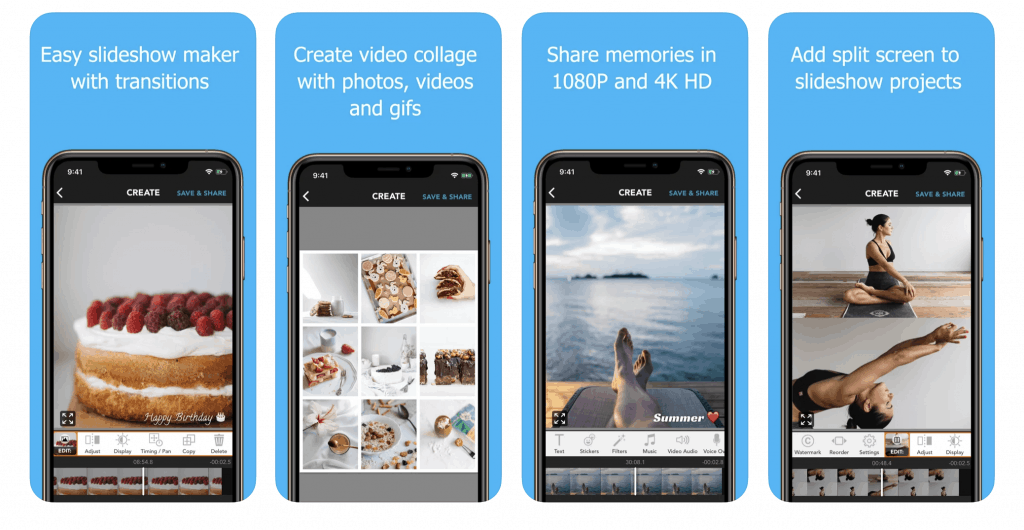 "PicPlayPost made it easy to arrange all my gathered digital photos, and create a lovely tribute to my Mom. Right on my phone. Complete with music in the background. And professional looking transitions from one photo to the next. Plus every photo slowly pans in and then the next photo slowly pans out, almost like they're breathing. It is a beautiful effect."

User Ngyingka
If you prefer to use your iPhone or tablet to make your video slideshow, we'd recommend PicPlayPost as the best mobile slideshow maker. It's very easy to use, and it allows HD video. The free version still allows for a wide range of effects and editing options, but if you want to add a certain song or remove the watermark (which we recommend for a memorial service) you'll need to upgrade to the paid version.
Make it Yours
It doesn't matter if you choose a memorial service, a graveside prayer, a memorial website, funeral presentation, a scrapbook, a slideshow, or any combination of funeral elements. What matters is taking the time to honor someone you've loved and lost in a way that feels authentic to you. We're here to support you during this sensitive time, and wish you the very best.