Many of us are in the midst of holiday shopping, trying to find the perfect gift for the ones we love. While in this consumer mindset, we are often not aware of how much waste we are producing. During this holiday season, perhaps we can find ways to be more sustainable. That can include finding eco-friendly gifts for our friends and family. Unsure of where to start? Keep reading to find 20 sustainable gifts your friends and family will love. With 10 options from Amazon and 10 from Etsy, you will be able to get plenty of ideas of eco-conscious gifts for the people you are gifting to.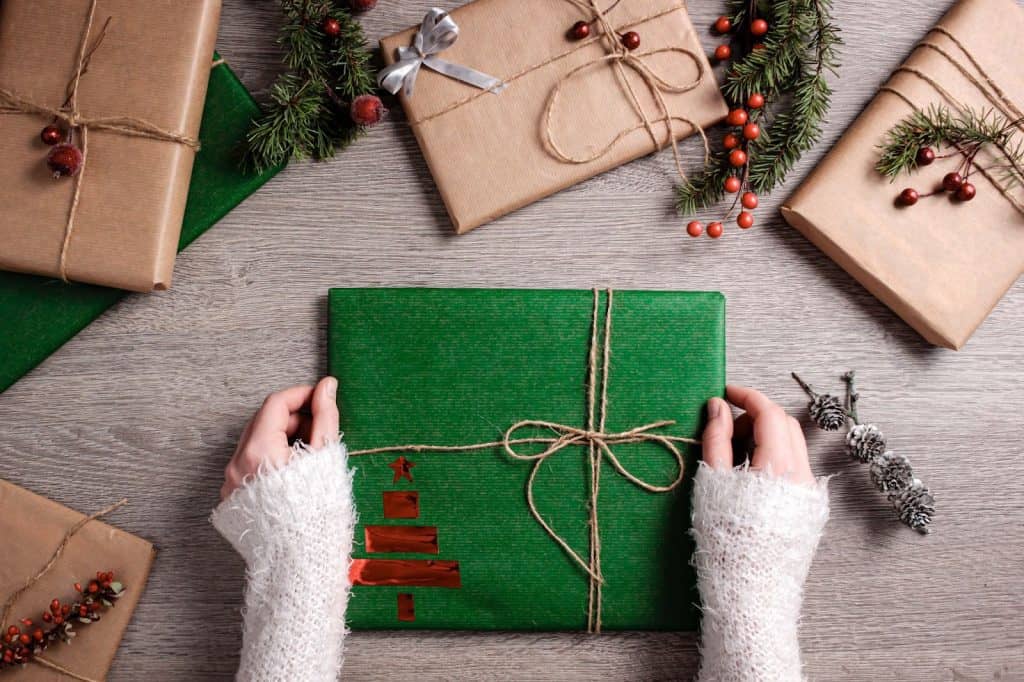 10 Eco-Friendly Gifts on Amazon
If you are looking for eco-friendly gift ideas that will arrive quickly and are budget-friendly, Amazon has hundreds of sustainable options. Instead of sifting through all the pages and products, check out this list below to find the perfect gift for your loved ones this holiday season.
I've been thinking of getting bee's wrap or something similar for a while now. We use so much plastic wrap to keep food fresh. This bee's wrap is a perfect alternative. You can use it the same way you use plastic wrap, and throw away less trash in the process. This wrap is also 100% vegan so you know your foods are safe.
I have a set of these make-up remover pads and I love them. They are so soft (way softer than your typical makeup remover wipes). I just use my micellar water on them and my eye makeup comes off very easily. This is a great sustainable gift for anyone who uses make-up.
Look at these adorable sheep wool dryer balls. These would be a fun gift for anyone and they are such a cute and fun alternative to dryer sheets! These dryer balls are advertised as perfect for sensitive skin as they are made with 100% pure New Zealand wool. This set should last the person you are gifting it to for years, so they won't have to spend money on disposable dryer sheets anymore. I also love how they are made by stay-at-home moms in the USA.
This pack of food storage bags is the perfect gift for families or college students. There are 12 different size bags made of food-grade material, and they are also freezer safe. These bags have many uses aside from food (think of how many uses traditional plastic ziplock bags have).
Having a journal that not only looks nice but also feels nice can a big difference to many writers. This journal is advertised as feeling soft like leather but made from vegan/eco-friendly materials. I like that the pages have perforation, and it lays flat (so nice for writing on!). Anyone who loves journaling will love this gift.
This pack of 50 razors is a great and useful gift for men or women. They are made from wheat straw, making them 100% compostable. Since they come in a pack of 50, the person receiving this gift won't need to buy razors for a while!
Composting is becoming more "trendy" but it is also very useful and beneficial for the earth. If you are interested in learning more about composting, this article lists 5 benefits of composting. Gardeners especially like composting because the nutrients from the leftover food are perfect for enriching their soil. This compost bin is perfect for gardeners who want to compost, but also don't want to sacrifice style.
Re-usable water bottles have been around for a while, yet people still buy plastic water bottles all the time. A stainless steel water bottle is a wonderful, eco-friendly gift. This water bottle has a wide mouth, making it easy to clean and add ice.
If you know someone who takes lunch to work or school every day, this stainless steel bento box is a terrific gift. This bento box is made of 100% food-grade material is 50% bigger than most bento boxes, and has 3 compartments to fit all your food and snacks.
I have never heard of plantable pencils, these are cool! This set contains 5 pencils made of organic wood, each pencil has an inspirational quote guaranteed to put a smile on your face. Once your pencil gets small enough, you can plant it and get thyme, chia, sage, daisies, or basil. This is a fun and very sustainable gift for anyone.
10 Eco-Friendly Gifts on Etsy
If you can wait a bit to receive your products and want more sustainable choices that are handmade, Etsy has a lot of options. Many sellers are trying to be more eco-conscious by selling sustainable products. Not only are you helping the environment by buying these products, but you are also supporting small businesses. Many of these gifts are made with recycled materials and can replace single-use items such as plastic bags, water bottles, and more.
This surprise box on Etsy comes with different sustainable products. You can choose the size of the box, the bigger the size, the more items you'll receive. I love how cute and fun the items look, and that it is a surprise! Here is an example of what can be included in a gift box:
"Travel bamboo kits, Reusable cloth napkins/wipes, Reusable Sandwich Bags, Produce bags, Un-sponge/s, Metal/bamboo straws, Reusable bowl cover/s, Mesh shopping bag, Bento bag, Lavender eye pillow, eco brush, house plant hanging macrame, dryer balls, plastic-free soap bar, Cotton kitchen towel, Swedish dishcloth, Handknitted kitchen scrub and more.. depending on the theme you pick for the mystery box."
Check out how cute and colorful these recycled newspaper coasters are. Each order comes with six coasters and a holder. With over 5000 positive reviews, these newspaper coasters are guaranteed to be a fun, eco-friendly gift. This seller also makes newspaper trinket bowls that are just as cute.
These colorful mesh market bags are really cute and I love all the color options. The versatile 100% cotton hand-dyed mesh bags are perfect for any type of shopping, farmer markets, and so much more. Choose your loved one's favorite color to make it unique and feel good knowing you are helping the environment while choosing an awesome gift.
Reusable paper towels have been around for a few years. I love how colorful and fun the designs are on these 100% cotton "paper" towels which include 12 different styles. This seller says that the cotton towels will become softer and more absorbent with each use, and should last a very long time.
For a sustainable fashion option, this Mandela print cork wallet is so pretty. Made from 100% cork, this wallet is a wonderful vegan and eco-friendly gift. It is handmade and this seller has a lot of other designs. I love how many pockets there are, and it is a good size without being too big.
If you need an eco-friendly option for children, these name puzzles are cute, fun, and educational! I like that you can customize the colors, and make them so personalized. Children and their parents will love this gift!
I love how cute this wooden bread slicer is! I make homemade bread a lot, and often my slicing gets pretty crooked. Any bread maker would love this to help them cut even slices, and it has options for 4 different sizes of slices.
Another fun gift for kids would be these reusable water balloons. I like these because they are easy for kids to use, there's no latex (so no worrying about latex allergies), and soft! These would make such a fun stocking stuffer.
These hemp boxer shorts look super comfortable and can be used for men or women! I can see myself using them as pajama shorts or loungewear. There are plenty of color options and lots of positive reviews saying how soft they are!
This body butter has multiple uses, is fragrance-free, and comes in a glass jar (no plastic to worry about). Once the jar is empty, they can use it for other purposes. Having sensitive skin myself, I am always looking for options that have fewer ingredients. I love how the ingredients are all things that you can find (and pronounce) easily. Having over 3,000 positive reviews, your loved ones are sure to enjoy this gift.
5 Ways to Be More Sustainable During The Holidays
Becoming more eco-conscious doesn't just include our shopping habits. Below are five ideas to help reduce waste, support locals, and make more sustainable choices.
Use recycled wrapping paper (or go without). Did you know that between Thanksgiving and Christmas, Americans throw away over 1 million tons of trash each week? To help reduce waste, try using fabric or make your own (using comics, newspaper, or children's artwork).
Buy second-hand. This year, most of my kids' gifts will be second-hand. I have a hard time wrapping my head around buying brand new clothes and toys for each child when they are just going to grow out of it within a few months. I utilized Facebook marketplace and local thrift stores to buy their gifts.
Give the gift of experiences. Another change my family is making this year is buying season tickets to a local children's museum instead of buying a lot of gifts. I know many families who do this and I think it is a great alternative to buying a lot of gifts.
Use LED lights. Did you know, LED lights are energy-saving, release little heat, and last over 200,000 hours. By buying and using LED lights, you are helping the earth and saving money.
Recycle your Christmas tree. Our family has a tradition of buying a live tree every year, as many families do. Many cities offer tree recycling for free now to help reduce waste and help the environment. Cities mulch recycled trees into wood chips, and some cities even use the trunks for environmental projects.
Continuing to Make Sustainable Choices
As stated earlier, the idea of being more eco-conscious isn't just about shopping, it is about changing habits. The world needs us to be more sustainable so we can leave a smaller carbon footprint, and take care of the environment we live in. Simple changes such as reusable grocery and ziplock bags, buying secondhand, and using more energy-saving materials are a great start. Finally, if you are looking for one more eco-friendly gift option, consider a virtual birthday card. Kudoboard has many different uses to celebrate the people you love most.