What Is A Hybrid Workplace?
A hybrid workplace mixes in-office and remote work. Essentially, it is the idea that employees will either be remote, in-office, or a mix of the two. Hybrid teams allow employees to control their hours and support employees in having a better work-life balance. This study proves how flexible work hours have a significant impact on productivity. Around 60% of employees stated that their flexible work schedules made them more productive and engaged. In this post-pandemic era, many companies are shifting to hybrid work. While this all sounds simple, there are many aspects companies need to consider before implementing this model. These include the technology required, possible security breaches, collaboration strategies, and more.
What is a Hybrid Company?
Companies that label themselves as hybrid have intentionally built their workplace model, with clarity and specificity about how they will function. Companies can't just say, "okay, this half, you're working from home! This half, you're staying here! Oh, and sometimes remote workers will come into the office! Good luck :)" Unfortunately, it is not that easy.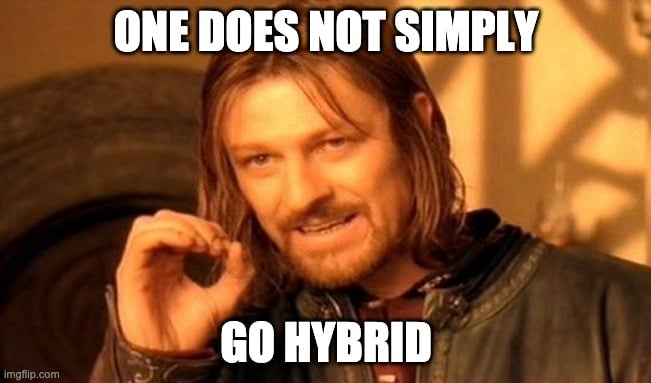 To successfully go hybrid, companies can start by asking the following questions:
Why do you want team members to have the flexibility to work elsewhere?
Is it an employee request? Are employees more productive with greater flexibility? Consider all the benefits and possible disadvantages to remote work.
How will this affect customer and client relations?
Hybrid work may not affect your client relationships, depending on your business. For some companies, hybrid work may have a considerable effect. Do your clients expect everyone to be in the office at all times? Do they be open to digital meetings?
Does everyone need to work the same hours?
If employees are working from home, there's a high likelihood that hours and work hours will vary. Are you open to having some employees start earlier or later than others? How often do you want employees to commute to work? (The new standard seems to be three days in-office, two days at home).
How will you allow for effective collaboration among remote and in-office employees?
How will your company allow for true collaboration? Do you need new tech to support this? Do you have someone in charge of making sure meetings run smoothly?
How will you ensure remote employees feel included and connected to the in-office employees?
Connectivity is crucial in ensuring productivity and inclusivity among remote workers. They inherently get left out of a lot simply because they work from home. If you need ideas on how to stay connected, this article goes over many ways remote teams can stay connected.
What Does A Hybrid Company Look Like
Let's look at two examples of influential hybrid companies and see ways they successfully supported their hybrid work model.
Microsoft
Microsoft shared how they made the jump into hybrid work. Over 18 months, Microsoft has sent more than 160,000 workers to work from home while also hiring 25,000 more employees. During this time, they ensured that all employees felt included and supported during the change. In a recent Work Trend Index, a whopping 90% of Microsoft employees reported feeling included. How did Microsoft achieve this? They followed "ABC practices" that include audio (making sure everyone is heard), bring your laptop, and collaboration. Ensuring that every meeting had a meeting facilitator also helped things run smoothly.
Citibank
There are other examples of hybrid companies as well. Citibank went hybrid in March 2021. Citibank ensured clarity in this change by assigning roles to their employees. These included:
Hybrid: Employees who commute to the office for part of the workweek and work from home the other days.
Remote: These employees entirely work from home.
Resident: Applies to employees who cannot work from home due to their job description (branch-based and data center jobs).
Sutton Donovan, Citibank's Latin America Treasury and Trade Solutions Head, said this in regards to their thriving hybrid workplace model:
"For Citi, preserving our culture, our team identity, and relationships is very important. The working practices of the future will differ significantly from those of the past, so we need to ensure that our future working models enable us to nurture a common spirit, share ideas, and ensure that our people have the tools and skills they need to be effective in their roles."
How To Support A Hybrid Team
Hybrid teams need support in many ways to function correctly and efficiently. For a company to succeed in going hybrid, utilizing a hybrid workplace strategy would be helpful. An effective hybrid workplace strategy should include the following:
Proper Technology
Hybrid teams need technology that allows for effective collaboration. With hybrid work becoming so common, there is a great deal of new technology to help support hybrid teams. Apps like Slack help keep team members connected securely. Utilize secure technology such as Microsoft Teams to connect and collaborate virtually. Microsoft Teams is an excellent tool for editing files together, video calls, chatting, and utilizing all the Microsoft apps you know and love. For more ideas on the technology needed to go hybrid, this article has 14 different ideas to consider.
Collaboration Strategies
Healthy collaboration looks like team members working together to solve a common problem or accomplish a common goal. The Digital Workplace states that the components needed to support productive collaboration in a hybrid environment include effective leadership, clear communication, creativity, and vulnerability. Team members should also have equal access to each other and management. Finally, consider overhauling the typical meeting format. Make the meeting fair for everyone by starting and ending when everyone is present, allow everyone to participate and collaborate (not just the leadership), and provide a digital whiteboard experience that allows for true collaboration.
Team Building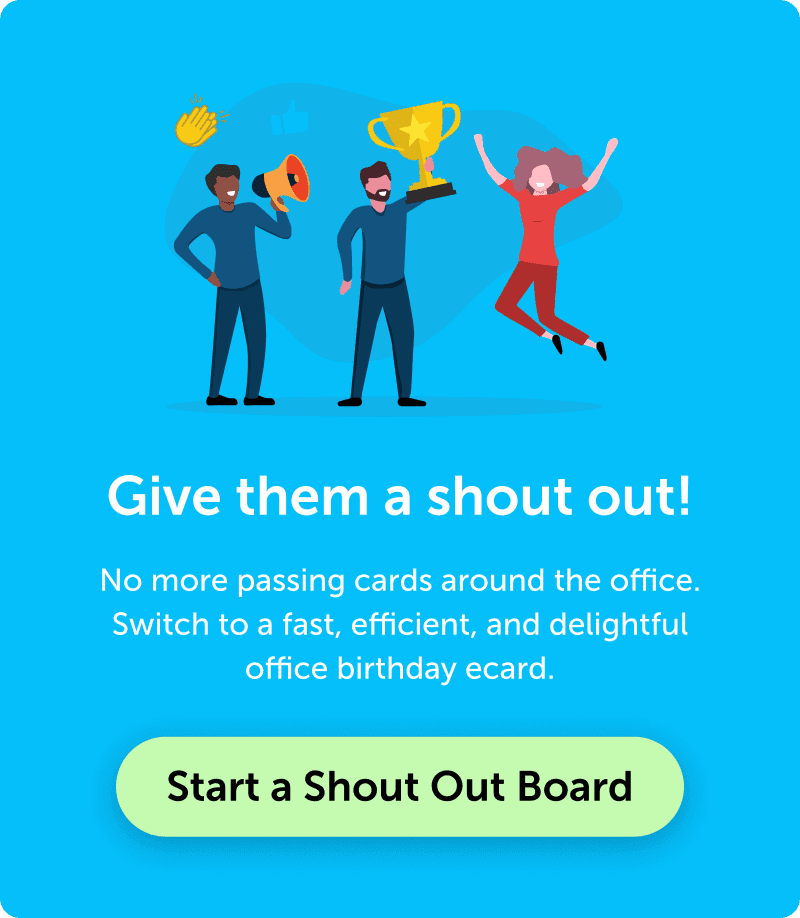 With a hybrid work setup, companies have to consider how it will affect the social politics in the office. Inevitably, many employees will feel left out if they miss out on something simply because they are working at home that day. Providing many opportunities for team building help employees collaborate more effectively, feel more included, and help them be more productive (because they feel cared about). Team building can happen in many ways. Here are some ideas; have a dedicated "water cooler"  Slack channel (try to avoid work talk here), remote team events, and show more appreciation for your team members. To show appreciation and gratitude for your team, consider sending out a group shoutout board and have co-workers chime in with why that team member is fantastic (you could make this a monthly shout-out thing). 
Set Clear Expectations
Hybrid work is incredible, but there have to be clear expectations set, so it is fair for everyone. Consider what these expectations might mean for your employees and your company. When employees work from home, are boundaries set around family time and work time? Below are three expectations companies can set when introducing hybrid work.
Set expectations for response time. How quickly do you want employees to respond to emails, etc. while working from home?
Employees should be proficient in the technology the company is using.
Set clear rules for communication. With a hybrid work setup, frequent and clear communication is key between team members and management. Everyone should be accessible during work hours. Team members shouldn't be worried about bringing up problems either.
Build Trust
Employees work better and are more productive when they feel heard and trust their leadership. Microsoft is an excellent example of supporting its hybrid teams. They have implemented many strategies to help their hybrid team members, and it seems a lot centers around listening to their employees. Five ways Microsoft has supported their employees include; 1-1 conversations, growth mindset strategies, team agreements, offering coaching and modeling desired behaviors, and holding intentional hybrid meetings. These strategies have led to 90% of Microsoft employees feeling included at work, and that's pretty great.
3 Benefits of Hybrid Work
This survey conducted by Envoy concluded that nearly half of employees that participated in the survey want to have a hybrid work arrangement. 41% of employees said they would even take a lower salary if it meant having a hybrid work model. There is a desire for hybrid and remote work, but why?
Studies are showing that there are many benefits to hybrid work. Take the company Plex, for example. They are a streaming media company whose employees and executives work 100% virtually. Through working 100% remotely, they've noticed stronger relationships between the employees and executives. Below are five more benefits of hybrid work.
Increased Productivity
With a hybrid work model, employees benefit from working where they are most comfortable. Being more relaxed in their working environment is beneficial for employees who enjoy working from home, and when they are comfortable, they feel less stressed and more productive. Employees also have more freedom and autonomy in a hybrid work setup, leading to more productivity.
Improved Collaboration
As stated above, one of the significant benefits employers see with hybrid and remote work is stronger relationships. Relationships are built more substantially through hard work and some sacrifice. If the hybrid work model is structured correctly, this will help the relationships and collaboration opportunities between co-workers and management.
Improved Mental Health
An excellent benefit to hybrid work is the improved mental health of employees. Employees with a hybrid work model get to see their families more, don't have to travel as much in a commute, and spend more time on their mental health. Companies that have implemented a hybrid work model can take this opportunity to encourage employees to exercise more and offer more health screenings. Simply showing employees they are cared about also has a significant effect on mental health.
Takeaways
A hybrid workplace is when employees work remotely and in the office a few times a week. Hybrid workplaces could include teams with all remote workers mixed with hybrid or in-office workers. Hybrid workers need a lot of support to succeed, from having access to proper technology to feeling heard and trusting leadership. A hybrid workplace seems to be the future of the workforce, and it isn't going anywhere. Companies can embrace this model and see the benefits, including finding greater talent in allowing for remote work.