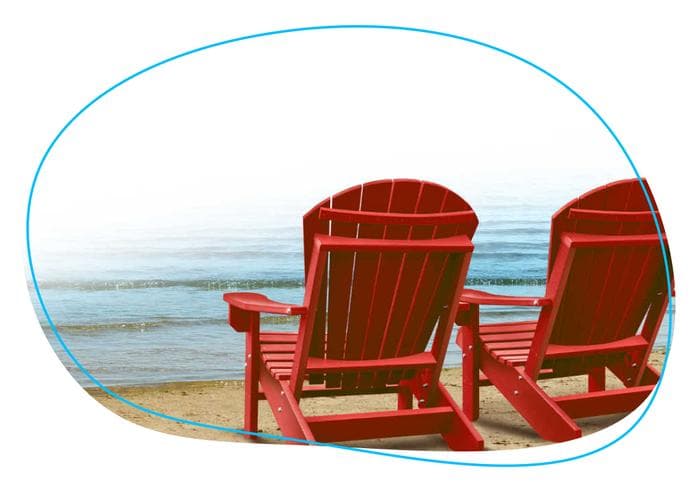 Create a retirement slideshow from your team
Celebrate any retirement with an online slideshow from your whole team – or company. Add messages, GIFs, photos and video!
How retirement slideshows work
Kudoboard's online slideshows allow you to gather appreciation from a group, delivered directly to the recipient virtually.
Sample use
Carl is retiring. His colleague Lou started him a Kudoboard and invited others to add memories. Lou plans to play it as a slideshow for Carl's going away party.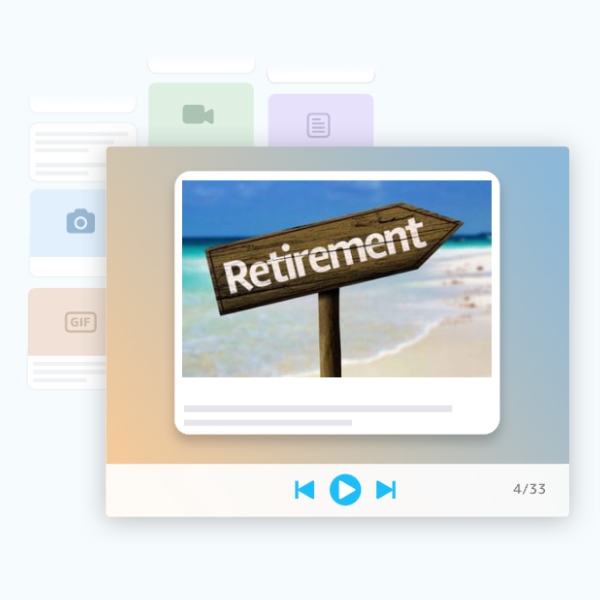 Something for everyone
Choose the option that's right for you — from single group cards to ongoing plans,
for personal use or for the office.
Company Event
Contact us to discuss your needs. Whether recognizing a departing CEO, celebrating a graduation for a university, or honoring caregivers at a hospital – we've got you covered.
In addition to all Milestone board features, company events offer:
Your logo at the top
Board export
Custom pricing
Tagging, likes, & comments
Custom URL
Custom disclaimer
Proactive moderation
Custom input fields
Multiple administrators
Board metrics
Embeddable slideshow
Dedicated account manager
Finally, an office retirement celebration done right
You've seen it before. A colleague is retiring and someone starts to pass around a card in a manila folder for everyone to sign. There's barely space on the card for people to add a note (let along a signature!). And five team members are traveling for a conference while another one works remotely — so getting everyone to sign is basically impossible.
With Kudoboard slideshows, there's a better way.
Inviting others to contribute, wherever they are, is a breeze. Simply send them the link to the board or use our system to email them an invitation. Team members can add photos, GIFs, & videos to the board, and then you can play it at their retirement party – making the farewell truly personalized for the retiree.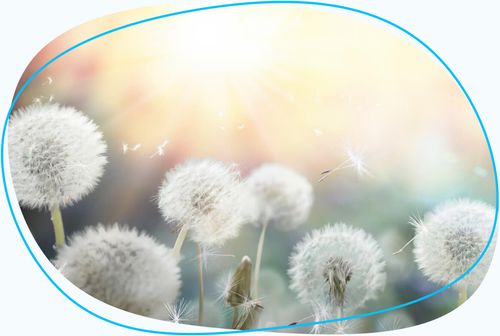 Perfect way to allow people to display their well wishes for someone who is retiring. It's not always easy to pass a card around (especially when some people left the company years ago) — and a slideshow works perfectly for the going away party.

Brian P. HPE
Frequently asked questions about Retirement Slideshow
Most of us are familiar with creating slides for PowerPoint presentations, but what do you do when that doesn't fully meet your slideshow needs? With Kudoboard there is a better way to make a lasting impression on the people around you entering retirement. A Retirement slideshow from Kudoboard allows you to take your retirement card – full of messages, photos, GIFs, and videos – and display it on a screen for everyone in your group to enjoy.
We have worked to make this process so simple and quick that anyone can do it!
Once you click the "Create a Kudoboard" button on our website, select our "Milestone board." The Milestone board contains the slideshow function, as well as allows unlimited posts from contributors on your board. Our retirement slideshow template will then walk you through the next steps of choosing a recipient, naming your board, and choosing a background that fits your style. Voila! Your Retirement board is set up. You can now add in messages about retirement or other posts you would like. Once you are done, email the link to everyone in your group so they can join in on the fun. They can add messages, photos, GIFs, or videos to the board and all of it will be displayed as you play the slideshow. You will be amazed at how seamless and easy the process is!
Currently, you cannot add music to your Kudoboard slideshow. Songs make a great addition to any retirement party slideshow and you can still use them even without adding them directly to your board. You can easily play the audio in another tab, play songs from a speaker in the room, or add a youtube video of the song you want as a post on the board to be played during the slideshow.
The most popular song to use for your retirement slideshow depends on your audience. Your song choice will change depending on who your viewers will be. Here are a few popular songs to consider using for your retirement slideshow:
"You've Got A Friend In Me" – James Taylor
"Hello, Goodbye" – The Beatles
"100 Years" – Five for Fighting
"Good Riddance (Time of Your Life) – Green Day
"9 to 5" – Dolly Parton
Your board is full and looks exactly how you want it – now what? This is the fun part! When you are ready to play your retirement slideshow, simply click "play slideshow" located on your board or in your dashboard. Adjustments can be made for how you want your slideshow to be played, such as:
The speed it plays
If you want the title to show during the slideshow
The order of the posts
Skipping certain posts or videos
Displaying a QR code on the screen for anyone who wants to contribute live during the slideshow
Kudoboard has 100+ backgrounds to choose from for your retirement slideshow, or our Milestone board allows you to upload a custom background. If you choose to create your own background, select "change background" on your board, select "custom background" in the pop-up panel, and add on your background. Then choose a header color, a background color, and click "save changes."
The great thing about using a Kudoboard slideshow is the chance to customize it to whatever you need it to be! The sky is the limit for what type of Retirement slideshow you want to present for you and your group this holiday season. If you are stuck and looking for some ideas to get you going, here are some options to try:
Retirement party Slideshow: Ask all party members to post their congrats and wishes for the retiree and watch it as a group during the retirement party.
Retirement photo display: Have the members of your group post a handful of photos of them with the retiree and share their fondest memories.
Guess who?: Each member anonymously contributes a message or memory to the slideshow and the retiree has to guess who the author is.
Teacher's slideshow: if this is a teacher's retirement party, send the link out to colleagues and past students and their families and fill the slideshow with how much this teacher has done for them over the years.
Yes! The ability to download your retirement slideshow comes with any board that allows a slideshow. Both the board creators and admins of the board can export and download the file. Once you open your Retirement board, click "play slideshow." As it starts to play, look in the right-hand corner for the settings button and click "export video." Once your video is ready you will receive an email with a button to download your slideshow.
Still have more questions? Come check out our blog! We regularly post new content to help you find what you need. Once you are there, feel free to poke around and see if any of the other content piques your interest.
As always, we love hearing from you – so please contact us with any unanswered questions!