How Online Group Cards Work
Kudoboard's online group cards allow you to gather appreciation from a group, delivered directly to the recipient virtually.
Sample Kudoboard
Billy and his sister Justine are making a Kudoboard collage for their parents for Thanksgiving. They've both added content, and it's scheduled to deliver automatically online on Thanksgiving morning.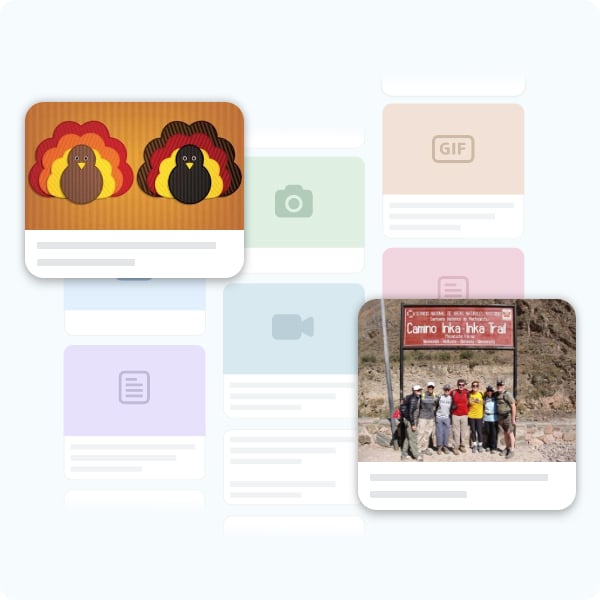 Something for everyone
Choose the option that's right for you — from single group cards to ongoing plans,
for personal use or for the office.
Company Event
Contact us to discuss your needs. Whether recognizing a departing CEO, celebrating a graduation for a university, or honoring caregivers at a hospital – we've got you covered.
In addition to all Milestone board features, company events offer:
Your logo at the top
Board export
Custom pricing
Tagging, likes, & comments
Custom URL
Custom disclaimer
Proactive moderation
Custom input fields
Multiple administrators
Board metrics
Embeddable slideshow
Dedicated account manager
A Thanksgiving Collage, Done Right
For many online collage makers, there are frustrating limits. Whether it's an inflexible template that only allows you one screen's worth of posts, or a setup that doesn't allow GIFs & videos; it often feels like you can't quite make what you want. And if you are thinking of inviting several others to collaborate in the creation of the collage — forget about it!
With Kudoboard, there's a better way.
Whether you want to create a smaller collage for free or upgrade for unlimited posts, the size of the board is completely up to you. You can add messages, photos, GIFs, & videos from your computer or directly from your smartphone. And if you to invite others to contribute as well? It's as easy as sending them the link.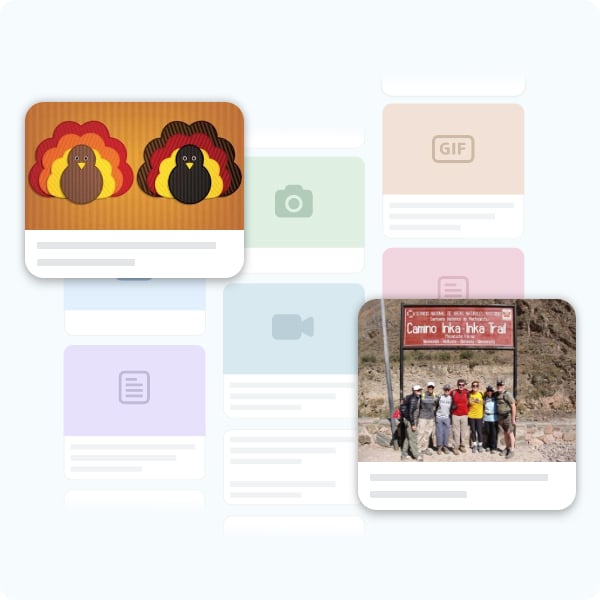 Terrific way to send a unique Thanksgiving Collage (with your entire family signing it!). I'm definitely going to use Kudoboard again!

Janie S. Delaware
Frequently asked questions about Thanksgiving Collage
A Thanksgiving collage is a compilation of photos and messages for your loved ones to enjoy during the holiday season. Whether you are sharing things you are grateful for, things you are looking forward to, or just photos you love from throughout the year, a collage is a perfect way to bring them together into one place. With Kudoboard's Thanksgiving collage template, you can add your photos, messages, GIFs, and videos from you and your group, and deliver them in the form of a greeting card, slideshow, book, or poster.
There are many online collage makers to choose from, but most come with frustrating limitations that leave you with a product that doesn't feel quite right. With Kudoboard, there is a better way. Kudoboards Thanksgiving Collage allows you to add messages, photos, GIFs, and videos – and even send others a link so that they can join in as well! All of this can be done from the ease of your smartphone, computer, or tablet in a matter of minutes.
We have worked hard to make the process of designing a Thanksgiving collage so simple, anyone can do it!
Once you click the "Create a Kudoboard" button on our website, our template will walk you through each step quickly and easily. You will be prompted to input the name of the recipient, and a title for your board, and then select which type of board fits your needs best. From there, you can try out a variety of backgrounds until you find the right one. Voila! Your Thanksgiving board is created!
Now comes the fun part: adding in the content for your Thanksgiving collage. Fill it with as many photos, messages, GIFs, or videos as you want until your collage seems just right. If you want others to contribute as well, send them a link and watch as the board fills even more. You will be amazed at how seamless and easy the process is!
Though Thanksgiving is often thought to be an American holiday, other countries celebrate their own version as well. Regardless of where is it celebrated, the day is centered around good food and joy for the good in our lives. Here are some of the countries that celebrate Thanksgiving and when it is observed so that you know when to create your Thanksgiving collage:
United States: the 4th Thursday in November
Canada: Thanksgiving or "Action de Grâce" is held on the 2nd Monday in October
Liberia: the 1st Thursday in November
Germany, Austria, and Switzerland: Erntedankfest (a celebration of autumn harvests) is held in early October
Japan: 勤労感謝の日 ("Kinro Kansha no Hi") is celebrated on November 23
Kudoboard has 100+ colorful backgrounds to choose from for your Thanksgiving slideshow, or our Milestone board allows you to upload a custom background. If you choose to create your own background, select "change background" on your board, select "custom background" in the pop-up panel, and add on your background. Then choose a header color, a background color, and click "save changes."
Some of the most popular colors used in a Thanksgiving collage are:
Red
Red Orange
Orange
Yellow
Green
Brown
Blackberry
Celebrating any holiday without loved ones nearby can be extremely difficult. Because Thanksgiving is centered around gathering together to eat with friends and family, being without someone is a painful reminder of what you miss. Sending a Kuduboard card or collage this Thanksgiving is one way you can create meaningful connections during the holiday season. If you are the one without loved ones nearby, create a Thanksgiving collage of the best parts from your year and all that you are grateful for so you can share it with loved ones far away. If you are wanting to send love to someone who is without loved ones on Thanksgiving, have your group make a Thanksgiving collage of messages, memories, and photos, to help them feel part of the group even though they are not there.
The great thing about using a Kudoboard collage is the chance to customize it to be whatever you need! The sky is the limit for what type of Thanksgiving collage you want to display to your group this holiday season. If you are stuck and looking for some ideas to get you going, here are some options to try:
Gratitude photo collage: Everyone in the group contributes photos with messages of what they are grateful for.
Thanksgiving photo collage: Members of the group post photos from past Thanksgiving celebrations and memories from those times.
Who are you grateful for?: Each member of your group posts a picture of someone else in the group they are thankful for and why.
Honor a family member: choose someone important from your family, like a grandparent, and have everyone contribute photos of that person (bonus points if they are in the photo with that family member!) and a message about why they love them, or a special memory they have of with them
Collage for college students: Compile photos and loving messages and deliver the online collage to students attending college who can't make it home for Thanksgiving
Collage from college students: If you can't make it home for Thanksgiving, help cheer up those who are missing you by creating a collage of photos, experiences, and messages about all of the things you are grateful for.
We know that, sometimes, just having a digital option for a Thanksgiving collage isn't enough. That's why we have printing options for you! Kudoboard lets you choose to have your board printed as a beautiful, hardbound book, or as a high-resolution poster.
Once your collage is full of the posts you want, you can select the option to have it printed as a book so you have a tangible way to remember it. Our books come with a 7"x7" hardcover and have an image-wrapped, matte finish. We ship anywhere in the US, or to many countries worldwide.
If you choose to have the Thanksgiving collage printed as a poster, you have the option of 12", 24", or 48" wide. We can print and ship you a beautiful, semi-gloss poster, or you can download a high-resolution image of your board and print it on your own.
Still have more questions? Come check out our blog! We regularly post new content like this one regarding celebrating Thanksgiving to help you find what you need. Once you are there, feel free to poke around and see if any of the other content piques your interest.
As always, we love hearing from you – so please contact us with any unanswered questions!